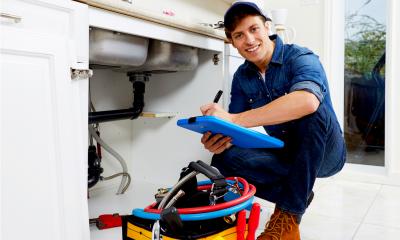 Setting up a trade business comes with its own challenges. Benjamin Dyer of Powered Now suggests six ways to ensure your business gets off to a flying start
Many tradespeople dream of starting their own business. It can be immensely rewarding but it's also hard work and many new businesses fail. Here are six tips to help you start off on the right foot and maximise your chances of success.
1. Do a great job
This might be hard, but before you consider starting a business you need to ask yourself how good you are at the job. Being fired from previous jobs for bad work is the worst possible reason to start up. If you do, your experience on your own will be even worse. The truth is, being good at the job is a pre-requisite to everything else.
"Know your strengths and weaknesses," advises Alan Cope of Southwest Spas. When you run your own business, mistakes show up quickly in disputes with customers, failure to pay and even being referred to Trading Standards.
2. Build up a good reputation
Customer recommendation based on your reputation is the best way to get work in the trade business and 70% of all jobs come by word of mouth or previous direct experience. That's why building your reputation by doing some private work in the evenings and weekends is a good way to get going before you commit to starting up full-time.
3. Be fair to your customers
Having happy customers is the key to a great reputation and this comes from doing a good job at a reasonable price. However, it's very important to try to set the expectations of customers correctly so the price you quote or charge is around what they expect. This is essential because customers can have an entirely wrong idea of how much a job will cost. Then they can end up being disappointed even when you have treated them completely fairly.
Remember, when someone wants a quote, do it fast. Homeowners' biggest complaint is that tradespeople never get back to them. Be the exception and you will impress.
4. Remember it's a business
If you do good work, you have every right to make a decent living. Good work deserves good pay. In fact, the flexibility and friendliness that you can bring may make you a more attractive proposition than some of your bigger rivals.
But you are not in business just to make your customers happy, so don't absorb costs which are unreasonable. You should make sure that you have terms and conditions of business. They should state that hidden problems that subsequently come to light - and which you couldn't reasonably have anticipated - will cost extra.
Finally, if customers seem both picky and price-sensitive it may be best to walk away.
5. Get organised
It's pretty common for tradespeople that are new to business to get into a mess with their paperwork. Then they have to spend a lot of time and effort sorting it out. The best advice is to consult an accountant from day one and choose the right tools and software to help you keep on top of your accounts.
If you are recording invoices and expenses professionally from the day you start you will not only be paid faster, it will take less effort. That should leave you with extra time to enjoy life or earn more.
6. Be on the right side of the law
There are quite a few regulations in the trade industry, ranging from being Gas Safe Registered through to being qualified to issue Part P electrical certificates. There are also a number of health and safety requirements you'll need to be aware of. Make sure you are properly informed and qualified and don't run any unnecessary risks.
Take the plunge
Starting a business is not easy but it has many rewards and if you start out on the right foot, you'll never look back when you succeed.
Benjamin Dyer, co-founder and ceo of Powered Now Invoicing App for small businesses, helping tradespeople to simplify paperwork and save time.