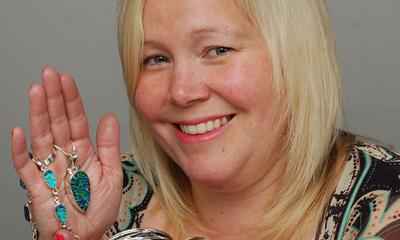 Helen Beer of Kent-based QualitySilver explains how and why she came to set up her online jewellery business, which enables her to better balance her responsibilities as a mother with the need to generate an income
"For more than 12 years I commuted to an accountancy job in London. Then, in 2001, I had my son, Callum. Over the next two years I found it impossible to fit in my work with bringing up my baby, so I decided to look into running a business from home.
"My husband Jason is a goldsmith and jeweller and that's where I got the idea of selling silver, titanium, tungsten and zirconia jewellery online. The result was QualitySilver, which I launched in March 2003.
"It cost less than £500 to set up the website. The existing relationships Jason had with suppliers made it easier to get credit to get stock. Being a web-only business made all the difference, because the overheads are so much lower than having a physical shop.
Rapid growth
"The business has grown rapidly. Realising the value of being in a niche for search marketing, in 2005 I created a second specialist website, QualityTitanium. The profits grew and five years later I bought a half-share in a shop in Maidstone, The Jewellery Workshop, where, years later, we have recently located to.
"Then, in September 2012, I launched Titan Jewellery. This site includes a collection of rings for men and women that are available in all sizes up to Z+10. These large sizes are hard to find on the high street and perfect to sell online because they are high value, but light, so they can be posted.
"Since year one, the online business has grown 500% and now has a healthy six-figure turnover, averaging 100 orders a week. The business gives me a profit that is more than double my previous London salary, so taking the plunge was worthwhile - especially as it enabled me to look after my son, too.
Small Business Sunday Award from Theo Paphitis
"In September 2013, our Titan Jewellery website won a small business award from ex Dragons Den Theo Paphitis. This enables us to go to a yearly meet with him and other winners, where we network together and receive discounts and online social media help to support each other.
Ecommerce software
"I couldn't have made this happen without technology. I've used SellerDeck's ecommerce software from the start because I didn't want a cloud-based platform. I like having complete control of the website and data on my desktop.
"The software made it really quick and simple to put the pages together and it's also easy to update the site with new ranges, best sellers and offers. Marketing is a priority and revolves around SEO, pay-per-click and customer reviews.
"The review system we've subscribed to for the Titan Jewellery site is worth its weight in gold. Personal recommendations are our biggest source of new visitors, plus, about 10% of our sales are from returning customers, so we do very little advertising.
Work-life balance
"Being an online business enabled me to fit work around my son, Callum. On a normal day, I used to work at my computer while he was at school, but then I would also do some work in the evening. The stop-start routine can make it feel like I'm working longer hours - but it's not true.
"Admittedly, when Callum was younger it was tricky in the holidays – at times I had to call on family and friends to look after him. But now this has gone round full circle. I've trained him up on the websites, so now he helps me part-time alongside studying at the University of Kent. Ecommerce is the perfect solution."