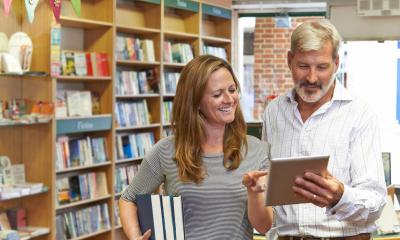 Although the internet has thrown up many challenges, independent book shops can still succeed and are often supported by a core of loyal customers. Our guide gives you all the essentials for starting up and running your own book shop.
Research your target market
When you plan your new book shop it's essential to make a realistic estimate of how much demand there will be. It's also important to find out as much as possible about the competition. Doing some market research will help you with this.
Customers - who and how many
Some people buy lots of books every month, others will never buy a single book in their lives. Research shows that a regular book buyer is statistically most likely to be female, aged between 25 and 35 years and from social group ABC. Of course, not all of your customers will be 'typical' - so don't ignore the rest.
The type of person that your shop attracts may depend on whether you specialise in any particular market 'niche'. It is wise to examine both the immediate locality and the surrounding area of your proposed shop as part of your business planning. Try to find out:
is it an affluent area, where most people will have enough spare cash to buy non-essentials like books
what is the age of the local population? Is your region a popular retirement destination, or are there lots of young families with children
how large is the student population? Does a local college specialise in any particular subjects
Establishing how much competition your book shop will face
Once you have determined the extent of your market, you need to find out how well it is supplied.
Find out how many other book shops there are in your town, city or locality. Concentrate in particular on ones that stock a similar range of titles to your proposed business. Make notes about each of your competitors:
is their shop large or small
how much stock do they carry - and do they specialise at all
what is their shop like (does it feel friendly, smart, run-down)
are they part of a major chain, such as Waterstones
what are their prices like - are they a discount specialist
do they offer things like coffee and snacks on their premises
Make a note of other shops in the area that sell books - these could include supermarkets, department stores, newsagents and, of course, branches of WH Smith.
Look in particular for existing businesses that might pose a real threat to your own. For example, if you plan to stock mainly academic texts, check to see that there isn't a similar book shop already operating close to or on the local college campus. Remember that in some cases, it can be advantageous for several book shops to be located quite close to each other. Thousands of people visit Hay-on-Wye, for example, to browse through the many antique and second hand bookshops there.
Some book sellers complain that they face "unfair" competition from charity shops, particularly Oxfam which sells books through its own specialist book shops.
As well as your local competitors, you will have to compete with mail order specialists and major internet retailers, particularly Amazon. The supermarket giant Tesco sells a wide range of books online too (ASDA sells some titles online as well). Online book sellers commonly try to attract business by offering very competitive prices and, in some cases, a huge range of available titles. Of course, the e-book is also a competitor to the traditional printed book although sales appear to have reached a plateau in 2013 before starting to decline in 2015.
Distinguishing your book shop from the competition
Think about what will make your own book shop attractive to customers - perhaps it will be:
excellent, friendly and knowledgeable service
an efficient ordering system
the smart appearance of the shop
a special loyalty scheme for regular customers
the convenience of having a good book shop nearby
a 'community' feel and atmosphere where they can meet up with other like-minded regulars
the opportunity to participate in events like author's evenings and book club meetings
You might decide to make a point of seeking out and stocking titles from publishers who include 'printed book only' content in their books which isn't available to e-book readers.
Research current trends, plus legal and tax issues
What will your book shop sell?
You may have a very clear idea of what you want to sell in your bookshop. For example, you may be a rare book enthusiast and want to specialise in this area of the market. Having a real enthusiasm for your chosen market 'niche' is a very positive advantage for your business, but do try to make sure that enough other people share your passion - you want your bookshop to be more than just an expensive hobby!
There are many areas in which you might decide to specialise. Here are just a few examples:
travel literature
children's literature and school books
educational, academic and reference texts
classical literature
second hand and/or antique books
religious texts
Or you may decide to stock a broad selection of best-sellers, including fiction and non-fiction, biographies, gardening and cookery books and so on. Remember though that space will probably be fairly limited. You will probably have room to stock about 5,000 - 8,000 or so titles, compared to at least 60,000 stocked by the majors like Waterstones (up to around 200,000 in their largest stores). Even the supermarkets have expanded their range of books - so think about what will attract customers to your shop in particular. Of course, you can offer a prompt ordering service, but some customers will always prefer to be able to take their purchases away there and then.
Think about varying your stock throughout the year. For example, you may find that there is greater demand for gardening books during the spring and early summer. Demand for best-selling novels and the latest crop of cookery books and biographies is normally highest at Christmas. The Booksellers Association produces a catalogue, Christmas Books, which it distributes to the public every year before Christmas. This can be very useful when it comes to choosing your Christmas stock.
As well as books, you might decide to stock other items, for example:
maps
newspapers and magazines
stationery
recorded music
greetings cards
computer games and software
toys and games
Again, remember that space is limited. Try to find a balance between stocking a range of popular complementary items and stocking books - otherwise your customers may not think of your shop as a 'proper' book shop. If you have the available space, you may decide to offer a range of hot and cold drinks and snacks in a dedicated cafe area. Waterstones reported that their cafes had proved successful in luring in customers and encouraging them to browse and buy more books.
You may decide to stock e-readers and sell e-books. Various different solutions are available to enable independent retailers to do this, and the Booksellers Association has urged all independents to move into e-book sales. You could sell e-book specific book tokens too. Bear in mind, though, that Waterstones were not able to make a success of selling e-readers and e-books and have joined W H Smith in directing their customers to digital book specialist Kobo. Members of the Booksellers Association can also join e-book platforms Kobo and Hive. They each offer different solutions, so members can choose which platform best suits their business.
Selling books on eBay and Amazon
Selling online can be an excellent way of reaching new customers and boosting your sales. But setting up your own ecommerce website can be expensive and you may not be sure at the beginning whether the value of the sales you'll make online will justify the set-up costs.
As an alternative, trading on eBay or Amazon lets you get a feel for selling online but with much lower start up costs. And you may decide to keep on selling through eBay and Amazon even when you have your own online shop. Plenty of independent book sellers sell used books through Amazon, and some sell new books.
Getting started
You might already have your own personal eBay account that you use to buy items for yourself and to sell things that you don't need any more. But if you're trading as a business on eBay you're legally obliged to make it clear in your listings that you're a business seller. This means that you'll either need to register a new business account or upgrade your personal account to a business one. There's guidance in the eBay Seller Centre on the definition of 'trading' if you're not sure whether you need to register as a business seller.
Similarly, with Amazon you can use an existing account or create a new one when you register as a business seller.
If you're not already running a business and you intend to start selling things on eBay or Amazon - perhaps just in a small way to begin with - then you'll need to notify HM Revenue & Customs (HMRC) that you're trading. There's guidance on the Gov.uk website that gives an overview of what counts as trading and what counts as self employment. It also gives details of your tax and record keeping obligations.
Decide whether to have your own virtual book 'shop'
Having your own virtual storefront will give your business a valuable online presence and will allow you to display all your products together in one place.
When you sign up to sell on eBay, you have the option of setting up an eBay Shop. This allows you to create your shop using an existing template or to customise it to your own design. You don't have to choose the eBay Shop option straight away - you may decide it's best to wait until your monthly sales build up to a certain level and then upgrade.
With Amazon, you'll automatically create your own storefront regardless of the package you choose. You won't be able to customise it very much but you will be able to add your name and logo and provide some information about your business.
How much does selling on Amazon and eBay cost?
Before you start selling on Amazon and eBay it's a good idea to find out how much you'll have to pay in fees. Depending on the items you sell and the method you choose for selling them, your total fees can be quite substantial. And while some of the fees you pay will be linked to the number of items you sell each month, others are likely to be fixed costs which you incur even if you don't sell anything.
Both eBay and Amazon give you the option of selling as a business seller without paying any fixed monthly fees, although it's usually more cost-effective to choose a subscription-based package unless you're only selling a small number of items each month.
The eBay website has a fee illustrator tool and a fee calculator that will help you compare the fees for different selling methods and get a good idea of how much your actual per-item selling fees are likely to be.
The Amazon website gives detailed fee guidance, including some examples of pricing for their subscription and non-subscription packages.
Managing your listings
Uploading your inventory to eBay or Amazon and managing your listings can be a time consuming task, particularly if you're planning to sell a large number of items.
Both eBay and Amazon offer useful listing tools, some of which are free and others that you'll have to pay for.
Promoting your items
Because there's such a huge number of items for sale on eBay and Amazon at any one time, it's very important that you do everything you can to stand out from the crowd.
Always make sure that your listings include accurate, spell-checked descriptions and that your photos and other images show the items that you're selling in the best possible light.
You might want to take it a step further and use the various marketing tools provided by eBay and Amazon such as search optimisation, cross-promotions and paid-for advertisements.
Your reputation
As an eBay or Amazon seller your online reputation is extremely important. All sellers have a feedback score based on actual customer feedback and this is the main measure that future customers will use to check that you are trustworthy and reliable.
So you'll want to keep your rating as high as possible by providing an excellent level of customer service and fast delivery at reasonable prices. Make sure you always respond promptly to customer queries, deal with returns efficiently and keep an eye on your stock levels to avoid your listings showing an item as being in stock when it has sold out.
Be aware that packing up orders and sending them out can be time consuming, but it's important to stay on top of the job to make sure that the right items get delivered in good time to the right people. Very many parcel delivery services now offer bulk shipping tools that integrate with your eBay or Amazon account and these can greatly simplify the process of arranging and tracking your deliveries.
If you're selling on Amazon you might also consider using the Fulfilment by Amazon service, where you send Amazon your inventory and they do all of the picking, packing and shipping as well as providing customer service.
More information
The eBay and Amazon websites have a great deal of useful guidance to help you get started as a business seller and to expand your business as demand for your products grows. Both also have lively seller community forums where experienced sellers are often happy to answer questions.
Decide which services your book shop will offer
As a specialist book seller, it is very important that you offer excellent service to your customers. They will expect you to be knowledgeable and enthusiastic about the books that you stock - many will want advice before they buy and some may ask for your opinion on a particular book.
There are certain special services that you can offer to your customers:
selling and accepting book tokens and e-book specific book tokens - books are frequently bought as presents and many customers prefer to let the recipient choose the book themselves
tracing and ordering books that are not held in stock - establishing a reputation for tracking down difficult to find titles could really benefit your business, although it does of course involve some extra work
becoming an Open University Set Book Stockist
Some of these services are available through the Booksellers Association - you can contact the Booksellers Association through their website.
Think about other ways that you can add value to the books that you sell. For example, what about a gift wrapping service for customers buying books as presents. Consider alternative ways of reaching your customers - for example setting up your own website. It could include reviews and details of your stock inventory. If you have an e-commerce enabled website then you can sell books and other items online. Alternatively you could do this through eBay or Amazon Marketplace. You could also sell e-books - perhaps through the Booksellers Association e-book services partners.
You might consider putting on regular events - such as 'meet the author' evenings - for customers and book lovers.
Look at ways of making your shop as attractive as possible to customers. The big multiples lead the way here - most outlets have comfortable chairs and sofas, reading corners, and some have cafes. You may not have very much space available, but think about how you can make your outlet a place where book buyers will choose to browse and linger.
Buy an existing book shop
You might decide to buy an existing book shop rather than start your own venture from scratch. Buying a going concern can mean that the books, customers, regular sales, staff, premises and equipment are already in place.
Do be aware that, while there's still room in the market for good well-run independent booksellers, many have really struggled in recent years because of very strong competition from large chains, supermarkets and online retailers.
Make sure you check the condition and age of any stock you are buying. Is stock current, or are many titles out of date and unlikely to be saleable at full price? If stock is old, how much of it can be returned to the publisher? Check this over carefully before agreeing a price
But buying a business can be a hazardous, expensive process unless you have the right skills and experience on your team, including legal and financial know-how. Establish the genuine trading and financial position, so that the price you pay for the business is not too high.