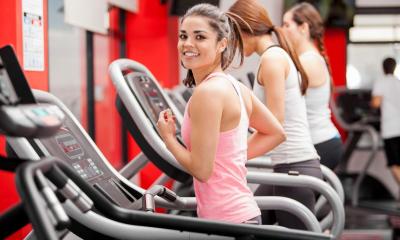 Health and fitness is now seen as an essential by many people and the fitness sector continues to evolve and grow to meet this need. Read our practical guide to starting up and running your own fitness centre.
Research your target market
Estimating demand
Before opening your fitness centre, it is a good idea to carry out as much research as possible to find out about the state of the market generally. There are several reports available published by market research companies that detail the strengths, weaknesses, opportunities and threats of the fitness sector and your local library should be able to get hold of them for you. ukactive is the main association for health and fitness clubs and is very active in promoting and supporting the sector and carries out regular research into the health and fitness market. You can find out more on the ukactive website.
Is there room in the market?
Once you have established the general level of demand for fitness centres, you will need to find out whether there is room in the market locally for your business. Count how many competing businesses there are in your area, including:
independently run fitness centres
fitness centres that are part of a chain or are attached to a national hotel chain
council-run centres
other sports clubs, such as tennis centres, swimming pools and so on
Then try to find out a little bit more about these businesses. For example:
find out how well equipped they are and what extra services they offer
identify how they have positioned themselves - for example, are they budget clubs offering a limited range of facilities at a low price or do they target the upper end of the market
get hold of a price list to establish how they compare to yours, whether they offer different membership options and so on
visit them at different times of the day to see how busy they are
note their general appearance, opening hours, quality of staff and so on
Why will people choose your fitness centre?
The fitness centre market is very competitive and to survive in it you will have to ensure that enough people choose you instead of your competitors. For example you could:
charge lower membership and joining fees than your competitors (or no joining fee at all)
open longer hours
offer better equipment and more services (although you'll find it difficult to compete in this way against centres that are part of a chain unless you have a great deal of money to invest)
set up a budget facility with comparatively basic equipment and low fees (although bear in mind that there are several chains active in this market and you may find it hard to compete if they are already operating in your area)
set up a micro facility focussing on a single activity like indoor cycling (this has the added benefit of being one of the lowest setup cost options)
choose a very convenient location
advertise effectively
Check out future developments
The location of your fitness centre is very important and ideally there will be ample and easy parking nearby or it should be easy to walk to. Make sure there are no plans to close roads or re-direct traffic systems.
Research current trends, plus legal and tax issues
Establish your customer profile
Your market
The customers using your fitness centre will be some or all of the following:
your members
guests accompanying members
non-members, for example those who buy day passes through Payasugym
patients referred through an exercise referral scheme. Under one of these schemes a health professional, such as a GP, can prescribe exercise to a patient. The patient will then attend a supervised exercise programme for the specified duration
people trying out your facility, for example as a result of a promotion you run (or a similar ukactive initiative that you participate in) to encourage new members or who have a gift voucher for a one-off visit
Unless you have a particular focus - a women-only centre, for example - you are likely to have equal numbers of male and female members. Typically, fitness centre members are from the A, B and C1 social categories and tend to be relatively young, although fitness awareness amongst older generations is increasing and the so-called 'grey' market can be lucrative. Although adults will make up the majority of your membership, you may also decide to make your facility child-friendly so that parents can bring their children with them to exercise. (Alternatively, you may decide to create an adults-only environment and have a 'no kids' policy.)
You may also have some corporate customers - for example where a company will buy block membership for its employees.
Special offers and discounts
At certain times of the year you may decide to run special promotions to try to attract new members. You could, for example, offer one month's free membership for signing on for a full year or waive your joining fee (if you charge one).
Decide what services to offer
The range of services you offer will depend on a number of things, such as:
how much space you have in your premises
how much capital you have available to invest
what you think your membership will want or is prepared to spend
It is common for an independently run fitness centre looking to appeal to a wide range of potential members to offer some or all of the following services:
fitness rooms (for aerobics, relaxation classes, yoga, spinning and so on)
weights rooms, perhaps including a women-only weight room
a sauna and solarium
a café or a restaurant
a swimming pool
an equipment shop
You may also offer:
personal trainers
satellite or cable TV
air conditioning
physiotherapy or massage
a beauty salon
a crèche
tennis and squash courts
You will need to decide which of your services are included in the membership fee and which ones members will have to pay extra for. You may decide to operate all extra services yourself or you may allow others, such as personal trainers and physiotherapists to work in your centre in return for a fixed 'rent' or a share of their income.
The 2010s have seen the rise of 'micro' facilities that offer just a single fitness activity - for example, indoor cycling - and this can be a cost-effective option for a start-up business.
Membership fees
Getting the level of membership fees right is very important. You need to make sure that you charge enough to cover your overheads, including wages, but that you don't charge so much that you discourage people from joining. As part of your market research you are likely to have obtained price lists from your competitors and it makes sense to charge a similar amount unless you can justify higher prices, for example, by offering a superior level of service. (The reverse applies as well, of course. Your market research may have identified a gap in the market for a 'no frills' centre with significantly lower membership fees than your competitors.)
Give some thought to:
your joining fee. Some fitness centres charge a one-off joining fee in addition to the annual membership fee, although it's becoming less common and you may find that the level of local competition means that you will not be able to make this charge
the cost of full membership. Full membership gives a member access to all the facilities (that are not charged for separately) at any time
how much to charge if you offer discounted memberships. You may decide to offer a student discount - the hope being that when they graduate they will upgrade to full membership
the cost of restricted memberships. Restricted access memberships at a reduced price can prove popular. For example, you could offer off-peak memberships or those that only have access to certain services
what you will charge for any additional services. If you operate them yourself, you will have to decide on the cost of services such as personal trainers, physiotherapists and masseurs and whether you will offer discounts for long courses of exercise/treatments
how much to charge pay-as-you-go customers who are not members
You may decide to give your members the option of one month, three months, six months or twelve months membership when they join as this may encourage people who are not sure whether they will use a fitness centre to try it for a short period of time. By offering this sort of flexibility it can help you to successfully retain members.
Retention of members
It is very important that you can retain as many of your members as you possibly can. Research carried out by the Fitness Industry Association (now ukactive) has shown a wide range of retention rates among the clubs it surveyed from as low as 40% per year to a high of nearly 90%. An industry average may be somewhere around 60% - 65%. Membership of ukactive will give you free access to their research on retention and other useful benchmarking information.
Some of the factors that can have an effect on the level of member retention include:
whether members feel that they are achieving the fitness goals that they set for themselves
the quality of local competition
the age of the member (according to Fitness Industry Association research, older members are less likely to terminate their membership)
whether a joining fee was paid
whether the membership fee is paid monthly or annually
You might decide to invest in specialist customer relationship management software to help you retain members.
Promote your business
Unless you have an unusually effective retention strategy, it is vitally important that your advertising strategy is effective and that you can continue to attract new members. The average length of a fitness centre membership is only around a year and a half, so regular promotion of your business is necessary, even at times when your membership is full.
Methods of promoting your business
You are likely to have two sides to your advertising strategy. The first may include:
advertising your business in local newspapers, magazines and tourism guides, on social media and possibly on local television and radio
participating in the Payasugym scheme
offering free trial memberships
selling gift experiences, such as a weekend family pass
participating in ukactive community engagement programmes
The other side of your strategy may involve encouraging your existing members to recruit new people by offering them incentives. These incentives may be cash, products from the shop, a month's free membership, sessions with a personal trainer or physiotherapist and so on.
As a member of ukactive you would also benefit from the association's generic advertising and promotions.
Buy an existing business
You might decide to buy an existing fitness centre rather than start your own venture from scratch. Buying a going concern can mean that the customers, regular sales, staff, premises and equipment are already in place. It could also mean that:
there is an established membership
there are current 'rental' agreements with self-employed personal trainers
the business is already participating in Payasugym
Other matters to consider include:
the state of the premises, fittings, equipment and so on. Will you have to spend money refurbishing or replacing assets if equipment is nearing the end of its life. Bear in mind as well that fashions can change quite quickly and that the existing fitness equipment provided by the facility and the layout of the facility itself may not match current demand
the level of member retention in the past couple of years. If this has been in decline, it may be an indication that there is too much local competition for the business to compete effectively in its current form.
But buying a business can be a hazardous, expensive process unless you have the right skills and experience on your team, including legal and financial know-how. Establish the genuine trading and financial position, so that the price you pay for the business is not too high.