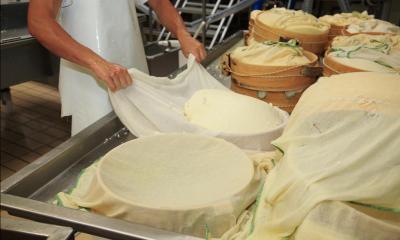 Products like speciality cheeses have become very popular with 'foodies', who are prepared to pay more for unusual food items that aren't widely available. Our practical guide will help you start up and run your own cheese making business.
Is there a market for your cheese?
When you plan your cheese making business it's essential to make a realistic estimate of how much demand there will be for your products. It's also important to find out as much as possible about the competition. Doing some market research will help you with this.
Estimating demand for your cheese
Consider whether there will be sufficient demand for the cheese that you produce. The market for speciality foods and locally produced goods has grown in recent years, but the sector is quite competitive. A range of cheese from all over Europe is available in every supermarket and speciality cheeses have become quite widespread.
Your market
Unless you're planning to focus heavily on online sales from the beginning, it's likely that your customer base will be made up of people in your area - those who live there and holidaymakers and day-trippers if you live in a touristy area - and small local businesses. You may attract some passing trade if you have a retail outlet situated close to a busy road.
Trade customers could include specialist cheesemongers, quality food shops, health food outlets, delicatessens, farm shops, and businesses such as hotels, restaurants and pubs. If you decide to offer mail order or internet sales, you could attract members of the public and trade customers from all around the country and even abroad.
Bear in mind that selling to supermarkets can be a very difficult business. Many small and medium sized food producers dream of getting their products onto supermarket shelves, only to find that dealing with supermarket buyers on an ongoing basis can be very frustrating. Don't let this put you off if this is your aim - just be sure to go into it with your eyes open.
Your market research should have helped you to identify any gaps in the local market and the types of customer you can target.
Outlets selling speciality and artisan cheeses
If you're planning to sell direct to the consumer then many of the businesses that would be potential trade customers will be your competitors. So you'll need to check how many outlets are offering speciality cheeses locally. Don't worry about general grocers shops just selling normal mass-produced cheese - you are not really competing with these. Concentrate on finding out where locally produced and other speciality cheeses are offered. They may be available from:
supermarkets that stock a wide range of cheese, including speciality cheeses
department stores with food halls offering high quality foods
health food shops and delicatessens that offer a range of special cheese and locally produced goods
local markets and farmers' markets
visitor centres
farm shops
local vegetable box schemes (dairy products are sometimes included in these)
Try to find out what types of cheese these outlets offer and what prices they charge.
You may find it useful to use the Record Sheets to record the results of your research.
Other cheese producers
You may have to compete with:
other local small-scale cheese making businesses
large specialist cheese makers from around the country who market their goods nationwide
large dairy product manufacturing businesses that also offer a range of special cheeses
local dairy farms that make their own cheese
It may be that you will only be competing directly against some of these producers because you will be targeting a particular segment of the market (for example organic cheese, vegetarian cheese or local produce) or producing your own unique varieties.
Research current trends, plus legal and tax issues
The cheese making process
Cheese making is a traditional art that has been practised for hundreds of years. It is a complicated process that in most respects has changed little over the years, at least for production on a small scale.
The basic process is as follows:
fresh milk is poured into a large vat and warmed gently
special starter cultures are stirred in
a short while later, rennet is added (rennet is traditionally produced from calf stomachs, but a vegetarian alternative is usually used these days)
the milk curdles and starts to coagulate
the whey (liquid part) is drained off and the curd starts to settle and harden
the curd is then cut, stacked and repeatedly turned to allow any moisture to drain off
the curd may be milled (torn into little pieces) and salt added
finally, the curd is pressed and packed into containers to mature
ripening can vary in length from a few weeks to 2-3 years depending on the type of cheese
The type of milk and other ingredients used and the exact procedure varies depending on the kind of cheese being produced.
Distinguishing your products
You need to make sure that enough customers will choose to buy your cheese and any other products you might decide to offer. There are a number of things to consider when trying to attract customers.
As a small independent cheese maker, it's very likely that you'll be aiming for the upper end of the market, creating cheeses that are of very high quality and that stand out because of their distinctive appearance and flavour. There may be other characteristics of your cheeses that make them stand out from the crowd, such as organic certification or particular health claims.
You may be planning to sell only on a wholesale basis to other businesses like specialist cheese shops, delicatessens, pubs and restaurants. If that's the case, you're likely to have to spend quite a lot of time visiting potential clients so that they can taste your product range. As well as great taste, trade customers may also be persuaded to buy your cheeses for other reasons like favourable terms of trade, fast turnaround times for orders, free delivery and so on.
If you're intending to sell your cheese direct to the consumer through your own retail shop, farmers' market stall or online, it's likely that many of your customers will be 'foodies' who seek out and enjoy the process of shopping with specialist retailers.
Having an in-depth knowledge of the cheese making process and the types of cheese that you make will enable you to provide useful advice to potential customers about the characteristics of the cheeses that you offer. In recent years people have become more concerned about food provenance and quality issues. For some people things like low food miles, use of artisan techniques, traditional and ethical values and supporting local producers are really important. Talking to the person who has produced the food, and buying it direct from them will be very appealing to many people. You could also include this type of information on your website or promotional literature.
Types of cheese to sell
The market for standard cheese is well catered for by supermarkets and other non-specialist food shops that stock a range of well known types. Independent cheesemakers tend to target a different sector of the market, concentrating on producing high quality speciality cheeses that are clearly different from those available elsewhere.
To distinguish your products from ordinary cheese you might decide to concentrate on making organic cheese or vegetarian cheese (made with non-animal rennet). You could develop your own unique flavours or special combinations of herbs and spices. Some manufacturers concentrate on producing varieties of a single type of cheese (for example their own brand of farmhouse cheddar) while others produce a wider range.
The type/s of cheese you decide to make may be affected by your location, the kind of milk available to you, and your own interests and preferences. You might decide to make soft or hard cheese, organic or vegetarian cheese, and use cows, goats or sheep milk. You might decide to use full fat, skimmed or semi-skimmed milk, which affects the fat content of the cheese produced. According to the British Cheese Board, there are now over 700 different varieties of British cheese produced including:
hard cheeses such as Cheddar, Cheshire or Double Gloucester
soft cheeses like cottage cheese and cream cheese
ripened soft cheeses such as Brie and Camembert
semi-soft cheeses such as Stilton or Wensleydale
cheese with added flavourings, herbs or spices - for example Double Gloucester with chives and onion, Stilton with cranberries
cheeses made from goat's or ewe's milk
There are also non-dairy 'cheese' products made from dairy alternatives such as soya and nut 'milk'.
Whatever type of cheese you decide to produce, make sure that you emphasise its special qualities. Draw attention to traditional methods used in production, the quality of the ingredients and any unique varieties and flavours offered. You may decide to create your own varieties and brand them as a local product, but do bear in mind that some names are protected and may only be used for cheese produced in certain locations. For example, West Country Farmhouse Cheddar has protected designation of origin status, so the name can only be used if the cheese has been made from milk produced in Dorset, Somerset, Devon or Cornwall (at times of shortage, milk from the bordering counties of Gloucestershire and Wiltshire can be used).
Although the vote in June 2016 to leave the EU means that the current EU Protected Names schemes will cease to apply to the UK after it has left, the government has indicated that it intends to legislate to establish its own schemes within the UK and seek to reach reciprocal arrangements with other countries, including the EU. In any case, until negotiations for leaving are complete, the existing schemes continue to apply.
Protected Food Names Scheme
Although the vote in June 2016 to leave the EU means that the current Protected Food Names schemes will cease to apply to the UK after it has left, the government has indicated that it intends to legislate to establish its own schemes within the UK and seek to reach reciprocal arrangements with other countries, including the EU. Since the UK remains a member of the EU until negotiations for leaving are complete, the existing schemes continue to apply.
The EU Protected Food Names Scheme protects food names on a geographical or traditional recipe basis and highlights regional and traditional food products whose origin, quality and production methods are independently inspected and guaranteed.
Producers participating in the scheme and registering their products are protected against imitations and also benefit from their products having a higher profile with consumers, not only in the UK but also in Europe. Highlighting the regional or traditional nature of a food product can be a valuable marketing tool.
There are three types of registration, each of which has an associated symbol indicating one of the following:
the product is produced, processed and prepared in a particular area (Protected Designation of Origin or PDO)
the product is made in a specific area (Protected Geographical Indication or PGI)
the product is made to a traditional recipe, not linked to a specific area (Traditional Speciality Guaranteed or TSG)
Producers must include the appropriate term - 'Protected Designation of Origin', 'Protected Geographical Indication', or 'Traditional Speciality Guaranteed' - and/or the appropriate logo associated with each term on their product labels.
Around 15 British cheeses have been awarded protected status, including Single Gloucester and Buxton Blue (PDO), and Teviotdale (PGI).
You can find out more about the scheme and see a full list of protected food names on the Gov.uk website.
Promoting your cheese
It's important to try to build up awareness of your products with local customers and businesses such as shops and speciality food suppliers. As well as advertising, you could also try to promote your cheese in a number of different ways. You could:
enter local produce competitions at agricultural shows or county fairs
enter the British Cheese Awards (a national competition)
join the Guild of Fine Food as a producer member. The Guild provides extensive support for specialist cheese retailers and incorporates the UK Cheese Guild. It helps producer members to market their products and can provide them with a full list of retail members, which include cheese specialists, delis and farm shops
advertise in your local newspaper. You could even try offering to write an article about cheesemaking
offer to give demonstrations and tasting sessions to local groups (such as WI groups, church groups, social clubs and so on)
open up your premises to schools or other groups or to members of the public as a tourist attraction - perhaps you could give a brief explanation of the cheese making process, followed by a tasting session
take a stall at a local market or food fair and offer free tasters to generate interest
use your website, blogs, forums and social media to raise the profile of your cheeses
Expanding your range
As well as producing cheese from cows milk you could try using sheep or goats milk - there is a growing demand for unusual cheeses. You might consider expanding your range of products to include yoghurt, cream or butter. Obtaining organic status could well increase the appeal of your cheese.
Pricing your cheese
How will you decide on your prices?
Depending on how you sell your products you might decide to sell them by weight or by unit (a set price for a standard-sized cheese). One of the main factors that's likely to influence how you sell your cheese - and the prices you charge for it - is whether you sell to wholesale or retail customers. If you decide to sell to both then you may well need two separate price lists, one for trade and one for retail.
People are likely to be attracted to your products for reasons of quality, rather than price. Specialist cheesemakers offer a high quality, exclusive product - your customers will know this and be prepared to pay accordingly. Nevertheless, it is important that your cheese represents value for money so you should consider what your competitors charge for their products and bear in mind what the supermarkets charge for any specialist cheeses they offer.
Getting the price right is very important. You must make sure that the selling price of your cheese is enough to cover all of your manufacturing, packaging, transport and marketing costs, as well as your own drawings.
Consider the following points when setting your prices:
what do your competitors charge for similar products?
will you aim to compete on price? Undercutting your competitors can be effective in achieving sales but will your business be able to survive on slender profit margins?
do you need to discount? People expect to pay higher prices for unusual and high quality goods, but tend to shop around on price at times when the economy is weak
Special offers and discounts
You will probably offer a discount as a matter of course to your trade customers. You might also offer further reductions for buying cheese in large quantities, and perhaps give discounts to family and friends. Occasional special offers and promotions can help to boost sales. For example, you could try promoting a new variety of cheese by including a free sample with every order you get for one of your established products.
Buy an existing cheese making business
You might decide to buy an existing cheese making business rather than start your own venture from scratch. Buying a going concern can mean that the products, customers, regular sales, staff, premises and equipment are already in place.
Does the business own any valuable trademarks and other intellectual property, and are these included in the sale? Similarly, does the business benefit from regional product protection under the EU Protected Food Names Scheme, which will continue to apply until negotiations for leaving the EU are complete.
But buying a business can be a hazardous, expensive process unless you have the right skills and experience on your team, including legal and financial know-how. Establish the genuine trading and financial position, so that the price you pay for the business is not too high.