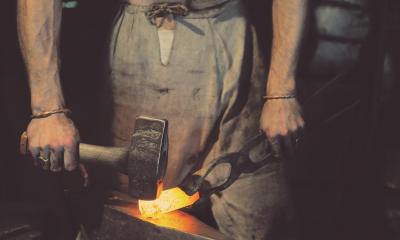 Blacksmiths are skilled metal workers who create practical or decorative items, often to the customer's specification. Check out our guide for starting and running your own blacksmith's business.
Research your target market
Estimating demand
It's very important to find out whether there is enough demand in your area for a blacksmith. Depending on the type of work you plan to do, you might face competition from:
other blacksmiths, including 'artist-blacksmiths'
light engineering workshops
farriers (although blacksmiths can't work with horses unless they are registered farriers, farriers do have the skills and equipment to produce a wide range of metal products)
A look in the Yellow Pages for your area or on Yell.com will give you an indication of the number of existing businesses you will be competing against. If you are located in a rural area there may be too few potential customers to support a blacksmith unless you have something different to offer. For example you might feel that there are enough tourists coming into your area to make it worth producing a range of household and garden ornamental metal objects for sale either from the forge or from local garden centres, craft fairs and craft shops. You could consider approaching specialist online homeware retailers to see if they would be interested in your products.
First of all check out the competition in your area to identify how many outlets you will be competing against. Try to establish:
the type of work they undertake
how much they charge
who their customers are
If at all possible try to examine some samples of their work so that you can establish whether or not they use traditional forging techniques and how skilful they are. This might help you to decide on your own 'unique selling point' (USP) - for example, if no-one in your area is producing wrought iron goods shaped and welded in a traditional forge you might be in a position to offer specialist restoration services to customers such as stately homes or museums.
If you decide to target industrial or commercial customers you could approach local factories and workshops to see if they need any new work or whether they would be interested in a maintenance contract, for example to keep digger buckets, conveyor belts or security shutters in a good state of repair. Have a look around any local trading estates and enterprise parks - units which were set up some years ago might well need some refurbishment work. If people seem interested in what you have to offer, you could discuss pricing in broad terms - this will help to set your prices at a level that the local market will bear.
Research current trends, plus legal and tax issues
Who might use the services of a blacksmith?
Your market
Depending on the focus of your business, your customers might include:
members of the public
local factories, agricultural businesses, workshops and other industrial concerns
local authorities
architects and interior designers
individuals and institutions which commission you to produce a unique decorative item or to restore a piece of historic ironwork
local craft shops, garden centres and galleries (including online retailers) which buy your metalwork products for resale
Trade sales
You may decide to produce some ornamental items (such as plant holders, boot scrapers, weather vanes, umbrella stands, door furniture and so on) which you supply to trade customers such as local craft shops, garden centres or country stores. Some of these customers may only take your goods on a sale or return basis, while others will be prepared to buy them from you. These customers will expect to be able to apply a 100% mark-up or thereabouts so you'll need to put together a trade price list that takes this into account. You might consider offering them incentives such as:
early settlement discounts if they pay their bills promptly rather than taking the full credit period offered to them
volume discounts if they buy in large quantities
retrospective bonuses based on the amount of stock they buy from you over, say, a six month period
Decide what services your blacksmith will offer
As well as producing metal items which have been commissioned by customers, whether industrial or domestic, you might also produce a range of decorative items which you sell from the forge or supply to local craft or garden centres, galleries and other retailers. Some of these may be online businesses so think about whether your pieces will be easy to package up for delivery.
You might also consider:
undertaking restorative and conservation work on metal antiques or to listed buildings like churches
taking on contract work to repair and maintain industrial or agricultural buildings or machinery
dismantling old metal structures
offering short courses and workshops to blacksmiths who want to gain new skills
accepting a part-time teaching appointment at a local college
Advertising your services
Whatever the nature of the items you produce and the services you offer, you'll want to make sure that your potential customers know about you.
There are a number of things you can do to promote your business:
if you are targeting domestic customers, make your forge as attractive and eye-catching as possible. For example, you could display samples of ornamental gates by hanging them on an exterior wall
have attractive labels printed to attach to any items you sell through craft centres, galleries and so on. You could include on the label a little information about your forging techniques
print leaflets for your commercial and industrial customers describing the type of work you undertake. You could distribute these around local trading estates
if you plan to work as an 'artist-blacksmith', send photos of some of your work to architects and interior designers. You could also have an exhibition of your work and invite to it anyone who might offer you a commission
exhibit some of your work at country fairs and craft shows around the country
contact local gardening clubs to tell them about your ranges of outdoor furniture and decorative items
see if local fabric shops would be prepared to display samples of ornamental curtain poles, together with your contact details
set up your own website featuring samples of your work. You could include on the site an interactive order form so that you can provide customers with a quote. Alternatively you could start trading on eBay as a first step before setting up your own website
use social media like Facebook and Instagram to showcase commissions you've completed
Artist-blacksmith
If you have the necessary skills and talent you may decide to produce artistic ironwork rather than more utilitarian metal objects for the industrial and agricultural sectors. If this is the case you will be known as an artist-blacksmith; this term is used to distinguish designer-craft persons in iron from industrial blacksmiths.
As an artist-blacksmith you may accept commissions from architects and interior designers or from customers who want you to produce a unique, ornamental ironwork piece such as a sculpture. Some customers might want you to undertake restorative, historical work. Sometimes you might work on a very large project (for example, gates for a stately home) as part of a team of craftspeople.
In order to get commissions for this type of work you will need to have good design skills as well as the ability to 'think with the hammer' - that is to understand how metal behaves when heated and manipulated and to reflect this in the design of the object. It's a good idea to build up a portfolio of photos of your work so that you can show prospective customers what you can do. A website would be a useful advertising tool for your business. Think about showcasing examples of your pieces on social media sites like Instagram.
Many artist-blacksmiths belong to the British Artist Blacksmiths Association (BABA). Visit the BABA website for more information. The website contains a gallery of members' work together with contact details.
The National Heritage Ironwork Group (NHIG) supports blacksmiths interested in working with historic wrought ironwork. The NHIG website contains more information.
Working with metal
Working as a blacksmith involves making (or repairing) objects from pieces of metal which are:
cut to the appropriate length or size
heated in a forge so that when red hot and softened they can be bent, twisted, flattened or otherwise shaped
joined together by a variety of means such as forging in the fire, electric arc welding, soldering, riveting, punching and so on
finished where necessary to prevent rusting and to enhance the appearance of the object
Traditionally the blacksmith's work was done by hand, using the forge, anvil, hammer and other hand tools. However nowadays many blacksmiths use modern power tools (such as hydraulic presses and hammers) alongside the traditional methods.
In the past the blacksmith's material was wrought iron which is almost pure iron that is both strong and also easy to shape. Wrought iron is still available, derived from scrap metal and as new material, from specialist concerns such as the Real Wrought Iron Company, based in North Yorkshire. However, blacksmiths today generally work with black mild steel which contains only a small percentage of carbon so that it is also both tough and easily workable.
A number of other metals are also forgeable, such as bright mild steel, stainless steel, brass, aluminium or bronze.
Stainless steel, brass and bronze do not need to be finished but other metals such as mild steel and wrought iron must be protected by a coat of paint, oil or wax in order to prevent rusting. If the metal object needs a greater degree of protection it might be galvanized or zinc sprayed before it is primed and painted or powder coated.
Once the work on the article is completed it may then be necessary to fix it in place, for example a spiral staircase, a sculpture, railings or gates.
Blacksmith tools and equipment
You will need a certain amount of equipment in order to offer a full range of metal working services. Some items may be traditional hand tools, others may be more modern items such as power hammers, oxy-acetylene and electric arc welding equipment. You may even make some tools yourself!
The range of traditional tools you are likely to need will include:
pairs of tongs
top and bottom swages
top and bottom fullers
set hammer, square flatter, hardies
various chisels, punches and drifts
hand, sledge and ball pein hammers
smiths square and blacksmiths rule
You will also need an anvil, a blacksmith's leg vice and an open hearth forge as well as a protective leather apron and gloves and protective goggles.
Suppliers such as Vaughans offer all the items you need and also sell various different blacksmith workshop kits. Visit the Anvils website for more detail.
Different types of blacksmith work
The type of metal work you produce will depend to a certain extent on your skills and artistic talents. If you are an 'artist-blacksmith' you will probably produce decorative objects, many of which have been specially commissioned. You might also get involved with restorative and conservation projects and make items on a speculative basis for sale to visitors to your forge, or through a local craft centre. These items might include sculptures, door and fireside furniture, ornamental items for the home and garden, jewellery and so on.
If you intend to target the industrial sector you will be commissioned to produce a range of more utilitarian metal items such as fire escapes, road barriers, functional gates, handrails, security shutters, cattle grids and so on. There is also likely to be demand for repair and maintenance work to metal structures and machines. You might dismantle and remove buildings and machinery which have a high metal content - some of this metal could be used for other jobs and the rest you could sell for scrap.
Many blacksmiths produce metal items both for commercial customers and for domestic customers. For example, a range of decorative items might be produced, including:
ornamental gates, balcony and boundary railings, balustrades and windows grilles
beds and daybeds
chandeliers and candle holders
towel and toilet roll holders
lamps and lanterns, both for interior and exterior use
curtain poles, tie backs, door and gate furniture
fire screens
plant holders, umbrella stands, door stops and other ornamental objects
weather vanes
spiral staircases and stair fittings
garden furniture
Selling on ebay
Selling online can be an excellent way of reaching new customers and boosting your sales. But setting up your own ecommerce website can be expensive and you may not be sure at the beginning whether the value of the sales you'll make online will justify the set-up costs.
As an alternative, trading on eBay lets you get a feel for selling online but with much lower start up costs. And you may decide to keep on selling through eBay even when you have your own online shop.
Getting started
You might already have your own personal eBay account that you use to buy items for yourself and to sell things that you don't need any more. But if you're trading as a business on eBay you're legally obliged to make it clear in your listings that you're a business seller. This means that you'll either need to register a new business account or upgrade your personal account to a business one. There's guidance in the eBay Business Centre on the definition of 'trading' if you're not sure whether you need to register as a business seller.
If you're not already running a business and you intend to start sellingthings on eBay - perhaps just in a small way to begin with - then you'll need to notify HM Revenue & Customs (HMRC) that you're trading. There's a guide on what counts as trading and self employment which gives advice about notifying HMRC and other tax obligations on the Gov.uk website.
Decide whether to have your own virtual 'shop'
Having your own virtual storefront will give your business a valuable online presence and will allow you to display all your products together in one place.
When you sign up to sell on eBay, you have the option of setting up an eBay Shop. This allows you to create your shop using an existing template or to customise it to your own design. You don't have to choose the eBay Shop option straight away - you may decide it's best to wait until your monthly sales build up to a certain level and then upgrade.
How much does selling eBay cost?
Before you start selling on eBay it's a good idea to find out how much you'll have to pay in fees. Depending on the items you sell and the method you choose for selling them, your total fees can be quite substantial. And while some of the fees you pay will be linked to the number of items you sell each month, others are likely to be fixed costs which you incur even if you don't sell anything.
eBay gives you the option of selling as a business seller without paying any fixed monthly fees, although it's usually more cost-effective to choose a subscription-based package unless you're only selling a small number of items each month.
The eBay website has a fee illustrator tool and a fee calculator that will help you compare the fees for different selling methods and get a good idea of how much your actual per-item selling fees are likely to be.
Managing your listings
Uploading your inventory to eBay and managing your listings can be a time consuming task, particularly if you're planning to sell a large number of items.
eBay offers various listing tools designed to streamline this process, some of which are free and others that you'll have to pay for.
Promoting your items
Because there's such a huge number of items for sale on eBay at any one time, it's very important that you do everything you can to stand out from the crowd.
Always make sure that your listings include accurate, spell-checked descriptions and that your photos and other images show the items that you're selling in the best possible light.
You might want to take it a step further and use the various marketing tools provided by eBay such as search optimisation and cross-promotions.
Your reputation
As an eBay seller your online reputation is extremely important. All sellers have a feedback score based on actual customer feedback and this is the main measure that future customers will use to check that you are trustworthy and reliable.
So you'll want to keep your rating as high as possible by providing an excellent level of customer service and fast delivery at reasonable prices. Make sure you always respond promptly to customer queries, deal with returns efficiently and keep an eye on your stock levels to avoid your listings showing an item as being in stock when it has sold out.
Be aware that packing up orders and sending them out can be time consuming, but it's important to stay on top of the job to make sure that the right items get delivered in good time to the right people. Very many parcel delivery services now offer bulk shipping tools that integrate with your eBay account and these can greatly simplify the process of arranging and tracking your deliveries.
More information
The eBay website has a great deal of useful guidance to help you get started as a business seller and to expand your business as demand for your products grows. There's also a lively seller community forum where experienced sellers are often happy to answer questions.
Pricing policy
How will you decide on your prices?
Getting the price right is very important. It's essential to make sure that the difference between the cost of the metal and the selling price of the object is enough to cover all of your operating costs, including your own drawings.
If you plan to work as an 'artist-blacksmith' the cost of the metal you use in each piece is likely to be quite low in relation to the price you charge for the completed item. This is because each piece will be unique and the customer is paying for your artistic and design skills as well as your technical forging ability. These commissions may also take some time to complete so you will only be able to undertake a certain number each year. As far as possible you should establish with your customers how much they want to spend - you can then tailor your design accordingly. Your quote might show two separate elements, a design fee and a fee for doing the work and, possibly, fixing it in place. If it is a very large commission you might request stage payments from your customer.
You might be planning to produce items for the domestic market such as gates, fire screens, garden furniture, ornamental objects and so on. As part of your market research, try to establish how much similar items sell for locally. Although you may be planning to produce items which are both more pleasing to the eye and of a better quality, you will still have to be competitive unless you're sure that you'll have discerning customers who are prepared to pay more.
If the agricultural or industrial sector is your chosen target market you will base your prices on:
the length of time the job will take, and the number of employees who will be working on it
the cost of the raw materials you will use
the cost of any site visits needed
an element for profit
As a very broad rule of thumb, the cost of the metals used might amount to between 30% and 40% of annual takings.
Buy an existing blacksmith business
You might decide to buy an existing blacksmith business rather than start your own venture from scratch. Buying a going concern can mean that the products, customers, regular sales, staff, premises and equipment are already in place.
But buying a business can be a hazardous, expensive process unless you have the right skills and experience on your team, including legal and financial know-how. Establish the genuine trading and financial position, so that the price you pay for the business is not too high.