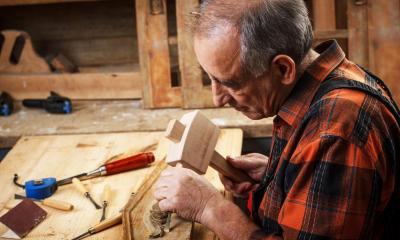 If you're practical and knowledgeable about antiques, setting up as a furniture restorer could be right for you. Our guide gives you all the essentials for starting up and running your own restoration business.
Research your target market
When you plan your new business it's important to check how much demand there is for your services, what people actually want, and how much existing competition there is.
Estimating demand
It's very important to find out whether there is enough demand in the area for your antique furniture restoration business. Much will depend on the range of services you offer, and your skills and expertise. You might intend to target local antique dealers, amateur collectors and members of the public and offer them a wide range of restoration services to many different types of antique. Or you might be targeting a national or even international clientele because you specialise in a particular type of work, such as oriental lacquer work or gilding, or in a particular type of antique, such as boulle (or buhl) work. Keep an eye on trends, so if there are indications that dark, heavy pieces are out of fashion and people, particularly younger people, are buying mid twentieth century furniture instead, advertise that you can restore this type of furniture too and, if you have a shop window, display a restored item from that period.
A browse on Yell.com will give you an idea of the number of antique furniture restorers which are already operating. Be aware that some antique dealers also offer restoration services so they are another source of competition. Also bear in mind that, because of the specialist nature of the industry, some people will be prepared to travel quite a distance to find a good restorer - so you may not just be competing with businesses in the immediate locality.
Have a good look at existing restorers to establish:
the range of work they can do
the sort of furniture they work on - for example, some might work with country pine and 20th century items, others might specialise in high quality pieces from the 17th and 18th centuries
what other services they offer - for example valuations
the prices they charge
Why will customers choose your restoration business
You need to make sure that enough customers will choose your business rather than existing antique furniture restorers. Your market research might indicate that there is a gap in the market that you can fill. For example, a number of antique dealers might have opened up in the area in which you plan to operate. These may need your services from time to time and will also attract large numbers of members of the public who are interested in antiques into the area.
Find out what customers want
You might consider going to local antiques fairs or markets and asking visitors whether they would be interested in your services. It would be worth approaching antique dealers, museums, stately homes and so on to find out whether they already use the services of a restorer and whether there are any additional services they would be interested in. Follow developments in the antiques market generally so that if one sector (for example larger antiques businesses) is doing better than smaller and mid-size businesses, try them when looking for new work. Be sure to give everyone you speak to a business card.
Customer profile
Your customers might include members of the public, businesses and organisations.
Members of the public are likely to include both amateur collectors of antiques and people who might need to use your services perhaps just once or twice in their lifetime.
Your trade or business customers might include:
antique dealers
auction houses
country houses and stately homes
hotels
museums and galleries
organisations like the National Trust or members of the Historic Houses Association (HHA)
other restorers to whom you provide specialist services
All of your customers will be concerned that you provide a first class service, enhancing the value of the item you work on by using traditional methods, old materials and fittings and trying wherever possible to retain original colours, patination and so on. Membership of the British Antique Furniture Restorers Association (BAFRA) or the Institute of Conservation (ICON) will demonstrate to your potential customers that you are a highly trained and skilled craftsman or woman. Achieving accreditation through the ICON Professional Accreditation of Conservator-Restorers (PACR) is an excellent way of showing that you have gained a professional level of expertise.
Giving quotations
Your potential customers may want you to visit them in their homes or premises to give them an indication of how much the repair or restoration is going to cost and also to take away the item, particularly if it is very bulky. Many restorers are able to give a rough estimate of the cost when they see the item in-situ but will then take it away to their workshop for a detailed inspection before producing a written estimate. Many of the materials required to repair antiques are expensive and you will need to make a very accurate assessment of the costs you will incur before giving your customers a quote.
Many restorers make a charge for providing a written report estimating the cost of the work that will be necessary to restore the item. Sometimes this charge is set against the fee if the customer decides to go ahead.
When you undertake a commission it's a good idea to make sure that the customer understands that restoration and conservation work is painstaking and slow and may involve:
making new pieces or parts and ageing or distressing them
taking the item apart before re-building it
sourcing the appropriate old materials
subcontracting some aspects of the work to a specialist
repairing and replacing veneers, brass work and so on
As a result the whole job may take several months. If your customers are prepared for this they will put less pressure on you to finish the work quickly. Try to make a realistic estimate of when the work will be finished and stick to this wherever possible.
It's important to be able to reassure your customers that their antiques are fully insured from the moment you collect them until you bring them back.
Research current trends, plus legal and tax issues
Decide which services to offer
The range of services you offer will depend on the type of furniture you will work on and your own skills and expertise. It is likely that you will offer some or all of the following:
furniture restoration (you may be prepared to work on almost any type and age of furniture or you may only undertake work on certain antiques)
upholstery
clock case restoration
book repairs
in-situ repairs to, for example, panelling and flooring
repairs to ceramic, brass, silver, stained glass, glass, bronze and other metalware items
leatherwork such as replacement of desk leather
restoration and repair work to dolls, toys, jewellery, clocks, paintings, frames, lamps, lights, fans and so on
In order to undertake such work to a high standard you will be trained and experienced in a number of skills such as:
cabinet making (for example in order to construct new legs, bases for cabinets and so on)
carving and turning
veneer and marquetry work
gilding
French and wax polishing
ebonising
caning and rush seating work
cleaning surfaces (anything from wood to mother of pearl)
treatment of woodworm infestation
engraving and removal of engravings
mirror re-silvering
Many of these skills you will possess yourself, but from time to time you may need to subcontract work to a specialist, for example, someone specialising in Oriental lacquer work. The British Antique Furniture Restorers' Association (BAFRA) can provide details of members with specialist skills.
Other services
There are a number of other services that you might consider offering, such as:
bespoke cabinet and fine furniture making (modern furniture, antique reproductions and recrafted items made to order)
retail sales of restored antiques
retail sales of wax polishes
contract waxing for country houses, hotels and similar organisations, to keep antiques polished, free from heat and water marks, scuffs and so on
valuations
report writing for insurance claims and dispute resolution
Advertising your business
Whichever services you plan to offer, it's very important to make sure your potential customers will know about you and what you can do for them. If you plan to offer a complete antique furniture restoration and conservation service it's a good idea to make sure that as many antique dealers, auction houses, stately homes and so on as possible receive some promotional literature about your services. It would be useful to take 'before-during-after' photographs of some of the pieces you work on and include these in your brochure. If you have a website you can show many more photographs and also include some narrative describing the work that has been done, the materials you used and so on.
Consider using social media, forums and blogs wherever possible to promote your business on the web.
You may encourage members of the public to call in to your premises - a tasteful display in your shop window will help to attract customers. Make sure that the display highlights your professional skills and is not allowed to become dusty and neglected.
Price your services
Getting the price right is very important. Make sure that the difference between the amount you spend on materials, wood, veneers, metal fittings, glues and so on, and the price you charge your customers, is at least enough to cover all of your operating costs, including your own drawings.
Matters to consider include:
your hourly charge out rate. Will you charge yourself out at the same rate as any employees, or at a higher rate? You might charge more for some types of work than others
whether to add a mark-up to services and goods that you buy in. For example, if you have to buy replacement fittings from a specialist firm will you pass these on to your customers at cost or not
the prices charged by your competitors. Although it is likely that your customers will not be too price sensitive you must price your services broadly in line with your competitors. If you are too expensive private owners will probably not have the work done at all, or worse, will go to an unskilled and unqualified repairer. And your trade customers, such as antique dealers, will still need to make a profit when they sell the item you have restored, so they will be keen to keep their restoration costs down
Discounts
You will probably offer a discount to trade customers such as antique dealers or auction houses, particularly if they put a large volume of work your way. How much discount will depend on your pricing policy and also how much in demand your skills are. Be aware that antique dealers generally love to haggle!
Buy an existing business
You might decide to buy an existing restoration business rather than start your own venture from scratch. Buying a going concern can mean that the customers, staff, premises and equipment are already in place.
But buying a business can be a hazardous, expensive process unless you have the right skills and experience on your team, including legal and financial know-how. Establish the genuine trading and financial position, so that the price you pay for the business is not too high.
Other matters to consider include:
Will you have to spend money upgrading things like ventilation and extraction facilities
In a small restoration/conservation business the proprietor's skills - and the reputation they have for doing skilled work - is generally one of the biggest business assets. Do you have the skills to step into the existing proprietor's shoes and maintain the quality standards and reputation of the business? Is there any guarantee that the proprietor will not just start up another business in the locality and take many of the existing customers with them?