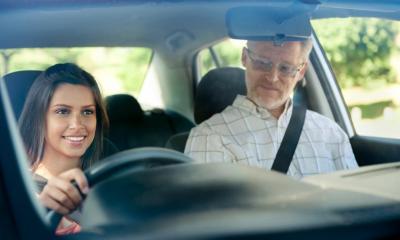 Driving instructors train learner drivers to pass their driving tests and may also provide other post-test services like motorway driving tuition. Check out our practical guide for starting and running your own driving school.
Research your target market
When you plan your driving school business it's essential to make a realistic estimate of how much demand there will be for your services. It's also important to find out as much as possible about the competition. Doing some market research will help you with this.
Estimating the number of customers
It is likely that very many of your customers will be teenagers and young adults who want to train towards their Category B (primarily car and van entitlement) driving licence. Bear in mind the following when considering the size of your potential market:
is the local area well populated
what is the nature of the local population? Some areas, for example, are particularly popular with older retired people, who may make up an unusually large percentage of the population
is there a local university or college which attracts large numbers of young people into the area
If you intend to offer specialist driving tuition such as driver certificates of professional competence (CPCs), professional chauffeur training or off-road driving, you need to think about who will need this type of tuition and whether there are enough potential customers to make your business viable.
Establishing the level of competition
Once you have determined the extent of your market, you need to find out how well it is supplied.
Start by imagining that you want a course of driving lessons. How much choice is there locally? A browse on Yell.com will help to establish the number of other driving instructors working in your area. Spending a morning at your test centre noting down the different names of driving school cars will also give you an idea of the strength of local competition.
Try to find out what your competitors are like:
do any advertise specialist training services
what type of cars do they use
are there many local BSM, AA Driving School or Red franchised instructors
Try to find out what rates other instructors are charging. Many will advertise their rates on their website. You could ring others up to ask. Also ask about any special discounts available (for example for advance block bookings, students and so on).
Don't forget that market research can be ongoing. Once you have started teaching, talk to your pupils and find out what their likes and dislikes are. This will help to build up a picture of what your customers really want from a driving school.
Research current trends, plus legal and tax issues
Customer profile
The majority of your customers are likely to be teenagers and young adults (although this may not be the case if you decide to specialise in some particular types of driver tuition, for example certificates of professional competence (CPCs) or advanced driving techniques). Many will probably be aged between 17 and 25, although there has been a bit of a trend in recent years for people to leave it until later in life before learning to drive because the costs of motoring are so high.
It is likely that many of these customers will be sixth formers, students and members of other low income groups.
Most of the rest of your customers will probably be aged under 40. You may find that the majority of your customers in the 25 - 40 age range are women.
A typical learner driver might need around 35 to 45 hour-long lessons before passing the Category B practical test (primarily car and van entitlement). This varies a great deal though, with younger drivers tending to need fewer hours of tuition than older ones. Up to 50 lessons is by no means uncommon. Pupils who are able to practice between lessons also tend to need fewer lessons.
You might target a particular group of customers, for example students, by offering special discounts. Some female instructors market their services specifically to other women. Other types of customer which you might decide to target include overseas visitors who need a UK licence conversion, motorists who need special advanced training and corporate clients. Examples of corporate clients who might require specialist driver training services include organisations and businesses which operate large vehicle fleets.
Decide which services to offer
Like most professional driving instructors, you will probably spend a large amount of time teaching learners who want to pass the Category B test (primarily car and van entitlement).
You may also decide to offer a range of other driving tuition services. Some examples are given below:
pre-17 driver tuition (not on public roads)
post-test further training, for example motorway tuition, improver courses such as Pass Plus and refresher courses
advanced driving courses
training in special driving skills, for example anti-hijack, skid-pan, off-road and so on
remedial training for road traffic offenders and UK licence conversions
Depending on your own skills, qualifications and training you may decide to work in other areas of driver training, for example motorcycle tuition, large goods vehicle (LGV) or passenger carrying vehicle (PCV). This could include driver certificate of professional competence (CPC) training for professional LGV and PSV drivers.
You may decide to offer special packages like intensive driver training courses and possibly even residential facilities.
Give some thought to the pick-up system that you will operate for your clients. Will all lessons start and finish at a fixed central point (for example your office)? Or will you arrange to pick up and set down each pupil at a place of his or her choosing (this is by far the most common arrangement)? Perhaps you will overlap lessons, so that one pupil picks up another during a lesson then finishes by driving him or herself to their chosen destination. Each different system has its own merits and pitfalls - you need to decide which is best suited to you and your business.
Franchises
When starting out on your own as a driving instructor you may decide that you would benefit from being associated with a well known established business. This is made possible through franchising.
There are many franchises available to driving instructors, from well known large national schemes to small regional and local operations. Although different schemes vary in detail, most feature the following key points:
as a franchise holder, you will remain self-employed but will use the identity (corporate colours, logos, trade name and so on) of the franchisor
in return, you will pay the franchisor a fee - this is often paid weekly and may be fixed or linked to the number of lessons given each week
both you and your franchisor will have to fulfil certain obligations; the franchisor might, for example, agree to introduce a certain number of new pupils to you each month, while you might agree to use a certain type of car and to maintain it to certain minimum standards
Many franchisors will oversee your own instructor training if you do not yet have approved driving instructor status. You will, however, usually have to pay for your training. Do be wary of instructor training packages that appear to promise the earth once you're qualified. Instructor training is an industry like any other and trainers should be honest about your chances of obtaining work as a driving instructor.
Details of the above points are set out in the franchise agreement or contract, which both you and your franchisor will sign. The agreement will also deal with other matters, for example any territorial exclusivity due to you and the minimum period for which the franchise will run.
Before entering into a franchise agreement, it is advisable to compare the terms of different franchisors to be sure that you are getting a good deal. You could try to speak to instructors in other areas who work under that particular franchise to find out what they think of it. Try searching online too - see what existing franchisees are saying about their franchises on forums and blogs. Go through the contract with your solicitor before signing anything.
Buy an existing business
Driving school businesses are not generally very suitable for buying and selling. There are not usually any long term customers, there are normally few assets other than the teaching vehicle (and that may be leased), and much of the business's value is often linked to the reputation built up by the individual. By and large, it's no more advantageous to buy an existing business than to start one from scratch. A more popular alternative for instructors looking for a 'flying start' to their business career is to purchase a reputable franchise.
However, you might decide to buy an existing business rather than start your own. Perhaps the business in question has several employed instructors, premises and a well established reputation. Maybe it has built up its own successful franchising operation. Or perhaps it specialises in, say, fleet driver training and has long term clients who would continue to use the business after it changes hands.
Buying a going concern can mean that:
any premises, vehicles and equipment are already in place
there are lesson bookings in place
the business can generate income immediately
suppliers have been identified and relationships established with them
the business has a track record which can help if you are looking for finance
staff may already be in place (if any staff are employed)
Look critically at any business that you are interested in to make sure that the price you negotiate with the seller is a fair one. Try to establish why the business is for sale - for example, is the owner keen to retire or is there another personal reason for selling up.
Your market research into the sector as a whole and the locality in particular will help you to establish whether or not the owner is selling because he or she can no longer generate enough income from the business. This may not necessarily deter you - many business people are confident that they can turn a failing business around. The important thing is to have established the current position so that the price you pay for the business is not too high.
Other matters to consider include:
the state of any premises, vehicles, equipment and so on. Will you have to spend money refurbishing or replacing assets
existing staff rights
how to retain key personnel once you've taken over
does the business owe money that you will be responsible for
if you are paying for goodwill, to what extent does this depend on the skills, personality and reputation of the seller
Ask your accountant to look critically at the business accounts for the past three years and discuss with him or her the selling price in the light of what the accounts reveal. Make sure you budget for other professional fees such as legal fees and valuation and survey costs.