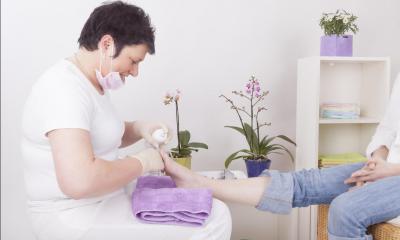 Chiropody is provided by registered practitioners working in private practice and in the NHS. Our guide gives you all the essentials for starting up and running your own chiropody practice.
Research the chiropody market
Estimating demand
It's very important to try to find out whether there is enough demand for a chiropody practice in your area. You will be competing against:
other independent chiropodists in private practice - including foot care provider Shuropody, which operates from over 150 clinics throughout the UK. Shuropody also retails specialist footwear online and from a number of outlets nationwide
chiropodists working within the National Health Service (NHS)
chiropodists employed by organisations such as leisure or retail outlets
private practice foot health practitioners - these are not statutorily regulated but offer a wide range of footcare treatments
Clients can also buy very many foot care products for ailments such as corns which they can use themselves at home.
A search on Yell.com will give you an idea of how many chiropodists/podiatrists are already practising and also of the range of services they offer.
It may be that you will only be competing against some of these practitioners because you will be concentrating on helping people with certain problems, such as sports injuries.
Have a good look at existing chiropody practices to establish:
what qualifications and training the chiropodist has. Anyone who uses the protected titles chiropodist or podiatrist must be registered with the Health and Care Professions Council (HCPC)
the range of treatment they offer
the type of client they specialise in, such as children or elderly people
how much they charge
whether the surgery is hygienic and smart
whether they offer home visits
Working alongside GPs and other health professionals
There may be opportunities for you to work on a sessional basis in GP surgeries, nursing and residential homes, particularly in areas where there are lots of elderly people, who often suffer from foot and mobility problems. GPs might also be prepared to refer patients to you - some of these will be paid for by your local NHS clinical commissioning group, while others may have health insurance policies that will cover your fees.
Other opportunities
You might be able to come to an arrangement with businesses such as health spas or fitness and leisure centres whereby you provide treatment at their premises, say, one or two days each week. You would benefit from having a broader client base, and the other business would benefit by being able to offer clients a wider range of services. Organisations such as prisons engage podiatrists on a sessional basis, as do some major companies with many employees to take care of. You could consider contacting local sports teams to offer your services to treat sports injuries.
Research current trends, plus legal and tax issues
Which patients require the services of a chiropodist?
Your market
People of all ages have problems with their feet and lower limbs so you may be treating children as well as adults. Many of your clients may be elderly people who need help with caring for their feet or who are suffering from diseases such as osteo or rheumatoid arthritis. Some will probably be younger women who have damaged their feet by wearing very high heels. The rise in the number of people with diabetes has also created demand for podiatrists to help with the foot problems that diabetes can cause. You may also work with athletes and members of sports clubs or teams. In many cases you will see your clients on a regular basis and build up a good relationship with them. Some of your clients may be referred by GPs and have your fees paid by the NHS. Others will be paying for their treatment themselves, or will be covered by private health insurance policies.
Consultations
Standard chiropody treatments, such as dealing with nail problems, corns or calluses, generally last for around 25 - 30 minutes. Clients generally return for follow-up treatments or on a regular basis for maintenance.
Many chiropodists take a holistic approach to treating foot and lower limb problems and the first consultation is likely to cover details of the client's lifestyle so that the causes of problems can be identified and eliminated as far as possible. For example, clients might be advised to lose weight or to wear different shoes if they have to spend a lot of time on their feet during the day.
You may be prepared to make home visits, especially if your clients have difficulty in getting to your consulting rooms. You'll probably also visit care homes and day centres to treat elderly clients who have mobility problems. It might be worth offering evening and weekend sessions to appeal to full-time workers.
Registering as a chiropodist or podiatrist
The titles chiropodist and podiatrist are legally protected and anyone who wants to use either of these titles must be registered with the Health and Care Professions Council (HCPC). The only way to be registered is to have completed an approved course leading to a recognised qualification. There is a registration fee payable - the registration cycle lasts for two years, after which you will need to renew it. The government recently introduced legislation which requires individuals wishing to register with the HCPC to have professional indemnity insurance in place as a condition of registration. When you register, you'll need to declare that you'll have a professional indemnity arrangement in place when you start practising.
All HCPC registrants must undertake continuing professional development (CPD) activities. To remain on the HCPC Register, chiropodists must comply with standards of conduct, performance and ethics and must continue to meet professional standards called Standards of Proficiency. You can download the Standards for Chiropodists/Podiatrists from the HCPC website and find out more about registration, fees and CPD requirements.
Decide which chiropody services to offer
Chiropodists provide a wide range of treatments designed to relieve many foot and lower limb problems. Common complaints that are treated include:
bunions
corns and calluses
verrucae
fungal infections of the foot or nails
ingrowing toenails
neglected toenails - treatment includes toenail cutting, reducing or reshaping
A typical session might also include a moisturising foot massage to finish off with.
Chiropodists also offer more specialised treatments such as:
biomechanics. This involves establishing the cause of foot pain by examining the way in which the bones, muscles and tendons in the client's foot and lower leg interact during walking and running
orthotics. These are custom-made insoles designed to correct the problems identified by the biomechanical assessment. A plaster cast is made of the feet so that the orthoses fit perfectly. Some chiropodists make the orthotic devices themselves, others send the work out to orthotics labs
minor and more advanced surgery, depending on the chiropodist's training
podopaediatrics. Sorting out children's foot problems, often involving biomechanical assessment
lower limb sports injuries. The chiropodist often works with a physiotherapist
dealing with the foot problems of patients with long term conditions such as diabetes, rheumatoid arthritis or neurological or vascular conditions
Many chiropodists also become involved in providing advice and guidance on foot health care. This often focuses on the client's lifestyle so that the causes of the foot problems are tackled - for example advising clients to lose weight or to change the type of shoe they wear.
A range of equipment such as treadmills and pressure plates might be used to help diagnose a client's foot problems. You can find out about these on the MAR Systems website.
Many chiropodists are prepared to carry out home visits and to hold sessions for elderly people in care homes and day centres.
Related treatments
Many chiropodists work with other health professionals such as physiotherapists and osteopaths and you could consider setting up a health centre which offers chiropody, physiotherapy and osteopathy all under one roof.
Pricing your chiropody treatments
How will you decide on what level of fees to charge?
Getting your fees right is very important. You must make sure that they cover all of your operating costs, including your own drawings. Don't forget to keep a note of your travelling expenses if you make home visits - its easy to overlook the cost of providing this type of service.
The fees you can charge will depend on the range of services you offer and the area in which you practice. In some locations chiropodists charge from £50 per hour, or between £20 and £40 per 30 minute session. In other areas you may only be able to charge between £15 and £20 per hour. Surgery (for example for ingrowing toenails) and biomechanical assessments might be charged from £250 or so. Prescription orthotics are also likely to be charged between £250 to £350 or thereabouts. Many practices offer short 15 minute appointments - for example to deal with a single specific problem like a corn. (If you search online for details of existing chiropody practices you will find a lot of information about the level of fees to charge.)
Think about whether you will offer any discounts - for example to students or elderly people.
As part of your market research you could check out the fees charged by existing local chiropodists - you will need to make sure that your fees are more or less in line with theirs.
If you plan to regularly offer a discount from your normal tariff it would be a good idea to keep comprehensive details of this - it will be helpful if HM Revenue & Customs (HMRC) ever investigates your business.
Promote your chiropody business
It makes sense to give some thought to how your potential clients will know about your chiropody practice. This is particularly important if you are planning to start off by making home visits rather than opening a clinic which will be noticed by passers-by. Of course one of the best ways to build up your practice is to provide such a good service that clients recommend you to their friends and family.
There are a number of things you can do to promote your practice:
contact GPs, diabetes clinics, physiotherapists, other complementary healthcare centres, hospices and hospitals to see if there are opportunities to offer treatments to their patients
advertise on Yell.com or in local directories. Make sure that you comply with advertising guidelines specified by professional bodies
leave promotional leaflets with as many outlets as possible such as sports centres, pharmacies, fitness and health clubs, sports clubs and so on
send leaflets to local residential and nursing homes and to the occupants of sheltered housing or retirement flats
write articles on foot care for your local newspaper. You could highlight any special offers you make such as a free foot product when a foot care session is booked
become a member of a professional association such as the Society of Chiropodists and Podiatrists and benefit from inclusion in an online Directory that members of the public can search
set up your own website, giving details of the treatments you provide and your fees. You might consider having an online shop for sales of footcare products such as antifungal creams, dressings, bunion, toe and heel care products and so on
use a professional networking site like LinkedIn to let potential clients know about your services
use social media like Facebook or Twitter to pass on footcare tips, clinic opening times and so on
Buy an existing chiropody practice
You might decide to buy an existing chiropody practice rather than start your own venture from scratch. Buying a going concern can mean that the products, customers, regular sales, staff, premises and equipment are already in place.
But buying a business can be a hazardous, expensive process unless you have the right skills and experience on your team, including legal and financial know-how. Establish the genuine trading and financial position, so that the price you pay for the business is not too high.