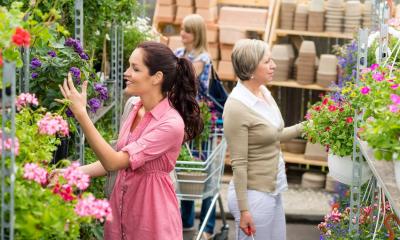 Garden centres offer top quality plants and garden essentials and some also offer unrelated facilities like a café. Our guide covers the key issues for starting and running your own garden centre.
Research your target market
Estimating demand
As a first step, give some thought to who will buy your products. Bear in mind that your business is likely to be very seasonal, with high demand in the spring and early summer and a much lower level of demand during most of the rest of the year.
As far as possible, match your perishable plant stock to the level of demand you estimate you will have. To achieve a reasonable level of sales, your 'catchment area' must contain a sufficient number of potential customers and not too many competitors.
Bear in mind that, generally speaking, gardening is more popular with middle aged and older people than with younger ones. Many under 30-year olds still live at home or in flats and maisonettes without gardens. Recent years have seen more people renting their home instead of buying it - renters spend less on their gardens than homeowners.
Catchment area
Although the majority of your customers will visit you by car, most will not want to travel too far to reach you. Ideally your garden centre should be located in, or very close to, a major centre of population with many residential areas.
Identify the different types of housing within, say, a 15 mile radius of your garden centre. You could even try to estimate the number of households there are. Make a note of the size, nature and appearance of the gardens. This will help you to decide on the range of plant and other products you might sell. For example, you might do well to concentrate on bedding plants for patios, window boxes and hanging baskets if your catchment area includes many flats or houses with very small gardens.
Checking out the competition
Plants, seeds, bulbs and other garden products are available from many different sources such as:
other nurseries and garden centres - many of these are part of garden centre chains and offer customers a very comprehensive service
florists
DIY 'sheds'
supermarkets
petrol filling stations
mail order and internet retailers
greengrocers, variety stores and even convenience stores
So you will need to decide whether there is room for another outlet selling garden products in your area. Count how many competitors there are already and identify the range of goods they sell. If some of these are garden centres note down whether they are independent or part of a chain. Think about the range of plants they stock - is it a little bit of everything or do they specialise, for example in herbs. Make a note of the condition of the stock too.
Trade sales
You might be planning to supply plants and other products to other businesses, such as:
landscape gardeners
petrol filling stations and other local retailers
hotels and nursing homes
your local authority (for parks, municipal gardens and so on)
building contractors and developers
If you plan to target trade customers you could:
count the number of suitable businesses and other organisations in your area
work out what product ranges to offer them
decide on the discount you will offer them
approach them to see if they would be interested - if they are already being supplied by someone else you will have to give them a good reason to change. This might be a wider product range, better quality plants, lower prices or a garden maintenance service
Research current trends, plus legal and tax issues
Selling on eBay and Amazon
Selling online can be an excellent way of reaching new customers and boosting your sales. But setting up your own ecommerce website can be expensive and you may not be sure at the beginning whether the value of the sales you'll make online will justify the set-up costs.
As an alternative, trading on eBay or Amazon lets you get a feel for selling online but with much lower start up costs. And you may decide to keep on selling through eBay and Amazon even when you have your own online shop.
Getting started
You might already have your own personal eBay account that you use to buy items for yourself and to sell things that you don't need any more. But if you're trading as a business on eBay you're legally obliged to make it clear in your listings that you're a business seller. This means that you'll either need to register a new business account or upgrade your personal account to a business one. There's guidance in the eBay Seller Centre on the definition of 'trading' if you're not sure whether you need to register as a business seller.
Similarly, with Amazon you can use an existing account or create a new one when you register as a business seller.
If you're not already running a business and you intend to start selling things on eBay or Amazon - perhaps just in a small way to begin with - then you'll need to notify HM Revenue & Customs (HMRC) that you're trading. There's guidance on the Gov.uk website that gives an overview of what counts as trading and what counts as self employment. It also gives details of your tax and record keeping obligations.
Decide whether to have your own virtual 'shop'
Having your own virtual storefront will give your business a valuable online presence and will allow you to display all your products together in one place.
When you sign up to sell on eBay, you have the option of setting up an eBay Shop. This allows you to create your shop using an existing template or to customise it to your own design. You don't have to choose the eBay Shop option straight away - you may decide it's best to wait until your monthly sales build up to a certain level and then upgrade.
With Amazon, you'll automatically create your own storefront regardless of the package you choose. You won't be able to customise it very much but you will be able to add your name and logo and provide some information about your business.
How much does selling on Amazon and eBay cost?
Before you start selling on Amazon and eBay it's a good idea to find out how much you'll have to pay in fees. Depending on the items you sell and the method you choose for selling them, your total fees can be quite substantial. And while some of the fees you pay will be linked to the number of items you sell each month, others are likely to be fixed costs which you incur even if you don't sell anything.
Both eBay and Amazon give you the option of selling as a business seller without paying any fixed monthly fees, although it's usually more cost-effective to choose a subscription-based package unless you're only selling a small number of items each month.
The eBay website has a fee illustrator tool and a fee calculator that will help you compare the fees for different selling methods and get a good idea of how much your actual per-item selling fees are likely to be.
The Amazon website gives detailed fee guidance, including some examples of pricing for their subscription and non-subscription packages.
Managing your listings
Uploading your inventory to eBay or Amazon and managing your listings can be a time consuming task, particularly if you're planning to sell a large number of items.
Both eBay and Amazon offer useful listing tools, some of which are free and others that you'll have to pay for.
Promoting your items
Because there's such a huge number of items for sale on eBay and Amazon at any one time, it's very important that you do everything you can to stand out from the crowd.
Always make sure that your listings include accurate, spell-checked descriptions and that your photos and other images show the items that you're selling in the best possible light.
You might want to take it a step further and use the various marketing tools provided by eBay and Amazon such as search optimisation, cross-promotions and paid-for advertisements.
Your reputation
As an eBay or Amazon seller your online reputation is extremely important. All sellers have a feedback score based on actual customer feedback and this is the main measure that future customers will use to check that you are trustworthy and reliable.
So you'll want to keep your rating as high as possible by providing an excellent level of customer service and fast delivery at reasonable prices. Make sure you always respond promptly to customer queries, deal with returns efficiently and keep an eye on your stock levels to avoid your listings showing an item as being in stock when it has sold out.
Be aware that packing up orders and sending them out can be time consuming, but it's important to stay on top of the job to make sure that the right items get delivered in good time to the right people. Very many parcel delivery services now offer bulk shipping tools that integrate with your eBay or Amazon account and these can greatly simplify the process of arranging and tracking your deliveries.
If you're selling on Amazon you might also consider using the Fulfilment by Amazon service, where you send Amazon your inventory and they do all of the picking, packing and shipping as well as providing customer service.
More information
The eBay and Amazon websites have a great deal of useful guidance to help you get started as a business seller and to expand your business as demand for your products grows. Both also have lively seller community forums where experienced sellers are often happy to answer questions.
What to sell
The range of products and services that you decide to offer will depend on:
how much space you have available
whether you are targeting a 'niche' (specialist) market
whether you are growing plants yourself
whether you will invite other businesses to operate from your site on a concession basis
If you have a large site you'll probably have room to offer a wide range of plants, plant-related products and leisure items such as:
plants (seeds, bulbs, houseplants, bedding plants, container grown stock and pre-planted containers)
turf
Christmas trees
gardening tools and equipment
furniture, barbecues, ornamental items, external wall art
hard landscape materials and decking for patios
boundary fencing, gates and trellises
pots and containers
miscellaneous garden products such as bamboos, artificial turf and so on
pet and aquatic products
buildings and greenhouses
garden chemicals such as fertilisers, pesticides, herbicides and so on (don't forget to include some organic ranges)
a range of composts, including peat-free products
bark chippings
'green' and 'eco-friendly' items like water butts, composters, domestic wind turbines and so on
artificial wildlife habitats like bug 'hotels'
gift vouchers
Christmas decorations, books, gifts and sundries
miscellaneous food items such as fresh fruit and vegetables, honey, jams, handmade biscuits and so on
craft items and cook shop ranges
country-style clothing and footwear
Services that you might offer include:
hanging basket supply and maintenance service
garden design or maintenance
a café
swimming pool installation and maintenance
conservatory installation
solar panel installation
Some of these might be offered by concessions - separate businesses that 'rent' space at your premises.
When thinking about what to sell, be sure to tailor your stock to your customer base. If most of your potential customers have only small gardens or balconies it makes sense to have plenty of bedding plants and smaller shrubs and perennials. Don't forget to stock ancillary items like potting compost, tubs, planters, window boxes, hanging baskets, irrigation systems and so on.
Think too about current trends - for example the recent economic downturn encouraged people to grow their own vegetables. Even flat-dwellers with a small balcony can grow a few items in pots so it makes sense to encourage this by stocking a good range of different varieties of vegetables, herbs and planters. Dwarf and patio fruit trees have also become popular where space is limited. Healthy eating trends have encouraged people to grow Mediterranean plants such as olive and fig trees.
Although it is important to have a big enough site to be able to stock a wide range of stock, one of the most essential things for any garden centre is the quality of your plants. They should be healthy, vigorous, weed free and well maintained so that they thrive when transplanted into the customer's garden.
Make sure also that plants have colourful and informative point-of-sale material and are displayed to the best advantage. You could tailor displays and promotions to different times of the year, or to coincide with the content of television gardening programs. Don't forget to stock a good range of herbs - the popularity of TV programs featuring celebrity chefs has boosted sales of culinary herbs considerably.
Customer profile
Your market
You might have several different types of customer, depending on the nature of your business. For example:
members of the public, either in person or by mail order and online
other garden centres, to whom you might supply plants you have grown yourself
gardening clubs
landscape gardeners and local builders
organisations such as local authorities, colleges and hospitals
local businesses such as petrol filling stations and convenience stores
businesses such as hotels and nursing homes or retailers with grounds that need to be maintained - for example those located on retail parks
Estimating the average spend
When estimating your income, think about the number of households who will buy from you and how much they are likely to spend each time they come in. Your market research may have helped you to estimate how many households are located within your 'catchment area' and to consider how many of these you might reasonably have as customers. Remember that research has shown that older people prefer shopping in specialist garden centres while younger people are happy to buy plants from outlets like DIY 'sheds' or the supermarket. Younger people are also much more likely to buy non-plant items like garden tools and furniture online. In general people aged 45 and older spend more on gardening than younger people. Homeowners spend more than people who rent their homes.
Estimating how much customers will spend is difficult because:
they may spend significantly more in the spring or summer than at any other time of the year
each customer's requirements will be different, reflecting the different sizes of garden and the extent to which they grow from seed or buy plantlets. Remember too that customers with young families may want a low maintenance garden, while older gardeners have more time to devote to gardening activities and have the confidence and expertise to grow more unusual plants
you may have to offer discounts because the weather has deterred customers from buying your stock, or because local competition has increased
You might decide to base your estimate of the average spend on your own spending pattern and that of friends and relations. You could also observe closely in other garden centres the quantities in which customers buy and the price they pay.
As a very broad guideline, the latest figures produced by the Office of National Statistics (ONS) show that on average households spend £171 a year on garden products such as equipment and plants for their gardens.
Trade sales
If you are planning to sell to trade customers, try approaching some as part of your market research and establish:
what range of products and services they would want
how frequently they would want them
whether they are happy with the prices you would charge
This will help you to estimate your trade customers' average spend.
Advertising your business
Whoever your customers are, it's essential that they know about your business. The garden centre itself is potentially one of your best advertisements - ideally it'll be very visible to passers-by and always have attractive and well-tended displays of seasonal plants. Many garden centres use colourful flags to attract attention.
There are a number of other things you can do to promote your business:
set up your own website including images of your displays, details of any special offers and promotions and possibly an online ordering facility
use social media like Facebook and Twitter to let people know about your promotions and products
participate in industry promotions like the HTA Plant of the Month campaign. Visit the HTA website for details of current initiatives
have leaflets printed outlining the products you specialise in and, perhaps, including plant care tips
advertise in your local newspaper and any other local publications and directories
set up a local gardening club and try to get some editorial on your local TV or radio station. You could offer club members a loyalty card scheme so they can build up points towards the cost of plants
have a regular stall in a local market, selling just a few of your seasonal ranges and displaying information about your main retailing outlet
make sure all your vehicles, packaging and other literature carries an eye-catching logo
Quality standards
Whatever plant ranges you decide to stock it is essential that they are disease-free healthy specimens. You will need to make sure that the staff you employ are experienced and well trained with extensive plant knowledge. As well as keeping your stock in top condition, they'll be able to answer customers' queries. The Garden Centre Association (GCA) offers an online learning facility (GCA GROW) to help garden centre staff to improve their expertise and to provide excellent customer service. Visit the GCA website for details.
The weather can have a very dramatic impact on demand. For example, a cold wet spring may mean that customers don't buy bedding plants as early as usual so that your stock becomes 'leggy' and unappealing. Very hot weather can mean that plants lose too much moisture and become limp and bedraggled. Although it seems hard to do, it is better to throw poor stock away before it damages your reputation. You might be able to discount the stock and sell it before it has deteriorated too far. Don't be tempted to use this sort of stock for your own displays - the plants won't thrive and the whole purpose of the display will be lost.
Make sure that your whole site projects a well cared for image. Keep pathways clear and weed free, stack non-plant products tidily and make displays as attractive as possible. Ideally you want your customers to spend a long time at your centre so it's essential to make sure all the different areas are pleasant and enjoyable to be in.
Buy an existing business
You might decide to buy an existing garden centre rather than start your own venture from scratch. Buying a going concern can mean that:
the premises, shop fittings and equipment are already in place
there are established customers
the business can generate income immediately
suppliers have been identified and relationships established with them
the business has a track record which can help if you are looking for finance
staff may already be in place
However, look critically at any business that you are interested in to make sure that the price you negotiate with the seller is a fair one. Try to establish why the business is for sale - for example, is the owner keen to retire or is there another personal reason for selling up.
Your market research into the sector as a whole and the locality in particular will help you to establish whether or not the owner is selling because he or she can no longer generate enough income from the business. This may not necessarily deter you - many business people are confident that they can turn a failing business around. The important thing is to have established the current position so that the price you pay for the business is not too high.
Other matters to consider include:
the number of competitors that are located nearby - including supermarkets and DIY stores
the state of the premises, equipment and so on. Will you have to spend money refurbishing or replacing assets
the garden centre's reputation locally - it can be hard to overcome a reputation for poor quality plants
the condition of any stock you are buying - particularly plants. Check this over carefully before agreeing a price
existing staff rights
how to retain key personnel once you've taken over
does the business owe money that you will be responsible for
if you are paying for goodwill, to what extent does this depend on the skills and personality of the seller
Ask your accountant to look critically at the business accounts for the past three years and discuss with him or her the selling price in the light of what the accounts reveal. Make sure you budget for other professional fees such as legal fees and valuation and survey costs.