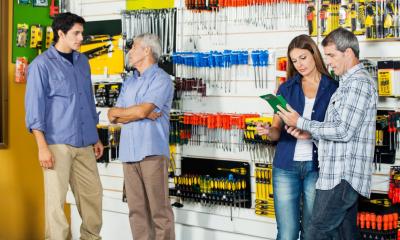 Independent DIY shops sell a range of products to domestic customers and sometimes to the trade as well. Get the essentials for starting up and running your own DIY shop in our practical guide.
Selling on eBay and Amazon
Selling online can be an excellent way of reaching new customers and boosting your sales. But setting up your own ecommerce website can be expensive and you may not be sure at the beginning whether the value of the sales you'll make online will justify the set-up costs.
As an alternative, trading on eBay or Amazon lets you get a feel for selling online but with much lower start up costs. And you may decide to keep on selling through eBay and Amazon even when you have your own online shop.
Getting started
You might already have your own personal eBay account that you use to buy items for yourself and to sell things that you don't need any more. But if you're trading as a business on eBay you're legally obliged to make it clear in your listings that you're a business seller. This means that you'll either need to register a new business account or upgrade your personal account to a business one. There's guidance in the eBay Seller Centre on the definition of 'trading' if you're not sure whether you need to register as a business seller.
Similarly, with Amazon you can use an existing account or create a new one when you register as a business seller.
If you're not already running a business and you intend to start selling things on eBay or Amazon - perhaps just in a small way to begin with - then you'll need to notify HM Revenue & Customs (HMRC) that you're trading. There's guidance on the Gov.uk website that gives an overview of what counts as trading and what counts as self employment. It also gives details of your tax and record keeping obligations.
Decide whether to have your own virtual 'shop'
Having your own virtual storefront will give your business a valuable online presence and will allow you to display all your products together in one place.
When you sign up to sell on eBay, you have the option of setting up an eBay Shop. This allows you to create your shop using an existing template or to customise it to your own design. You don't have to choose the eBay Shop option straight away - you may decide it's best to wait until your monthly sales build up to a certain level and then upgrade.
With Amazon, you'll automatically create your own storefront regardless of the package you choose. You won't be able to customise it very much but you will be able to add your name and logo and provide some information about your business.
How much does selling on Amazon and eBay cost?
Before you start selling on Amazon and eBay it's a good idea to find out how much you'll have to pay in fees. Depending on the items you sell and the method you choose for selling them, your total fees can be quite substantial. And while some of the fees you pay will be linked to the number of items you sell each month, others are likely to be fixed costs which you incur even if you don't sell anything.
Both eBay and Amazon give you the option of selling as a business seller without paying any fixed monthly fees, although it's usually more cost-effective to choose a subscription-based package unless you're only selling a small number of items each month.
The eBay website has a fee illustrator tool and a fee calculator that will help you compare the fees for different selling methods and get a good idea of how much your actual per-item selling fees are likely to be.
The Amazon website gives detailed fee guidance, including some examples of pricing for their subscription and non-subscription packages.
Managing your listings
Uploading your inventory to eBay or Amazon and managing your listings can be a time consuming task, particularly if you're planning to sell a large number of items.
Both eBay and Amazon offer useful listing tools, some of which are free and others that you'll have to pay for.
Promoting your items
Because there's such a huge number of items for sale on eBay and Amazon at any one time, it's very important that you do everything you can to stand out from the crowd.
Always make sure that your listings include accurate, spell-checked descriptions and that your photos and other images show the items that you're selling in the best possible light.
You might want to take it a step further and use the various marketing tools provided by eBay and Amazon such as search optimisation, cross-promotions and paid-for advertisements.
Your reputation
As an eBay or Amazon seller your online reputation is extremely important. All sellers have a feedback score based on actual customer feedback and this is the main measure that future customers will use to check that you are trustworthy and reliable.
So you'll want to keep your rating as high as possible by providing an excellent level of customer service and fast delivery at reasonable prices. Make sure you always respond promptly to customer queries, deal with returns efficiently and keep an eye on your stock levels to avoid your listings showing an item as being in stock when it has sold out.
Be aware that packing up orders and sending them out can be time consuming, but it's important to stay on top of the job to make sure that the right items get delivered in good time to the right people. Very many parcel delivery services now offer bulk shipping tools that integrate with your eBay or Amazon account and these can greatly simplify the process of arranging and tracking your deliveries.
If you're selling on Amazon you might also consider using the Fulfilment by Amazon service, where you send Amazon your inventory and they do all of the picking, packing and shipping as well as providing customer service.
More information
The eBay and Amazon websites have a great deal of useful guidance to help you get started as a business seller and to expand your business as demand for your products grows. Both also have lively seller community forums where experienced sellers are often happy to answer questions.
Research your target market
Estimating demand
You'll want to make sure that there is enough local demand for your DIY shop. The sector is competitive with prominent multiple chains like B&Q, Screwfix, Wickes and Homebase stocking vast ranges of DIY and other goods, as well as general retailers like Wilko and the 'pound' shop chains who stock more limited ranges. Most of the major DIY retailers also sell online. Deep discounting by the large specialists has been a feature of the trade for a number of years and many independents find it increasingly difficult to compete. Outlets selling DIY goods in your local area are likely to include:
large DIY chains
specialist tool shops and timber merchants
specialist tile and decorating materials suppliers
builders' merchants - some of which sell to the public as well as to the building trade
mixed retailers
the multiple supermarkets
garden centres
car accessory shops
'pound shops'
petrol station forecourts
Some of these will be key competitors while others may have little or no impact on your business.
As a first step, check out the competition in your area to identify how many other outlets are already selling DIY goods locally. There are different ways of doing this, such as browsing on Yell.com or making a physical survey of your local area.
Have a good look at the existing DIY retailers in your area to establish:
what they sell and the prices they charge. It's important to be aware of the ranges that your competitors stock and their prices, as customers tend to shop around for the best deals
which services they offer, if any
how knowledgeable and helpful their staff are
whether the premises and fittings are modern and smart
what their opening hours are
whether they offer online sales, maybe with a click and collect service
If you are planning to stock a general range of DIY goods then you will be competing with just about everyone else in the market. However, if you intend to specialise in a certain area, such as decorating supplies or wood, wood treatment products and woodworking tools, you may have fewer competitors. It's a good idea to carry out some research into any area that you decide to specialise in, as the performance of niche markets may not have mirrored the trend in the DIY sector as a whole.
Why will customers choose your shop
You'll want to make sure that enough customers will choose your shop rather than existing outlets. Your market research might indicate that there is a gap in the market that your shop can fill or it may simply be that you feel you have found the ideal location for a DIY shop. For example, in an area which is just becoming 'gentrified' and where many of the properties are likely to be renovated.
Don't underestimate the appeal of personal service to some of your customers, especially if you and your staff are knowledgeable about the products you are selling and can provide customers with helpful advice and tips. Remember that people are prepared to drive a fair distance to go to a DIY multiple so the convenience of your outlet won't count for much if you can't back it up with a good range of products and efficient service.
Check out future developments
The location of your outlet is very important and ideally there will be ample and easy parking nearby and also lots of passing trade. Check that there are no plans to build new road systems, which would mean that traffic would bypass your shop, nor proposals to impose parking restrictions.
Find out what people want
In as competitive a market as this one it is important that you establish before you open that the stock you propose to carry is going to appeal to enough customers for you to make a living. A survey of your local competitors should tell you what they think sells and you can decide from that whether you will follow what they are doing or branch out in a direction that isn't well catered for by your competitors. If you think that you will have trade customers, you could contact a few local builders, roofers, plumbers and other trades people to see how they feel about their existing suppliers and whether they would consider changing.
Research current trends, plus legal and tax issues
Decide what to sell
There is an enormous range of DIY goods and it is very unlikely that you will be able to stock them all. Depending on the size of your outlet, you may decide to stock as much as you can or to carry a smaller range of items that cater to a specialist market within the DIY sector. You may sell some or all of the following:
timber and timber products
building materials such as cement, plaster, glass, plastics and roofing felt
plumbing supplies and bathroom accessories
hand and power tools, for woodworking, gardening and building
decorating supplies, including wallpaper, paint and tools
protective and outdoor clothing
ironmongery such as nails, screws, hinges and fittings, loose and/or bubble packed
chemicals, such as glues, fillers and solvents, for a variety of applications
car care and repair items and motoring accessories
garden accessories, including outdoor furniture, compost and even plants
leisure items, such as outdoor toys, barbecue items and bicycles
furniture, including soft furnishings and textiles
china, gifts, durable goods and miscellaneous household items
pet foods and pet care products
multifuel stoves and flue accessories
Some of the lines you stock, such as paints and other chemicals, may have a limited shelf life so make sure that you monitor stock turnover carefully and discount anything that is approaching its use-by date to avoid wastage.
You may decide to offer an ordering service for product ranges that you're unable to hold in stock.
Seasonality
You are likely to be busiest in late spring and summer, when the extra hours of daylight make for longer hours available to do DIY. The Easter weekend is the busiest of the year and marks the start of the high season for DIY retailers. Other bank holidays are also usually busy. Christmas time can also be busy, especially if you stock a lot of items that could make good gifts and other seasonal products like Christmas trees and decorations. The build up to Christmas can also be a popular time for redecorating.
Make sure that you have enough stock to cater for demand during peak periods.
Establish your customer profiles
Your market
It is likely that your customers will be members of the public and local trades people.
The members of the public that you will deal with are likely to be homeowners (rather than tenants) and DIY seems to be most popular with the 25-54 age group. As DIY is a relatively inexpensive hobby, you are likely to see customers from all economic backgrounds. It is still the case that men are more active participants in DIY though women are becoming increasingly involved in the planning and carrying out of DIY jobs themselves - particularly decorating.
Your trade customers are likely to be self-employed trades people, such as:
jobbing builders
carpenters
decorators
kitchen and bathroom fitters
other tradespeople such as electricians, roofers and plumbers, although these may be more likely to use specialist suppliers for the majority of their purchases but may use your outlet on an occasional basis
You might decide to offer credit facilities to regular trade customers.
Special offers and discounts
Discounting has become a major feature of the DIY trade and customers expect good value. You will probably offer a discount from your retail tariff as a matter of course to your trade customers. How much discount will depend on your pricing policy and how much local competition there is. You could offer further discounts for buying goods in large quantities. You may decide to offer an economy range of products at 'everyday low prices' or hold a special 'money off day' where you reduce the price of certain items for one day only. You might also hold longer sales periods from time to time.
Keep a close eye on any special offers you do make to be sure that they're working for you. After all, these kinds of promotion may encourage extra sales, but they'll also affect the amount of profit you make on each sale.
Decide which services to offer
As well as stocking a large range of DIY and related goods, you may also decide to offer certain services that could help increase the number of customers and boost income. These could include:
tool hire
tool repair and servicing
paint matching
room planning, interior design and garden design
key cutting
knife and scissor sharpening
engraving
watch repair and watch battery replacement
delivery (within a certain area)
You may decide to offer some services free of charge, using them as a way of building customer loyalty.
You'll probably provide your customers with technical information and helpful advice and tips on a wide range of DIY matters. Many customers value this personal service.
Price your products
Getting the price right is very important. You must make sure that the difference between the cost price and the selling price is enough to cover all of your operating costs, including your own drawings. However, as the sector is so competitive and because heavy discounting has become a feature of the trade you may have to price in line with your immediate competitors for much of what you sell unless you are targeting a niche market that your competitors do not cater for.
You will also have to decide whether you will offer discounts to trade customers and if so, the percentage reduction from the retail price that you will offer them.
You may find that some customers are prepared to pay slightly higher prices for flexible and knowledgeable service or for the convenience of not having to drive out of town to one of the multiple DIY 'sheds'.
Your suppliers may suggest a retail price for the goods that you buy from them but you may find that the amount of competition means that you are not able to price in line with these. If you decide to price your goods below suggested retail prices you should keep details of your tariff - this will be helpful if HM Revenue & Customs ever investigates your business.
Promoting your business
It's important that your DIY shop projects the right image to attract new customers and to encourage existing customers to keep coming back regularly.
Compared to the multiples some independents can look a little old fashioned so it's important to make the outside of the shop as attractive and welcoming as possible. Try to make sure that signs are professionally made, clean and in good condition. Bear in mind that things like the condition of the paintwork and the cleanliness of the windows can have a big impact on the image that your shop projects.
Make sure that your window displays are attractively laid out, uncluttered and changed regularly - think about what would make you stop and look if you were a passer-by. If you offer other services like tool hire and servicing or paint matching, then it's a good idea to advertise these in your window or on a sign outside your outlet.
You are likely to stock hundreds or even thousands of different items, so try to make sure that goods are arranged neatly to help customers find what they are looking for. Look into ways of encouraging customers to buy as much as possible. For example, you could have a rack of inexpensive loose screws, nails, rivets and other useful bits and bobs on the counter top next to the till. Talk to your suppliers about the availability of attractive point-of-sale materials such as stands, leaflets and signs.
You and any staff you employ play a key role in the image of your business. Customers will expect staff to be friendly, helpful and enthusiastic. Ideally, they will also have an in-depth knowledge of the DIY materials and products you sell and be able to give customers helpful advice and tips. This is a service that many customers will appreciate.
Advertising your shop
You'll want to make sure that as many potential customers as possible know about the products and services you offer.
There are a number of things you can do to promote your business, for example:
set up your own website, showing all the features and services that will attract customers to your outlet. You could also sell goods online, although with the large range of products you are likely to sell, this may prove to be too time-consuming to be viable
develop an effective social media strategy and use websites like Facebook and Twitter to communicate with existing and potential customers
send out a regular email newsletter for customers who agree to receive it, telling them about the latest new products and special offers
contact professional trades people to let them know the range of stock you carry and your pricing structure
offer a discount to certain groups of people, for example pensioners
offer a loyalty discount card for customers who make regular purchases
advertise in your local newspaper and any local directories
advertise on Yell.com and other online directories
do a targeted mail-shot or leaflet drop
offer special discounts and free goods on certain products and services from time to time. Advertise special offers prominently in your window or on a board outside your shop
Almost all types of advertising and promotion have a cost, whether it's financial or your own time and effort - or both. You need to make sure that the beneficial effects of your advertising efforts are worth the time and money spent on them. It's up to you to decide which types of advertising work best for you - sometimes this is down to trial and error.
Buy an existing business
You might decide to buy an existing DIY shop rather than start your own venture from scratch. Buying a going concern can mean that:
the premises, business equipment, vehicles and shop fittings are already in place
there are established customers
the business can generate income immediately
suppliers have been identified and relationships established with them
the business is already a member of a buying group
the business has a reputation and a track record, which can help if you are looking for finance
staff are already in place
the business website (and possibly social media accounts) have already been set up
However, look critically at any business that you are interested in to make sure that the price you negotiate with the seller is a fair one. Try to establish why the business is for sale - for example, is the owner keen to retire or is there another personal reason for selling up.
Your market research into the DIY sector as a whole - and the locality in particular - will help you to establish whether or not the owner is selling because he or she can no longer generate enough income from the business. This may not necessarily deter you - many business people are confident that they can turn a failing business around. The important thing is to have established the current position so that the price you pay for the business is not too high.
Other matters to consider include:
the state of the premises, fittings, equipment and so on. Will you have to spend money refurbishing or replacing assets
the condition and value of any stock you are buying. It's likely that there will be a large number of different product lines, so check this over carefully before agreeing a price
whether the existing proprietor is prepared to give you any training, if you think you'll need it
existing staff rights
how to retain key personnel once you've taken over
does the business owe money that you will be responsible for
if you are paying for goodwill, to what extent does this depend on the skills and personality of the seller
Ask your accountant to look critically at the business accounts for the past three years and discuss with him or her the selling price in the light of what the accounts reveal. Make sure you budget for other professional fees such as legal fees and valuation and survey costs.