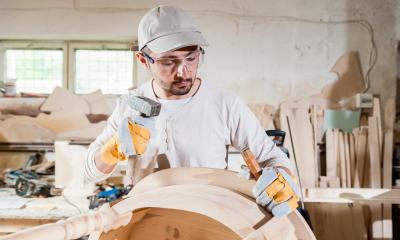 Furniture makers may work on a small scale creating bespoke pieces for domestic customers or a larger scale mass-producing items to be sold through retailers. Our guide will help you start up and run your own furniture manufacturing business.
Research your target market
When you plan your furniture manufacturing business it's very important to make a realistic assessment of the market and the level of demand for your products.
Your market
Depending on the route you have chosen to take to distribute your furniture ranges, your customers may include:
local, regional and national furniture retailers - including professional internet traders
architects and interior designers who commission contract work on behalf of businesses such as pub and hotel chains
businesses requiring office furniture
specialist wholesalers (although these are not commonplace in the furniture industry)
members of the public to whom you sell directly, or offer a customised or bespoke service
local businesses that place orders for either your standard ranges or for purpose-built furniture
It is very important that furniture manufacturers keep up with trends and produce what consumers want, in fashionable styles and finishes and using textiles in colourways that are in demand. Whenever possible it is a good idea to work closely with your retail customers when putting together new ranges. Retailers will also want to be reassured that orders will be fulfilled within a reasonable time scale if consumers place orders rather than select from stock.
Estimating demand
You'll want to establish whether there will be enough demand for the furniture ranges you propose to produce.
The UK furniture manufacturing industry consists of a large number of smaller businesses as well as some very sizeable concerns that manufacture in bulk for the retail market. The industry is highly competitive, because there are a number of firms which produce lower-quality furniture at very low prices. There is also a big market in the UK for cheap imported mass-produced furniture. These factors have the effect of putting pressure on prices across the sector and make it difficult for a new furniture manufacturer to compete at the mass-produced end of the market.
There may be opportunities, however, for manufacturers that offer ranges for a 'niche' market. For example, this might be:
producing stylish ranges for those looking for a unique, designer look
handcrafting pieces using traditional methods - items that will become the antiques of the future
offering a bespoke or customised service so that you design and produce items specifically for a customer
focusing on a particular market, for example the contract furniture sector and producing items for pubs, hotels and so on
designing and manufacturing upmarket office boardroom furniture
Have a good look at your target customers (if you plan to sell through retail outlets) to see if they already sell furniture ranges like the ones you plan to produce. Why will yours be more successful? Identify the things that will make your pieces more attractive to consumers. For example, you might become a member of the Furniture and Home Improvement Ombudsman scheme so that consumers know that your furniture ranges are constructed to high standards and you could obtain your timber from sustainable sources.
Consider how you will distribute your product ranges - for example you might:
encourage consumers to contact you direct via your website
supply a number of independent retailers around the country
target one of the major national furniture retailers to see if there would be an opportunity for you to produce items exclusively for sale in their outlets
Whichever distribution route you choose you will need to be able to discuss your ranges with retail buyers and so you should give some thought to your range information and samples. You will need photographs or video of your prototypes as well as samples of different finishes or textiles that you can show to retailers.
When you are showing your promotional material to prospective customers you could take the opportunity to discuss your terms of business and also how much trade is likely to be put your way.
Your market research will help you to identify:
whether your furniture products are likely to be in demand
the price at which you can sell them
how much each of your retailer customers is likely to buy from you
To estimate your annual sales income you will need to estimate how many customers you are likely to have and how much each of them will spend.
Research current trends, plus legal and tax issues
Services to offer
As well as producing a range of furniture items, you might offer various services, for example:
making individual pieces of furniture to a customer's specification. This might range from single, free-standing items to fitted bedroom, office or kitchen furniture
installing bespoke fitted furniture and fixtures
offering customers a choice of finish on otherwise standard ranges, for example stained instead of polished wood
repairing, restoring and re-upholstering - increasingly, ethically and environmentally-minded consumers prefer to repair or recondition furniture rather than throw it away
You might also offer specialist services to other furniture manufacturers, such as French polishing or preparing veneers.
If you're producing large items of furniture like sofas then you'll probably need to offer a delivery service. Depending on your target market and how you sell, deliveries may need to be made to a small number of stockists or to a larger number of end-user customers.
Samples
Don't forget that your retailer customers will want samples showing different finishes or textiles, if you decide to offer some choice. Don't overlook the cost of producing these and replacing them when you introduce new ranges.
Returns
People expect items of furniture to last for some time and the industry has in the past suffered from a high proportion of products that have been returned to the retailer/manufacturer because they have developed faults. You should give some thought to your returns policy so that your retailer customers know what procedure to follow in the event of a complaint from the consumer. Set out clearly the terms of any guarantees that you offer, for example a five-year guarantee against faulty workmanship and materials.
What furniture will you manufacture
The furniture manufacturing industry as a whole covers a wide range of different types of product, often targeted at different buyers. You could produce furniture for the domestic market or for the contract furnishings market (for example for businesses such as pubs, hotels and other venues open to the public) or for office furnishing. The domestic market is the largest, accounting for about 70% of sales, while the contract and office furniture markets together account for about 30%. Bear in mind that homes have been getting smaller, so if you are aiming at the mainstream domestic market consider making smaller items of furniture. You will need to give some thought to the market/s your furniture ranges will be aimed at.
The next step is to decide on the type/s of furniture you will be making - for example wooden or upholstered, fitted or free-standing.
Wooden furniture includes:
cabinet furniture such as wall and floor cupboards, chests, bookcases and other storage units
free-standing kitchen cabinets and other units
desks, tables
chairs, stools
occasional furniture
garden furniture
Wooden furniture can be made from a variety of materials, including solid wood and man-made products such as chipboard, plywood or medium density fibreboard (MDF). Veneers may be made from natural or synthetic materials. The completed piece may be polished, oiled, lacquered, stained or painted.
Upholstered furniture, which is the biggest sub-sector of the furniture industry, includes:
sofas
chairs, upholstered stools
three-piece suites
some types of bed
As with wooden furniture, various different materials are likely to be used in the construction of upholstered items, including wood, metal and plastic for the frames and a variety of textiles and leather for making the coverings. Cushions may be filled with foam, polyester fibre or feathers. Domestic furniture is covered by fire safety legislation which sets flammability standards for the exterior fabric and the fillings used to construct an upholstered item.
You might consider offering a bespoke service as well as producing standard ranges of products. This could include fitted bedroom furniture and bespoke wooden kitchens.
Promoting your furniture-making business
You will need to give some thought to how your prospective customers will know about you and your furniture ranges. You could either market and sell your products directly on your own account, or sell them through furniture retailers.
There are a number of ways in which you can advertise your business and market your furniture, such as:
contacting the buyers at both multiple and independent furniture retailing outlets
advertising your product ranges in the trade press
exhibiting at the major trade shows for the furniture industry
obtaining a listing in a specialist directory for the furniture sector, or participating in the British Furniture Manufacturers Association's online directory
contacting specialists such as architects and interior designers who might put contract work your way
making sure that housing developers are aware of any bespoke services you offer (such as fitted kitchens)
setting up your own website, perhaps with an online ordering facility
using social media, forums and blogs
Don't forget to highlight factors such as membership of the Furniture and Home Improvement Ombudsman Scheme - or perhaps the fact that you obtain your materials from a sustainable source - in any promotional material you send out.
Exporting
Although we currently import more furniture than we export in the UK, there may well be opportunities for UK furniture manufacturers to sell products overseas. The government provides assistance to companies wishing to enter export markets via the Department for Business and Trade (formally the Department for Business, Energy and Industrial Strategy and the Department for International Trade) Details about some of the help available are included on the GOV.UK website.
Pricing your furniture
Getting the price right is very important. You must make sure that the difference between the cost price and the selling price of your furniture items is at least enough to cover all of your operating costs, including your own drawings.
Try to earmark some income to invest in new equipment and technology. Not only must you be able to replace machinery when it breaks down but also you might want to buy labour-saving equipment to help you to keep your unit costs down.
Your two largest items of expenditure are likely to be on:
raw materials, such as timber, upholstery materials, components and so on
staff costs, including specialists such as external polishers
It is very important to monitor your raw materials costs and to make sure that your workforce remains productive, that wasteful processes are reduced as far as possible and the number of returns kept to a minimum. Bear in mind that you may have to replace items on a regular basis if they have suffered damage during delivery.
To monitor your performance you could regularly look at the relationship between your raw materials costs and your turnover, and your direct labour costs and your turnover. If you intend to produce high-end bespoke wooden cabinet furniture, then labour costs are likely to be considerable - craft production like this is very labour-intensive.
Don't forget that if you plan to sell to both trade customers (such as retailers) and members of the public (via mail order or online) your trade customers will expect a trade discount from the recommended retail price.
If you do sell direct to the public and to the retail trade, make sure you do not undercut your stockists' prices with your own web prices if you want to keep them on board.
Setting the right price right is essential. Too high, and you'll struggle to make the sale. Too low and you're throwing away potential profit.
Make sure the price is right with our free product pricing calculator. Answer a few quick questions to work out what you should be charging.
Special offers and discounts
You might decide to offer various promotional discounts to your retailer customers such as:
early settlement discounts for prompt payment of invoices
retrospective bonuses or rebates based on the volume of purchases they make over several months
bulk discounts for buying in large quantities
free delivery
Keep a close eye on any discounts and special offers you do make to be sure that they're working for you. After all, these kinds of promotion may encourage extra sales, but they'll also affect the amount of profit you make on each sale.
Buy an existing furniture-making business
You might decide to buy an existing furniture manufacturing business rather than start your own venture from scratch. Buying a going concern can mean that the products, customers, regular sales, staff, premises and equipment are already in place.
But buying a business can be a hazardous, expensive process unless you have the right skills and experience on your team, including legal and financial know-how. Establish the genuine trading and financial position, so that the price you pay for the business is not too high.