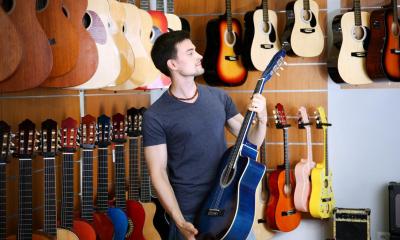 Playing a musical instrument is still very popular so running a music shop could be a good choice. Our guide covers the key issues for starting and running your own business.
Research your target market
When you plan your music shop business it's important to make a realistic estimate of the level of demand in the area.
Estimating demand
You'll want to confirm that there is enough demand for a new music shop in your area. First of all, check out the competition. Count how many outlets there are already in your area selling musical instruments, including second-hand shops and pawn shops. Looking on Yell.com is a quick way of doing this, and you could do further research by doing a search for 'music shops' and the name of your town, city or region on the web. If you do this, you could look at each shop's website to see the types of service they offer and the items they stock. Finally, you may want to count the number of Music Industries Association (MIA) members there are in your area by looking in the 'Our Members - Retailers' section on their website. However, be aware that many music shops are not members of the MIA - probably only around one in four.
Bear in mind that you won't just face competition from local and regional businesses. Many music retailers sell products on the web, so it's probably essential to check who's selling the types of product you intend to stock online and what sort of prices they're charging. You'll face competition from professional eBay sellers too.
Once you have established how many other music shops there are in your area, you could visit some to get an overall impression of how busy they are and even talk to the owner or sales assistants. They may be willing to tell you how well the business is doing. If the majority of the music shops are empty every time you visit them, you may feel that there would not be enough business to support your own shop.
There may be other factors that would persuade you that your area can support your music shop, such as a thriving live music scene or a music school nearby - a lot of grassroots music venues closed in the mid 2010s for various reasons, particularly in London, so it is worth finding out as much as possible about closures and planned closures. You may also consider contacting the music departments of local primary and comprehensive schools. These might recommend your shop to their students, particularly if you offer them attractive discounts. Alternatively, you could contact local orchestras, DJs and anyone else in the music business who may use your shop.
Shop location
The location of your shop may depend to a large extent on the types of instrument that you intend to stock. A shop focusing on a specialist niche market may not need a particularly prominent trading position as it may be able to generate enough custom from word-of-mouth and targeted advertising rather than relying on passers-by. But a shop that stocks a broader cross section of musical equipment may need premises that are close to the main shopping areas to get enough custom. It may be important to have ample parking close to your business premises as customers are unlikely to want to carry an instrument a long distance.
Also check out local crime rates - you don't want to have to cope with excessive levels of shoplifting, break-ins and theft.
Why will customers choose your shop
Once you have decided on the proposed location of your premises, you will need to confirm that you will be able to encourage enough customers to choose your shop rather than any existing outlets. Check out the competition to see:
what range of products they offer
whether they focus on a particular type of musical instrument (such as strings or guitar) or genre of musical instrument (such as Irish or folk)
what services they offer (set-up and repairs, tuning and so on)
what prices they charge
what are their opening hours
what type of customer are they attracting
if the premises and fittings are modern and smart
If you come across outlets that are targeting the same market as you, you could try to differentiate your shop from these - possibly by always being the best value or by having the best customer service or most knowledgeable staff.
It's important to be welcoming, friendly and enthusiastic to customers, even if they're only there to browse this time.
Customer profile
The nature of your shop will probably influence your typical customer profile. A shop dedicated to supplying one type of instrument will inevitably attract customers who play or are interested in playing that instrument. If you stock a full range of instruments and you and your staff have sufficient knowledge about your products, you are likely to attract both professional and very keen amateur musicians.
Your customers are likely to have a varied range of musical ability - particularly if you run a general music shop - from absolute beginner upwards. So you should aim to stock a product range that can cater for everyone. You are also likely to have a number of parents buying instruments for their children, either as Christmas presents or at the start of school terms. It is likely that many of these customers will not really know what they are looking for and so will rely on you for expert advice.
Bear in mind that you're quite likely to have a relatively small core of regular customers who make large and frequent purchases from you - for example local professional musicians and enthusiasts. All your customers are important, but regular buyers like these may be the life-blood of your business - treat them like royalty!
Trade customers
As well as members of the public, you may also deal with:
local education authorities
schools
music teachers
orchestra members and organisations
These may well expect you to offer them discounts and possibly account facilities.
Research current trends, plus legal and tax issues
Selling on eBay and Amazon
Selling online can be an excellent way of reaching new customers and boosting your sales. But setting up your own ecommerce website can be expensive and you may not be sure at the beginning whether the value of the sales you'll make online will justify the set-up costs.
As an alternative, trading on eBay or Amazon lets you get a feel for selling online but with much lower start up costs. And you may decide to keep on selling through eBay and Amazon even when you have your own online shop.
Getting started
You might already have your own personal eBay account that you use to buy items for yourself and to sell things that you don't need any more. But if you're trading as a business on eBay you're legally obliged to make it clear in your listings that you're a business seller. This means that you'll either need to register a new business account or upgrade your personal account to a business one. There's guidance in the eBay Seller Centre on the definition of 'trading' if you're not sure whether you need to register as a business seller.
Similarly, with Amazon you can use an existing account or create a new one when you register as a business seller.
If you're not already running a business and you intend to start selling things on eBay or Amazon - perhaps just in a small way to begin with - then you'll need to notify HM Revenue & Customs (HMRC) that you're trading. There's guidance on the Gov.uk website that gives an overview of what counts as trading and what counts as self employment. It also gives details of your tax and record keeping obligations.
Decide whether to have your own virtual 'shop'
Having your own virtual storefront will give your business a valuable online presence and will allow you to display all your products together in one place.
When you sign up to sell on eBay, you have the option of setting up an eBay Shop. This allows you to create your shop using an existing template or to customise it to your own design. You don't have to choose the eBay Shop option straight away - you may decide it's best to wait until your monthly sales build up to a certain level and then upgrade.
With Amazon, you'll automatically create your own storefront regardless of the package you choose. You won't be able to customise it very much but you will be able to add your name and logo and provide some information about your business.
How much does selling on Amazon and eBay cost?
Before you start selling on Amazon and eBay it's a good idea to find out how much you'll have to pay in fees. Depending on the items you sell and the method you choose for selling them, your total fees can be quite substantial. And while some of the fees you pay will be linked to the number of items you sell each month, others are likely to be fixed costs which you incur even if you don't sell anything.
Both eBay and Amazon give you the option of selling as a business seller without paying any fixed monthly fees, although it's usually more cost-effective to choose a subscription-based package unless you're only selling a small number of items each month.
The eBay website has a fee illustrator tool and a fee calculator that will help you compare the fees for different selling methods and get a good idea of how much your actual per-item selling fees are likely to be.
The Amazon website gives detailed fee guidance, including some examples of pricing for their subscription and non-subscription packages.
Managing your listings
Uploading your inventory to eBay or Amazon and managing your listings can be a time consuming task, particularly if you're planning to sell a large number of items.
Both eBay and Amazon offer useful listing tools, some of which are free and others that you'll have to pay for.
Promoting your items
Because there's such a huge number of items for sale on eBay and Amazon at any one time, it's very important that you do everything you can to stand out from the crowd.
Always make sure that your listings include accurate, spell-checked descriptions and that your photos and other images show the items that you're selling in the best possible light.
You might want to take it a step further and use the various marketing tools provided by eBay and Amazon such as search optimisation, cross-promotions and paid-for advertisements.
Your reputation
As an eBay or Amazon seller your online reputation is extremely important. All sellers have a feedback score based on actual customer feedback and this is the main measure that future customers will use to check that you are trustworthy and reliable.
So you'll want to keep your rating as high as possible by providing an excellent level of customer service and fast delivery at reasonable prices. Make sure you always respond promptly to customer queries, deal with returns efficiently and keep an eye on your stock levels to avoid your listings showing an item as being in stock when it has sold out.
Be aware that packing up orders and sending them out can be time consuming, but it's important to stay on top of the job to make sure that the right items get delivered in good time to the right people. Very many parcel delivery services now offer bulk shipping tools that integrate with your eBay or Amazon account and these can greatly simplify the process of arranging and tracking your deliveries.
If you're selling on Amazon you might also consider using the Fulfilment by Amazon service, where you send Amazon your inventory and they do all of the picking, packing and shipping as well as providing customer service.
More information
The eBay and Amazon websites have a great deal of useful guidance to help you get started as a business seller and to expand your business as demand for your products grows. Both also have lively seller community forums where experienced sellers are often happy to answer questions.
Decide what to sell
The range of products you sell will depend on what type of shop you intend to run. You may intend to specialise because you are a musician with an interest in a certain type of music or instrument - alternatively, you may offer a more general range. Your stock may include some or all of the following:
guitars (both electric and acoustic)
folk stringed instruments like mandolins, ukuleles, bouzoukis and banjos
pianos, keyboards and organs
drums
violins, cellos, clarinets and so on
wind instruments, including flutes, saxophones etc
'starter instruments' and children's instruments commonly used by schools, including recorders, triangles, xylophones and tambourines
less mainstream instruments, such as bodhrans and didgeridoos
drum machines
mixing decks
amplifiers, speakers and leads
music software
books and sheet music
accessories, such as guitar strings, picks, bottlenecks, effects pedals, tuners, tools, music stands, bags and metronomes
instructional CDs and DVDs
You might decide to stock left-handed instruments such as guitars - these can be difficult for musicians to source and it could be a worthwhile niche market to supply.
It is possible that you will stock secondhand instruments as well as new ones. If you offer a part-exchange service, you may choose to sell the customer's old instrument in your shop. You may also buy secondhand instruments from people that come in off the street. Perhaps you will agree to sell customers' instruments for them in exchange for a percentage of the selling price as commission. If you are going to sell secondhand instruments you'll have to decide what warranty, if any, you are prepared to give and how you will deal with any repairs etc under the warranty.
Services to offer
You may offer some or all of the following services:
after-sales instrument preparation, such as fret-dressing and setting up guitars and other stringed instruments
instrument repair, restoration and/or tuning. You may decide to do this in-house or pass it on to a specialist like a luthier (stringed instruments)
custom-made instruments (you'll probably pass custom orders on to a specialist unless of course you're an instrument builder yourself)
music lessons
instrument hire and rental. Some music shops allow their customers to hire instruments indefinitely. They will sometimes then allow the customer to purchase the instrument at a reduced price
an efficient ordering system. It is likely that you will have some requests from customers that you cannot fulfil from the stock you hold in your shop. In these cases, rather than turn the customer away you could suggest ordering the item
finance. You may decide to offer finance to your customers by using a specialist finance company
Quality standards
Customers generally prefer to shop in pleasant surroundings so you should try to ensure that your shop:
is clean, tidy and professionally fitted out (don't forget to look critically at the outside of the shop - smart paintwork is important)
is well-stocked with the instruments and accessories that will appeal to your target customers
is staffed by knowledgeable and smart employees
offers a high standard of customer service
has enough space for customers to try out instruments
Bear in mind that would-be customers may be put off if your shop is constantly full of your friends and hangers-on who form a 'clique' and deflect your attention away from serving people who want to spend money.
Don't overlook the potential of your window display - a bright, regularly changed display will attract passing trade. Signs in your shop window will inform passing customers as to what you offer.
You can also use your shop window to advertise any special offers or promotions you will make.
Price your products
How will you decide on your prices?
Getting the price right is very important. You must make sure that the difference between the cost price and the selling price leaves you enough profit to cover all of your operating costs, including your own drawings.
Most of your suppliers will have a recommended retail price for each of the items that you stock. However, you may find it difficult to price in line with these, particularly if competition is strong in your area.
Also consider the following points when setting your prices:
do you aim to win business away from your competitors with attractive pricing? If there is strong local competition you may find that customers will play one retailer off against another in search of the best deal
how will you compete with your online competitors? Most of the items you'll sell will probably be available from a wide range of other sellers online, often at very competitive prices. It's very easy for people to search online for the lowest price on the item they want - some even visit shops to try things out before buying online
if you sell goods online as well as in your shop, will you advertise special online prices? If so, will these be available to customers in your shop who ask for them
do you really need to discount? You may find discounting an inevitable part of your business. However, you may be able to establish a reputation for good after-sales service or knowledgeable staff that will mean that customers are prepared to pay a little bit extra
will you use 'key price points'? For example, pricing an instrument at £99.95 rather than £100
will your instrument prices include things like free set-up
If you intend to specialise in a niche area of the market, it may be that your prices won't be affected by what your competitors charge as they don't stock the same range as you. If this is the case, you can charge what the market is prepared to pay.
If you plan to sell secondhand instruments, you should ensure that they are priced high enough for you to cover what you paid for them (either in cash or in the form of part-exchange) but low enough to encourage people to buy them rather than buying new.
You'll need to price up any services like repairs and re-stringing you offer too.
Special offers and discounts
You may consider running special offers throughout the year. These can result in bringing more customers through your door who will hopefully buy more than just the items that are advertised on special offer. However, it is important that you monitor your takings during these times to make sure that you are getting more custom, rather than just giving your regular customers cheaper products. Offering discounts on selected lines can also be a good way of shifting stock during quiet periods - during the summer, for example.
Don't forget to brief your staff on what discounts are available so that they don't offer friends and relatives unauthorised discounts.
Seasonality
The level of sales in a music shop can be greatly affected by the time of year. You may well find that your busiest time will be the period between September and the start of January when parents buy instruments for their children at the start of the school year and also when people buy Christmas presents. Learning a new instrument is quite a popular new year's resolution and may help to boost sales during January. So it's important that you make an allowance in your cash flow estimates for the increased amount of stock that you will need to buy for these periods as well as the increased sales. You may need to take on extra staff in this period, so the wages payments may also have to be adjusted upwards.
You are likely to find that your quietest period is between April and August and you may decide to use this opportunity to reduce the level of stock you hold, possibly by discounting.
Buy an existing business
You might decide to buy an existing music shop rather than start your own venture from scratch. Buying a going concern can mean that:
the premises, business equipment and shop fittings are already in place
there are established customers
the business can generate income immediately
suppliers have been identified and relationships established with them
the business has a track record which can help if you are looking for finance
staff may already be in place
However, look critically at any business that you are interested in to make sure that the price you negotiate with the seller is a fair one. Try to establish why the business is for sale - for example, is the owner keen to retire or is there another personal reason for selling up?
Your market research into the sector as a whole and the locality in particular will help you to establish whether or not the owner is selling because he or she can no longer generate enough income from the business. This may not necessarily deter you - many business people are confident that they can turn a failing business around. The important thing is to have established the current position so that the price you pay for the business is not too high.
Other matters to consider include:
the state of the premises and fittings. Will you have to spend money refurbishing or replacing assets
existing staff rights
the condition and value of any stock you are buying. Check this over carefully before agreeing a price
how to retain key personnel once you've taken over
does the business owe money that you will be responsible for
if you are paying for goodwill, to what extent does this depend on the skills, contacts and personality of the seller
Bear in mind that the local musical community can be a close one. If many of the business's customers are friends and acquaintances of the current proprietor, ask yourself if they're likely to continue using the shop once you take over. The same applies if the existing proprietor is a very well-known figure in the local music scene - will you be able to step straight into their boots?
Ask your accountant to look critically at the business accounts for the past three years and discuss with him or her the selling price in the light of what the accounts reveal. Make sure you budget for other professional fees such as legal fees and valuation and survey costs.