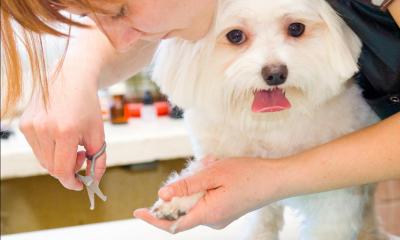 People look on their pets as one of the family and are prepared to spend a lot of money on them. This is good news for the pet grooming sector. Our practical guide will help you start up and run your own pet grooming business.
Research your target market
When you plan your pet grooming business it's important to think about how much demand there is likely to be for your services, and make an assessment of the level of existing competition.
Your market
Your 'customer profile' should be considered as having two aspects, your human (and paying) customers and your animal 'customers'. Your human customers are likely to include:
owners of breeds that require regular grooming. Many owners will have neither the necessary skills nor the time to groom their pets regularly and so prefer to have a professional do it for them
professionals and enthusiasts who breed and show animals - particularly dogs and cats
owners who are not physically able to groom their own pets - perhaps because they are elderly or because they have a disability
owners of animals that need flea or other parasite treatments, or which need an identity microchip implanted (if you offer this service)
proprietors of animal boarding kennels and pet shops that offer a grooming service to their customers but are not able to do the grooming themselves
owners of animals that have been referred to you for grooming by a vet
Remember that for the most part, customers will be entrusting a beloved pet to your care so you should always make sure that you treat their animal with respect at all times and never make any negative remarks about its condition or appearance.
It is likely that the majority of your animal customers will be dogs of all different breeds - you may in fact choose only to accept dogs. However, you may also decide to offer grooming services to cats and other long haired animals, such as rabbits, chinchillas and so on.
As part of your market research, try to find out as much as you can about the types of people - and their pets - living in your area. Pets are popular with families and also with older people. Is there a popular dog-walking area nearby? If so, it could be worthwhile leafleting cars parked there from time to time.
Estimating demand
It's very important to find out whether there is enough demand for a pet grooming business in your area. You should be aware that the sector has become quite competitive in recent years and you are likely to face competition from:
other established grooming parlours, including mobile businesses and franchises
boarding kennels and pet shops that offer a grooming service
Check out the competition in your area to identify how many other businesses already offer a pet grooming service in your local area. A good way of identifying the number of competitors in your area is to look on Yell.com or similar directory and try other online searches. Once you have found out how many other businesses you will be competing against, it can be useful to have a good look at them to establish:
the level and range of services that they offer and the prices that they charge
how well qualified, knowledgeable and helpful their staff are
whether the premises and fittings are modern and smart
Be aware that pet grooming is available from the national pet shop chain Pets at Home - over 290 of their stores have a Groom Room included, and it's likely that this number will increase (Pets at Home has over 440 stores in total).
You may decide to offer grooming for animals that are going to be shown. If so, try to find out how many shows are typically held in your area as this will give you a good indication of the level of demand for this service.
Why will customers choose your business
You need to make sure that enough customers will choose you rather than your competitors. Your market research might indicate that there is a gap in the market that your business can fill. For example, perhaps no one in your area offers a mobile service, or possibly existing outlets only offer dog grooming and you have identified that there is a market for grooming other types of animal.
Other reasons why customers may choose you include:
your prices are cheaper than your competitors
you offer a better level of service
you will offer a grooming service for show animals. Pet owners demand highly exacting standards from groomers of show animals and as a result, many professional groomers choose not to offer this service. If you feel that you have the necessary skills and experience you may find that you are able to take advantage of a lucrative niche market
you and your staff are well qualified
your premises are conveniently placed
Find out what people want
It may be useful to find out what people want for their pets and whether there are particular services you can offer which will attract customers to your grooming parlour. If you plan to carry out a local survey, don't forget that you may also have some trade customers, such as animal boarding establishments.
Research current trends, plus legal and tax issues
Decide which services to offer
Grooming pet animals - particularly dogs and perhaps some cats - will be the main service that your business will offer and this is likely to include:
bathing the animal
clipping, brushing and detangling the coat. You may offer a choice of a full cut or just a trim
hand stripping (where appropriate)
nail clipping
ear plucking and cleaning
teeth cleaning
expressing the anal glands (dogs)
Before you groom the animal, you should make sure that you fully understand what the owner wants their animal to look like at the end of the grooming treatment. Try to make an estimate of the typical amount of time that you will take to groom an animal and from that you can work out the maximum number that you can do in a day. For example, if you think that it will take an hour for you to groom an animal and you work for seven hours a day, your maximum would be seven animals per day, provided you are fully booked. The maximum will fall if you offer a mobile service and have to travel between appointments.
Other services
You may also decide to offer a number of other services that will make your business attractive to customers. These may include:
offering a free collection and drop-off service to customers within a certain area
offering a mobile grooming service
treating with rinses for ticks and fleas
implanting identification chips
offering grooming training, either to pet owners or to people that want to get involved in the grooming industry
offering dog obedience training
As well as advertising full grooming, puppy grooming, cat grooming, nail clipping and microchipping, Pets at Home offer:
bath and blow dry
spa treatments
You might also decide to sell some pet grooming products.
Advertising and marketing your business
Whatever the nature of your business, you must make sure that your potential customers know about you and the services you offer.
There are a number of things you can do to promote your business:
join the British Dog Groomers Association, part of the Pet Industry Federation (PIF), and display their logo and membership badge
advertise in your local newspaper and any local directories
launch your business website, showing all the features that will attract customers to your parlour
have leaflets printed, perhaps including simple tips on grooming
organise or sponsor a local dog show
contact local boarding kennels and pet shops with details of your services and your pricing structure - you could ask if you can leave some business cards on their counter or a flyer in the window
form links with other trade contacts, such as vets, as they may recommend your business to other people
offer discounts on certain services or for grooming more than one animal and advertise this in your window
Price your services
Getting the price right is very important. You must make sure that the amount that you charge is enough to cover all of your operating costs, including wages and your own drawings. As the grooming sector is now quite competitive, you may find that you have to price in line with your competitors.
You are likely to set a tariff of charges based around the breed and size of the animal, the service provided and how difficult it is to groom. Typical prices for a full groom might range from around £20 to £25 for a small or short haired dog to £40 upwards for a large and/or long haired dog. If you decide to offer grooming services for cats, rabbits and so on, you may charge a similar price to that charged for small dogs.
You may well decide to offer different levels of service at different prices - for example basic bath and dry, clipping only, full groom and so on. You'll have to decide whether certain services, such as nail clipping and ear plucking, will be included in your basic grooming charge or whether you will charge extra for them. If you are planning to offer a mobile grooming service, you should remember that the prices that you charge will have to cover the cost of running your vehicle.
If you choose to sell grooming products you need to decide on the prices that you are going to charge. If you do not know how much to charge, contact your suppliers as they may be able to supply you with recommended retail prices for their products.
Special offers and discounts
If you have any trade customers such as proprietors of animal boarding establishments you might offer them a discount as a matter of course. How much discount will depend on your pricing policy, how much work you get from them, and how much local competition there is.
You may also decide to offer discounts to certain members of the public. For example you might:
offer a reduction if an owner brings in more than one animal to be groomed
offer pensioners a reduced rate
reward loyal customers with occasional discounts, for example after five full price grooming sessions they receive the sixth for free
Buy an existing business
You might decide to buy an existing farm supply business rather than start your own venture from scratch. Buying a going concern can mean that the products, customers, regular sales, staff, premises and equipment are already in place.
But buying a business can be a hazardous, expensive process unless you have the right skills and experience on your team, including legal and financial know-how. Establish the genuine trading and financial position, so that the price you pay for the business is not too high.
Franchises
Franchising can be a good 'halfway house' between starting out from scratch and buying an existing business. If you purchase a franchise you'll still be setting up your own business, but you could benefit from the experience, resources and brand name of a business that is already successful. Your franchisor may refer potential customers to you through their website and contact centre.
There are several franchise opportunities available in the pet grooming business, particularly for mobile groomers. Although different schemes may vary in detail, most feature the following key points:
as a franchise holder, you will remain self-employed but will use the identity (corporate colours, logos, trade name and so on) of the franchisor
in return, you will pay the franchisor a fee - this might be a one-off investment, a monthly charge, or a combination of both
you may well have to buy some or all of your grooming supplies and equipment from them
both you and your franchisor will have to fulfil certain obligations and maintain certain minimum standards
You may receive referrals which come through the parent franchisor's website or central office for grooming services in your local area.
Some franchisors will provide you with any specialist training you require, help with advertising and marketing, and advice and support on a range of business and technical matters.
Details of the above points are set out in the franchise agreement or contract, which both you and your franchisor will sign. The agreement will also deal with other matters, for example any territorial exclusivity due to you and the minimum period for which the franchise will run.
Before entering into a franchise agreement, it is advisable to compare the terms of different franchisors to be sure that you are getting a good deal. Go through the contract with your solicitor before signing anything. More information about franchising is available on the Franchise Info website. Information is also available from the British Franchise Association (BFA).