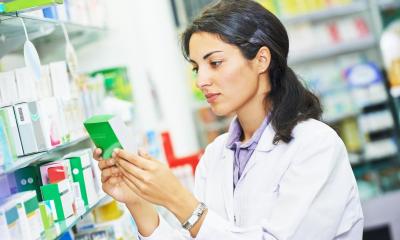 As a trained and qualified pharmacist you might decide to set up your own pharmacy. You'll find all you need to start up and run your own pharmacy business in our practical guide.
Research your target market
Estimating demand
Income for your pharmacy business is likely to come from two main sources, so as a first step, make an estimate of:
the income you are likely to receive from NHS work
the income you are likely to receive from sales of items such as health care products, toiletries, cosmetics, photographic equipment, digital media printing and so on
Competition
You will face competition for NHS dispensing work and other NHS services from any other pharmacy in your area. Competitors include 'one stop' primary care centres, Boots, the national pharmacy chains that are becoming increasingly widespread, and pharmacies located in retail parks, business parks and supermarkets. You may also face competition from the increasing number of mail order and internet pharmacies. If you will be located near a surgery or medical centre you are likely to benefit from most of the patients bringing their prescriptions to you to dispense. This will give you the opportunity to also sell them medical and non-medical items.
You will almost certainly sell a wide range of non-prescription medicines, health care products, cosmetics, toiletries and so on. Very many other outlets also sell this type of product (for example the supermarkets have significantly increased the exposure given to vitamins and supplements, cosmetics, toiletries and baby products) and, wherever possible, it would be a good idea to stock specialist ranges of goods that are not so widely available. You might consider complementary therapy products or items such as incontinence products and daily living aids for elderly or disabled customers.
If you are buying an existing pharmacy the vendor will be able to let you have details of the number of NHS prescriptions dispensed, NHS fees and allowances and income from the retail side of the business. However, market conditions are subject to change and it's sensible to do as much research as possible to establish whether previous performance is likely to be achievable in the future and whether you can improve on previous results.
One of the first things to do is check out the competition. Find out who your competitors are and what range of products and services they offer.
Your customers
It's also important to research your local catchment area to establish who your customers are likely to be and which goods and services they are likely to want. This might immediately help you to identify a niche in the market which is not being filled. For example a newly constructed sheltered housing development might enable you to stock a range of items of particular interest to the elderly and to offer the New Medicine Service (NMS), to help them manage their medication. A nearby sports centre might bring in many customers looking for food supplements, support strapping, pain relief preparations and so on.
Research current trends, plus legal and tax issues
Establish your customer profile
Your market
Many of your customers will be members of the public who want to have a prescription dispensed and who may, at the same time, buy something from the retail area of your shop. Some may be looking for a service you provide, like pregnancy or cholesterol testing or flu vaccination. Of course you will also have many customers who do not need your dispensing services and who have called in for cosmetics, toiletries, healthcare products and so on.
The National Pharmacy Association runs a campaign ('Ask your Pharmacist') to encourage members of the public to consult their local pharmacist on a range of healthcare matters. It's important that the pharmacy is welcoming and that your consultation area provides privacy so that people can explain symptoms without being overheard. It would also be worth displaying a good range of health care leaflets so that patients know about other sources of healthcare provision.
Many of your customers are likely to become regulars, particularly if you are able to build up a reputation for helpful advice and for either having in stock the items customers want or being able to order them quickly.
Patients in England generally pay the current set NHS prescription charge at the time of dispensing, unless they fall into one of the categories exempt from charges - around 90% of prescriptions dispensed are to exempt individuals. (In the rest of the UK prescriptions are now free.)
Customers purchasing non-prescription items are not generally offered either discounts or credit, although from time to time certain products may be discounted (for example seasonal stock) and special promotional offers may be made. Some pharmacies do offer pensioners a discount - for example of 10%.
Your customers will probably pay you in cash for small, inexpensive items and for prescriptions, but are likely to want to pay by debit or credit card when the amount involved is substantial.
As well as members of the public, your customers may also include businesses like local nursing homes and other healthcare professionals like GPs, dentists and vets.
Advertising your business
No matter who your customers will be it is essential that they know about you and the services you provide. The pharmacy itself will act as a good advertisement for you and it's a good idea to make sure that window displays are appealing and that the interior of the store is smart, clean and welcoming. Remember that the General Pharmaceutical Council (GPhC) requires your pharmacy premises to meet certain standards.
There are a number of things you can do to promote your business:
advertise in your local newspaper and any other local publications and directories
have your own website and offer a mail order service. You can include the GPhC internet pharmacy logo on your website to reassure patients that they're buying medicines from a registered pharmacy
use social media like Facebook and Twitter to let people know about healthcare news or things like holiday opening hours
have leaflets printed outlining your services and distribute these to local residents. You might consider including health 'tips' of relevance to your target market
offer a collection and delivery service to your local surgery
make sure your vehicle(s) carry your name and logo
Decide what to sell
There will be two aspects to your pharmacy business:
NHS dispensing and services
private healthcare services and retailing of a range of health and beauty products and other items
Income from NHS work is likely to account for at least 90% of your total income.
The 2005 pharmacy contract for England and Wales expands the community pharmacist's role and, as well as providing essential services (which include dispensing and repeat dispensing) there is the opportunity to provide advanced services (such as flu vaccination) and locally commissioned services (such as diabetes screening or services to schools). You must provide all the essential services before you can offer advanced services. The revised contract in Scotland introduced four core services - the acute medication service, the minor ailment service, the public health service and the chronic medication service.
Medicine sales
Medicines are licensed by the Medicines and Healthcare products Regulatory Agency (MHRA) and classified into three categories:
prescription-only medicines (POM) which may only be dispensed by a registered pharmacist. POM-VPS medicines are prescribed by vets for animals
pharmacy-only medicines (P) which can be supplied without a prescription but only from a pharmacy with a registered pharmacist in attendance
general sales listed medicines (GSL) which are available from a range of other outlets, such as convenience stores and supermarkets
P and GSL medicines which may be supplied by a retail pharmacy without a prescription are often referred to as over the counter (OTC) products.
Retail sales
You are also likely to sell many other products in addition to P and GSL medicines, such as:
specialist healthcare items
toiletries, cosmetics, perfumes, hair care products
baby food and baby care items
health foods, vitamins and supplements
daily living aids for elderly and disabled people
aromatherapy and homeopathy products
household and pet care products
items such as jewellery or sunglasses
photographic film, cameras and accessories
electrical items such as shavers, hairdryers
and so on.
You might also offer a digital photo printing service.
There is a number of health-related services that you might offer, such as blood pressure monitoring or cholesterol testing.
Buy an existing business
You might decide to buy an existing pharmacy business rather than start your own venture from scratch. Buying a going concern can mean that the products, customers, regular sales, staff, premises and equipment are already in place.
But buying a business can be a hazardous, expensive process unless you have the right skills and experience on your team, including legal and financial know-how. Establish the genuine trading and financial position, so that the price you pay for the business is not too high.
Other matters to consider include:
the General Pharmaceutical Council (GPhC) - the regulator for the profession - has introduced standards for pharmacy premises. Pharmacies can only remain on the GPhC register if they achieve these standards
Specialist business transfer agencies such as Christie & Co handle pharmacy sales around the country. You can use the Find a Pharmacy tool on the Christie & Co website to see details of pharmacy businesses for sale in your area.