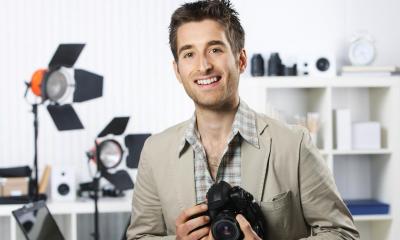 If you're a trained and experienced photographer you might decide to set up in business on your own, for example specialising in weddings. You'll find all you need to start up and run your own photographic business in our practical guide.
Research your target market
Estimating demand
You need to establish whether there is enough local demand for your professional photography business. If you have already been working in the industry as an assistant or on a part-time basis (just on weekends, for example) you should be well placed to decide whether there is room in the market for you. If you will be serving a relatively small local area there may not be enough demand to sustain your business if there are already a large number of established photographers working nearby.
Your competition will include:
other professional photographers
keen hobbyists and photography students who carry out paid commissions in their spare time
photograph libraries and stock photography websites
Have a good look at other businesses in your area to see:
the prices they charge
which services they offer
what qualifications, if any, the photographer has
whether the studio is modern and smart (if the business is studio-based)
what discounts are offered, if any
Don't forget that good quality digital cameras have now become so affordable that it's not uncommon for the bride and groom to ask a friend to take their wedding photos - or hire a keen hobbyist at a much lower rate - rather than using the services of a professional. You may need to focus your marketing efforts on persuading people why it's worth paying for a professional.
Why will customers choose your business
You need to make sure that enough customers choose to use you rather than one of your competitors. Word-of-mouth recommendation is extremely important, so it's a good idea to build up a large network of contacts. Trade clients (all those that aren't private individuals) will often want to look at your portfolio to assess your ability as a photographer and see whether your style fits in with their planned project - having samples of your work posted on your own website or on a third party host like Photobucket can be an excellent way of showcasing your skills.
If you are studio-based, make sure that your premises look modern and welcoming and that reception staff are friendly and polite. If possible, choose premises that have a good amount of passing trade, so you can advertise your work in the studio window, as well as easy parking nearby.
Check out locations before a shoot to minimise the risk of things going wrong and always try to project a professional and efficient image.
You may decide to attract customers by charging less than your competitors but make sure you charge enough to cover all of your overheads or your business will not be viable.
Check out future developments
If you have a studio that relies on passing trade, check that there are no plans to build new road systems, which would mean that traffic would bypass your studio, nor proposals to impose parking restrictions. You could also try to find out if a competitor - in particular a Venture Studios branch - is planning to open a studio in your proposed location.
Research current trends, plus legal and tax issues
Customer profile
Your market
If you're intending to work as a 'general practitioner', it's likely that your customers will be a mix of members of the public and commercial clients.
Members of the public might include:
couples getting married or registering their civil partnership. (Although same-sex couples can now marry, civil partnerships will continue to be available for the moment, although the situation may change.) Most of this work will be carried out on location which will usually mean you having to check the venue out beforehand to assess its viability
families and individuals wanting portraits
individuals wanting shots to mark special occasions, such as graduation, birthdays, anniversaries and other celebrations. These may be a mix of studio-based and location-based
Your commercial clients might include:
local businesses that need images for their advertising
commissioning agents
newspaper and magazine editors
Non-commissioned work
As well as commissioned work, you may also decide to take photos on your own account and sell them through your own website or through a stock or micro-stock website.
Special offers and discounts
From time to time you may decide to offer special offers. For example you could offer a free portrait in the hope that once the customer is through the door you will be able to sell them extra shots.
Type of business
General practitioner
Over half of the professional photographers in the UK are 'general practitioners' (or GPs) which means they do a mixture of weddings, portraits and commercial work. The level of income achieved by a GP can be affected by:
the number of people getting married or entering into civil partnerships locally
the state of the local economy. Commercial customers in particular may reduce their expenditure on advertising when economic conditions are difficult
the level of local competition
how well marketed the business is
the photographer's reputation and expertise
If you plan to be a GP, your customers will generally be a mix of the general public and businesses. Most of the work done for members of the public will be 'Cash sales' as they will pay you when they receive their photographs, or before if deposits are requested for some types of work. Businesses may expect to be offered a certain amount of time in which to pay their invoices (for example, 30 days) and this income should be entered as 'Cash from debtors'.
You may also opt to specialise in one of the areas traditionally covered by the GP, although there may not be enough work to support this.
Advertising, fashion and editorial
Advertising photographers produce images that are used in advertisements, so they need the skill to be able to make something, which can often be a mundane object, look as interesting or appealing as possible. They tend to deal with commissioning agents and usually work to tight deadlines. Fees can be high for the very best but for the majority they are not. The turnover of the advertising photographer is affected by his or her skill, which will dictate whether repeat work is offered and also by economic conditions which, during periods of recession or economic downturn, can reduce the advertising spend by companies.
Fashion photography, which involves shooting clothes, footwear accessories and so on, is highly competitive and so ability, persistence and some luck is necessary to succeed.
Editorial photography involves taking pictures for newspapers and magazines and, in common with all other areas of the business, needs hard work to succeed - you will have to be in the right place at the right time and may regularly need to travel to locations.
Decide which services to offer
Depending on your skills and the nature of your business, you may offer:
wedding and other social photography
portraits
schools photography
commercial and industrial photography
aerial photography
architectural photography
medical and scientific photography
food, sports, wildlife and automotive photography
art and antiques photography
You may also decide to take uncommissioned shots which you will submit to stock websites, picture agencies, calendars, newspapers and magazines or keep in your portfolio as a way of advertising the quality of your work to prospective clients. Alternatively, you may publish them on your own website and make them available for sale.
You may also decide to offer an image processing or developing service to amateur photographers. Alternatively, you may decide to assist other photographers on a part-time basis to ensure you have a regular income, particularly in the early days.
The most common type of photography business in the UK is the 'general practitioner' (GP) (or social photographer) who, as the name suggests, does not specialise in any one area. The typical mix of sales of a GP may be:
Portraits - 25%
Weddings - 65%
Commercial and industrial - 10%
However, this can vary quite significantly depending on the state of the local market, your own skills and preferences, the state of the local economy and how your business is promoted.
Advertising your business
Whatever the nature of your business, you must make sure that your potential customers know about you and the services you offer.
There are a number of things you can do to promote your business:
advertise in your local newspaper and local directories
launch your own website to showcase your work and use social media and photo sharing websites to keep in touch with existing customers and to try to attract new ones
establish partnerships with related businesses. For example, other businesses involved in the weddings sector, such as popular local wedding venues, professional wedding planners, florists and clothes hire shops
make contact with other photographers; they may be able to pass you work
bring your portfolio to art directors and editors
cold call prospective customers
offer discounts and special offers for example a free 'elegance makeover' with a studio portrait
ensure that your studio looks inviting and is clean and bright
ensure that you project a professional image, particularly when dealing with commercial buyers
It can be extremely difficult to break into the photography business and you will need to work hard to establish yourself. Word-of-mouth recommendations are likely to play a significant part in generating new commissions.
Price your services
Getting the price right is very important. You need to make sure that the difference between the cost of undertaking a commission and the price you charge is enough to cover all of your operating costs, including your own drawings.
You are likely to use different pricing policies for different types of work. For example, for commercial and industrial work you may charge on an hourly, half-daily or daily basis but for studio-based portrait work you may charge on a per shot basis. Wedding work may be charged for as a package so the client would pay one charge which would cover your time and all the agreed number of images and the format(s) in which they are presented, together with one or more albums. You may also charge some wedding clients on a daily or half-daily basis, depending on their preference.
Some clients may routinely ask for a discount or ask you to match a lower quote that they have got from another photographer. You'll have to decide if you'll be prepared to accept less than your advertised tariff - this is likely to be influenced by the level of local competition and by the state of the economy.
Added value can be gained by, for example, offering a framing service or a pre-wedding shoot service.
Assisting other photographers
Rather than starting out on your own straight away, you may consider working with another photographer as an assistant. The benefits of doing this are:
you learn about dealing with clients
you learn how to deal with suppliers and will get to know what terms to expect from them
you find out how to deal with all the other aspects of a professional photographer's life without risking your own money and reputation. Much of the practical, day-to-day stuff can only be learned by doing the job, rather than through a college course
If you decide to become an assistant, the first step generally is to be employed full-time by one photographer, then as you build up contacts within the industry you may decide to go freelance. The advantage of being a freelance assistant is that you get to work with a number of different photographers and will be able to observe their different methods.
Assisting does not pay well and you may be expected by the photographer(s) you work for to be self-employed. Check with an accountant before registering as 'self employed' with HM Revenue & Customs (HMRC) as employment status is a complex area and you may find yourself facing a hefty tax bill somewhere down the line if you get it wrong.
You could think about using the photoassist.co.uk website to help you find assisting jobs. There's also a great deal of information and advice on the website about assisting, much of which is free to non-members.
Buy an existing business
You might decide to buy an existing farm supply business rather than start your own venture from scratch. Buying a going concern can mean that the products, customers, regular sales, staff, premises and equipment are already in place.
But buying a business can be a hazardous, expensive process unless you have the right skills and experience on your team, including legal and financial know-how. Establish the genuine trading and financial position, so that the price you pay for the business is not too high.
Other matters to consider include:
does the success of the business depend on the skills of the existing proprietor - it may take some time to establish your own reputation