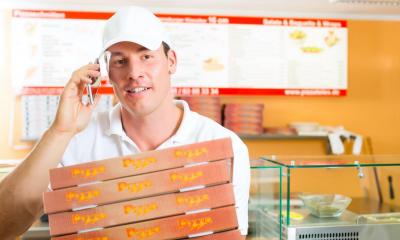 Pizza is one of Britain's most popular meals so there could be room for a pizza delivery service in your area. Our easy-to-follow guide will help you to start up and run your own pizza delivery business.
Research your target market
When you plan your new pizza delivery business it's important to think about who your potential customers are, how much demand there will be, and how well that demand is already served. Doing some market research will help you with this.
Estimating demand
Although pizza is very popular, the catering sector is currently very competitive. Pizzas are available from very many different sources, such as:
other delivery services, including the major chains such as Domino's Pizza and Papa Johns
pizza restaurants, both independent concerns and chains such as Pizza Express
other Italian restaurants and cafes
pizza kiosks offering take-aways
supermarkets and convenience stores, which sell a very wide range of frozen, fresh, chilled and ready to eat pizzas
Pizza home delivery represents a sizeable part of the total market for pizzas. To take advantage of this, Pizza Express teamed up with Deliveroo in 2016 and planned to open 150 delivery sites in Britain over the following five years. You need to be aware that it's a very competitive business dominated by the chains, which hold over half of the market. To succeed you'll need to identify ways to differentiate yourself from the chains and perhaps offer a little more either in the way of service or perhaps the range of pizzas you offer - innovation has been identified as a challenge in this market so don't be afraid to try new things.
Check out the competition in your area to identify how many other outlets specialise in pizzas locally and, most importantly, offer a delivery service. Have a good look at these businesses to establish:
the range of pizzas they offer
the prices they charge
what other food and drink items are sold
how far will they deliver, where they will deliver to and is there a delivery charge
their opening hours
See if they feature on the TripAdvisor website - and take on board what customers like and don't like about the outlet. Have a look at competing pizza outlets in your area on online takeaway portals like Just Eat and Deliveroo - and see what customers have to say about the food and the service.
It would be worth testing the service of your main competitors yourself. Things to note include:
the efficiency with which your order is taken
how friendly and helpful the staff are
how long the pizza takes to arrive
how crisp and hot it is when it is delivered
whether it seems like value for money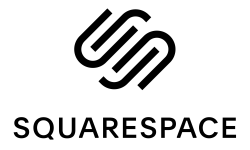 Squarespace provide easy to build, professional websites that stand out. Pick from a range of beautiful templates and customise to fit your needs whether you want a portfolio site, blog or online store.
Why will customers choose your delivery service
Because pizzas are readily available from any number of different outlets, ideally your business will offer something different - or extra - to help you to get enough trade. For example, you might:
produce very good quality and imaginative pizzas - and offer gluten-free and vegetarian options
offer a high speed delivery service
guarantee that pizzas arrive piping hot, within a certain time
allow customers to create their own pizzas
have a very easy and efficient ordering process - ideally online. Research by the Pizza, Pasta & Italian Food Association shows that over half of pizza delivery sales are from digital orders, either online or by smartphone - orders made using smartphone apps now exceed website orders
change your product ranges frequently
cater for children's parties or office functions
offer a wide range of side orders or desserts
have special offers and themed promotions
offer gift vouchers for sale
Don't forget that potential customers can access food hygiene ratings online before deciding where they will order food from. Getting a good score reassures your customers that your food is being handled and prepared hygienically. You can find out more on the Food Standards Agency website.
Location
The location of your business is very important. Even if you don't plan to target passers-by it is still very important that your business is close to major residential areas so that you have enough potential customers. Many of these may want to collect their order themselves and they won't want to travel far.
Ideally your area will have lots of younger single people who are in work and also plenty of students. This type of person is very likely to order a pizza to be delivered.
Find out what people want
You might consider carrying out a local survey to see if people would be interested in the range of pizzas you plan to produce, their price and your delivery service. You could take the opportunity to ask people what their favourite pizza toppings are - this will help you to have the most popular varieties on offer when you open for business.
Research current trends, plus legal and tax issues
Decide what to sell
You'll need to think about the range of pizzas and other products you plan to sell. It's worth being flexible once you've opened for business - if customers keep asking for something you don't offer then you should probably add it to your menu as soon as possible.
Your pizza range
You'll want to make sure that you offer a good range of different types and sizes of pizza, with toppings and combinations that are popular with your customers.
The first thing to consider is the pizza bases - will you make these from scratch or buy in ready-prepared bases? Will you offer a range of bases such as thin, thick, deep pan, stuffed crust, French bread or speciality bread such as ciabatta?
Having decided on the bases, the next step is to consider the sizes you will offer, for example:
miniature (for example, for children's parties)
small (8" - 9")
medium (12" - 13")
large (14" - 17")
A good range of toppings is important, too. You might decide to offer 10 or 12 different varieties and then allow customers to add their own extras, such as pepperoni, mushrooms, olives or anchovies. Some customers might want to create their entire pizza from scratch, others might just want one additional item, or perhaps extra cheese - going 'off menu' is becoming more commonplace as more and more customers expect to be able to decide for themselves how they want their food.
You might consider offering daily specials and/or a gourmet or luxury range as well as your standard pizzas.
A look in your local supermarket will give you some ideas of the names and varieties of pizza to offer - many customers are quite conservative and traditional so maybe don't offer anything too outlandish on your standard menu. If you want to introduce more imaginative lines you could try them as monthly specials - if they sell really well you could add them to your main menu.
Don't forget to include some vegetarian options. You might decide that using only organic ingredients would be a good selling point. As consumers are becoming more concerned about putting on too much weight, you might consider offering some healthy options, such as low fat pizzas with reduced fat cheese toppings. Think about introducing a gluten-free range too.
Think about other types of pizza product you could offer - for example folded calzone and 'stuffed crust' options.
Other food and drink items
You will probably want to offer some side orders along with your pizzas, perhaps things like garlic bread, dough balls, chicken wings, potato wedges, coleslaw, salads or fries. A range of canned soft drinks is likely to be popular and you could consider dessert-type items such as ice cream, cheesecake, chocolate fudge cake, brownies, apple pie or doughnuts.
Meal deals and special offers
Most pizza delivery specialists offer meal deals and promotions and you'll probably need to do so too. For example you could offer a large pizza, a side order and a large drink for under £20, or offer a free pizza when a customer collects their order. Meal deals are popular with customers - but it's important to make sure you're making enough profit on them.
Keeping food in tip-top condition
Bear in mind that your customers will want to receive their pizzas hot and crispy so give some thought to the packaging you will buy and the insulated boxes you will transport them in, to keep them flat and warm. You will need the appropriate type of packaging for any other products you sell so the cost of this is something to take into account. Generally the larger the quantity you order, the cheaper each container will be, so see if you can use the same size and type of container for several different products. For example, coleslaw and pasta salad could be packaged in the same type of container.
Your delivery service
Because pizza is available from lots of different sources it's very important for the success of your business that your delivery service is excellent. As a first step, decide on the radius within which you will deliver - for example, three or four miles - and how you will be able to utilise your vehicles' drivers most efficiently. The more orders that go out on each delivery the lower the per-pizza delivery cost to you.
Your customers will want to use an easy ordering system - by phone, mobile app and/or online - and to be able to rely on their pizzas turning up reasonably shortly after they have placed their order. You might consider advertising a free or low-cost phone number. Think about how long your delivery times are likely to be, bearing in mind that you will have to make up and cook the pizza, pack it up and then deliver it. Lots of things can potentially go wrong, such as:
at busy times your chefs can't cook the pizza as soon as it is ordered
you are short of drivers - perhaps because someone doesn't show up for work
your delivery personnel are all out when the pizzas are ready
traffic congestion delays your drivers
your drivers get lost or break down
the orders coming in are not conveniently clustered
Think about the types of delivery vehicle you'll use - for example scooters and mopeds or small vans. You could even use bicycles - maybe electrically-assisted ones - if you're not trying to cover too large an area and if it's reasonably flat. An alternative to using your own business vehicles might be to advertise for drivers who are prepared to use their own. Some take-aways use local taxi and minicab firms and pay them an agreed rate for each delivery.
Some pizza delivery services claim that they will deliver within a certain time and if they fail, the customer will get a voucher for a free pizza. If you decide to go for this approach make sure your delivery times are realistic, otherwise you'll be giving away all the profits!
Customer collects
You're likely to set a minimum order value before a customer gets free delivery, so quite a few pizzas will be collected by customers after they've placed their order. You might want to encourage this - it saves you the hassle and expense of delivering the order every time. You could target some of your special offers and meal deals at orders that will be collected.
Your opening hours
Many pizza delivery outlets find that the evening trade is the most profitable so they open between, say, 4pm and midnight and perhaps a little earlier on Sundays. If you have many office premises nearby it might also be worth opening at lunch times. The big pizza delivery chains - like Dominos - open all day from late morning until the early hours.
Advertising your pizza delivery service
It's essential to make sure that potential customers know about you and the services you offer. This is particularly important if you are planning to locate somewhere like on an enterprise or retail park where you won't have much passing trade.
One popular method of promoting the business and attracting orders is to sign up to a take-away food ordering service like Just Eat. There's normally a set-up fee and you'll usually pay them an agreed percentage of all the orders they get for you as commission, but it can be an effective way to get your business name and menu online.
Your delivery vehicles can be a very visible advertisement for your business, so make sure that they carry your corporate colours and logo as well as a large and clearly visible telephone number and, if you have one, your website address. All your packaging should also carry the same details.
A regular mailshot to your target customers will keep your business in the forefront of their minds and can also be used to tell them about special offers and new lines. Some delivery firms do a mailshot or leaflet drop every week to make sure the customers keep coming in. Many now use social media like Twitter or Instagram to share news of special offers and new menu items.
Customers will give you a lot of information each time they place an order and you will be able to use these details to improve your business efficiency and your marketing. For example you will be able to see when are your busiest periods so that you can make sure you have enough staff on. You will know which are the most and least popular pizzas, so that will help you to keep the right ingredients in stock and to withdraw items from the menu which don't sell well. And, subject to the requirements of data protection legislation, you could use the list of customer names for mailshots, perhaps offering regular customers loyalty incentives or telling them about new products.
Think about teaming up with other businesses. For example, would local off-licences be prepared to display your promotional leaflets if you do the same for them.
Pricing policy
How will you decide on your prices?
Getting the price right is very important. It's essential to make sure that the difference between the cost price of the pizza and other food item ingredients and the selling price is enough to cover all of your operating costs, including delivery costs and your own drawings.
However, the catering sector is very competitive and it would be sensible to price in line with your immediate competitors unless you are targeting a niche market that your competitors do not cater for. For example, if you propose to locate in an affluent area you might decide to offer an up-market range of pizzas and other side orders. You could highlight the fact that you make all the dough from scratch, use only the best Italian cheeses, hams, salamis and so on, and perhaps bake your pizzas in authentic wood-fired pizza ovens. Your products would be significantly more expensive than those aimed at the mass market.
You'll need to think about how each different pizza will be priced, how much you'll charge for each different size option (if you offer different sizes), and how much you'll charge for extra toppings. You'll also need to set your prices for side orders, drinks and other items you sell.
If you sign up to online ordering services like Just Eat, think about whether the menu prices you advertise through them are the same as your standard prices. It's not unknown for take-aways to increase their prices a bit to help pay for the commission charged by these services, but don't forget that it's a very competitive market and the average delivery transaction value has failed to keep up with inflation in recent years.
Think about whether your prices will include delivery, or whether you will charge extra for this (if you don't offer your customers the option of collecting their order themselves then your delivery charges will probably be included in the basic price). Decide whether or not you will set a minimum order value for delivery - and if so how much this will be.
Special offers and discounts
The fast food sector is very competitive and it is likely that from time to time you will have various special offers and promotions to boost sales. You could link these to times of the day, or days of the week when business is slow. For example you might offer a competitively priced 'meal deal' which gives the customer a pizza, a side order and a drink at a discounted price. You might give customers a money off voucher, or free chocolates, if they spend over a certain amount. You could offer 'buy one, get one free' on pizzas collected from your outlet during certain times of the day. You might consider offering students a discount - but not on any promotional offers or deals. Maybe you will set up a loyalty scheme for regular customers.
Have a look at the promotions offered by your competitors for inspiration. But remember, the object is to boost your sales, not to sell the same volumes at lower prices!
Buy an existing business
You might decide to buy an existing pizza delivery business rather than start your own venture from scratch. Buying a going concern can mean that the products, customers, regular sales, staff, premises and equipment are already in place.
Try to find out as much as possible about the business's reputation. What is its food hygiene rating? Has it recently failed any food hygiene inspections? Are there any actions or enforcement orders still outstanding? Check out its profile on the TripAdvisor review website - have previous customers been impressed enough to recommend it to others?
But buying a business can be a hazardous, expensive process unless you have the right skills and experience on your team, including legal and financial know-how. Establish the genuine trading and financial position, so that the price you pay for the business is not too high.
Franchises
Franchising can be a good 'halfway house' between starting out from scratch and buying an existing business. If you purchase a franchise you'll still be setting up your own business, but you could benefit from the experience, resources and brand name of a business that is already successful.
There are several franchise opportunities available in the pizza delivery sector. Although different schemes vary in detail, most feature the following key points:
as a franchise holder, you will remain self-employed but will use the identity (corporate colours, logos, trade name and so on) of the franchisor
in return, you will pay the franchisor a fee - this might be a one-off investment, a monthly charge, or a combination of both
you will probably use a standard menu drawn up by the franchisor, and you may well have to buy some or all of your ingredients and packaging materials from them
both you and your franchisor will have to fulfil certain obligations and maintain certain minimum standards
Some franchisors will provide you with any specialist training you require, help with advertising and marketing, and advice and support on a range of business and technical matters.
Details of the above points are set out in the franchise agreement or contract, which both you and your franchisor will sign. The agreement will also deal with other matters, for example any territorial exclusivity due to you and the minimum period for which the franchise will run.
Before entering into a franchise agreement, it is advisable to compare the terms of different franchisors to be sure that you are getting a good deal. Go through the contract with your solicitor before signing anything. More information about franchising is available on the Franchise Info website. Information is also available from the British Franchise Association (BFA).