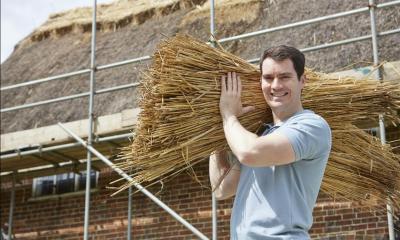 If you're a skilled and experienced thatcher you might decide to set up your own thatching business. Our easy-to-follow guide will help you to start up and run your business.
Research your target market
It's very important to research your market properly. Try to find out as much as you can about the level of demand for your services, and about how much competition there is to meet that demand.
Customers
Think about how many people are likely to use your services.
Domestic work
You will need to make sure that the area in which you intend to work has enough thatched buildings to support your business. As a rule of thumb, the south of the UK has significantly more thatched buildings than the north, although examples occur in almost every county. Most will be in rural settings away from larger towns and cities.
Certain counties, such as Devon, Somerset, Dorset and Norfolk, have particularly high concentrations of thatch. According to the Thatch Advice Centre there are more than 60,000 thatched properties in the UK, about 75% of which are listed properties.
Research will help you to identify villages and towns in the region where thatched buildings are well represented. Many thatched buildings are listed. Those that are not may nevertheless be sited in conservation areas. Find out about local thatching techniques, traditions and materials. You will also need a detailed knowledge of the local planning regulations and conservation guidelines that apply to thatched buildings. The local authority conservation department should be able to give you details about this type of thing and may also let you have statistics for the number of listed thatched buildings in the area. Make sure that the Conservation Officer is aware of your business and the range of services that it offers.
Non-domestic properties
Very few thatched barns remain in the UK, but there are other types of non-domestic building that retain thatched roofs. Look out for old pubs in particular, some of which are large buildings with an extensive thatched roof area. Other types of building to look out for are rural churches, municipal structures such as bus shelters and covered market places, buildings in theme parks and museums, small structures such as gazebos and summerhouses and so on.
New build
Although quite rare, it is by no means unheard of for thatch to be specified on new build homes. This type of roof covering might be specified in conservation areas where planning for new build would not otherwise be granted, or where the developer or self-builder wants to create something out of the ordinary. Dorset in particular has seen an unusually high number of new houses roofed in thatch in recent years and an advisory leaflet, The Dorset Model, has been produced by local authorities throughout Dorset in conjunction with the National Society of Master Thatchers and other interested parties. The leaflet is available to download from the Dorset For You website.
You could try to make sure that your business is commissioned to thatch any local new-build projects where this type of roof cover is specified. Find out about developers and architects who specialise in this type of project and make sure that they have details of your business.
Sub-contract work
In some cases a builder or conservation specialist who is in overall charge of a renovation project may require the services of a thatcher. Consider leaving your details with local building and roofing contractors who might need to engage your services on a sub-contract basis. You could also contact organisations like the National Trust that may be responsible for a number of thatched buildings in the area.
Establishing the level of competition
Once you have decided who your customers might be, you need to find out how well they are already served. It's estimated that there are between 600 and 800 active thatching businesses in the UK, and some in the industry believe that the number of businesses has grown over the years. Most thatchers are located within or reasonably close to regions with a high concentration of thatched buildings, and some are prepared to travel considerable distances for work.
How many other thatchers are active in your area? It might be the case that you have worked in the area for several years and know most of your fellow thatchers well. Otherwise, a look on Yell.com and other similar online directories will give you an idea of how many thatching businesses there are in your area. A web search for "thatching" or "thatcher" plus the name of the region where you intend to work may yield some results. Try contacting your regional master thatchers' association - this should be able to give you a list of member thatchers. Don't forget that thatchers located in other parts of the country may regularly travel to your area to work. Bear in mind that there may be other thatchers working in the area who don't advertise anywhere - a few of these may be 'cowboys' who operate illegitimately and do poor work.
Look at some of your competitors' advertising material:
what range of services do they offer
do they advertise any special features, for example an insurance backed guarantee, 24-hour emergency service, and so on
do they belong to any trade associations
are they signed up to the Competent Roofer scheme, enabling them to sign off aspects of their work for Building Regulations
what sort of impression does their advertisement give you (for example, does the firm come across as small and traditional, large and businesslike, good value, high quality)
Competition from modern thatching products
Unlike traditional straw and reed thatch, some of the artificial thatch systems available require little or no specialist experience to install. Endureed, for example, is a synthetic maintenance-free thatching product with a very long installed life which does not have to be installed by a specialist thatcher. Products like this potentially open up the market to general roofers, carpenters and other trades-people, although conservation rules which affect many existing thatched buildings in the UK often prevent their use for re-thatch work.
Is there room in the market?
Before starting a completely new business, you could try to work out whether there is likely to be enough work available to sustain it. Draw on your experience to estimate how many roofs you could reasonably cover in a year. Think too about maintenance work and repairs. Then decide how far you will normally travel to a job and try to find out how many thatched buildings there within that area. Consider the type of thatch used in the area - how long does this typically last? Finally, find out how many thatchers there are already working in the area. Do your calculations suggest that there will be enough work for you too? Or does it seem as if even established businesses will be struggling to find enough work? Of course, you may consider that there are reasons why your business will succeed where others fail.
Research current trends, plus legal and tax issues
Decide which services to offer
Thatching
There is a range of different thatching services that you could offer, depending on your skills and experience and on the level of local demand. Examples include:
complete re-thatching of houses, pubs and similar buildings. Re-thatching might be done using water reed, long straw or combed wheat thatch, as appropriate. It might include both renovation and new build
re-ridging thatched buildings. Even the most durable thatch will typically need re-ridging every six to twelve years or so
installing artificial thatch products such as 'fibre thatch', plastic 'straw' shingles and tiles, particularly in new build situations
general repairs and maintenance to thatched buildings. Most thatches rely on periodic maintenance, such as moss and algae removal, to keep them sound and weatherproof
emergency repairs, particularly storm damage (emergency work might also include temporary covering of damaged areas prior to carrying out a repair)
installing insulation
installing fire barriers
other craft thatching, for example gazebos, follies, and small craft items
You might decide to specialise in an unusual or ancient technique, perhaps offering expertise in historic building conservation. Maybe you will offer thatching in certain less widely used materials, for example heather or turf sods.
Consultancy and surveying
As an experienced thatcher you may well find that your highly specialised knowledge is in constant demand. You may be happy to answer regular queries and give advice on an informal basis, hoping that people will remember you when they actually want some work done. But you might decide to offer a consultancy and surveying service to architects, builders, developers and building surveyors, charging a fee for your time and expertise. Key areas where advice may be sought include planning and conservation, grant aid, insurance, buildings surveys, technical matters and building regulations. You might offer thatch surveying services to homeowners too, possibly deducting your charge from the cost of the work if they decide to go ahead with a repair or re-thatch. Other types of consultancy work that you could offer include annual roof inspections and reports, and chimney inspections
Other crafts
There are other craft services that you could offer, once again depending on your skills. You might decide that it will be necessary to supplement your income from thatching with another rural or traditional craft. Some popular examples include:
carpentry, particularly green oak work and the traditional structural and decorative woodwork that supports and complements a thatch (installing and repairing rafters, joists, battens, barge boards, wooden vee gutters and so on)
lead work
cement and lime mortar work - for example, chimney flaunching and re-pointing
bodging
decorative straw craft
traditional and ancient building and conservation techniques, such as cob, wattle and stonework
hazel and willow pole work, particularly hurdle making and decorative garden features
Added value services
A re-thatch is a major investment for most customers. They will want to make sure that the thatcher they engage is professional and businesslike, and that the work will be done thoroughly and completely. You might decide to offer the following as a way of reassuring your customers:
a 'no quibble' insurance backed guarantee (three years is common)
Competent Roofer scheme membership, enabling you to sign off aspects of your work for Building Regulations and to provide a standard ten-year warranty on domestic refurbishment work
free estimates and quotations
a 'distance no object' promise
a 'no job too big or too small' promise
Becoming a thatcher
Thatching is a craft trade that often appeals to people who are looking for an alternative to the daily grind of modern urban life. The industry is regarded by many as being not just a career but a lifestyle, combining a practical rural craft pursuit with a means of earning an income.
However, time-served thatchers are quick to point out that many people's impression of their industry is unrealistically idyllic. Hours spent wrestling wind-blown tarpaulins on rain-swept roofs quickly erase memories of warm summer days, which in reality involved long periods of hard physical work in sometimes uncomfortably hot conditions. On top of this, the financial, legal and administrative matters that affect every business apply equally to thatchers, who have to balance the ancient techniques of their craft with the requirements of modern building regulations, planning legislation and health and safety law. Many would-be thatchers are put off by these aspects of the industry and fail to complete their apprenticeship.
Thatching is a complicated process which has many different aspects to it. No two roofs are the same, and it is the thatcher's experience that enables him or her to adapt the techniques to suit new and often challenging situations. Knowledge of local traditions and architectural history, practical techniques, general construction issues and both local and national conservation legislation is essential.
The thatching industry is not legally or officially regulated by any body or organisation and anyone is, in theory, free to describe themselves as a 'master thatcher'. In practice, it is generally agreed that it takes at least three to five years of properly structured apprenticeship to an expert thatcher before an individual could be described as 'competent'.
Apprenticeship positions can be hard to find, although some thatchers do complain that it is difficult to find good quality people who are willing to work hard and learn. Apprentices' wages are generally low, usually in line with the local going rate for agricultural workers. Training courses do exist, some of which are intended to be a brief introduction to the craft and some of which are aimed at supplementing on-the-job training and experience gained under an apprenticeship or similar arrangement. There are also formal qualifications available, including an NVQ/QCF Diploma in thatching. There is, however, no 'fast track' option for gaining all the skills required, despite what some training providers might claim!
Most thatchers agree that the industry is not particularly lucrative, even for the experienced master thatcher who runs his or her own established business. Potential earnings are generally limited by the number of roofs that the master thatcher is able to do each year, while factors such as the weather and the amount of available work are also important. There often seems to be a shortage of heritage craft skills like thatching, but this doesn't mean that thatchers can just name their price. Nevertheless, few time-served thatchers appear to regret their choice of career.
There's more information about becoming a thatcher on the National Careers Service website.
Consider your work rate
Assuming that you get a fairly steady stream of work, the amount that you can earn depends partly on the number of days you work and the length of your working day.
Thatchers can work all year round, and most are prevented from working only by very extreme weather conditions. Nevertheless, you may well decide to work longer hours during the spring and summer when the weather is fair, the days are long and your services are in highest demand. It's not unheard of for thatchers to work on into the night under floodlights at busy times. You could take advantage of quieter periods over the winter months to take some time off.
Some thatchers offer a 24-hour emergency service for work such as repairing storm damage. If you intend to offer a reliable emergency service you will need to make sure that you can provide cover at all times, particularly during the winter. You might decide to team up with another thatcher to share responsibility for emergency calls.
Work rate
As an experienced thatcher, you should have an idea how long certain types of job will take you. It is very important when quoting for a job that you can make an accurate estimate of how long it will take. It's no good quoting for three weeks work if it ends up taking you five!
The speed at which you work depends on your own skills and experience, the materials and techniques that you employ and on the type and standard of the work that you do. Other things, such as ease of access to the roof surface, can also affect how fast you work. Your charges should reflect all of these things.
Non-productive time
Unfortunately, not all of every working day will be spent earning money. Here are a few examples of reasons why you will sometimes find yourself working hard but earning nothing:
visiting sites to cost new work and give advice and quotes
finishing off jobs that take you longer than you had anticipated (possibly due to unforeseen problems)
covering up unfinished work to protect it from the weather
re-doing faulty work, or work that has been damaged by the weather
travelling to and from jobs, or to get materials or tools from a supplier
repairing tools or vehicles
Sometimes you will find that you are unable to work at all, because:
the weather is too bad to work outside
you are waiting for materials to be delivered
you are waiting for a building inspector to carry out an inspection
a vital tool or piece of equipment is broken, or your van is out of action
another contractor, such as a builder or carpenter, has fallen behind with his or her part of a project
you are ill
Remember that many jobs will involve time spent doing things that don't directly earn you money. For example, you will often spend several hours covering up and uncovering part-finished jobs at the beginning and end of every day - a job which can take even longer if it's windy.
Take all of these factors into account when you are estimating the maximum number of productive hours that you can work each month.
Waiting times - managing customers' expectations
As a successful thatcher with a good reputation you may well find that your working diary is booked up for several months or even years ahead.
Potential customers who approach you may feel that their job is urgent, so if you want the work it's important to be able to reassure them whenever possible. Even if you can't tackle the job in the near future, a site visit to discuss the work could well be worthwhile. It may well be the case that you can explain to the customer that their roof will be fine for a few more months, and you might be able to carry out temporary repair work to tide them over.
Take the opportunity to point out that a thatcher who says they can start work straight away may not be the sought-after expert that they claim to be.
Price your services
Methods of pricing
There are a number of different ways of charging, often depending on the type of work done. Traditionally, the thatcher charges per 'square' of roof cover (a 'square' is a 10-foot square area), plus extras such as ridging, decorative eaves, porches and dormers, netting and so on. You might decide to price by the square, by the square yard or by the square metre. Cover prices normally include the cost of straw or reed plus accessories like rods, spars and wire. Bringing your pricing system into line with that used by other thatchers in the area will make it easier for potential clients to compare different quotes for a job.
Think about the things that your prices will include, and the things that will be charged for as extras. For example, your cover price might include the cost of stripping and disposing of the old thatch, but will it include items like wooden barge boards, flashings and box gutters where these are required? Discuss with the client the cost and advisability of extras such as underlay, barrier foil, insulation, fire retardant treatments and chimney spark arrestors.
Most clients will appreciate being given a good idea of the total cost of the re-roofing project, including contingencies. So, for example, it's important to mention the cost of any scaffolding and skips required. Discuss too the possibility that certain structural defects will be revealed when the thatch is stripped. Even if your firm will not be doing the work, a rough estimate of the possible cost of repairing these will be useful to the client.
Setting your prices
Base your cover prices on the type of thatch used and the complexity of the technique to be employed. Water reed is generally a more expensive material to buy than straw, but is usually quicker and easier to apply. Remember that the cost (and availability) of thatch can fluctuate from one year to the next, depending on the quality of the harvest.
You may decide to calculate a standard basic charge to cover a given area of roof in a particular material. Or you might prefer to work out a cover price for each job individually, depending on the complexity of the roof and other factors such as location and accessibility. Calculate prices for extras like decoration and carpentry based on the cost of any materials involved and the number of man-hours needed.
Make sure when deciding on what to charge that, assuming you get enough work, you will earn enough to cover all of your operating costs including your own drawings.
Also consider:
what do your competitors charge for similar products and services? Do they calculate their prices in the same way as you
do you aim to win business away from your competitors with attractive pricing
will you make a profit on goods and materials that you supply or will you pass these on 'at cost'? If you decide to add a mark-up, decide how much this will be
will you offer special 'trade' rates to building contractors and developers
will you make a charge to travel to jobs located some distance away, or will you absorb this cost
Quote or estimate
If you give a quote for a job, that is a fixed price. Once it has been accepted by the customer the price can't be changed, even if there is a lot more work to do than you realised when you prepared the quote. So your quotes should give precise details of what is covered and make it quite clear that any variations or extras not covered by the quote will be charged for as extras.
An estimate is not a fixed price, it is just your best guess of what the job is likely to cost. You are not bound by it. It is perfectly acceptable to provide several estimates, each taking into account different circumstances from best to worst case scenario.
Where necessary explain to customers what could lead to the price for a job having to change - for example severe rot in the timberwork. And if the customer asks for extra work to be done during the course of a job, be clear about how this will affect the overall cost.
It is usual to provide estimates and quotes free of charge on a no-obligation basis. You might, though, decide to make a charge for more complex and time-consuming consultancy work - perhaps you will refund this charge if it leads on to a substantial contract.
Many of your clients will get quotes from several firms, so you need to be able to quote accurately and competitively. However, don't cut your own throat. Many clients value good quality craftsmanship and efficient service and are prepared to pay a realistic price for it. Above all, make sure that you don't end up working at a loss because your quote was too low!
Promote your business
Let your potential customers know who you are, where you are and what you can do for them.
As so many people search for businesses like thatchers online, a good website can be a good way of advertising your business and reaching a wider range of customers. Think about getting listed in online directories - perhaps 'contact an expert' directories run by some trade associations.
Social media can also be an effective way of marketing your business, staying in touch with previous customers and making contact with potential new ones.
Think too about using relevant forums and perhaps a blog (although be aware that some forum websites ban blatant advertising in forum posts).
Consider signing up to review websites for tradespeople, such as Checkatrade. Also consider job-referral websites such as Mybuilder.com and Rated People.
An entry in a local print directory is another way of advertising your business. However, many of your competitors will have done the same, so try to make your business stand out.
Other ways of promoting your business
Think about other ways of marketing your business. For example, you could:
do a targeted leaflet or brochure drop. Targeting the right houses is easy - just look at the roof!
approach builders, architects and developers in your area and tell them about your services
approach the local authority conservation department and meet the local Conservation Officer. Some local authorities keep a list of qualified thatchers and pass on details to owners of thatched buildings on request
Join a reputable trade association. The National Society of Master Thatchers (NSMT), for example, publishes a list of members' contact details and has a 'find a thatcher' tool on its website, while most local and regional master thatchers' associations will put potential customers in touch with a qualified craftsman
look into becoming listed by a trade directory and/or insurance companies as an 'approved tradesman' (in most cases there is a quality screening process and some will only list firms that have been trading for at least two years)
join the National Federation of Roofing Contractors (NFRC) Competent Roofer scheme for Building Regulation certification - the scheme's website includes a 'search for competent roofers' tool
Your vehicle can be a very effective means of advertising if you have it sign-written and keep it clean and presentable. Also consider having a large sign or banner made that you can display at sites where you are working - but make sure that your customer has no objections before putting it up.
Emphasise the good things about your business in your promotional activities, particularly things that distinguish your business from its competitors. For example, if you have over 30 years' thatching experience, say so.
Good publicity
Many people are interested in historic buildings. So a major re-thatch, perhaps of an important local pub, can make a good local news story. You could prepare a press release and invite local journalists to come and see you put the finishing touches to a big project. Thatching is a photogenic activity and journalists are always looking for picture opportunities.
In any case, take your own photos of the work as it progresses and when it is complete. You will build up a portfolio that will become an excellent marketing tool.
Word of mouth
Word-of-mouth recommendations are extremely valuable to your business. Everyone has heard horror stories about 'cowboy' tradesmen who botch jobs and swindle their customers - and they want to be sure that you're not going to do the same to them. You will have to earn your reputation through good, reliable workmanship - but even small things like tidiness and considerateness can pay big dividends. Make sure that any apprentices and assistants you employ are good ambassadors for your business too.
Be aware that you will often be working in areas where there are a number of other thatched properties, sometimes close by. The owners of these properties will all need the services of a thatcher at some point - if they're impressed by what they see of your business, your staff and the work you do, they may well approach you about future work - especially if you drop a brochure or business card through their door just after you start the job.
As your portfolio grows, you will have more and more examples of completed work to show to potential customers. Ask satisfied customers to give you a reference or testimonial that you can use in your advertising literature.
Buy an existing business
You might decide to buy an existing thatching business rather than start your own venture from scratch. Buying a going concern can mean that customers, staff, premises and equipment are already in place.
But buying a business can be a hazardous, expensive process unless you have the right skills and experience on your team, including legal and financial know-how. Establish the genuine trading and financial position, so that the price you pay for the business is not too high.