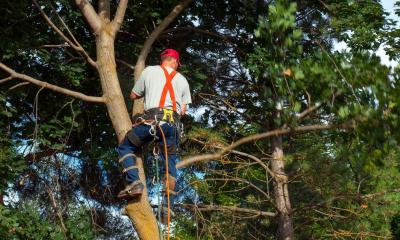 You'll need a head for heights and good practical skills to work as a tree surgeon and you'll have to put in place excellent safety procedures. Our practical guide will help you start up and run your tree services business.
Market research
When you plan your new tree services business you will need to make a realistic estimate of how much demand there is likely to be - and of how well that demand is already served by existing businesses.
Customers
Think about who is likely to use your services. Customers might include private householders, businesses and public sector organisations including the local authority.
Domestic work
Domestic customers are likely to need a range of different services, including tree felling, pruning and storm clearance. Some may need specialist advice about trees that are threatening to damage their property. In many cases, domestic jobs will involve working on just one or two trees.
Take a look at domestic properties in the area and make a note of the following:
districts where there are plenty of houses with reasonably sized gardens (with, of course, trees and hedges in them)
the types of trees that are popular locally
the general condition of properties and gardens - are they well looked after or could they do with some maintenance
the types of people that live in the area - are they elderly people, young families, tenants or owner-occupiers
Consider contacting housing associations and other large landlords to see if they require your services.
You might want to think about other services that home owners and domestic landlords in your area may require. These could include hedge laying, hedge cutting and perhaps general landscaping and gardening work.
Agricultural and forestry work
Depending on where you are located there may be demand for tree services from farmers, the Forestry Commission, other forestry management organisations and trusts (including wildlife trusts), the National Trust and other major landowners like the RSPB. Some of these may need tree services on a regular basis and are potentially an important source of work. The types of work that they are likely to require include forestry management, felling and clearing. Some may also need specialist services like fruit tree pruning.
Find out about major land owning organisations in your area. Try to establish whether they do their own tree work themselves or whether they contract it out. Aim to obtain contact details for the people who are responsible for contracting out tree services.
The local authority
Local authorities are major landowners whose properties include parks and gardens, street and roadside plantings, schools, hospitals, industrial estates and so on. Some may handle their own tree work but others will contract it out to businesses like yours.
As with agricultural landowners, aim to make contact with the people who are responsible for estate management and tree services. Your local authority may be prepared to include your business on a list of 'approved contractors'.
Other non-domestic properties
Think about other types of property where your services might be required. Any business or organisation that owns or manages land with trees on it is a potential client. These could include leisure, commercial and industrial properties such as:
pubs, holiday parks, hotels and zoos
historic houses and stately homes
golf clubs
other sports facilities
care homes
supermarkets and other large, out of town superstores and retail parks
factories, storage yards and depots
independent schools and hospitals
Once you have identified who your potential clients are, you can direct your marketing efforts at them.
Contract and sub-contract work
Try approaching businesses that may need tree services regularly. You could, for example, leave your details with landscape gardeners and building contractors. Civil engineers who build and maintain roads and railways will also need tree services on a regular basis.
The Ministry of Defence is a major land owner in many parts of the country and may be a potential source of work. Utility and power companies and their specialist contractors may be worth approaching too. Some tree surgeons undertake contract work for other large public organisations like Network Rail, National Grid and the Highways Agency.
Establishing the level of competition
Once you have decided who your customers might be you need to find out how well they are already served.
How many other tree services specialists are there in your area? A browse on Yell.com (categories 'tree work', 'forestry maintenance services', perhaps also 'landscapers' and 'garden services') and other similar online directories will help to identify some of your competitors. You could use the same terms to do an online search for competitors in your area as well as looking at local print directories.
Look at some of your competitors' advertising material, including their website if they have one:
what range of services do they offer
do they advertise any special features - for example British Standards compliance, membership of a reputable trade association, local authority approval, a freephone telephone number and so on
what sort of impression does their advertisement give you (for example, does the firm come across as small and friendly, large and businesslike, good value, high quality)
You could try talking to landowners and other potential customers. Who do they use for tree work at the moment? Are they satisfied with the quality and price? Do they find it difficult to get hold of a reliable contractor?
Research current trends, plus legal and tax issues
A lifestyle choice
Tree surgery work is a skilled craft that requires proper training and experience. You should be properly skilled and ideally have experience working for someone else before you consider going it alone.
Much of the work is physically demanding and, even if the most stringent precautions are taken, potentially very dangerous. While warm summer days can be very pleasant, working outside all year round means battling with the elements on a regular basis. Operating a chainsaw 10 metres above the ground is demanding at the best of times - throw in some wind and rain and you may begin to wonder what you have got yourself into. You will be taking on a lot of responsibilities, including the safety of others, the protection of property and, not least, the well-being of the trees themselves. Added to this are the day-to-day responsibilities of running any business, including the many administrative tasks that have to be attended to after the day's work has been done.
In short, tree surgery is definitely not just an easy option for those who fancy a pleasant outdoor lifestyle - or for unskilled workers looking to make some easy money.
Despite all the drawbacks, running a tree services business can be a very rewarding career for the right type of person. Many tree surgeons and arborists are passionate conservationists who have a real interest in trees and horticulture. A good tree surgeon will put the welfare of a tree above his or her own financial gain and would never carry out work on a tree unless they were confident of its beneficial results.
Tree surgeons
Tree surgeons are crafts-people whose skills include climbing, using specialist machinery and a wide range of tree pruning and felling techniques. They need to be properly trained in all of these areas. While much of their work is practical, tree surgeons need a good knowledge of tree varieties, growth habits, tree diseases and pests, and current pruning theory. They also need to be very knowledgeable about health and safety matters.
Arborists
Arborists, or arboriculturalists, are professionals who have extensive knowledge of tree cultivation and preservation. They are able to advise on matters like planning and tree planting, tree surveys, the problems and hazards associated with some trees, damage caused by trees to property, and all aspects of tree disease and infestation. Arborists need to be well qualified and have to keep up to date with developments in their field. Some arborists also have craft skills and will undertake practical work like pruning and felling.
Decide what services to offer
There are various different tree services that you might decide to offer your customers, depending on your skills, experience and equipment. These could include both practical services like pruning and felling and advisory and consultancy services. Below are some examples:
Practical tree services
pruning, reducing and thinning, including deadwood removal
specialist fruit tree pruning
crown reduction and lifting
shaping
coppicing
felling, clearing and removal
logging, chipping and firewood
dangerous/awkward tree services - for example working in small and confined spaces, steep slopes, trees close to power lines, overhanging trees and so on
woodland maintenance and management
stump grinding and removal
site clearance
hedge laying and cutting
tree planting and re-siting
There may be demand for a 24 hour emergency service to deal with storm and accident damaged trees.
Be careful to offer only services that conform to current best practice in tree surgery. For example, practices like 'topping' - and in some cases 'pollarding' - certain trees are now quite widely disapproved of as they are considered by many to be detrimental to the tree's health.
Firewood sales
Some domestic customers will want to keep the wood from their trees and may well ask you to chop it up into manageable pieces for them. However, many other clients will have no use for the wood and will expect you to remove it. As the cost of gas and other heating fuels has risen sharply over the years, more and more people have turned to solid fuels like wood. There is now plenty of demand for quality hardwood logs in many areas.
You may well decide to add value to the wood by cutting and splitting it - perhaps during quieter periods - and seasoning it to dry it out. Of course, you will need sufficient space to do this. Alternatively, you could simply arrange to sell uncut lengths and rings to a firewood specialist who will do the cutting and seasoning themselves. If you're going to sell firewood direct to household customers then many will expect you to deliver and unload it for them, and some may even ask you to stack it.
Be aware that when you're out on a job you and your staff may regularly get approached by members of the public asking if they can take the wood away. This may sometimes suit you - you could even make a small charge for the wood (do be aware though that there are potential health and safety and insurance issues associated with allowing members of the public onto a site where you are still working). However, it may well become a nuisance if it happens too often - and there may be problems with employees being offered cash in exchange for firewood. You might even consider making up a sign which you put up at sites to tell people that the wood is not available (you could put on your contact details for firewood sales though).
The government consultation launched in 2018 to look at ways of reducing harmful emissions from wood burning stoves and open fires may lead to regulations that you'll have to take into account if you sell firewood. It may become an offence to sell wood for burning unless it is dry, well seasoned wood. It may become more economical to simply sell uncut lengths and rings to a firewood specialist instead of cutting and seasoning the wood yourself.
Tree consultancy services
Tree consultancy services that you could offer if you have the appropriate skills and qualifications include:
tree inspections, condition surveys and reports, including those prepared for mortgage and insurance companies and for planning and construction specialists. It is not uncommon for home buyers to need a tree report as a condition of mortgage approval
tree risk assessments
planting, selection and planning advice
tree preservation and conservation advice - many trees in the UK are protected by tree preservation orders (TPOs) or restrictive covenants, or because they're in a conservation area or site of special scientific interest
tree valuations
advice on disease/infestation prevention and treatment
expert witness services
Arborists who want to be able to demonstrate their professional competence can join the Consulting Arborist Society.
Other services
There are various other services that you might decide to offer, again depending on your particular skills and facilities. Examples include:
general landscaping and garden maintenance
fencing
excavation
equipment hire - for example wood chippers and mini-excavators (possibly with an operative)
It may be the case that you need to supplement your tree work with services like those listed above at certain times of the year.
Added value features and services
You may want to offer your customers a range of attractive 'added value' services and features. These might include, for example:
free advice, estimates and quotations
recognised quality standards, for example all work done to BS 3998 where applicable
a freephone telephone line
a 'no job too big or too small' or 'distance no object' promise
all waste material recycled
You need to know the difference between a quote and an estimate. If you give a quote for a job, that is a fixed price. Once it has been accepted by a customer the price can't be changed, even if there is a lot more work to do than you realised when you prepared the quote. So it's very important your quotes give precise details of what is covered and make it quite clear that any variations or extras not covered by the quote will be charged for as extras.
An estimate is not a fixed price, it is just your best guess of what the job is likely to cost. You are not bound by it. It is perfectly acceptable to provide several estimates, each taking into account different circumstances from best to worst case scenario.
If necessary explain to customers what could lead to the price for a job having to change - for example chopping the logs for firewood and stacking it. And if the customer asks for extra work to be done during the course of a job, be clear about how this will affect the overall cost.
It's usual to provide estimates and quotes free of charge on a no-obligation basis. You might, though, decide to make a charge for more complex and time consuming consultancy work - perhaps you will refund this charge if it leads on to a substantial contract.
A complete service
Many of your customers will know little or nothing about tree surgery and preservation and will want you to take charge of the whole operation from start to finish. Some will be elderly and will be anxious to know that their garden will be left in a good state when the job is done.
Customers will expect an honest appraisal of the work and knowledgeable advice on the best course of action to take. Where necessary, they may want you to handle matters like local authority permission if the tree is protected. Once you start the job they will want you to approach it in a thorough and professional manner, dealing with any problems that arise and making sure everything is done safely. When the job is done you will be expected to clear away any branches removed and trees felled, and sweep up any other debris. Customers may ask you either to remove all material or to chip some for garden mulch and to cut larger logs up for firewood.
Consider your work rate
Assuming that you get a fairly steady stream of work, the amount you can earn depends partly on the number of days you work and the length of your working day.
You may decide to stick to normal business hours, for example 8.30 am until 5.30 pm Monday to Friday and perhaps Saturdays too. Or you may decide to work longer hours - perhaps an earlier start. Perhaps you intend to offer a 24 hour service for emergency work like clearing up severe storm damage.
Remember that very bad weather will sometimes disrupt your work schedules. Maybe you are prepared to work longer hours when the weather is good and daylight hours are long, taking some time off during the winter months. Bear in mind though that you risk causing a disturbance if you start using chainsaws and other machinery very early in the morning or carry on late into the evening.
Work rate
You should have a good idea of how long certain types of job will take you. It is very important when quoting for a job that you can make an accurate estimate of how long it will take. Always allow a contingency. No two jobs are the same and things often take longer than planned. It's no good basing your quote on two days work if it ends up taking you four!
The speed at which you work depends on your own skills and experience and on the type and standard of the work that you do. Your charges should reflect all of these things. Bear in mind that your employees may not be motivated to work as hard as you do - after all it's not their business.
Non-productive time
Unfortunately, not all of every working day will be spent earning money. Here are a few examples of reasons why you may sometimes find yourself working hard but earning nothing:
visiting sites to cost work and give quotes
finishing off jobs that take you longer than you had thought - perhaps because of unforeseen access problems, or interruptions caused by poor weather
travelling to and from jobs
repairing tools or vehicles
Sometimes you may find that you are unable to work at all, because:
a vital tool or piece of equipment is broken
you're waiting for something that's out of your hands - for example an electricity company to cut the power in overhead cables before you start work
the weather is too bad to work
you are ill or injured
Take all of these factors into account when you are estimating the maximum number of productive hours that you can work each month. Be realistic! When you plan your working schedules, try to minimise the amount of time that will be wasted.
Pricing policy
First decide how you will charge for the work you do. There are different ways of charging, often depending on the type of work done. Here are some examples:
charging for your services (and those of any employees) on an hourly or daily basis, adding to this the cost of any extras like hired equipment
quoting an inclusive price for each job individually. This will normally be based on your hourly charge plus any extra costs, but the client will know exactly how much the whole job will cost
charging for certain tree services at a standard rate that you have worked out. For example, you might charge a standard fee for thinning a medium sized deciduous tree
charging for other services at a standard rate. For example, you might work out a standard charge for preparing a mortgage/insurance report, or for hiring out your wood chipper for a day
Think about the things that your prices will include, and the things that will be charged for as extras. For example, will you charge your customers extra for chipping branches and/or cutting large logs up for firewood, or will this be included in your standard price? Will you charge a higher hourly or daily rate for work done above a certain height - or for work done near power lines or property?
Commercial customers may expect you to offer them a special rate. Large organisations like local authorities will usually expect your rates to be very competitive. Insurance companies will also expect very competitive prices. You might decide to offer special discounts to certain types of customer, for example pensioners and charities like woodland and wildlife trusts.
You may decide to use different methods of costing for different jobs, depending on who the customer is and what type of work you will be doing.
It is very important that you set your charges carefully. You must make sure when deciding on what to charge that, assuming you get enough work, you will earn enough to cover all of your operating costs including your own drawings. Also consider the following points when setting your charges:
what do your competitors charge for similar services? Do they calculate their prices in the same way as you do
do you aim to win business away from your competitors with attractive pricing
will you vary your rate depending on the type and complexity of the work involved
will you make an extra charge to cover travel to sites that are over a certain distance from your base
what will you include in your prices, and what will you charge for as an extra? Make it clear to the customer what your prices do and do not include
will you add a profit margin to the cost of any extras like hired equipment and landscaping materials supplied, or will you pass these on to the customer at cost? If you decide to add a mark-up, decide how much this will be
if you intend to do emergency call-out work - for example to clear storm damaged trees - will you charge a higher rate for working out of hours and on Sundays? Perhaps you will add a standard emergency call-out charge to your normal hourly rate
You will often be asked to give an estimate or quote for a particular job. Many customers will want to agree a price before a job is started and will expect you to stick to this.
Be aware that many of your clients will get quotes from several firms, so you need to be able to quote accurately and competitively. However, don't cut your own throat. Many clients value good quality workmanship and efficient service and are prepared to pay a realistic price for it. Bear in mind that, unfortunately, some of your customers will have received very low quotes from unscrupulous 'cowboys'. Don't try to match their prices. Make a point of explaining to customers the importance of engaging a fully insured, properly skilled and trained contractor.
Promote your business
It is important to advertise your business effectively, to let potential customers know who you are, where you are and what you can do for them.
Advertising and marketing
Now that so many people search for services online, a good website can be a very good way of advertising your business and reaching a wider range of customers. Think about getting listed in online directories - perhaps 'contact an expert' directories run by some trade associations.
Social media can also be an effective way of marketing your business, staying in touch with previous customers and making contact with potential new ones. Think too about using relevant forums and perhaps a blog (although be aware that some forum websites ban blatant advertising in forum posts). You could sign up to a review website for trades-people such as Checkatrade. You could also consider trying to obtain work through job-referral websites like Mybuilder.com and Rated People too.
An entry in a local print directory can be an effective way of advertising your business. However, many of your competitors will have done the same so try to make your business stand out.
Some firms spend a lot of money on large, eye-catching display advertisements. You will have to decide whether to compete head on with these firms, or look for a different way of attracting customers. You could, for example:
focus on your own unique selling point (USP) in your advertising material. This might be, for example, "25 years experience", "Family run firm" or even simply "Friendly, honest service"
advertise in other ways. For example, you could distribute a paper flyer, plastic card or sticker with your business name and telephone number on it as part of a mail-shot that you do, perhaps in the early spring
look into becoming listed by an insurer, specialist helpline or directory as an 'approved tradesman' (most of these organisations operate a quality screening process and some will only list firms that have been trading for at least two years)
contact local residential landlords associations to enquire about being included in their suppliers guide
Think about other ways of promoting your business. For example, you could consider:
advertising in the local newspaper
advertising in trade magazines aimed at businesses like farmers
joining a reputable trade association. The Arboricultural Association, for example, promotes its members and has an online database of approved member contractors and consultants
placing advertisements or flyers in local garden centres and nurseries
networking with local landowners, landscape gardeners and horticulturalists. Some of these might use your services on a regular basis. Others might be prepared to pass on the name of your business to potential clients
contacting the people responsible for estate management in organisations like the local authority, the National Trust and so on with the aim of getting onto their 'approved supplier' list
The important thing is to tell people as many of the good things about your business as possible in your advertisements, particularly things that distinguish your business from your competitors, including details of professional qualifications and trade association membership.
Remember that your vehicle can be a very effective means of advertising if you have it sign-written and keep it clean and presentable. You might consider having a sign made that you can display outside places where you are working - but make sure that your customer has no objections before putting it up. If you hire out equipment like wood chippers and mini-excavators you could include your business name and contact details on them.
Personal contact
You may find that, when you are working on a domestic job, other householders will often approach you and ask you to quote for work. Always be polite and helpful and be sure to give them your contact details - perhaps a business card. Don't allow yourself to be distracted from the job in hand, but arrange to visit them and survey the job once you've finished at your current site.
Word of mouth
Word of mouth recommendations are very valuable to your business. Everyone has heard horror stories about 'cowboy' tradesmen who bodge jobs and swindle their customers - and they want to be sure that you're not going to do the same to them. You will have to earn your reputation through good, reliable workmanship - but even small things like politeness and considerateness can pay big dividends. Make sure that any staff you employ are good ambassadors for your business too.
Some things to avoid doing
There are certain methods of advertising and marketing that you should consider avoiding. Unfortunately, the tree services business has its fair share of unskilled cowboys who give the industry a bad name.
These people often visit a neighbourhood and go door to door making claims such as "that tree is dying and needs cutting down now". Others will descend on an area after a storm and tout for business clearing up tree debris and felling trees that have become unsafe. These are widely regarded as sharp practices by conscientious tree surgeons, many of whom have plenty of work without resorting to door to door sales tactics.
Buy an existing business
You might decide to buy an existing tree surgeon business rather than start your own venture from scratch. Buying a going concern can mean that the products, customers, regular sales, staff, premises and equipment are already in place.
If the business you're thinking of buying is a small one, look carefully at what you're actually getting for your money. Small tree services businesses may not have much in the way of assets, so you'll need to make sure you're getting good value if you're paying for things like goodwill, contacts lists and perhaps some ongoing long term contracts.
But buying a business can be a hazardous, expensive process unless you have the right skills and experience on your team, including legal and financial know-how. Establish the genuine trading and financial position, so that the price you pay for the business is not too high.