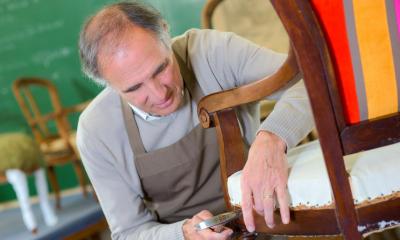 If you're thinking of setting up as an upholsterer will you focus on antique or modern furniture? Our guide gives you all the essentials for starting up and running your upholstery business.
Research your target market
Estimating demand
As a first step it is a good idea to find out whether there appears to be enough demand for your upholstery business. This can very much depend on the range of upholstery services that you plan to offer, the distance you're prepared to travel, your skills and expertise. You might intend to concentrate on offering traditional, craft upholstery services to customers such as antique dealers and restorers, stately homes, the National Trust and, of course, members of the public that want their antique furniture refurbished. Or you might decide to focus on modern upholstery methods and offer services to local furniture manufacturers or trade customers such as pubs and restaurants that need to reupholster their seating.
You might be planning to offer such a specialist service - for example, reupholstering a particular type of antique (those from a certain country or period, for example), or boat and motorhome interiors - that you attract customers from all over the UK and possibly even beyond.
Whichever type of upholstery work you plan to offer it is worth checking out your local area to see how many competitors you are likely to have. A look at the Association of Master Upholsterers and Soft Furnishers (AMUSF) member directory or a browse on Yell.com and other similar online or print directories will give you an idea of the number of upholsterers who are already operating in your area. Don't forget that some antique dealers and antique restorers also offer upholstery services.
Have a good look at existing upholsterers to establish:
the type of work they do - traditional or modern
the customers they target - members of the public or businesses and organisations
the range of other services they offer - for example upholstery fabric sales
the prices they charge
Why will customers choose your upholstery business
It's very important to do all you can to make sure that enough customers choose your upholstery business rather than existing firms. Your market research might indicate that there is a gap in the market you can fill. For example, perhaps there are no local businesses that are members of the AMUSF and that offer a top quality, traditional service. Or maybe a recently opened marina would give you the opportunity to offer upholstery services to boat owners and boat builders.
Find out what customers want
You might consider going to local antiques fairs or markets and asking dealers and restorers who are exhibiting whether they would be interested in your services. It's also worth approaching businesses such as furniture makers or interior designers to find out whether there are any services they would be interested in. Don't forget to give everyone you speak to a business card or a printed brochure if you have one.
Research current trends, plus legal and tax issues
Customer profile
Your market
Depending on the nature of your business, your customers may be members of the public or local businesses and organisations, or a mix of both.
Members of the public might include anyone who wants an antique or modern item of upholstered furniture refurbished or who wants soft furnishings like curtains or blinds made up. Other private customers might want items such as motorbike, classic car, boat, caravan or motorhome seating reupholstered or repaired.
Your trade or business customers might include:
antique dealers or restorers
interior designers
businesses such as hairdressing salons, pubs, hotels or restaurants that need their seating reupholstered or entirely new bespoke seating solutions created
classic car restoration workshops
used motorhome, caravan and boat dealers
any type of vehicle seating manufacturer, for example for coaches or cars
manufacturers of furniture items such as easy chairs and three piece suites
health professionals needing repairs to upholstered surgery furniture
In some cases you might need to work at your customer's premises (or other location like a boat yard) rather than in your own workshop. Don't forget to take your travelling - and possibly subsistence - expenses into account when giving customers an estimate of the cost of the work.
When you undertake a commission it's important to make sure that customers realise that upholstery work is labour intensive and that a job can take some time to complete. If your customers are prepared for this they will put less pressure on you to finish the work quickly. Try to make a realistic estimate of when you will finish the job and stick to this wherever possible.
Discounts
You may be prepared to offer your trade customers a discount, particularly if they put a lot of work your way. This is something that you will agree with individual customers.
Decide what services to offer
There are several different upholstery services you might offer, including:
upholstery and re-upholstery of modern items of furniture
re-upholstery and restoration of antiques, using traditional methods
upholstery repairs to motorbike seats, aeroplane seats, caravan and motorhome seating, dental surgery chairs, hairdressing salon seating and so on
refurbishments to classic vehicle interiors
upholstery for manufacturers of seating for all types of vehicle, catering outlets, hotels, offices and so on
Generally, upholsterers provide customers with an estimate of the cost of the upholstery work they want done. These estimates take into account the time the job will take and the cost of the upholstery materials and fabrics that will be used. These estimates are normally provided free of charge.
As well as upholstery services there are a number of other services you might decide to offer your customers, such as:
loose covers, curtains and blinds made to measure
sales of upholstery fabrics and sundries to customers who want to do upholstery work themselves
sales of items of furniture that you have upholstered and 'upcycled'. These might be new, secondhand or antique
bespoke chair, sofa and bed making
repairs to non-fabric chairs such as those made from cane
Advertising your business
Whichever services you propose to offer, it's vital that your potential customers are aware of your business. If you plan to offer traditional upholstery services to antique dealers and restorers make sure that as many as possible are sent some promotional material. If you are a member of the Association of Master Upholsterers and Soft Furnishers (AMUSF) your contact details will be included in the AMUSF online directory.
It would be useful to include some photographs of the type of work that you do in your brochure and on your website or blog. You could consider including some narrative describing what the work involves and the materials you use as well as photos taken at different stages so that potential customers fully appreciate the skill, time and effort required.
If you encourage members of the public to call in to your workshop having an attractive display of your work could be important. Make sure the items highlight your professional skills and that they are kept clean, with the fabrics protected from fading.
Tools and materials
The work you undertake might include:
upholstering new items of furniture for both domestic and commercial use
reupholstering a wide range of seating, including three piece suites, dental chairs, gym equipment seating, hairdressing salon seating, restaurant and pub seating and so on
craft upholstery for individual, bespoke pieces of furniture
restoration and reupholstery work on antiques
upholstery and interior trimming of boats, caravans or classic cars
To be able to offer both traditional and modern upholstery services you will need to be able to work with a range of different upholstery fabrics, including leather, and you will need various different specialist tools, such as:
hammers and mallets
ripping chisels
staple and glue guns
needles and skewers
staple and tack removers and lifters
scissors, trimming knives, splitters, punches and other cutters
web stretcher
regulators
yard/metre rules
work benches
The materials you are likely to work with include:
springs
cotton wadding and felt
coconut fibre, horsehair, foam
webbing
hessian, calico and scrim (a mixture of jute and cotton)
flax or hemp twine and cord
various decorative fabrics and trimmings such as fringing, buttons and piping
Some customers may supply the upholstery fabric themselves.
Price your services
Getting the price right is very important. It's essential to make sure that the difference between the amount you spend on upholstery materials and the price you charge your customers is enough to cover all of your operating costs, including your own drawings.
Matters to take into account include:
your hourly charge-out rate. You might charge a higher rate for some types of work than others and you may have different tariffs for regular trade clients and for members of the public. If you have any employees, decide whether you will charge yourself out at the same rate as you do for them or if you will charge a higher rate for your own services
whether to add a markup to the upholstery fabrics you use, or whether to pass them on at cost
the prices charged by your competitors. If you are too expensive private customers may decide to buy new furniture instead of having existing items reupholstered. They may even decide to do the work themselves - the recent explosion of interest in crafting and 'upcycling' has seen many hobbyists try their hand at this type of thing. Trade customers like antiques dealers will need to make a profit on the items they sell that you have worked on - so your charges need to be competitive
Buy an existing business
You might decide to buy an existing farm supply business rather than start your own venture from scratch. Buying a going concern can mean that the products, customers, regular sales, staff, premises and equipment are already in place.
But buying a business can be a hazardous, expensive process unless you have the right skills and experience on your team, including legal and financial know-how. Establish the genuine trading and financial position, so that the price you pay for the business is not too high.