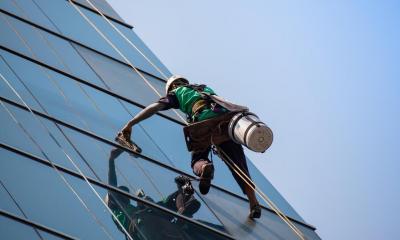 Working safely at height is very important if you're planning to offer window cleaning services and it's a good idea to get some training. Check out our practical guide for help with starting and running your window cleaning business.
Research your target market
When you plan your window cleaning business you'll need to make a realistic estimate of the amount of potential demand and the extent of existing competition. You'll also need an idea of the types of service that are likely to be in demand. Doing some market research can help you with this.
Estimating demand
An essential first step is to find out whether there is enough demand for a window cleaning business in the area where you plan to operate. Be aware that the sector is competitive and, because barriers to entry are very low, new window cleaning businesses start up frequently - particularly when there is a downturn in the economy and people lose their jobs. Also many 'cowboy' window cleaners exist - these might be students, the unemployed or people 'moonlighting' after their other job. These people do not have the same overheads to cover as your business and are likely to undercut your prices. They may not even be interested in doing a proper job.
Be aware that unfortunately, fierce competition can sometimes spill over into unpleasantness and occasionally even violence in areas where there are too many window cleaners chasing not enough work.
However, demand for window cleaning services is likely to remain reasonably strong and a reliable, high quality service will generate word of mouth recommendations from satisfied customers. This will help you to build up your round.
First of all it's important to check out the competition in your area to identify how many other window cleaning firms are operating locally. A browse on Yell.com and other similar online directories will help you to research the number of existing window cleaning firms in your area and to get an idea of the range of services they offer. You could also do an online search for competitors as well as looking at local print directories. Don't forget to take account of competition from cowboy window cleaners. Have a look also at the number of contract cleaning firms in your area - many of these larger firms also offer window cleaning services.
It may be that you will only be competing directly against some of these firms because you will be targeting a particular segment of the market (for example commercial and industrial customers) or providing a very specialised service (for example using hydraulic aerial platforms or rope access techniques to clean inaccessible parts of buildings).
Your customer base
You also need to make sure that the area in which you propose to operate has enough potential customers. Ideally you will locate near a large centre of population where there are lots of housing estates as well as retail outlets, offices, factories, commercial organisations and institutions. Think about the type of customer you will be targeting - if it is mainly domestic households, is your area reasonably affluent? People on low incomes won't be prepared to pay much for your services and might be prepared to clean their windows themselves to save money.
You could consider approaching some potential customers such as local retail outlets to see if they are interested in the window cleaning services you propose to offer. Don't forget, if they currently use a window cleaner (as is likely) you will have to offer something special to persuade them to change.
Be wary about trying to compete only on price. Although you will have to be competitive, if your prices are too low you will not be able to recruit or retain willing and able employees. And you may not be able to afford to buy specialist equipment (such as pole systems) which would enable you to undertake better paid jobs such as high level window and facade cleaning. Try to emphasise the high quality and reliability of the services you can provide.
Find out what customers want
Talk to your potential customers to find out what they would like. For example, it could be that many domestic customers would like you to clean the inside of their windows but because they are out at work all day they feel this would be impossible. You might consider working in the evenings or on a Saturday so that when you call, the householder is present to let you in. This type of personalised service can help you to build up a good reputation and to establish a viable round, which can be difficult if you are trying to break into a new market.
Research current trends, plus legal and tax issues
Customer profile
Your market
Your customers will depend to a certain extent on the range of window cleaning and other services you propose to provide and whether or not you will target a specific sector (such as domestic households) or a particular type of work (for example working at height using 'cherry pickers' or abseiling techniques). Your customers might include:
domestic householders
retail outlets
cafes, restaurants, pubs and so on
hotels, guest houses, nursing homes, hospitals, surgeries and clinics
banks, building societies
offices, schools, colleges
factories and workshops
public buildings such as hospitals and libraries
You might also do work for:
property developers, cleaning construction debris from the windows of newly constructed properties
estate agents, cleaning rental properties managed by the agency
residential landlords - you could find out about becoming a recognised local supplier for the National Landlords Association
other larger window or contract cleaning firms who engage you on a sub-contract basis
Don't forget that domestic householders in particular may be keen to see an ID card until they recognise you and your staff.
Payment terms and method of payment
Your business and commercial customers are likely to pay you monthly. They may pay by cash or direct bank transfer, although some retail businesses may pay you in cash there and then out of the till. Domestic householders often pay by cash or cheque once the job is done. However, many of your domestic customers will not be at home during the daytime, so you will probably either leave an invoice or encourage them to set up a standing order. Alternatively you might agree to send them an invoice each month or quarter. You may decide to go out collecting payments from invoice customers on a fairly regular basis, perhaps in the evenings or at weekends.
Be aware that when it comes to accepting cash payments on the day you will need to be able to trust your employees, particularly if they work unsupervised. If you would rather not do this you will need to make it clear to your customers that they should never pay cash to your staff, and inform of them how best to pay you.
Many window cleaners now use portable card readers and smartphone apps to enable them to accept credit and debit card payments when they're out and about.
It would be normal to enter into a formal contract agreement with your commercial customers, say for 12 months at a time.
Type of work
It's important to give some thought to the range of services you propose to offer. This will be affected by your own skills and resources as well as the type of customer you plan to target.
There are several different types of work that you might consider doing, for example:
interior and exterior window cleaning for domestic households, local retail outlets, catering establishments and so on
interior and exterior window cleaning for larger buildings such as office blocks, factories, public buildings (for example schools, colleges and libraries) and so on. These will involve a certain amount of working at height
high level window/cladding/facade cleaning using specialist equipment such as hydraulic aerial platforms, cradles, gantries, rope rigging and so on
builders' cleans, removing construction debris from the windows of newly constructed houses and other buildings. This type of work needs specialist skills and equipment to minimise the possibility of scratching the glass
sash window maintenance/repair
unblocking drains and guttering
cleaning conservatory roofs, exterior paintwork and plastics/uPVC
cleaning solar panels
fixing damaged or missing roof tiles
erecting TV aerials
cleaning patios and driveways
applying chemical spray treatments for cleaning walls, roughcast renders and pebble dash
Whatever work you plan to do you must make sure that you and any employees you have take care to work as safely as possible. Under work at height safety regulations you must make a proper assessment of the risks involved in doing any job and make sure you have the proper equipment and that it is in good condition. Explain to your employees how each job should be tackled as safely as possible and that it is important that the working practices you put in place are complied with.
The Ladder Association produces a free publication advising firms on how to use ladders safely. You can download a copy of LadderBook from their website. The website also includes a section called LadderSolve - this contains answers to some commonly asked questions about using ladders.
Decide what window cleaning services to offer
As well as offering a range of window cleaning and related services - such as uPVC cleaning, fascia and soffit cleaning, specialist glass coating application and so on - you might consider offering additional services to your customers. Many individuals and businesses prefer just one firm to handle all their requirements. Because you are already seeing these customers on a regular basis you will have lots of opportunities to:
see what sort of additional services they already pay for
think about other services that they don't yet use, but which you consider they would appreciate
discuss pricing with them
Services you might think about offering, particularly to business customers, might include:
general contract cleaning
carpet/upholstery cleaning
exterior painting
general maintenance services such as minor repairs, lawn mowing, weed removal and so on
solar panel cleaning
The right image
Whichever services you plan to provide it is important that your firm projects a professional image. It's a good idea to make sure all your employees are well trained, smartly turned out (for example in overalls bearing your company logo) and that they carry an ID card. The Federation of Window Cleaners (FWC) can advise on this.
Make sure also that you always use the right cleaning products for the job (so that glass and other surfaces are not damaged) and that you invest in new equipment wherever possible. Not only will this improve your professional image but also it will help to make sure that working conditions for you and your employees are as safe as possible.
Quoting for the job
As you will be cleaning windows in many different types of building it is unlikely that you will have a standard tariff of charges. It is more likely that you will quote an individual price to each new customer, although you may well base your quote on a fairly standard charging scale.
To provide a realistic quotation there are a number of things you will need to consider:
the number of windows involved, their size and shape. Will you clean the inside as well as the outside?
how often the customer wants the windows cleaned - it will take you longer to clean dirty windows if the customer only wants you to come very infrequently
how high the building is and how accessible the windows are - will you need any special equipment. Think about any extra time needed to put on safety harnesses and so on
how much the customer can afford to pay. Pensioners and those on low incomes will not have much disposable income
the distance to be travelled between jobs. You will be able to clean several houses per hour on a housing estate but it will take you much longer in areas where properties are well spaced out - for example in rural areas. Take into account too the cost of the fuel you'll use travelling from job to job
Think also about the mix of different customers you will have and how many properties you will be able to get round in a week.
You may sometimes be asked to quote for one-off jobs - for example cleaning the gutters, soffits and fascias on a house.
Productivity
Your working hours
Assuming that you get a steady stream of work, the amount you can earn depends partly on the number of days you work and the hours you work.
In the winter months the days are short and, particularly in rural areas with no or little street lighting, you will not be able to work much beyond four in the afternoon. You might, however, be able to work later than this in town - for example cleaning the windows in a parade of shops.
Bear in mind also that cleaning windows is physically demanding work. You are likely to get tired and slow down as the day goes on and so you're likely to clean fewer properties in the afternoons.
One of the biggest problems is likely to be the weather - you won't be able to work if it is very rainy or windy and if it's very cold and icy it may be unsafe to go up ladders. Heavy snow can also disrupt work.
Non-productive time
Although you might build up your round to, say, 600 houses which you aim to clean every month, there will be days when you do not achieve your target number of properties, for a number of reasons:
very poor weather conditions
illness, or your own holidays
extra travelling time (for example congestion, breakdowns)
the householder is away and you cannot get access to the property
your equipment is faulty (for example pole systems, safety harnesses and so on) so that you can't get on with the job
Bear this in mind when you are estimating your income for your cash flow forecast - you are unlikely to achieve your maximum potential income every month of the year.
Also bear in mind that some of your time is likely to be spent working but not earning any money. As well as administrative jobs like paperwork and record keeping, you'll probably have to spend time doing things like collecting and chasing up payments. Some of your time will also be spent travelling from one job or area to the next.
Window cleaning equipment
The range of equipment you need will depend very much on the nature of the work you plan to do. You might only need a bucket, a ladder and some scrim! However, there is a wide range of window cleaning equipment available - including the following:
ladders, ladder stops
squeegees, scrapers
chamois leathers, scrim, sponges
holsters, belts
buckets and bucket accessories
gloves and protective clothing
telescopic pole cleaning systems
large water tank
water purification machine
hydraulic aerial platforms ('cherry pickers')
rope rigging
fixed and temporary cradles
travelling gantries
fall arrest harness systems
floor and wall care equipment
ladder warning signs and hazard cones
You might also use specialist window cleaning, polishing and coating products.
When you are planning your cash flow forecast, don't overlook the cost of replacement equipment - for example, although scrim might last for a couple of months, you may need to replace squeegee blades very regularly.
Visit the Federation of Window Cleaners (FWC) website to check out the range of window cleaning items available from them. You can order many items from their online shop. The FWC website also includes details of secondhand equipment for sale.
Buy an existing window cleaning business
You might decide to buy an existing window cleaning business rather than start your own venture from scratch. Buying a going concern can mean that the customers, staff, premises and equipment are already in place.
But buying a business can be a hazardous, expensive process unless you have the right skills and experience on your team, including legal and financial know-how. Establish the genuine trading and financial position, so that the price you pay for the business is not too high.
An alternative to buying a complete business as a going concern is to purchase an established window cleaning round. The Federation for Window Cleaners (FWC) website includes details of businesses and cleaning rounds for sale.
Franchises
Franchising can be a good 'halfway house' between starting out from scratch and buying an existing business. If you purchase a franchise you'll still be setting up your own business, but you should benefit from the experience, resources and name of a business that is already successful.
There are various different franchises available in the window cleaning industry. Although different franchise schemes vary in detail, most feature the following key points:
as a franchise holder, you'll remain self employed but you'll use the identity (corporate logos, trade name and so on) of the franchisor
in return, you'll pay the franchisor a fee - this might be a one-off investment, a monthly charge, or a combination of both
both you and your franchisor will have to fulfil certain obligations and maintain certain minimum standards
You may have to buy your materials and consumables from your franchisor.
Many franchisors will provide you with any specialist training you require, help with advertising and marketing, and advice and support on a range of business and technical matters.
Details of the above points are set out in the franchise agreement or contract, which both you and your franchisor will sign. The agreement will also deal with other matters, for example any territorial exclusivity due to you and the minimum period for which the franchise will run.
Before entering into a franchise agreement, it's advisable to check the terms carefully to be sure that you're getting a reasonable deal. Go through the contract with your solicitor before signing anything. More information about franchising is available on the Franchise Info website. Information is also available from the British Franchise Association (BFA).