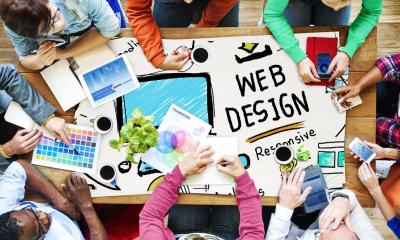 You'll need a wide range of technical skills and expertise to be able to offer services like web development, programming or database design. Check out our practical guide for help with starting and running your web developer business.
Research your target market
When you plan your web design business it's important to think about who your customers will be and what sort of services they'll want. It's also important to find out as much as possible about the competition. Doing some market research will help you with this.
Clients
Think about the type of work that your business will be able to take on. This will help you to identify the businesses and organisations that are likely to use your services.
Local businesses
You might decide to target businesses in your area that do not yet have a website. You could send out a mail-shot to local businesses telling them about your services. Perhaps you will decide to target a particular type of business, for example the retail trade.
You might decide to target your mail-shot (or tele-sales campaign) more specifically. For example, you could pick one or more types of business category from a directory like Yell.com and go through the advertisements, noting which ones do not mention a web address. A bit of online searching might confirm whether or not they have a web presence.
Perhaps you will decide to target businesses that have only a basic website. For example, a retailer with only a one page 'brochure' website might be persuaded to invest in a data-driven ecommerce site. Maybe they could benefit from updating their website so it works well on devices with screens of differing sizes. Again, doing some research using Yell.com and other online directories, including specific trade directories, could help you to identify potential clients.
Other potential clients might include businesses looking for a website re-design or upgrade, and businesses that regularly need website maintenance services from a specialist such as yourself. Think too about the other services that you could offer to your clients - these might include website hosting, domain name management, search engine optimisation and placement, graphic design and so on.
Other organisations
It's worth bearing in mind that other, non-commercial organisations might need web design and development services. These may include charities, associations, clubs, local government, educational institutions and so on. Focus on organisations that are least likely to be able to do this type of work in-house.
Freelance contracting
Some larger organisations require IT specialists on a temporary contract basis at certain times, for example during the 'build phase' of a new corporate website. At these times they generally contact a specialist IT staff agency, which will pass the work on to its registered freelance contractors.
You may decide to work as a freelance contractor, moving from one temporary contract to the next. If this type of work appeals to you, try to find out what types of skills are currently in demand - are yours appropriate? Talk to staff agencies about the amount and type of work available, key locations and the amount of money that you might reasonably expect to earn.
Establishing the level of competition
Once you have decided who your clients might be, you need to find out how well they are already served.
How many other web development firms are there in your area? A look on Yell.com (classifications 'internet web design', 'internet services' and 'internet consultancy', perhaps also 'multimedia services' and 'computer services') and other similar directories will help to establish this. In addition, the UK Web Design Association has a member directory on its website which you could use to help you assess the number of competitors in your area.
How many businesses offer the same services that you intend to offer? These are your direct competitors. When it comes to larger contracts, bear in mind that web design businesses from all over the country may be competing for work in your area. Remember too that other types of business, for example specialist software developers, may also offer web development services.
You may be able to find out quite a lot about your local competitors by looking at their advertisements and websites. Make a note of the range of services that they offer and any other features in their ads that stand out. You might even get some good ideas for extra services that your own business could offer. What sort of impression do their advertisements give - do they seem 'young and trendy', 'solid and reliable', authoritative? Think about how your own advertisements might attract clients to your business.
As well as competing with local and perhaps larger national web design businesses, you could be going head to head with developers from all over the world. Freelance skills-market websites like People per Hour enable developers in countries such as India, for example, to compete for jobs like website design for UK-based businesses and organisations. Many of these individuals are very skilled and experienced, and because wages in their home countries are often much lower than in the UK they're able to charge very competitive prices. Some domain name registering companies pass on registrants' details to web developers - often those based overseas - so that they can market their services to potential new clients who need a website built.
Be aware that basic websites are offered by a range of different providers, including ISPs and specialist online website builder services like Ionos. There are some web-based businesses that have largely automated the process of building a basic (but quite professional looking) business and even ecommerce website. These offer a 'self-service' system that can get small businesses and organisations onto the web quickly and cheaply with little technical knowledge required.
Research current trends, plus legal and tax issues
Decide which services to offer
There is quite a wide range of different services that you might decide to offer, depending on your skills, training and experience (and those of any business partners, or staff that you employ). The services that you can offer will also depend on the facilities that you have available to you, particularly specialist software packages.
A typical web development business might offer most or all of the following services:
web design, including page templates, graphics, logos and icons and also site layout
additional graphic design (for example banners and popup ads), as required
ecommerce facilities, including a 'shopping cart' feature and so on (you might specialise in development work on well-known ecommerce platforms like Shopify)
web programming - for example dynamic web applications
database design and programming
content management system (CMS) development - particularly WordPress
production of other multimedia components, including sound, animation and video
website maintenance and updating
basic instruction/training for clients to enable them to manage and update their own website in the future
integration with existing systems and websites, such as Google Maps or Multimap, PayPal, Amazon, social media and blog and forum platforms
specialist social media services for business
As well as designing internet websites, you might be called upon to design corporate intranet and extranet sites. Clients might also ask you to produce optimised versions of their website for viewing on smartphones, tablets and similar small screen devices.
You may decide to offer some of your services on a package basis, ranging from a simple single page 'brochure' site to a fully featured data-driven e-commerce facility. Some clients will have little or no knowledge of the technical issues involved in designing and publishing a website and will expect you to attend to all aspects of this, giving advice and guidance on key decisions that need to be made. Additional services that you might offer to your clients, or arrange on their behalf as part of a 'one stop' package, include:
domain name registration and management
website hosting (either physically on your own server or 'virtually' as a hosting reseller)
search engine submission and optimisation
web marketing and general site promotion
site maintenance and management
There are other related services that you might decide to offer, depending on your skills and facilities. Here are some examples:
mobile apps
general graphic design
CD ROM/DVD products, video, animation and print media
ISP services (including email) and connectivity
bespoke software development
general database services
other computer services, such as network installation and even PC repairs and troubleshooting
hardware and software sales
Try to make sure that the services you offer meet the needs of your clients. If necessary, you could invest in additional training, software and equipment.
Promote your business
It is important to advertise your web design business effectively, to let your potential customers know who you are, where you are and what you can do for them.
Online promotion
People will search online for services like web design, so it goes without saying that you should have your own excellent website which showcases your creativity and technical abilities to the full. Be sure that it works well on as many different web browsers as possible - and on a range of different devices, screen sizes and operating systems. Make sure it's as well placed as possible in the results of the major search engines. You could consider paying to advertise with search engines.
Be sure to use social media, blogs and forums to full effect when marketing your business and staying in touch with customers.
Business directories
An entry on Yell.com and other similar directories - including local print directories - can be an effective way of advertising your business. However, many of your competitors will have done the same. Some firms spend a lot of money on large, eye-catching display advertisements. You will have to decide whether to compete head on with these firms, or to look for a different way of attracting customers. You could, for example:
focus on your own 'unique selling point' (USP) in your advertising material. This might be, for example, '10 years experience', 'Competitive rates' or perhaps 'Free initial consultation'
advertise in other ways. For example, you could distribute a brochure or flyer as part of a mail-shot that you do
Other ways of advertising
Think about other ways that you could advertise and promote your business. For example:
become a member of a trade association. The UK Web Design Association (UKWDA) has a member directory on its website which enables prospective clients to find web developers in their area. The UKWDA also operates a web design quote service that enables people who need the services of a web professional to get up to four quotes from UKWDA-approved members
advertising in a local paper
joining local business groups and networking societies. A local Chamber of Commerce, for example, is a good way of meeting fellow business people
Try to tell people as many of the good things about your business as possible in your advertisements, particularly things that distinguish your business from its competitors.
Remember that a business vehicle can be a very effective means of advertising if you have it sign-written and keep it clean and presentable.
Word of mouth
Word-of-mouth recommendations are very valuable to your business. Many would-be clients will want to know something about your track record. With your clients' permission, you could include a 'Designed by...' logo in a discreet but visible location on their websites. The logo could include a live link to your own site. You could also include links to their sites from your own as part of your online portfolio of past work.
Pricing policy
Web development can include various different aspects of design, production and programming, as well as technical set-up work and general administration. This means that costing a large project properly can require considerable knowledge and experience. In many cases you will be asked to provide an estimate or firm quotation of the cost of a project, so you will need to be able to accurately judge the amount of time it will take to complete it.
You will probably base your charges on an hourly or daily rate for your services. This might vary according to the nature of the work that you are undertaking - for example you might charge a higher rate for, say, database design than you do for straightforward graphical work.
When setting your rates, you should have some idea of what other similar businesses in your area would charge for the same level of service. Think about what is available to your potential clients from elsewhere too - for example freelance developers in other parts of the world who market their services though websites like People per Hour. Also take into account your own level of skills, experience and reputation. Above all, make sure that, assuming you get enough work, your rates will be sufficient to cover all of your business expenses and earn you a reasonable living.
As well as an hourly or daily rate, you might decide to offer certain services on an inclusive package basis. So, for example, you might offer a basic three page 'brochure' site with certain features as standard for a fixed price, with additional charges for features such as a shopping cart.
If you intend to offer services such as domain name registration and hosting then you will probably work out standard charges for these. Find out how much it will cost your business to offer these services and decide how much profit you want to add to this basic cost as a reseller. Factor in the cost to your business of any time spent and resources used, and once again find out what is the 'going rate' for these types of services among your competitors. Decide what will be included in your standard charges, and what will not. For example, will you make a charge to clients who want to transfer their domain to a different host?
Buy an existing business
You might decide to buy an existing web developer business rather than start your own venture from scratch. Buying a going concern can mean that customers, regular sales, staff, premises and equipment are already in place.
But buying a business can be a hazardous, expensive process unless you have the right skills and experience on your team, including legal and financial know-how. Establish the genuine trading and financial position, so that the price you pay for the business is not too high.