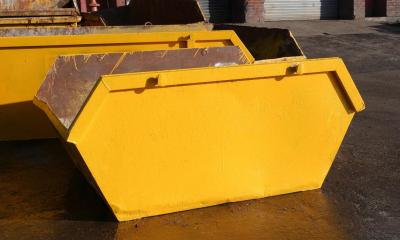 If you're thinking of offering waste disposal services you'll need to decide on how many skip carrier vehicles and skips you'll have to buy or lease. Check out our practical guide for help with starting and running your skip hire business.
Research your target market
When you plan your skip hire business it's very important to think carefully about who your potential customers are, how much demand there is likely to be, and how well that demand is already served by other businesses.
Customers
Think about how many people and businesses are likely to use your services.
Apply in minutes for at-home banking support designed for small businesses like yours. Enjoy banking on-the-go with zero monthly fees, 24/7 UK support and instant alerts when money comes in or goes out. Join Starling – enjoy app-based banking at its best.
Private customers and one-off commercial jobs
Your key private customers will include home owners. Younger adults in particular may be more likely to take on the types of jobs that might require a skip. Think about the different areas of housing in your area. Pay particular attention to areas where housing is owner-occupied, ideally by younger couples and families. Look out for houses with large gardens, and perhaps houses that look like they will need building work and maintenance in the near future.
Think about business clients that might use your services from time to time. Shops, for example, may need skips for disposing of old stock, unwanted fixtures or accumulated rubbish.
Try to match the range of services that you offer to the needs and wants of local customers. For example, 'mini' and 'midi' skips are often popular with private clients. Think about how far you are prepared to travel to deposit and collect skips.
Regular users
Think about the types of business that will need skips on a regular basis. Construction businesses are good examples - many types of building work generate large amounts of waste and spoil to be disposed of. Landscape gardeners might also need skips regularly. Also consider shopfitters, driveway specialists and carpet fitters.
Target regular users with your advertisements. You could try approaching the proprietors of some of these businesses to tell them about your services and see if they will agree to put business your way.
Contract work
Some types of business will require long term or permanent skips. Manufacturing and industrial businesses, for example, often produce large amounts of waste and need one or more skips available on site at all times. Some businesses will need very large capacity skips or special 'roll-on-off' containers.
It may be worth finding out who is responsible for waste management in large factories and industrial units. Try to find out about their requirements and what you would have to do if you wanted to tender for their waste disposal contract.
Establishing the level of competition
Once you have decided who your customers might be, you need to find out how well they are already served.
How many other businesses in the area offer skip hire services? A look on Yell.com (classifications 'Skip hire' and 'Waste disposal services', perhaps also 'Recycling') and other similar directories will help to establish this. Try other online searches for local skip hire services too. Look out for large national companies that offer skip hire in your area - for example Topskips and Skippy (which work with selected local skip hire businesses throughout the UK), AMA Waste Services, HSS Skips (part of HSS Hire) and Brandon Hire. The national builders' merchant chain Jewson also offers skip hire (including grab loader hire and roll-on, roll-off skips), as does Travis Perkins.
Look at some of your competitors' advertisements:
what sizes of skip do they offer
do they advertise any special features, for example a freephone telephone number or a seven day service
what sort of impression does their advertisement give you (for example, does the firm come across as small and friendly, large and efficient, good value)
Look out too for competition from Hippo Bag. This nationwide scheme uses large 'dumpy bags' instead of rigid skips and is marketed primarily to private householders but also to traders through national chains of DIY retailers and builders merchants.
Remember that competition may come from other sources, particularly tipper van waste disposal services that offer to load and remove general waste. Bear in mind that you may also face competition from unlicensed flytippers who operate illegally.
Research current trends, plus legal and tax issues
Decide which services to offer
There are various different skip and waste disposal container hire services that you could offer.
Basic skip hire services
Basic skip hire and waste removal services include:
'mini' and 'midi' skips
full size and 'maxi' skips (sometimes referred to as 'builders' skips', usually 6-8 cubic yards or bigger - up to 10 or 12 yards for a maxi skip)
extra large industrial skips (up to about 55 cubic yards) and other industrial waste containers, such as 'roll-on-offs'
grab loaders, for moving large amounts of excavated spoil or rubble quickly
tipper trucks
Many of your hires will be on a short-term basis - normally only a few days - but you might also offer long-term and 'permanent' (regularly replaced) skip hire to businesses like manufacturers which constantly need to dispose of large volumes of waste.
Special features and services
You might decide to offer a range of additional waste management services and special features. Some examples include:
dismantling and demolition services
a loading service
clearance services, for example builders' site clearance and property/house clearance
tree removal and wood chipping
a mobile crushing service
recycling services
asbestos and special/hazardous waste removal
disposal of refrigeration equipment
long reach vehicles and skip rotators for improved access
covered skips ('sheeting')
drop-side skips
security fencing around skips
Other services
Depending on your facilities, equipment and in some cases licensing, you might decide to offer additional services, such as:
gully emptying and septic tank clearing
other tanker services for slurries and liquid wastes
drain unblocking and high pressure jetting
wheelie-bin emptying
other specialist hire - for example portable toilets and containers
general waste disposal - if you have the appropriate facilities and licences then you might decide to accept waste for disposal that people bring to your premises
general plant and machinery hire
general haulage services
You may find that there is demand from major waste producers, such as factories, for specialist waste minimisation and management consultancy. You might be able to provide this as part of a compete integrated package if you have the knowledge and expertise.
Added value services
The skip hire business is very competitive and you may decide to offer your customers a range of attractive 'added value' services. These might include, for example:
a freephone telephone line
online booking and payment
an 'all areas covered' service
guaranteed prompt service (for example same or next day delivery and collection)
wait and load service (for customers who have all their waste ready to go)
six or even seven days a week delivery and collection
Price your services
Most private and one-off customers will ask you for a price for a specific size of skip. Many will want to know how long they can have the skip for and some may ask about your charges for extended periods. Some customers will have special requirements, for example drop-side access or covered skips.
The price you quote may depend on several things, for example:
skip size
the type of waste that will go in the skip
how far the drop-off site is from your depot and/or from licensed waste disposal sites
site accessibility
how long the skip is needed for (although many skip hire companies don't charge for hire on a time basis so long as the skip can be collected within a reasonable length of time)
whether the skip will be sited on a public highway (including pavements) or on private land
whether any special arrangements will have to be made, for example the suspension of a restricted parking bay
any extras that are charged for, such as skip lights and access ramps (decide whether or not you'll include these in your basic prices)
If a highway permit or controlled parking permission is required the local authority will make a charge. Charges vary - your local authority will be able to give you details of charges that apply in your area. Decide whether you will pass on these charges at cost when you arrange a permit on a customer's behalf.
The price you quote may depend on whether the customer is a private householder or a business. You might decide to offer special rates to business users and discounts to clients who use your services on a regular basis. Your lowest hire charges might be for businesses like factories that need a permanent skip on their premises.
Many potential customers will phone around several local skip hire specialists or look online to find the lowest price. So your rates will probably need to be competitive. Find out what other businesses in your area charge for similar services. Decide whether you need to (and are able to) undercut them to win business, or whether you hope to attract customers in other ways. Remember that some clients will be prepared to pay a premium for a first class service.
If you offer other services, such as portable toilet hire and general plant hire, you'll need to think about how you'll price these too.
Make sure that, assuming you get enough work, your charges are high enough to cover all of your operating costs, including fuel, landfill charges and your own drawings.
Promote your business
Many of your one-off customers won't have the name and contact details of a skip hire business to hand. So it's important to advertise your business effectively, to let your potential customers know who you are, where you are and what you can do for them.
Make sure that your advertising and marketing efforts are focussed on the areas that you cover. If the landfill site that you use for disposal is a considerable distance from your premises, it could well be worth targeting the areas that you'll regularly be passing through when travelling to and from the site. Similarly, if your premises are near to a regional landfill site, it may be worth advertising in towns and cities that are quite a distance away if yours is the nearest landfill site to them.
Online advertising
Now that so many people search online for services like skip hire, a good website can be a very good way of advertising your business and reaching a wider range of customers. Think about getting listed in online directories and take advantage of any free online advertising offered by your trade association.
Consider offering your services through a website like Skip Hire Direct, which partners with local skip operators to offer an online booking service in the area where you're based.
Think about using social media like LinkedIn, Facebook and Twitter to network and market your services, communicate with customers and generally raise the profile of your business.
Other ways of advertising
An advertisement in your local newspaper and an entry in a local print directory can be an effective way of advertising your business. However, many of your competitors will have done the same so try to make your business stand out.
Some firms spend a lot of money on large, eye-catching display advertisements. You will have to decide whether to compete head on with these firms, or look for a different way of attracting customers. You could, for example:
focus on your own unique selling point (USP) in your advertising material. This might be, for example, "25 years experience", "Family run firm" or even simply "Friendly, honest service"
distribute a paper flyer, plastic card or sticker with your business name and telephone number on it as part of a mail-shot that you do, perhaps in the early spring
contact local residential landlords associations to enquire about being included in their suppliers guide
The important thing is to tell people as many of the good things about your business as possible in your advertisements, particularly things that distinguish your business from your competitors.
Your local paper may run a regular 'contact the experts' advertising feature. Of course, by having your business name and contact details prominently painted onto your skips and skip wagons you'll be advertising your business wherever you go.
Some businesses keep an eye on local planning applications and send a flyer to applicants in case any who are project managing the work themselves might want to engage them.
Targeting contract clients
If you decide to try and win long term contracts from businesses such as manufacturers then you should consider how you will reach them with your advertising. You might, for example, consider placing advertisements in specialist trade journals that are read by your target market. It may be worth networking with key members of the local business community. Chambers of Commerce are a good means of meeting other business people in your area.
Try to tell people as many of the good things about your business as possible in your advertisements, particularly things that distinguish your business from its competitors.
Buy an existing business
You might decide to buy an existing skip hire business rather than start your own venture from scratch. Buying a going concern can mean that the skip carrier vehicles, skips, customers, staff, premises and other equipment are already in place.
But buying a business can be a hazardous, expensive process unless you have the right skills and experience on your team, including legal and financial know-how. Establish the genuine trading and financial position, so that the price you pay for the business is not too high.