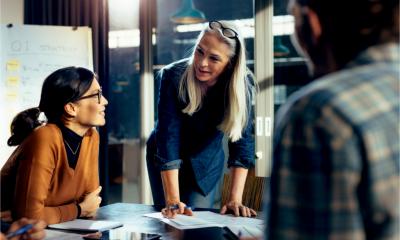 Starting a business is one thing, growing it is quite another. Once your start-up is up and running, it's possible you will need additional expertise to take your business to the next level. If you don't need or can't afford to take on a permanent employee, one option worth considering is bringing in an interim manager
What is an interim manager?
An interim manager is a flexible, affordable way of bringing in the knowledge, skills and insight you need to support your business (perhaps in an area you lack). They can help you grow your business and guide you in the right direction. Whether it is help with sales and marketing, finance and regulatory matters or day-to-day operational and HR advice, using an interim manager is a quick and easy way to obtain the skills you need.
What is the advantage of using an interim manager?
There are several key advantages to using an interim manager rather than taking on a permanent member of staff. These include:
You can hire an experienced person who has the skills to understand your business needs and fill any gaps in your own knowledge or experience.
They will get up and running quickly.
The right interim manager can help your start-up reach the next level much more quickly than you would on your own. You can also learn skills from them that will be of value after they have left.
You can take an interim manager on for a specified amount of time or for the duration of a specific project.
They can be surprisingly affordable. Working on a daily rate, without the additional costs associated with an employee (sick pay, holiday pay, pension contributions and other traditional benefits), it is easy to forecast the costs of hiring an interim for a specified period of time.
How can I find a suitable interim manager?
Start by identifying providers. Ask for recommendations from your list of contacts and other business owners. If you know any good interim managers, ask them for their views on providers in your sector. Your local business support organisation or trade association may be able to recommend suitable providers or managers that fit the bill.
Get in touch with the providers to get a feel for how they work and what they can offer you. It's vital the providers understand your business so that they can find the right interim manager for your business.
Provide a concise brief to your chosen interim management provider. Be specific about the skills and characteristics you need. Make sure the brief is suitably detailed to ensure your hire is a good fit for your team and company culture.
Keep in touch with your interim provider and meet them in person so you can provide a clear view of your goals and any relevant deadlines. This way, your agency will select high quality candidates who genuinely fit your brief (not just someone whose CV ticks the boxes).
Managing an interim manager
It's good practice for every business to have employment policies outlining what is expected of employees. However, if you have never had an employee before, you may not have employment contracts or company policies and procedures in place. A contingency staffing plan can minimise disruption and stress should they leave before the project has ended.
Write a clear job description and list the goals that need to be achieved. Set a workable timeframe and be clear about how long the assignment will last.
Plan how you will integrate the interim manager into the team (if you have one). Make sure the interim manager has someone to report to who can provide constructive support. You also need a system to monitor whether your interim manager's goals are being achieved on time and that quality targets are being met.
You might also want to check your insurance. Key-man insurance, for example, could cover the cost of an interim manager, if a key employee is ill or leaves at short notice.
Finally, you should also be prepared for the fact that your interim manager may be vastly more experienced than you. They are likely be over-qualified for the role you are asking them to fill, so once they are up and running in the post, you will need to stand back and let them get on with what they do best.
With thanks to Clive Hyman, founder of Hyman Capital Services and Nigel Peters, managing partner of Alium Partners.