If you have an online business, the world could be your oyster. But there are some definite pros and cons when it comes to selling overseas. Chris Barling, co-founder of Sellerdeck, explains
The good news about running an ecommerce business in the UK is that much of the expertise that you use to get visitors to check out your site can be used for the international market.
In particular, skills in search engine optimisation (SEO) and pay-per-click advertising (PPC) can also be applied to attract visitors from abroad. Here are some key things to consider:
1. Make a virtue of being from the UK
The UK is still generally respected around the world. It's worth flying the flag and making it clear that you're based here.
2. Understand the rules
Make sure you know the rules around exporting and VAT. Whether or not you have to charge VAT depends on what you sell, who your customer is and where they're based. You can find guidance on exporting online. Good accounting software (together with a good accountant) will help you comply with these rules.
3. Make sure you get paid
Handling payments should be straightforward. If you allow buyers to pay by card then your payment card provider sorts out any currency exchange. You'll get sterling but your customer will be charged in their local currency. You don't have to make any changes to your store, although you could show an indicative price in euros and dollars.
4. Sort your logistics
Shipping abroad is pretty straightforward too. It's easier with a recognised international carrier such as UPS, Fedex or DHL, as they can advise on any issues. Make sure you fill in a customs declaration. As long as your product is legal in the country to which you're selling it, you should be fine. As for customs or import duties, most retailers leave these to the purchaser. Make this clear in your terms and conditions, as customers may be confused if asked to pay a charge on delivery.
5. Manage the risk of fraud
The biggest risk when selling overseas is fraud. Orders from abroad are more likely to be from scammers, simply because it's easier to get away with fraud across international borders. Many fraud prevention systems, such as address checking, don't work with overseas cards. You can evaluate the fraud risk by contacting your bank or payment service provider. It's also worth speaking to other businesses in your sector to see if they've had problems.
6. Monitor currency movements
Finally, be aware of the currency risk if you decide to show prices in the customer's local currency. To minimise this risk, your website should dynamically recalculate prices in line with the latest exchange rates.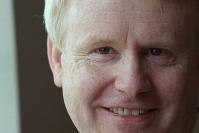 contributor
Chris Barling is the Chairman of Powered Now, a company he co-founded. An enthusiastic entrepreneur and business angel, Chris has a passion for helping small businesses take advantage of new technology. He has over 40 year' experience in the IT industry.