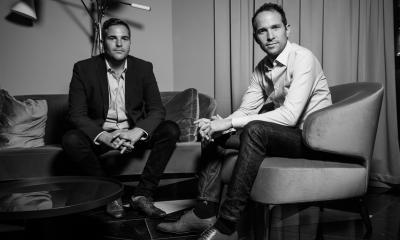 Plenty of us dive head-first into the balancing act that is work and family life - either working in a family business or starting something new with a loved one. But for those without experience or a helping hand to guide them, getting things right from the outset is key.
Ian Syer [right] and Joe Syer [left] are two such entrepreneurs who decided to take their brotherly bond further by going into business together. In 2010 the brothers combined their skills in the art and sales/marketing worlds to create an online marketplace for contemporary art.
MyArtBroker.com joins buyers and sellers for pieces from highly acclaimed artists such as Andy Warhol, Banksy, Bob Dylan, Damien Hirst, Harland Miller and many more.
Here are Joe and Ian's tips for balancing a family relationship with the pressures of running a business.
1. Family first, business partners second
Your relationship as family has to be the priority. We always fear that falling out at work would also mean falling out with each other personally, and worry about what that would mean for the wider family.
You can end up speaking to each other in the workplace like you never would with any other member of staff - like you're 13 years old! Remembering to stay professional at all times, and keeping the fact you're family first at the forefront of your mind, is critical.
2. Don't jump into things just because you're related
Treat a family business partnership or prospect like you would any other. Just because you are related, that doesn't mean you'll get on well in the office.
Try to honestly evaluate your relationship from a outside point of view. Do you argue lots or frequently clash? How do you handle conflict? Do you have the same idea and vision of your business idea?
3. Manage expectations and roles
We find that setting goals and agreeing who will invest in new projects is something to prioritise early on. Be very clear on job roles, and have some kind of structure in place. Allow each other to manage their own area of speciality and take responsibility for it.
Most people would call this a business plan, but it also serves to ensure that as a family unit nobody feels hard done by, or they are carrying someone else's load.
4. Look for fresh perspectives
If the business demands it, hire in external people to give the right mix of skills and a fresh outlook. A good intermediary can help when tensions are running high - they'll give a balanced view and point out angles you may have missed.
This is especially handy for when you are pulling in different directions, or just need a sanity check on big decisions.
5. Families that play together, stay together
It's important not to let work consume life away from the office. You can end up discussing work issues whenever you're together - it makes stag dos, christenings and other family events challenging for others.
We try to find time to do something together that we enjoy, other than work. We play golf once a week and seem to get more done in a different environment. Ideas flow much better when you're not in work mode.
6. Establish your business goals from the outset
You need to have the dream agreed early on. Are you looking for a lifestyle business that allows a steady and comfortable income - or are you willing to struggle and sacrifice for quick growth, in order to exit the business with a huge payout?
Either goal is fine, as long as what you're working towards is agreed from the start. Nothing dampens cooperative growth more than one party wanting to extract profits when the other wants to reinvest.
7. Agree your exit strategies
Should you decide that working with family comes at too much of a cost, or that one of you wants to move on, a clear agreement should be in place for managing an exit.
Whilst it might be an uncomfortable issue to broach at the start of a new venture, your family relationships are at stake. Making sure everyone is clear on their rights and responsibilities when they want to leave is vital, to avoid serious conflict later on.
8. Don't listen to the naysayers
We often sit up and pay extra attention when we're told something is too hard, too risky or already being done. As a family unit we drive success together, and you can achieve huge results when you all pull in the same direction.
Big challenges that might seem daunting on your own are easier to tackle as a team. When you work with family, you find a loyalty you won't get elsewhere - and when you experience success, you have someone close to share it with, which is amazing.