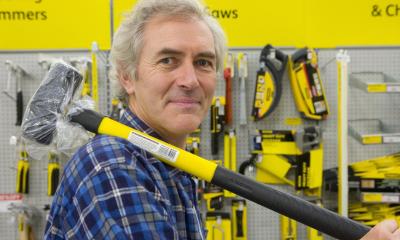 Builders' merchants supply local tradespeople with all the materials they need. Most open early and offer delivery and account terms as standard. Read our practical guide to starting up and running your own builders' merchant business.
What competition will your builders' merchant face?
Find out as much as you can about the level of demand for the product ranges you intend to stock, and about how much competition there is to meet that demand.
Estimating demand
The way that the industry is structured makes it quite competitive for the independent merchant. Smaller, independent merchants commonly don't deal with large construction companies as they can't compete with the national chains on price. An independent's customers are more typically small local builders and other trades-people like plumbers, roofers, and so on.
In recent years the national retail DIY chains have been trying to attract these types of customers by stocking building materials. B&Q in particular has made considerable efforts to target trade customers, while Wickes is also popular with tradespeople. At the same time, many independent builders merchants have started to stock products that are attractive to the retail DIY market, so there is now quite a broad area of crossover in the items sold by DIY stores and small-to-medium sized builders merchants. This has made the industry more competitive.
Check out the competition in your area to identify how many other outlets locally are already selling the type of goods that you intend selling. As well as existing independent merchants and branches of chains like Travis Perkins, Wickes, Screwfix and B&Q stores (particularly those with a Trade Point counter), look out for niche specialists like timber merchants, electrical wholesalers and plumbers merchants.
Establish:
what they sell and the prices they charge
how accessible they are and whether they have adequate parking facilities for vans
what level of service and advice they provide
how knowledgeable and helpful their staff are
whether the premises look professional
who their customers are
what services they offer, such as cutting, delivery, and so on
Many big DIY stores have closed. Any closures in your area might provide an opportunity to fill the gap.
You may decide that you will not sell to members of the public at all. This makes it easier to establish a reputation as a serious supplier to the trade, but will be limiting your potential customer base.
Which customers will your builders' merchant serve?
Depending on the nature of your business, your customers may include both tradespeople and members of the public. However, it is likely that most of your customers will be from the trade and these will probably include:
builders
roofers
joiners
plumbers
painters and decorators
electricians
plasterers
landscape gardeners
other specialist trades-people such as damp proofers
businesses such as caravan parks
'White van' jobbing builders and trades-people are key customers for a typical independent builders merchant.
You may decide to offer your trade customers some or all of the following terms:
account facilities, with up to 30 days credit
trade discounts, of up to 20% (if goods are offered at retail prices)
free delivery (within a certain area) of orders over a certain size
sales promotions
volume or loyalty discounts and/or retrospective rebates
Consider what your position will be on taking surplus goods back into stock. If you are prepared to do this, you can impose a handling charge.
It is likely that you will also have some retail customers. In the past, most builders merchants operated a 'trade-only' rule which meant that members of the public could not shop with them. However, it's now quite commonplace to admit members of the public. Demand for tools and materials from DIYers has risen and has created a potentially quite lucrative market for the building supplies merchant.
Why will customers choose your builders' merchant?
You need to make sure that enough customers will choose your business rather than existing outlets. Your market research might indicate that there is a gap in the market that your business can fill. For example, you may have noticed that none of the businesses in your area offers equipment hire, a service which may attract customers to your business rather than one of your competitors.
You could try to establish a reputation for knowledgeable service and good advice which could set your business apart from your competitors. Keeping up to date with trends in the sector will also ensure that you can be helpful to your customers.
Before spending a large amount of money on your opening stock, find out what customers want and whether there are particular goods or services you can offer which will attract customers to your business. Consider carrying out a survey of local builders, roofers and so on to see what products and services they want.
Check out future developments
The location of your outlet is very important and ideally there will be ample and easy parking nearby. Passing trade is not generally important but your premises should be easy to find and well served by road links. You should check that there are no plans to build new road systems, which would mean that traffic would bypass your business, nor proposals to impose parking restrictions.
Research current trends, plus legal and tax issues
What will your builders' merchant sell?
To satisfy your trade customers you will probably need to hold a large amount of stock - a wide range of different goods and plenty of them - so that orders can be fulfilled as quickly as possible.
The traditional products sold by a builders merchant are the 'heavyside' products such as bricks and cement. You may also sell what are known as 'lightside' goods, such as decorating goods and ironmongery.
The range of products you might stock is very large and will depend on the type of customer you are targeting. However, you are likely to stock some or all of the following:
timber and timber products, such as plywood and chipboard
plasterboard and other sheet materials
flooring products
insulation materials
ready-made joinery, such as staircases, doors and window frames
heavyside building (or 'skin') materials, including bricks, glass and roofing slates
sand, gravel, hard-core (bagged or loose), cement, grout and plaster
bathroom suites and fitted kitchens (you might display these in a showroom setting)
plumbing supplies and sanitary ware
tiles, slabs, concrete and plaster mouldings (such as coving), and clayware
ironmongery and plastics
patio and driveway paving, fencing products
heating appliances and accessories, including wood-burning and multi-fuel stoves
miscellaneous fixings and sundries, including polythene and roofing lead
building chemicals, including cement additives, wood-care products and fillers
painting and decorating supplies
outdoor clothing, protective clothing and accessories
hand tools, power tools and small plant
Other products that you could stock include:
casual clothing
garden accessories and outdoor leisure goods
furniture, lighting accessories and household items
Some of the lines you stock may have a limited shelf life, so you should make sure that you monitor stock turnover carefully and discount anything that is approaching its sell-by date.
Have enough stock to cater for demand during peak periods.
You might decide to offer café sales of hot and cold snacks and drinks - a full English breakfast is popular with builders calling in first thing to pick up materials for the day.
The right image
It is important that your business projects the right image. If you are only targeting trade customers, you may find that a more basic, no-nonsense approach to your outlet is appreciated. However, if retail customers are also going to be targeted you could consider making sure the premises offer a more pleasurable shopping experience.
The range of goods and materials you stock - and the way you stock them - should also reflect the types of customer you target. DIY customers, for example, often won't want to pay the price of heavy duty 'professional quality' tools and will look for cheaper options instead. Trade customers may not mind picking up materials from a pile in a yard, but you may need to tempt retail customers with more attractive displays and imaginative merchandising.
Consider selling online
An ecommerce website allows you to sell online to a wider audience and potentially beyond the UK.
Promoting your builders' merchant
Whatever the nature of your business, make sure that your potential customers know about you and the products and services you offer.
There are a number of things you can do to promote your business:
advertise in your local newspaper and any local directories
launch your own website, showing all the features that will attract customers to your outlet
take advantage of social media, industry forums and blogs wherever possible
have leaflets printed which you could send to local builders, roofers and others in the construction industry
sponsor local events or sports teams
Price your products
Decide how you are going to price your products. For example you could:
offer trade prices and let retail customers benefit from this
offer trade prices and only admit trade customers
offer retail prices but give a discount (perhaps up to 20%) to your trade customers
Make sure that the difference between the cost price and the selling price is enough to cover all of your operating costs, including your own drawings. However, as the building supplies sector is competitive you will generally have to price in line with your competitors. If you plan to supply goods that your competitors don't offer, you may be able to charge higher prices.
Trade customers will generally want good quality and reliable materials, at a competitive price. Retail customers may expect you to sell goods cheaper than the large DIY chains.
The manufacturers and wholesalers that supply your stock may provide suggested selling prices. You may find, however, that competition in the sector means that you are forced to charge less than the list price.
Buy an existing builders' merchant business
You might decide to buy an existing builders merchant business rather than start your own venture from scratch. Buying a going concern can mean that the products, customers, regular sales, staff, premises and equipment are already in place.
But buying a business can be a hazardous, expensive process unless you have the right skills and experience on your team, including legal and financial know-how. Establish the genuine trading and financial position, so that the price you pay for the business is not too high.