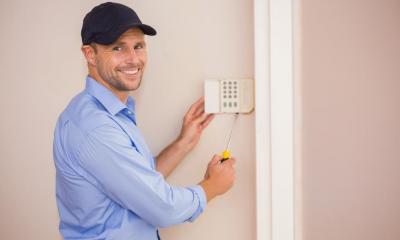 Theft is still a big problem in many areas and home and business owners are willing to invest in security devices to protect their property. Our guide gives you the essentials for starting up and running your own alarm fitting business.
How much competition will your security alarm fitting business have?
It's a very good idea to try to establish how much competition there is in your area and the level of local demand for security alarm fitting services.
The level of competition
Check out the level of competition in your area by identifying how many other businesses are already offering security system installation services locally. Some of these may be branches of large organisations such as ADT or Chubb, but others will be small businesses, perhaps with a single self-employed proprietor. A look on Yell.com and similar directories - both printed and online - should help to give you an idea about the number and type of security alarm fitting firms in your area. You could also use the searchable directory on the British Security Industry Association (BSIA) website to find out how many BSIA members there are in your area.
It may be that you will only be competing directly against some of the businesses that you identify because you will be targeting a particular sector of the market or concentrating on installing specialist devices and systems that are not widely available.
Have a good look at existing firms to establish:
what types of system they install
what prices they charge
the range of services they offer
whether they specialise in a particular area - for example, CCTV systems
whether they have a shop or other premises open to the public
if they are members of a recognised trade body
If any of the businesses have premises that are open to the public, you could visit to get an idea of the type of work they undertake, the products they fit and the customers they serve.
The level of demand
A strong housing market is good news for the security sector as new purchasers will often install or upgrade a security system. Conversely when the housing market slumps there are fewer housing transactions and homeowners are less likely to spend money on installing new security systems. The number and type of houses in your area will affect the level of demand. Large houses in upmarket areas are more likely to have sophisticated systems fitted, although cheaper alarms and security lights are popular everywhere. It's worth bearing in mind that residential landlords are required to fit their premises with smoke and carbon monoxide alarms, potentially creating demand for the services of the specialist alarm fitter.
Industrial and commercial properties are often fitted with security and fire alarm systems. The number of businesses in your area will determine the potential level of demand and whether commercial security systems are likely to be a big source of work for you. Demand from commercial clients can also be affected during times of recession. Although the number business failures tends to rise (which can restrict the number of potential customers) existing business may look to strengthen their security to protect themselves against a perceived increased risk of theft during a recession.
Why will customers choose your burglar alarm fiting business?
You need to make sure that enough customers will choose your business rather than existing ones in your area. Your market research might indicate that there is a gap in the market that you can fill. For example, perhaps no one in your area specialises in installing electric security gates or access control systems.
Regardless of the extent to which you specialise, you'll be looking to do everything you can to make your business attractive to potential customers. An in-depth knowledge of security systems, fitting techniques and so on will be a great strength when trying to attract customers. Make sure that people are aware of your ability to provide them with the appropriate security system for their needs. You should always be willing to discuss security matters and offer general advice. If a site visit is carried out and you are asked to draw up a security plan, make sure that you take note of the customer's requirements and discuss details with them. Let them know that you will test the system after installation and provide them with instruction on how to use it. The offer of a guarantee and a 24-hour emergency call out (if the system should develop a fault) will help to provide peace of mind.
Check out future developments
The location of your business is important as to begin with at least, much of your work is likely to be local. Ideally you will have premises that customers can visit, although this is not essential. Try to find out if there are any developments planned in your area. New housing or commercial premises have the potential to provide a lot of work.
Use the record sheets to note down the results of your market research.
Who needs a burglar alarm?
Your potential customer base includes homeowners, commercial and residential landlords, property developers, building firms and so on. You may also deal with a wide range of premises-based businesses and organisations, such as:
local shops and offices
garages and petrol filling stations
restaurants, cafes and hotels
businesses operating from small industrial units
local authorities, schools, colleges, hospitals and so on
Special offers and discounts
You may offer a discount from your retail price list as a matter of course to your trade customers, particularly those that use you on a regular basis. How much discount will depend on your pricing policy and how much local competition there is. You could offer further discounts for particularly large jobs.
Research current trends, plus legal and tax issues
Decide what security services to offer
Think about the range of services that you will offer and the kinds of job you will agree to carry out. You may decide to specialise in a particular type of work (for example fitting access control systems) or you might take on a wide range of jobs, although this will depend to a certain extent on your skills and experience.
Domestic work
Domestic jobs make up the bulk of work done by many small security installation firms. The type of work you might be asked to carry out includes:
installing burglar alarm systems
installing fire alarm systems
fitting security cameras and monitoring equipment
fitting access control systems (for example numbered entry pads in communal hallways and foyers)
visiting homes to assess risks and offer advice
designing security systems
drawing up plans and making estimates of the cost
Commercial work
Many commercial premises are fitted with a range of security systems. For example, shops and office premises may have fire alarms, burglar alarms and access control systems fitted. Retail outlets of all types might use CCTV systems. Most of the work in commercial properties will be similar to that undertaken in domestic properties, but may be on a much larger scale.
You may also offer 'key holding' services to commercial customers, for which a licence from the Security Industry Authority (SIA) is required. You may operate as an alarm receiving centre, for which there may also be a requirement to be licensed by the SIA if the nature of your role falls within the definition of manned guarding.
Additional services
The security installation sector is competitive and you may decide to increase your earning potential by offering your customers a range of additional services. These might include, for example:
free surveys, estimates and quotations
insurance or trade association backed guarantees on all new work
a freephone telephone line
a "no job too small" or "distance no object" promise
guaranteed quick turnaround
A complete package
Many of your customers are likely to be householders who want you to provide a complete package of services from start to finish. This might include giving advice on cost, design and system specifications, carrying out installation work, obtaining a Unique Reference Number (URN) from the police for remotely monitored alarm systems, testing the system and giving instruction on how to use it. A guarantee on the equipment supplied and fitting work carried out might also be expected. You're also likely to offer a maintenance service - possibly on an annual contract basis - and a 24-hour call out service for emergency repairs.
What will you charge for your security services?
Assuming that you get a fairly steady stream of work, the amount you can earn depends partly on the number of days you work and the length of your working day.
You may decide to stick to normal business hours, for example 8.30 am until 5.30 pm Monday to Friday and perhaps Saturdays too. Or you may decide to work longer hours - perhaps with an earlier start. Remember that bad weather can disrupt outdoor work and may require you to work later than intended to complete a job. Perhaps you are prepared to work very long hours when your services are in demand, taking some time off during quieter periods. Some security alarm installers offer a 24 hour emergency call out service for fault repairs and other problems (even on alarm systems not installed by them) and you might decide that you also need to offer this to remain competitive. If so, think about how you'll cover the service at times when you're on holiday or ill.
Work rate
You should have a good idea of how long certain types of jobs will take you. It is very important when quoting for a job that you can make an accurate estimate of how long it will take. It's no good basing your quote on two days work if it ends up taking you four!
The speed at which you work depends on your own skills and experience and on the type and standard of the work that you do. Your charges should reflect all of these things.
Non-productive time
Unfortunately, not all of every working day will be spent earning money. Here are a few examples of reasons why you may sometimes find yourself working hard but earning nothing:
visiting sites to cost new work and give quotes
finishing off jobs that take longer than you had thought (possibly due to unforeseen problems, such as difficulty routing wiring or sorting out small faults found during testing)
travelling to and from jobs, or to get tools, equipment or materials from a supplier
repairing systems under warranty
Sometimes you may find that you are unable to work at all, for example because you are waiting for equipment to be delivered or you are ill.
Take all of these factors into account when estimating the maximum number of productive hours that you can work each month. Be realistic! When you plan your working schedules, try to minimise the amount of time that will be wasted. For example, you may be able to build a contingency into your work schedule so that you can move straight on to another job if for any reason you are unable to work at the original one.
Price your security alarm services
You need to give some thought to how you will set your prices. First decide on the method or methods of charging you will use. For example, you might:
charge for your installation services on an hourly or daily basis, adding to this the cost of any security equipment and other materials (such as wiring) that you supply
charge a set price for some jobs. For example, you might charge a fixed price to fit outside security lamps or a basic intruder alarm and to service the different types of alarm that you supply
make an additional charge for consultation and design work and for emergency callouts
Business customers might expect you to offer them a special 'trade' rate. Large building firms or organisations such as a local authority that invite firms such as yours to tender for contract work will also expect your rates to be very competitive.
You may decide to use different methods of costing for different jobs, depending on who the customer is and what type of work you will be doing.
It is very important that you set your charges carefully. You must make sure when deciding on what to charge that you will earn enough to cover all of your operating costs including your own drawings.
Also consider the following points when setting your charges:
what do your competitors charge for similar security systems and services? Do they calculate their prices in the same way as you?
do you aim to win business away from your competitors with attractive pricing?
will you vary your rate depending on the type and complexity of the job?
will you make a profit on security equipment and materials that you supply or will you pass these on 'at cost'? If you decide to add a mark-up, decide how much this will be
what will you include in your prices, and what will you charge for as an extra? Make it clear to the customer what your prices do and do not include
You will often be asked to give an estimate or quote for a particular job. Many customers will want to agree a price before a job is started and will expect you to stick to this.
People will often get quotes from several different firms, so it is important to be able to quote accurately and competitively. If your quote is too high customers will look elsewhere, but if your quote is too low, you might end up working at a loss on that job. Remember that many clients value good quality workmanship and a prompt and efficient service and will be prepared to pay a realistic price for it.
Promote your security business
It is important to advertise your business effectively to let your potential customers know who you are, where you are and what you can do for them. Most domestic customers don't require security installation services regularly and so are unlikely to have the name of a suitable business to hand.
Methods of advertising
An entry on Yell.com and/or other similar directories can be an effective way of advertising your business. However, many of your competitors will have done the same and you'll find that some firms have spent a lot of money on large, eye-catching display advertisements. You will have to decide whether to compete head on with these firms, or to look for a different way of attracting customers. You could, for example:
focus on your own unique selling point (USP) in your advertising material. This might be, for example, 24 hour call-outs for no extra charge
advertise in other ways. For example, you could distribute a paper flyer, plastic card or sticker with your business name and contact details on it as part of a mail-shot that you do
look into becoming a National Security Inspectorate (NSI) or Security Systems and Alarms Inspection Board (SSAIB) approved contractor
develop an effective social media campaign to promote your business to new and existing customers using websites like Facebook and Twitter
Try to include in your advertisements all the main points about your business and the range of alarms and other security equipment and services you offer. Be sure to emphasise any things that distinguish your business from its competitors.
Think about other ways of promoting your business. You could, for example, sponsor a local sports club or event. You could ask DIY stores and builders merchants if they would let you leave some leaflets on their counter for customers to see. Leaving your details with local insurance brokers might also lead to extra work - cheaper premiums are often available to householders or businesses if they have security devices fitted to their property.
Potential customers are likely to look online to find a security alarm service and to check its credentials, reputation and reliability, so a good website is essential. Your local paper may run a regular 'contact the experts' advertising feature that you could contribute to. Remember that your vehicle can be a very effective means of advertising if you have it sign-written.
Word of mouth
Word-of-mouth recommendations are very valuable to your business. Everyone has heard horror stories about 'cowboy' tradesmen who carry out very poor quality jobs and swindle their customers - and they want to be sure that you're not going to do the same to them. You will have to earn your reputation through good, reliable workmanship - but a friendly and polite manner can pay big dividends from the outset. Make sure that any employees that you have are good ambassadors for your business too.
Buy an existing burglar alarm fitting business
You might decide to buy an existing security alarm fitting business rather than start your own venture from scratch. Buying a going concern can mean that:
there are established customers
the business can generate income immediately
suppliers have been identified and relationships established with them
the business has a track record, which can help if you are looking for finance
additional staff are already in place (depending on the size of the business)
there are premises, business equipment, vehicles and shop fittings already in place (depending on the nature of the business)
the business website has already been set up
However, look critically at any business that you are interested in to make sure that the price you negotiate with the seller is a fair one. Try to establish why the business is for sale - for example, is the owner keen to retire or is there another personal reason for selling up.
Your market research into the sector as a whole and the locality in particular will help you to establish whether or not the owner is selling because he or she can no longer generate enough income from the business. This may not necessarily deter you - many business people are confident that they can turn a failing business around. The important thing is to have established the current position so that the price you pay for the business is not too high.
Other matters to consider include:
the state of any premises, fittings, equipment and so on. Will you have to spend money refurbishing or replacing assets
the condition and value of any tools and materials you are buying. Check this over carefully before agreeing a price
is the existing owner prepared to give you some training after you take over
whether the vendor intends to keep on trading in the same area under a different name. If this is the case it is quite likely that some - or even all - of the existing customer base will migrate with them
existing staff rights
how to retain key personnel once you've taken over
does the business owe money that you will be responsible for
if you are paying for goodwill, to what extent does this depend on the skills and personality of the seller
Ask your accountant to look critically at the business accounts for the past three years and discuss with him or her the selling price in the light of what the accounts reveal. Make sure you budget for other professional fees such as legal fees and valuation and survey costs.