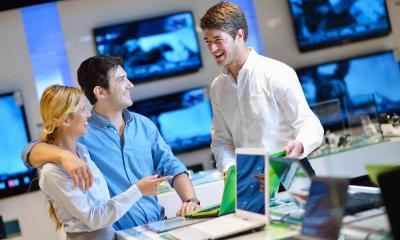 Computer retailers supply hardware, software and related services to domestic and business customers. Check out our practical guide for starting and running your own computer shop.
Selling computer equipment on eBay and Amazon
Selling online can be an excellent way of reaching new customers and boosting your sales. But setting up your own ecommerce website can be expensive and you may not be sure at the beginning whether the value of the sales you'll make online will justify the set-up costs.
As an alternative, trading on eBay or Amazon lets you get a feel for selling online but with much lower start up costs. And you may decide to keep on selling through eBay and Amazon even when you have your own online shop.
Getting started
You might already have your own personal eBay account that you use to buy items for yourself and to sell things that you don't need any more. But if you're trading as a business on eBay you're legally obliged to make it clear in your listings that you're a business seller. This means that you'll either need to register a new business account or upgrade your personal account to a business one. There's guidance in the eBay Seller Centre on the definition of 'trading' if you're not sure whether you need to register as a business seller.
Similarly, with Amazon you can use an existing account or create a new one when you register as a business seller.
If you're not already running a business and you intend to start selling things on eBay or Amazon - perhaps just in a small way to begin with - then you'll need to notify HM Revenue & Customs (HMRC) that you're trading. There's guidance on the Gov.uk website that gives an overview of what counts as trading and what counts as self employment. It also gives details of your tax and record keeping obligations.
Decide whether to have your own virtual 'shop'
Having your own virtual storefront will give your business a valuable online presence and will allow you to display all your products together in one place.
When you sign up to sell on eBay, you have the option of setting up an eBay Shop. This allows you to create your shop using an existing template or to customise it to your own design. You don't have to choose the eBay Shop option straight away - you may decide it's best to wait until your monthly sales build up to a certain level and then upgrade.
With Amazon, you'll automatically create your own storefront regardless of the package you choose. You won't be able to customise it very much but you will be able to add your name and logo and provide some information about your business.
How much does selling on Amazon and eBay cost?
Before you start selling on Amazon and eBay it's a good idea to find out how much you'll have to pay in fees. Depending on the items you sell and the method you choose for selling them, your total fees can be quite substantial. And while some of the fees you pay will be linked to the number of items you sell each month, others are likely to be fixed costs which you incur even if you don't sell anything.
Both eBay and Amazon give you the option of selling as a business seller without paying any fixed monthly fees, although it's usually more cost-effective to choose a subscription-based package unless you're only selling a small number of items each month.
The eBay website has a fee illustrator tool and a fee calculator that will help you compare the fees for different selling methods and get a good idea of how much your actual per-item selling fees are likely to be.
The Amazon website gives detailed fee guidance, including some examples of pricing for their subscription and non-subscription packages.
Managing your listings
Uploading your inventory to eBay or Amazon and managing your listings can be a time consuming task, particularly if you're planning to sell a large number of items.
Both eBay and Amazon offer useful listing tools, some of which are free and others that you'll have to pay for.
Promoting your items
Because there's such a huge number of items for sale on eBay and Amazon at any one time, it's very important that you do everything you can to stand out from the crowd.
Always make sure that your listings include accurate, spell-checked descriptions and that your photos and other images show the items that you're selling in the best possible light.
You might want to take it a step further and use the various marketing tools provided by eBay and Amazon such as search optimisation, cross-promotions and paid-for advertisements.
Your reputation
As an eBay or Amazon seller your online reputation is extremely important. All sellers have a feedback score based on actual customer feedback and this is the main measure that future customers will use to check that you are trustworthy and reliable.
So you'll want to keep your rating as high as possible by providing an excellent level of customer service and fast delivery at reasonable prices. Make sure you always respond promptly to customer queries, deal with returns efficiently and keep an eye on your stock levels to avoid your listings showing an item as being in stock when it has sold out.
Be aware that packing up orders and sending them out can be time consuming, but it's important to stay on top of the job to make sure that the right items get delivered in good time to the right people. Very many parcel delivery services now offer bulk shipping tools that integrate with your eBay or Amazon account and these can greatly simplify the process of arranging and tracking your deliveries.
If you're selling on Amazon you might also consider using the Fulfilment by Amazon service, where you send Amazon your inventory and they do all of the picking, packing and shipping as well as providing customer service.
More information
The eBay and Amazon websites have a great deal of useful guidance to help you get started as a business seller and to expand your business as demand for your products grows. Both also have lively seller community forums where experienced sellers are often happy to answer questions.
Research your target market
Finding out about your customers
It's likely that you already have a clear idea of the types of customer that you hope your business will attract. When you make an estimate of the number of potential customers, give some thought to the following:
what is the size of the local population? Are there enough people to support your shop?
what is the local population like? For example, are people affluent? Is it a mostly residential or mostly business area?
what is the size of the local business community?
what types of businesses are present in your area? For example, are local businesses mainly manufacturing based, service based, retail based or technology based?
if you're planning to sell online, how will you stand out from your competitors?
Remember that market research is an ongoing process. After you start your business, it's a good idea to talk to your customers to find out more about their needs and wants. Take note of the types of product that are popular and those that are not good sellers.
Finding out about your competitors
How well are your potential customers already served by existing businesses? Some of your most important competitors are other specialist computer retailers in the area. Look out for branches of large chains, such as PC World (which increasingly trades from dual branded Currys/PC World outlets). Don't forget other retailers that sell computers and accessories, for example electrical retailers like the Apple stores, office supplies retailers like Staples, large supermarkets and so on.
If you intend to operate as a 'value-added reseller' (VAR), find out about other businesses in the area that offer similar services to your own. A browse on Yell.com and other similar online directories may be helpful, as many advertisers give details of the types of service they offer. You could also look at local print directories. Local VARs' websites will give you the same information, and possibly additional useful details of pricing that would not necessarily be included in an advertisement in a business directory. Bear in mind that large businesses and organisations in your area may look nationally rather than just locally when seeking a contractor to carry out a major IT hardware project.
Try to identify four or five businesses that you think will be your most important local competitors. If possible, visit their outlets and make a note of the following:
are they computer specialists or other types of retailer
are they part of a large national chain
what types of product do they focus on (for example games or business systems)
what, if any, services do they offer
do they hold any special qualifications, for example 'authorised reseller' for a major manufacturer
where are they located (for example High Street, retail park, secondary location)
what are their outlets like - are they large and modern, small and shabby
Be aware that all types of computer hardware and software are available from sources other than the High Street in particular online retailers and mail order specialists, many of whom take advantage of their low operating costs to offer goods at very competitive prices. Remember too that many manufacturers sell their products direct to the end user.
Shop location
The location of your shop can be a very important factor, particularly if you expect to rely heavily on attracting passing trade. A 'foot-count' will give you an idea of the numbers of people passing the site where you intend to open your shop. Repeat the count at different times of the day, and on different days of the week. Make a note of the types of people passing your shop at different times - are they predominantly shoppers, for example, or are they people hurrying to and from work?
Research current trends, plus legal and tax issues
Selling in-store finance
Buying computers and peripherals can be a large expensive purchase. Some customers may be unwilling or unable to pay for their new hardware all in one go and would prefer to spread the cost over several months.
You may want to offer credit to these customers through a specialist finance company. Several such companies exist and, between them, they offer a range of different in-store finance packages for retailers.
Some of the finance packages available which you might use to attract customers include:
card based credit accounts
standard interest bearing credit
subsidised interest rate credit
interest free credit
deferred payment (buy now pay later) credit
When you sell something on finance you will have to fill in a credit application with the customer. Your finance company will then give a decision on whether to accept the application. All being well, the transaction will be completed quite quickly and you will receive payment for the goods from the finance company within a few days. You will usually also be paid commission. This is normally based on a percentage of the value of the sale and paid to you separately at the end of the month.
Most finance companies will expect you to meet certain requirements and standards before agreeing to do business with you. Some will only deal with businesses that have been trading for a certain minimum length of time, often two years.
Shop around when it comes to choosing which finance company you will deal with. Their terms and working practices vary. When choosing which one is best suited to your business, bear in mind the following:
what type of finance packages are most likely to appeal to your customers
how promptly will you receive payment from the finance company
how much commission are you offered
how quickly will your customers' credit applications be turned around
what level of back-up and support is available to you
You will need consumer credit authorisation if you want to offer finance to your customers. This is obtained from the Financial Conduct Authority (FCA). For more details visit the FCA website.
What computer equipment, accessories and services will you offer?
There is a wide range of goods and services that you might offer, depending on the focus of your business and on the skills and experience that you and your staff have.
Selling computers and accessories
There are several different ways in which you could supply computer systems, including both desktop and laptop systems that are:
built to order on your premises
built to order by a specialist
ordered as required from a major manufacturer
held in stock and sold 'off the shelf'
You might decide to stock used computer systems. This would be one way of differentiating your outlet from those of the large multiple retailers - few if any of these stock secondhand goods. Other hardware items and peripherals that you might decide to stock (or supply to order) include:
netbooks and tablets
monitors
printers
external drives, memory sticks and so on
scanners, digital web cameras
other office machines
Peripherals, consumables and accessories
Depending on how much retail space you have, you may decide to stock some or all of the following items:
upgrade components such as processors, memory chips, network cards and so on
printer consumables, blank CD ROMs, Blu-ray discs and DVDs
cables, routers and connectors
other small peripherals like joysticks, keyboards and so on
computing books and training manuals
Software
There is a huge range of 'off the shelf' software that you might decide to stock. You may also 'bundle' certain software packages with the computer systems that you sell. Examples of some types of software that you might stock include:
games
office applications, such as word processing packages and accounting software
graphics packages
operating systems
programming suites
anti-virus and other protection packages
Note that many software packages are available in in 'Home' and 'Professional' form as well as 'new user' and 'upgrade'.
Services
Services that you might offer include:
hardware servicing, repairs and maintenance
system upgrades
system consultancy and design
on-site installations, set up and tuition
technical support and advice
Depending on your skills and resources, you might also offer other computer services to your clients, for example training, website hosting, bespoke software development and so on.
You might decide to offer your customers in-store finance. This may attract customers who would otherwise not be able to afford to make large purchases. It may also earn you some extra income in the form of commission from the finance company.
Hardware
Depending on the needs of your clients, your own expertise and on the focus of your business, the types of hardware that you might supply and install include:
enterprise networks, including server machines, client terminals, network cabling, routers and data storage equipment
intranet, internet and e-commerce server solutions
retail systems, for example EPOS (electronic point of sale) hardware
Software
You will often be asked to supply, install and configure software as part of a complete package of 'value-added' services. In some cases, you might be required to customise software packages or even produce bespoke software for certain applications. Most clients will expect you to advise them correctly about licensing issues where software is installed in a multi-user environment.
As well as stocking software products in physical format, you may also look to resell 'cloud' services to businesses, for example software as a service (SAAS).
Services
As a VAR, the services that you provide are an integral part of the 'value-added' package that you offer. For example, a client might require you to undertake all of the following:
consult on their IT needs and recommend an optimal solution
evaluate, select and supply the software and hardware best suited to their needs
install and set up hardware and software, configuring the system to meet their particular requirements
provide initial training and support for users of the new system
provide on-site trouble shooting, upgrading and possibly maintenance on an ongoing basis
It may be advantageous to become a 'certified engineer', 'authorised reseller' or 'official sales partner' for certain key hardware and/or software manufacturers.
Buy an existing computer retailers
You might decide to buy an existing computer shop or reselling business rather than start your own venture from scratch. Buying a going concern can mean that:
the premises and equipment are already in place
a business website has already been set up, possibly ecommerce enabled, as well as eBay and Amazon 'shops'
the business has an established name and reputation and, hopefully, regular customers
the business can generate income immediately
suppliers have been identified and relationships established with them
the business has a track record which can help if you are looking for finance
staff are already in place
However, look critically at any business that you are interested in to make sure that the price you negotiate with the seller is a fair one. Try to establish why the business is for sale - for example, is the owner keen to retire or is there another personal reason for selling up.
Your market research into the sector as a whole and the locality in particular will help you to establish whether or not the owner is selling because he or she can no longer generate enough income from the business. This may not necessarily deter you - many business people are confident that they can turn a failing business around. The important thing is to have established the current position so that the price you pay for the business is not too high.
Other matters to consider include:
the condition of any stock you are buying. Check this over carefully before agreeing a price. Remember that many items of hardware and software have a relatively short 'shelf life' before they become out-dated or even obsolete - previously highly-priced items can fall in value significantly in a comparatively short space of time
the state of the premises and so on. Will you have to spend money refurbishing or replacing assets
existing staff rights
how to retain key personnel once you've taken over
does the business owe money that you will be responsible for
if you are paying for goodwill, to what extent does this depend on the skills and personality of the seller
Ask your accountant to look critically at the business accounts for the past three years and discuss with him or her the selling price in the light of what the accounts reveal. Make sure you budget for other professional fees such as legal fees and valuation and survey costs.