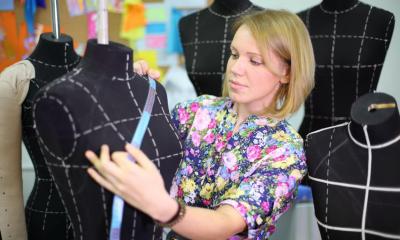 As a skilled dressmaker you are likely to offer a range of services, from creating bespoke outfits for weddings and other occasions to repairs and alterations. Our practical guide will help you start up and run your own dressmaking business.
Research your target market
Estimating demand
It's essential to find out whether there is enough demand for a dressmaker in your area. Be aware that the sector is quite competitive and that demand for your services is likely to be affected by economic conditions. Although there is demand for exclusive, original and well made clothing, customers can obtain good quality garments from a variety of different sources such as:
other dressmakers and fashion designers
specialist bridal outfitters - including online bridal wear retailers
clothing retailers, many of which now stock a wide range of attractive designer wear
retailers specialising in vintage clothing
clothes hire businesses
catalogue clothing specialists
online retailers such as Net-A-Porter which specialises in designer wear
All of these may be your competitors so you will need to check out your area to identify how many businesses you will be competing against.
It may be that you will only be competing directly against some of these outlets because you will be targeting a particular segment of the market. For example, there might be no one in your area offering made-to-measure engagement, wedding and reception outfits to the Asian community.
Have a good look at existing dressmakers and other clothing retailers and suppliers to establish:
the type of customer they target
the range of clothing and accessories they offer
the prices they charge
how long a made-to-measure item takes from start to finish
what services they offer
The results of your research will help you to focus your services on any gaps in the market that you think are worth filling. It should also help to give you a better idea of how much local people are likely to be prepared to pay for your services.
Why will customers choose your dressmaking service
You need to make sure that enough customers will choose your service rather than buying their clothes elsewhere. It may be that in your area there are few opportunities for women to buy something different for a special occasion so that they are happy to have an outfit made-to-measure. You might decide that ladies requiring larger dress sizes are poorly catered for locally, so this is the market you will target. Whichever services you decide to offer you will be hoping to generate business from word-of-mouth recommendations so you must make sure that the quality of your work is excellent and that your customers appreciate the personal service you give them.
Research current trends, plus legal and tax issues
Customer profile
Your market
Your customers will depend to a certain extent on the focus of your business - for example you might be offering a haute couture service to an affluent clientele or you might be targeting a wider customer base by offering a more affordable service.
You might also decide to specialise in a particular type of outfit, for example bridal wear.
You could consider offering a mobile service to customers - visiting them at home or at their workplace. It might be a good idea to offer evening and weekend consultations, too.
As well as members of the public you might also have some trade customers, such as clothing retailers and dress hire agencies which put alterations and repair work your way. You might also produce limited ranges for local exclusive ladies clothes shops. You could produce costumes for a local amateur theatrical company.
Your terms and conditions
You will be spending a significant amount on materials each time you accept a commission for a made-to-measure item and, unlike ready-to-wear clothes, it is unlikely that you will be able to sell the item if a customer decides not to pay, for any reason. Because of this many dressmakers ask for a deposit before they order the fabric and start work. For example you might ask for a deposit of 50%, with the balance of the payment due when the item is completed.
Think also about what your prices include. Will your customer be able to change her mind once you've started work without incurring extra charges. What happens if your customer loses/gains weight in-between the initial fitting and the "big day"? Bear in mind that people plan events such as weddings many months in advance and a an outfit that fits today might not do so in six months time!
If you offer your customers the opportunity to self-measure (for example if you accept mail order or internet commissions) your terms should make it clear that you cannot accept returns because they have provided incorrect measurements.
Special offers and discounts
You might be prepared to offer customers a discount if they commission you to create several items of clothing at a time - you will have saved time costs because one measuring session can cover all the items required. To encourage repeat custom or to build up your customer base, you could offer customers a discount if they introduce another customer or come back for another item within, say, six months of the first.
Your commissions
What made-to-measure services will you offer?
You might decide to offer a full dressmaking service for a wide range of clothes in all sizes or you might prefer to target a particular niche market. As well as having the benefit of an individually designed and fitted item of clothing, the customer also benefits from being able to select fabrics which are unusual and distinctive. Some dressmakers make a point of recommending quality fabrics made in the UK, like Harris tweed. It would be a good idea to reassure your customers that you won't produce other items identical to the ones that they commission - one of the attractions of a bespoke service is that the garment will be unique.
Dressmaking services generally cover the following:
Wedding outfits
These might include the bride's engagement, reception and going-away outfits as well as the wedding dress and veil, the bridesmaids' dresses and pageboys' costumes. Outfits might also be made for the mothers of the bride and groom, for relations and friends. Many dressmakers also make co-ordinating accessories such as bags, purses, men's waistcoats, cummerbunds and ties or cravats.
Special occasion wear
This includes a wide range of more formal clothes such as evening dresses, ball gowns, prom wear and cocktail dresses. They may be simply styled or include elaborate decoration such as embroidery, sequins and beading. Other formal outfits commissioned by customers include suits, jackets, coat and dress ensembles and so on.
Special occasion outfits might also be produced for children, for example christening, confirmation and party dresses.
Adult/child day wear
Dressmakers may be asked to make a wide range of day wear including skirts, blouses, dresses and cloaks, particularly if customers can be offered a range of unusual styles and fabrics (for example tartans or tweeds). You might specialise in, for example, maternity wear or plus sizes.
Miscellaneous
As a trained and experienced designer and seamstress you will be able to undertake many different types of commission if you choose to do so. For example, you might consider undertaking the following:
fancy dress and theatrical costumes
repairs and alterations
clothes copying
lingerie
leatherwear
soft furnishings
The made-to-measure process
To produce a well-fitting item of clothing which reflects what your customer wants a number of stages have to be followed:
Initial consultation
At this meeting you will establish your customer's requirements and offer help and guidance in choosing a style that suits her. This may involve looking at photographs, making sketches and discussing fabrics, colourways and finishes. Measurements are taken and an outline timetable discussed. Once you have had a chance to estimate the likely cost of completing the work (including how much fabric will be needed) you can give your customer a written quotation. This could include your terms and conditions so that everyone is clear as to what is included in the price and what might be charged extra. (For example a customer might decide on last minute alterations to the original design - this can be time consuming and costly.) You may decide to provide this initial consultation free-of-charge.
Once the style has been finalised and the fabric decided on and ordered then the construction of the item of clothing begins.
Pattern-making
Working from your customer's measurements and your design sketches you will next create a paper pattern. Some dressmakers use Computer Aided Design (CAD) software programs to help them with this.
Cutting out the cloth
Using the paper pattern you will then cut out the cloth. This may be the fabric that has been selected by your customer or, in the case of more expensive items, a cheaper fabric such as cotton is used so that a mock-up of the item of clothing can be created before the chosen fabric (which might be very costly) is cut. This mock-up is called a toile. Each piece of the item of clothing or toile is pressed as it is assembled.
First fitting
The toile (or the actual item of clothing in its early stages of assembly) is fitted to your customer and any alterations necessary are made. These are also made to the paper pattern. If a toile has been used for the initial fitting the chosen fabric is now cut and the item of clothing made up. It might be entirely hand-sewn or a mixture of hand and machine sewing might be used. For some items of clothing one fitting is enough but in many cases at least one more fitting is required before the item of clothing is finally completed.
Second and subsequent fittings
If a toile has been used at the first fitting, the actual item of clothing must be tried by your customer at the second fitting. Depending on the complexity of the design it may be necessary to have further fittings to make sure that the length and fit is perfect. Before the final fitting the item of clothing is pressed with a heavy iron to make sure it hangs and drapes as intended.
Dressing service
As part of your service you might offer a dressing service on the 'big day' so that your customer can be confident that no last minute problems will arise.
Most dressmakers keep the paper patterns used in the construction of an item of clothing so that if a customer wants other items some parts of the pattern may be used again.
Price your services
How will you decide on your prices?
Getting the price right is very important. You must make sure that the difference between the cost price and the selling price is enough to cover all of your operating costs, including your own drawings. When you are preparing a quotation for a customer you will take into account:
the quantity of fabric needed and its cost (including fabric for the toile)
the cost of trimmings such as buttons, zips, fasteners, lining, shoulder pads, buckles, thread, beading, sequins and so on
the time you will spend on the item of clothing, including fitting time and the time required to undertake complex finishing such as embroidery or beading
the cost of any specialist services provided by outworkers
an element to cover profit
However, because the dressmaking sector is competitive and because customers can buy attractive ready-to-wear designer clothing at reasonable prices (or even hire it), you may have to set your prices in line with what the local market will bear. This may prompt you to target the more affluent customer who is likely to be prepared to pay premium prices for made-to-measure and exclusive haute couture.
Promote your business
You will hope to benefit from word-of-mouth recommendations from satisfied customers who pass your details on to friends and relatives. There are also several other ways in which you can promote your business and establish a loyal customer base:
advertise in your local newspaper and any local directories. You could consider local radio advertising as well
launch your own website, containing details of your made-to-measure service and including examples of your work
include your details in an online directory
promote your services using social media like Instagram, Facebook and Twitter
have leaflets and cards printed. You could leave some of these with related businesses such as fabric or accessory retailers or businesses which attract potential customers, such as hairdressing and beauty salons. You could also make sure that local clothes shops know you can do alterations and repairs
make sure all your items of clothing have a sewn-in label bearing your logo
offer discounts if several items are commissioned at the same time
'throw-in' a small accessory with a large order
if you have premises make sure window displays are eye-catching and frequently changed
supply the completed items in distinctive packaging with your logo on
Buy an existing business
You might decide to buy an existing dressmaking business rather than start your own venture from scratch. Buying a going concern can mean that:
the premises, business equipment and machinery are already in place
there may be established customers
the business can generate income immediately
suppliers of fabrics and other materials have been identified and relationships established with them
the business has a track record, which can help if you are looking for finance
staff may already be in place
However, look critically at any business that you are interested in to make sure that the price you negotiate with the seller is a fair one. Try to establish why the business is for sale - for example, is the owner keen to retire or is there another personal reason for selling up.
Your market research into the sector as a whole and the locality in particular will help you to establish whether or not the owner is selling because he or she can no longer generate enough income from the business. This may not necessarily deter you - many business people are confident that they can turn a failing business around. The important thing is to have established the current position so that the price you pay for the business is not too high.
Other matters to consider include:
the state of the premises, machinery, equipment and so on. Will you have to spend money refurbishing or replacing assets
the condition and value of any stock of fabric, trimmings, ready-to-wear garments you are buying. Check this over carefully before agreeing a price
existing staff rights
how to retain key personnel once you've taken over
does the business owe money that you will be responsible for
if you are paying for goodwill, to what extent does this depend on the skills and personality of the seller. Are you sure that your dressmaking skills and expertise matches that of the previous owner - if not your "existing" customers are likely to melt away
Ask your accountant to look critically at the business accounts for the past three years and discuss with him or her the selling price in the light of what the accounts reveal. Make sure you budget for other professional fees such as legal fees and valuation and survey costs.