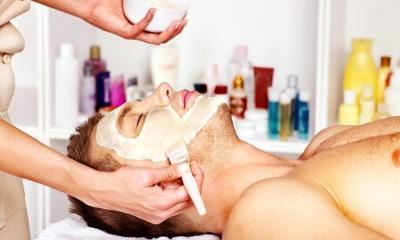 The growing male grooming market could make this the ideal time to set up your own salon. You'll find all you need to start up and run your own business in our practical guide.
Research your target market
Estimating demand
It's very important to try to find out whether there is enough demand for male grooming in your area. Although in the past there have been plenty of different types of business catering for male customers - such as barber's shops or sports massage businesses - the concept of a male grooming salon is still relatively new. So it is likely that there may be few similar businesses already operating in your area.
As a starting point, you could find out if there are any local businesses offering personal care services to men. For example, these might include:
beauty salons which offer services to male customers as well as to female ones
gyms, spas and sports massage therapists - remember that some of these may operate from hotels or sports facilities
retail outlets such as pharmacies that stock male toiletries and grooming products
barber's shops and unisex hairdressing salons
mobile male grooming businesses
Make a note of the treatments they offer and the prices they charge, particularly for the treatments that you intend to offer.
Think also about the sort of people who live and work in your area. Your customers are likely to be mainly younger males with an interest in their personal appearance - and the disposable income to be able to afford to pamper themselves. They will probably dress fashionably, go out several nights a week, read men's magazines such as GQ and generally keep up with style trends. If you propose to locate in a sleepy, rural, agricultural area you may not attract enough customers to be viable.
Check out future developments
The location of your salon is very important and ideally there will be ample and easy parking nearby and also lots of passing trade. Check that there are no plans to build new road systems - which would mean that traffic would bypass your outlet - nor any proposals to impose parking restrictions.
Find out what people want
Salons dedicated solely to male grooming services and products are a relatively new development in the UK and many potential customers may be unaware of what is on offer. Think about carrying out a local survey to tell people about the range of services you might offer and to find out what customers would like your business to provide. You could ask them not only about the types of treatments they'd like, but also what sort of atmosphere they'd feel most comfortable in. Would they prefer an all-male clientele? What would be popular opening hours? Information like this will help you to tailor your business to your customers' requirements.
Research current trends, plus legal and tax issues
Customer profile
Your market
Because your business will offer services and products aimed exclusively at a male clientele it is unlikely that you will attract female customers. But you will still need to think about the type of male customer you hope to attract so that you can provide an appropriate range of treatments and personal care products.
For example, your customers might include:
young, cosmopolitan males with a keen interest in fashion and the latest styles
celebrities like actors and entertainers who are constantly 'on show' to the public
sportsmen and male models who require regular body hair removal services
businessmen who need to maintain a smart and well groomed appearance
people with problem skin conditions
people looking to unwind from stressful work conditions
mature gentlemen who are attracted to a more luxurious version of the old fashioned barber's shop
Each different type of customer may require a different range of services and treatments.
You might also decide to offer a range of treatment 'packages' to customers. For example, pre-wedding grooming and best man packages that include treatments such as a traditional wet shave, facial, and neck and back massage.
Think about offering a discount to customers who book and pay for several treatments in advance. You could also offer them a free mini-treatment with, for example, a haircut. This would introduce them to the range of services available. Some salons have introduced loyalty schemes - these give customers points every time they visit the salon for a treatment. Points can be exchanged for free treatments or for personal grooming products - it's up to you to decide which would be most attractive to customers. You might consider offering incentives to customers who introduce a friend to the salon - either a discount or a complimentary treatment.
Remember that more and more men are looking for good deals online - so make sure your website comes up regularly in online searches. You could offer introductory discount vouchers to people who sign up for newsletters or email alerts.
Because you'll be aiming to attract young males to your salon, you could consider giving students a discount - perhaps at certain times of the day, when you're less busy.
Gratuities
Some customers may leave you or your employees a gratuity or tip. The way in which staff tips are dealt with can have implications for the business' PAYE and National Insurance contributions. It is wise to ask your accountant for advice on how to deal with staff tips.
Decide which services to offer
What services will you offer?
The range of services you decide to offer will depend on:
your (and your employees') skills and expertise
how much space you have in your premises
how much you can afford to invest in equipment
what your customers want
There is a huge range of equipment available that enables therapists to offer clients all sorts of different treatments. The most popular treatments for male customers don't require too much expensive equipment so if funds are limited it may be worth starting off by offering these. You can always increase the range of services later on, once your salon becomes well-established.
Research has shown that the most sought-after treatments for men include:
wet shaving
skincare treatments such as intensive facials. These generally consist of exfoliation, steaming, deep pore cleansing followed by the application of a mask. Treatment lasts for around an hour
hair removal treatments such as eyebrow, back and shoulder, chest, abdomen, arm and leg waxing. Treatments last from 15 minutes to an hour, depending on the area to be waxed. Intense pulsed light (IPL) treatments have become increasingly popular
massage treatments. Neck and back massage is very popular but salons offer a range such as neck and shoulder massage, sports therapy massage or Swedish massage. Treatments usually take from 30 minutes to one hour. Remember that male customers generally prefer a firmer massage than women
bronzing treatments, either face and neck, upper body or full body. This normally consists of exfoliation and the application of a self-tanning product. Treatment times range from 15 minutes to 45 minutes
There are very many other services that you might like to offer your customers. Bear in mind that men like a practical approach to caring for their bodies, so focus on the types of problems they may encounter and what you can do to overcome them. For example, you could highlight the products and services that can calm skin that's been irritated by shaving or exposure to the elements. Stress-busting and detox treatments are also likely to strike a chord with male customers.
Some other treatments for male customers include:
manicures and pedicures
back cleansing
hair cutting and colouring
beard design and trimming
eyelash/eyebrow tinting
complementary therapies such as reflexology, Indian head massage or aromatherapy
Packages
You could consider offering packages of several treatments, for example a weekend stress-buster to help customers wind down after the working week or a wedding treatments package for the groom and best man. Packages normally include a mix of facial and/or body treatments with a massage. If you offer haircutting services you could put together a package including a hair cut, hair colour and a facial - these are three of the most popular male treatments.
Mobile services
Some salons offer a mobile service to customers, offering them a range of treatments in their own homes, or even in their office. It makes sense to give some thought to your personal safety if you plan to offer a mobile service. Make sure someone knows where you are and how long you'll be - and try to find out as much as possible about the client before you go.
Retail personal care products
Men are spending an increasing amount every year on toiletries, grooming products, fragrances and so on. Why not stock a range of products for your customers to use between visits to the salon? Site them close to your counter, or near where they receive a treatment, so that they can ask about the products in confidence. All of the major cosmetics companies offer products that have been specially designed for male customers - not only because their skincare needs are different, but also because they are attracted by different types of packaging and presentation.
Some products you might stock include:
facial skincare ranges including scrubs and hydrating fluids
bodycare products such as oils and lotions
bath and shower products
hair products (shampoo, conditioner, wax, gel and so on)
shaving products, razors, brushes, after-shave creams and fragrances
deodorants and eau de cologne
items such as facial hair trimmers, tweezers, scissors, combs, brushes and so on
make-up such as tinted moisturiser, brow gel and mascara
self-tanning and sun protection products like lip balm
anti-aging serums
The range of products available grows almost daily!
It can be a good idea to offer gift vouchers - these are often bought by women as a present for their male partner - and think about special packages or male grooming sets as presents for Father's Day and Christmas.
Consider your work rate
Income from treatments
Assuming that you have a steady stream of customers, the amount you can earn is limited by the number of treatments that you or your staff can fit into a day. This depends on a number of factors:
your opening hours
the number of treatment rooms you have
how fast you and your staff can work - college leavers will generally be much slower than more experienced therapists
the type of treatments offered - for example a facial may take much longer than a waxing session or a wet shave
the amount of time you have to spend doing other things
There are lots of matters that you will need to attend to besides giving treatments. Some jobs can be done when the salon is closed, others won't wait. Think about the following:
answering the telephone
initial consultations with new clients (free of charge)
cleaning up after each client
making refreshments for clients
waiting for facilities to become free when the salon is busy
supervising and monitoring trainees
monitoring, ordering and buying stock
going on training and refresher courses
Bear in mind that even in a busy salon, there will be certain times of the day when you find yourself waiting for your next customer. You might consider offering a discount on treatments taken at very quiet times - this can help to attract new customers.
Don't forget that your staff (if you employ any) are unlikely to be as motivated to work as hard as you are, so they may get less work done.
Estimating the maximum number of treatments each day
As a trained and experienced therapist, you should already have a good idea how long it normally takes you to complete each of the treatments your salon will offer. From this you can work out an average treatment time. When you have priced each of the treatments you will offer you can also work out an average treatment price. Don't forget to take into account the effect of any discounts you offer.
Once you have decided on your opening hours, work out how many average treatment times you could fit into the day. It would probably be prudent to divide this by two to work out the number of treatments that you will actually give, particularly in the early days. Do the same for each therapist you employ. Then multiply the number of treatments you will provide by the average price for each treatment - this will help you to estimate your monthly income. Don't forget to add an amount on for retail sales of grooming products, if you plan to sell any. For example, you might assume that one in every 20 customers will also buy a complementary product for home use. You can adjust this figure after you have been trading for a few months.
Price your services
How will you decide on your prices?
Getting the price right is very important. You must make sure that they cover all of your operating costs, including your own drawings.
Although tariffs will vary from salon to salon, and in different parts of the country, typical charges for popular treatments might be as follows (all sample prices for illustrative purposes only):
Hair cutting/colouring
dry cut £10 to £20
wash and cut £15 to £25
clipper cut around £15
roots £20 to £30
full colour £25 to £50
Skincare treatments
intensive facial (60 minutes) £30 to £55
express facial (30 minutes) £22 to £35
back cleansing £30 to £50 (may include back massage)
Waxing
back and shoulder £20 to £35
chest and back £25 to £35
intimate areas £15 to £60
full body waxing £125 to £175
eyebrow £8 to £10
Bronzing
full body £20 to £45
face and neck around £15 to £25
Massage
neck and back £25 to £45
sports therapy around £30
Swedish massage around £30
full body massage around £60
Miscellaneous treatments
manicure/pedicure £15 to £35
eyebrow/eyelash tinting £5 to £15
eyebrow re-shape (waxing) £10 to £15
wet shave/beard trim £5 to £20
Think about whether you will offer any discounts, for example to students, out-of-work actors or to people booking and paying for several treatments in advance.
You might decide to offer packages consisting of several treatments such as a hair cut, shave, massage and skincare treatment. The price of the package would offer better value than if your clients bought each treatment separately.
As part of your market research you could check out the prices charged by existing male grooming salons - many of these have their tariffs displayed on their websites.
If you plan to regularly offer a discount from your normal tariff it's a good idea to keep comprehensive details of this. It will be helpful should HM Revenue & Customs (HMRC) ever investigate your business.
Promote your business
No matter how large or small your salon is it's very important that:
it projects the right image
your potential customers know about it and the services that you offer
Your image
Although the male grooming market has grown very quickly, many men are still reluctant to go to a unisex beauty salon and receive treatments alongside female customers.
That is why many male grooming salons set out to provide a very male environment - perhaps like a men's club, or a health and fitness spa - where male customers can feel comfortable. It is important to provide a welcoming and relaxed atmosphere where men can get over any self-conscious feelings they might have. Some salons provide things like complimentary drinks, TVs programmed to sports channels, internet access, magazines such as GQ, Esquire and so on to encourage customers to relax and try a range of treatments.
Advertising your services
Whatever services you decide to offer, you must make sure that your potential customers know about you.
Don't overlook the potential of your shopfront and your window display. Give some thought to the name of your business and the external appearance of your premises. Choose colours and materials that are likely to appeal to male rather than female customers. Use your window area to advertise special offers - for example detox or weekend relaxation packages.
Think about having promotional material printed giving details of the treatments you provide, the price and any special offers or promotions. For example, you might offer a discount if several treatments are booked and paid for in advance, or if a customer introduces a friend.
Don't forget to set up your own website to promote your business. Recent research shows that nearly 70% of men look online for the best deals so you might consider offering a discount voucher to customers who sign up to receive a regular newsletter. You could consider having an online treatment booking facility as well.
Using social media like Twitter or Facebook is a good way to let potential customers know about things like your opening hours or special offers and to highlight new treatments.
Buy an existing business
You might decide to buy an existing farm supply business rather than start your own venture from scratch. Buying a going concern can mean that the products, customers, regular sales, staff, premises and equipment are already in place.
But buying a business can be a hazardous, expensive process unless you have the right skills and experience on your team, including legal and financial know-how. Establish the genuine trading and financial position, so that the price you pay for the business is not too high.
Other matters to consider include:
the state of the premises, salon fittings, equipment and so on. Will you have to spend money refurbishing or replacing assets - bear in mind that your customers will expect your premises to be smart, stylish and hygienic
if you are paying for goodwill, to what extent does this depend on the skills and personality of the seller. Bear in mind that if you're planning to change the nature of the business - for example, converting a traditional barber's into a male grooming salon - you may not be able to retain the existing customers - and it may take some time before potential customers realise that the previous business has changed
Franchises
Franchising can be a good 'halfway house' between starting out from scratch and buying an existing business. If you purchase a franchise you'll still be setting up your own business, but you should benefit from the experience, resources and perhaps the name of a business that is already successful. A number of franchises exist in the male grooming sector, some of which are national and others which are regional.
Although different franchise schemes vary in detail, most feature the following key points:
as a franchise holder, you will remain self-employed but will use the identity (corporate colours, logos, trade name and so on) of the franchisor
in return, you will pay the franchisor a fee - this might be a one-off investment, a monthly charge, or a combination of both
both you and your franchisor will have to fulfil certain obligations and maintain certain minimum standards, for example you may have to purchase and use only the franchisor's products in your salon
Many franchisors will provide you with any specialist training you require, discounts off stock, help with advertising and marketing, and advice and support on a range of business and technical matters.
Details of the above points are set out in the franchise agreement or contract, which both you and your franchisor will sign. The agreement will also deal with other matters, for example any territorial exclusivity due to you and the minimum period for which the franchise will run.
Before entering into a franchise agreement, it is advisable to check the terms carefully to be sure that you are getting a good deal. Go through the contract with your solicitor before signing anything.