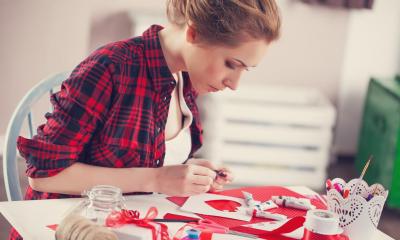 Thinking of running a shop selling craft objects like ceramics or handmade leather bags? Our guide gives you all the essentials for starting up and running your own rural crafts business.
Research your target market
When you plan your business it's very important to think carefully about who your customers will be and how much existing competition there is.
Estimating demand
You'll want to establish whether there will be enough demand for your craft items. Depending on the type of products you make, you may face competition from established craft makers and retail outlets selling similar goods. Demand is also likely to be affected by economic conditions, but interest in unique and handmade goods of all types is generally quite strong. In some areas there is demand for exclusive, high quality and unusual items to furnish the house or garden, and possibly an even larger market for small handmade gifts and ornaments which are a little out of the ordinary.
Bear in mind that it's quite likely for demand to be highly seasonal - if you're in a tourist location then the summer months will almost certainly be busiest, while the run up to Christmas may also be a very busy time. You may well need to adjust your production output and stock levels accordingly.
Customers
Think about the amount of demand for craft items in your area. This will depend on the size and nature of the local population. Demand is also linked to the strength of the economy as a whole and in particular the state of the local economy. Think about the people living in your area. Are they well off? Old or young? Working people, students or unemployed? Are there any tourists? Tourist areas can be particularly good locations for craft businesses.
Bear in mind the type of potential customers in your area when deciding what to make and sell. For example, small gifts and souvenirs with a local flavour should do well in tourist areas, while expensive, high quality items will appeal to more affluent homeowners.
You may be thinking of selling to members of the public direct from your workshop or through your own retail outlet. To begin with, however, it might be easier to sell your goods in other local shops, galleries or tourist outlets. These types of businesses will often display items for free and take a commission on any sales made, saving you the expense and hassle of running your own shop.
You may decide that you will need to travel to make sufficient sales. Perhaps you could have a stall at a Sunday market in a neighbouring town, or visit craft fairs around the county.
Establishing the level of competition
Having thought about who your potential customers will be, it is a good idea to find out how well they are already served. People can buy craft items from many different sources, such as:
other specialist makers
craft shops
art and craft fairs
department stores
gift and beach-side shops
art gallery shops
mail order and online retailers
Although some of these may be prepared to stock your goods, others may be direct competitors so you need to check out your area to identify how many businesses you will be competing against. It may be that you will only be competing directly against some of these outlets because you will be targeting a particular segment of the market or making particularly unusual items. Bear in mind that being located close to other craft manufacturers and retailers isn't necessarily a drawback. Many shoppers and tourists head to areas that have become well known destinations for crafts and unusual gifts, particularly during holiday seasons and over the Christmas period.
Have a good look at existing outlets to establish:
the range of craft items offered
the type of customer they target - for example tourists, homeowners and so on
if they offer any other services (for example items such as furniture or garments made-to-measure, repairs, alterations or customer's designs made)
how knowledgeable and helpful their staff are
the prices they charge
whether they would be prepared to display your items on a sale or return basis
It's well worth having a look online, particularly if you plan on selling online yourself. Try searching websites like Etsy, Not On The High Street and perhaps even eBay to see if anyone is selling similar items to those that you're planning to sell. You could try a Google search too. If you do find similar items, make a note of the typical price that they're being advertised at.
The results of your research will help you to focus your products on any gaps in the market that you think are worth filling. You will also have a better idea of how much local people are likely to be prepared to pay for your goods.
Research current trends, plus legal and tax issues
Establish your customer profile
You might sell your craft products to members of the public or to trade customers.
Members of the public
To sell direct to the public you could:
open your own shop
sell items from home or from your workshop
have a market stall
put your items on display in someone else's shop in return for commission
attend craft fairs or exhibitions
sell online, through your own website and/or through online marketplaces like eBay, Etsy and Not On The High Street
It may be possible to join a makers' co-operative or similar group which has its own retail outlet and shares costs. Members sometimes staff the shop on a rota basis. Of course, you may well decide to do a mix of some or even all of these things. Before deciding on your strategy, consider your location and the people who live there or visit. Ornamental crafts are particularly popular with visiting tourists.
You may deal with various types of customer depending on the range of items you make. If you concentrate on producing cheaper items, you are likely to attract a wide range of customers who will probably be locally based. You might extend your potential customer base if you make small items aimed at children and young people. Expensive items will only be bought by affluent people, but you may attract customers from a wider area, especially if you attend craft fairs or advertise online.
Trade customers
Trade customers could include local craft or gift shops, garden centres, art galleries, museums, tourist attractions, hotels, mail order companies and so on. You can try approaching these outlets directly - show them a selection of your work and ask if they are interested in buying anything, or whether they would be willing to stock your goods on a commission basis. Art galleries usually charge a fee to display items, and take a commission on any of your work that they sell. Shops may stock examples of your work on a sale or return basis and take a commission on any sales made. Commission is usually based on a percentage of the retail price and is often quite high.
Attending a large exhibition or craft fair is a good way to meet potential trade customers from a wide area.
Why customers choose your products
You'll want to make sure that enough customers will choose to buy your craft items. You may be selling direct to members of the public or to other business, such as gift shops and galleries. Perhaps you'll sell to both. There are a number of things to consider when you're trying to attract customers.
A gap in the market
Your market research might indicate that there is a gap in the market that your products can fill. For example, perhaps you have identified a demand from tourist outlets for locally made craft items. Maybe existing craft makers cater well for the top end of the market, but less well for those looking for cheaper gifts, ornaments or souvenirs. Perhaps nobody else in your area is making candles, greetings cards, wooden toys or whatever you hope to produce. Alternatively, you may have identified a demand for a bespoke service producing one-off items at a customer's request - perhaps to mark a special occasion, fulfil a particular purpose or fit in with the décor of their home.
The right range of items
You must be able to make and supply the kind of items that your customers want to buy. This applies whether you decide to specialise in a particular segment of the market or not. It is vital that your products are of a high quality both in terms of workmanship and the materials used. Whether you are making candles, wooden bowls, ceramic vases, greeting cards, garden furniture or anything else, it makes sense to produce an assortment and to offer a sufficient range of styles, sizes and prices to meet demand. Beyond this core range, the items that you make will depend on your individual skills, personal taste and style and in some cases, on the financial and workshop resources available to you.
Try to be aware of changes in fashion and demand and vary your designs frequently. Talk regularly to owners of gift shops, art galleries or any other potential trade customers to find out what things are selling well and what type of items they would like you to supply.
The right price
Craft goods are non-essential purchases and many customers will be more concerned about the design, quality and workmanship than the price. This is particularly so for art objects such as ceramic, glassware or carved wood items, or for large or bespoke goods such as specially commissioned stained glass, ironwork or furniture. Smaller items such as candles and simple toys may be more price sensitive, as will items that are widely available elsewhere, for example basic garden furniture or greetings cards. For these you should try to ensure that prices are broadly competitive with competitors. In all cases, your work should represent value for money. But people are often prepared to pay a good price for quality hand crafted items, especially when its clear that a lot of time and effort has gone into the production.
What to make and sell
The range of rural crafts
'Rural crafts' is a very broad term that can be used to describe a wide range of skills. A variety of materials and techniques are used to produce items in all shapes and sizes. Most people tend to specialise in a single activity, or in items made from a particular material. Some examples of rural craft products include:
wooden items such as furniture, turned and carved ornaments, and toys
knitted products such as hats, scarves, jumpers and soft toys
needlework including garments, tablecloths, furniture and quilt covers
baskets
cushions and curtains
pottery and ceramic items such as plant pots, crockery, vases, ornaments and small gifts
leather craft items including bags, belts, wallets and key fobs
metalwork such as gates, grilles, stands, bed frames and weathervanes
candles including decorative and scented candles
hand made greeting cards
stained glass and decorative glassware
mosaic work
jewellery
lapidary work such as polished stone ornaments, jewellery and key rings
large stonework including garden ornaments, monumental or architectural masonry
garden and outdoor items like withy hurdles and screens
'recrafted' and upcycled items
Of course, there are many more examples. Perhaps you've come up with an idea that's completely new and unique.
Your craft making abilities
The type of rural craft activity you undertake will be influenced by your existing skills and interests. Many people start rural craft work as a hobby and then go on to sell a few items on a casual basis. If this is successful, some are encouraged to take the plunge and turn the hobby into a business.
You probably already have a good idea about the sort of craft work you are going to undertake. Now think carefully about the type of items you will make, their size and complexity. Consider your own skills and the speed at which you work. Try to estimate how many items you will be able to produce each week and how much each item will cost in terms of the raw materials. From this, you should get a better understanding of the price you will need to charge in order to make a profit.
Expensive or cheap goods
Your market research may have persuaded you to target the upper end of the market (producing high quality, expensive items), or to appeal to a broader customer base by making cheaper goods. This might be a good idea if you live in a tourist area, where cheaper items can be sold as souvenirs or small gifts to take home. Don't forget potential business customers when deciding what to make - gift shops may be interested in stocking smaller craft items, while upmarket galleries or furniture stores may be keen to stock more expensive goods. Of course, as long as you have the necessary skills, there is nothing to stop you producing a range of different priced goods, or making the occasional large or expensive item in addition to your usual range.
For example, if you intend to work with wood, you might decide to make cabinets and garden furniture, but you could also make some smaller items such as turned fruit bowls and ornaments. Furniture will cost more in terms of raw materials, but will generally command a decent price. Perhaps you intend to concentrate on simple toys and games, but make the occasional expensive dolls house or rocking horse. Maybe you have the skill to specialise in turned wooden fruit bowls, or intricately carved ornaments such as love spoons. These may take longer to make than simple items, but will sell for more.
Think about whether you will make and sell bespoke items, one-offs, limited editions and/or ranges of standard or semi-standard products.
Whatever you decide to produce, try to distinguish your products from those of your rivals by the designs you use, the style you develop, the range you offer and, above all, the quality of your materials and workmanship.
Other activities
You may be able to supplement your income by undertaking some extra activities in addition to your normal craft work.
Repairs, alterations and customer's own designs
Depending on the type of craft activity you undertake, you might decide to offer additional services as well as making items to sell. For example, if you are good at needlework, you might offer to repair upholstery, carry out alterations, or make made-to-measure covers. Perhaps you could offer a bespoke design service or produce items to a customer's own specification in addition to your usual range of goods. Woodworkers might be able to carry out furniture restoration, while jewellery makers might offer repairs and so on.
Teaching craft skills
What about teaching others your skills? Evening classes in crafts skills are popular and skilled teachers are usually in demand. Alternatively, you could try offering workshop sessions at your own premises. Depending on your location, it might be worth offering visitors the opportunity to 'have a go' on a more casual basis. Some small potteries, for example, offer the public the chance to try throwing their own pot, or to decorate their own mug or vase before it is fired.
Selling on ebay
Selling online can be an excellent way of reaching new customers and boosting your sales. But setting up your own ecommerce website can be expensive and you may not be sure at the beginning whether the value of the sales you'll make online will justify the set-up costs.
As an alternative, trading on eBay lets you get a feel for selling online but with much lower start up costs. And you may decide to keep on selling through eBay even when you have your own online shop.
Getting started
You might already have your own personal eBay account that you use to buy items for yourself and to sell things that you don't need any more. But if you're trading as a business on eBay you're legally obliged to make it clear in your listings that you're a business seller. This means that you'll either need to register a new business account or upgrade your personal account to a business one. There's guidance in the eBay Business Centre on the definition of 'trading' if you're not sure whether you need to register as a business seller.
If you're not already running a business and you intend to start sellingthings on eBay - perhaps just in a small way to begin with - then you'll need to notify HM Revenue & Customs (HMRC) that you're trading. There's a guide on what counts as trading and self employment which gives advice about notifying HMRC and other tax obligations on the Gov.uk website.
Decide whether to have your own virtual 'shop'
Having your own virtual storefront will give your business a valuable online presence and will allow you to display all your products together in one place.
When you sign up to sell on eBay, you have the option of setting up an eBay Shop. This allows you to create your shop using an existing template or to customise it to your own design. You don't have to choose the eBay Shop option straight away - you may decide it's best to wait until your monthly sales build up to a certain level and then upgrade.
How much does selling eBay cost?
Before you start selling on eBay it's a good idea to find out how much you'll have to pay in fees. Depending on the items you sell and the method you choose for selling them, your total fees can be quite substantial. And while some of the fees you pay will be linked to the number of items you sell each month, others are likely to be fixed costs which you incur even if you don't sell anything.
eBay gives you the option of selling as a business seller without paying any fixed monthly fees, although it's usually more cost-effective to choose a subscription-based package unless you're only selling a small number of items each month.
The eBay website has a fee illustrator tool and a fee calculator that will help you compare the fees for different selling methods and get a good idea of how much your actual per-item selling fees are likely to be.
Managing your listings
Uploading your inventory to eBay and managing your listings can be a time consuming task, particularly if you're planning to sell a large number of items.
eBay offers various listing tools designed to streamline this process, some of which are free and others that you'll have to pay for.
Promoting your items
Because there's such a huge number of items for sale on eBay at any one time, it's very important that you do everything you can to stand out from the crowd.
Always make sure that your listings include accurate, spell-checked descriptions and that your photos and other images show the items that you're selling in the best possible light.
You might want to take it a step further and use the various marketing tools provided by eBay such as search optimisation and cross-promotions.
Your reputation
As an eBay seller your online reputation is extremely important. All sellers have a feedback score based on actual customer feedback and this is the main measure that future customers will use to check that you are trustworthy and reliable.
So you'll want to keep your rating as high as possible by providing an excellent level of customer service and fast delivery at reasonable prices. Make sure you always respond promptly to customer queries, deal with returns efficiently and keep an eye on your stock levels to avoid your listings showing an item as being in stock when it has sold out.
Be aware that packing up orders and sending them out can be time consuming, but it's important to stay on top of the job to make sure that the right items get delivered in good time to the right people. Very many parcel delivery services now offer bulk shipping tools that integrate with your eBay account and these can greatly simplify the process of arranging and tracking your deliveries.
More information
The eBay website has a great deal of useful guidance to help you get started as a business seller and to expand your business as demand for your products grows. There's also a lively seller community forum where experienced sellers are often happy to answer questions.
Pricing policy
Getting the price right is very important. You must make sure that the selling price of a piece of work is enough to cover the cost of the raw materials, your operating costs and your own drawings. When setting your prices take into account:
the quantity of materials used and their cost
the time taken to make the item, including time spent on the design if it is a one-off piece
an element to cover profit
However, because the lower end of the crafts market is very competitive you will have to take into account the prices charged for similar items elsewhere. Customers can buy attractive craft items at reasonable prices from a variety of sources, so you may have to set your prices in line with what the local market will bear. There's generally a limit on the amount a typical tourist or day tripper is prepared to pay for a small decorative item bought on a whim. This may prompt you to target more affluent customers who are more likely to be prepared to pay premium prices for top quality or unusual designs and may even commission bespoke items if you offer them.
If you sell some items on a sale or return or commission basis through galleries and similar outlets be aware that the money you receive from them will have their commission deducted from it. Most outlets will keep somewhere between 20% and 40% of the sale price - sometimes more - as commission.
Other services
Also consider how you will cost any other services you provide - for example repairs, alterations, restoration work and so on - and how often you will review your prices.
Special offers and discounts
You'll probably offer a discount as a matter of course to any trade customers. How much discount will depend on your pricing policy and the level of local competition. You could offer further discounts for buying goods in large quantities. You might be prepared to offer customers a discount if they commission you to create several pieces of work at a time.
Promote your business
You'll need to give some thought to how you'll let prospective customers know about you and the range of craft products and services you offer. You will hope to benefit from word-of-mouth recommendations from satisfied customers who pass your details on to friends and relatives. There are a number of other ways in which you can promote your business and establish a loyal customer base:
advertise in your local newspaper and any local directories
launch your own website, containing details of your unique designs and including examples of your work. You could also sell items online if your website is e-commerce enabled (an alternative might be to use eBay)
sign up to sell through a specialist e-commerce website like Not On The High Street, which specialises in showcasing quirky and unusual products that are ideal as gifts or for decorating the home, or an online craft marketplace like Etsy
add your business to the National Register of Makers maintained by the Crafts Council
have leaflets and cards printed - you could leave some of these with other businesses that might attract potential customers. Depending on your products these might include galleries, toy shops, furniture stores, garden centres, tourist attractions, gift shops and so on
offer discounts if several items are bought or commissioned at the same time
if you have premises make sure that window displays are eye catching and frequently changed
take a stall at a craft or trade fair - the Rural Crafts Association promotes handmade items at craft and trade fairs around the country and can provide its members with details of forthcoming fairs and exhibitions
exhibit your work at local exhibitions or art galleries
give talks and demonstrations to local groups such as the WI
Don't ignore the power of the web. As well as considering e-commerce to sell your products directly, think about using online social media, forums and blogs to promote your business and skills. Craft social media websites like Pinterest can be a very powerful means of getting your items seen by a large number of people.
Almost all types of advertising and promotion have a cost, whether it's financial, your own time and effort - or both. You need to make sure that the beneficial effects of your promotional efforts are worth the time and money spent on them. It's up to you to decide which types of advertising work best for you - sometimes this is down to trial and error.
Customer relations
Treating customers in a friendly, helpful and enthusiastic way is a vital part of creating a good image. Make sure that you and any staff are well informed about the items that you make and supply. A good reputation can only be built over time, but from the outset you should aim to ensure that customers are satisfied with the service they receive and the items supplied.
Buy an existing business
You might decide to buy an existing rural crafts business rather than start your own venture from scratch. Buying a going concern can mean that the products, customers, regular sales, staff, premises and equipment are already in place.
Be aware that many small rural craft businesses are based largely around the existing owner's skills and reputation, and have little in the way of premises, business assets or other things that make a business saleable. These micro-businesses are not generally well suited to being bought and sold, and it's normally more appropriate simply to start up a new business altogether.
But buying a business can be a hazardous, expensive process unless you have the right skills and experience on your team, including legal and financial know-how. Establish the genuine trading and financial position, so that the price you pay for the business is not too high.