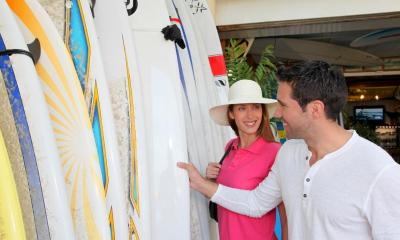 Most surf shops are located in coastal areas and are often run by people with a keen interest in surfing. Get the essentials for starting up and running your own business in our practical guide.
Research your target market
Your competitors
Ten or fifteen years ago, surfing equipment and clothing was sold almost exclusively through specialist surf shops. As surfing gained a higher profile and became more fashionable, mainstream retailers started to stock surf brands and it is now commonplace to see these brands in High Street stores. Your competitors will include:
other specialist surf shops. These will be the businesses that you will measure your own shop against as they will stock broadly the same product range as you. Therefore, they will be your direct competitors
online retailers. In recent years, a number of specialist online retailers such as Shore and Boardridersguide have entered the market and represent a significant threat to the traditional surf shop because of the huge range of products they sell
High Street retailers. Many of these stock a large range of clothing by such brands as Rip Curl and Quiksilver but they don't stock equipment
sports shops
beach shops
outdoor shops
Try to make a count of the number of competitors in your area to establish whether there is room in the market for your business. There are different ways of doing this, such as looking in the Yellow Pages or making a survey of your local area.
Estimating demand
Once you have established how many competitors there are in your area, you will need to work out whether the needs of the local surfing community are served by existing shops and whether your business will be able to attract a sufficient amount of custom. If you are new to your area or new to surfing, it is worth finding out which are the popular surfing beaches and taking a trip to them when there are waves so you can get a feel for the size of the local surfing community.
Have a good look at existing surf shops to establish:
how dependent on their location their success is. In some areas, there is almost guaranteed demand for a surf shop - towns like Newquay in Cornwall, for example, which have good quality waves nearby, a thriving surf community, an annual World Qualifying Series (WQS) contest and so on. Other areas may not have such an obvious demand but people may still have identified that a surf shop can succeed. The rapidly expanding Fat Face chain of shops is proof that a surf shop does not even have to be beside the sea to succeed!
what products they sell and the prices they charge. It is important that you are aware of the range that your competitors stock and their prices as people tend to shop around for the best deals, especially on large purchases such as surfboards and wetsuits
who their target market is
how busy they are
which, if any, services they offer
how knowledgeable and helpful their staff are
whether the premises and fittings are modern and smart
Why will customers choose your shop
You need to make sure that enough customers will choose your shop rather than existing outlets. Your market research might indicate that there is a gap in the market that your shop can fill. For example, you may have identified that there are sufficient numbers of female surfers in your area to justify opening a shop aimed primarily at women.
Some of the reasons why customers will choose your shop over your competitors include:
your location. For example, you may open your shop on the main access route to the local surfing beaches
your product range. You may try to stock products that are well-respected by surfers (for example, the Xcel range of wetsuits or surfboards made by world-renowned manufacturers)
your prices
the level of service you offer
your opening hours
Research current trends, plus legal and tax issues
Selling on eBay and Amazon
Selling online can be an excellent way of reaching new customers and boosting your sales. But setting up your own ecommerce website can be expensive and you may not be sure at the beginning whether the value of the sales you'll make online will justify the set-up costs.
As an alternative, trading on eBay or Amazon lets you get a feel for selling online but with much lower start up costs. And you may decide to keep on selling through eBay and Amazon even when you have your own online shop.
Getting started
You might already have your own personal eBay account that you use to buy items for yourself and to sell things that you don't need any more. But if you're trading as a business on eBay you're legally obliged to make it clear in your listings that you're a business seller. This means that you'll either need to register a new business account or upgrade your personal account to a business one. There's guidance in the eBay Seller Centre on the definition of 'trading' if you're not sure whether you need to register as a business seller.
Similarly, with Amazon you can use an existing account or create a new one when you register as a business seller.
If you're not already running a business and you intend to start selling things on eBay or Amazon - perhaps just in a small way to begin with - then you'll need to notify HM Revenue & Customs (HMRC) that you're trading. There's guidance on the Gov.uk website that gives an overview of what counts as trading and what counts as self employment. It also gives details of your tax and record keeping obligations.
Decide whether to have your own virtual 'shop'
Having your own virtual storefront will give your business a valuable online presence and will allow you to display all your products together in one place.
When you sign up to sell on eBay, you have the option of setting up an eBay Shop. This allows you to create your shop using an existing template or to customise it to your own design. You don't have to choose the eBay Shop option straight away - you may decide it's best to wait until your monthly sales build up to a certain level and then upgrade.
With Amazon, you'll automatically create your own storefront regardless of the package you choose. You won't be able to customise it very much but you will be able to add your name and logo and provide some information about your business.
How much does selling on Amazon and eBay cost?
Before you start selling on Amazon and eBay it's a good idea to find out how much you'll have to pay in fees. Depending on the items you sell and the method you choose for selling them, your total fees can be quite substantial. And while some of the fees you pay will be linked to the number of items you sell each month, others are likely to be fixed costs which you incur even if you don't sell anything.
Both eBay and Amazon give you the option of selling as a business seller without paying any fixed monthly fees, although it's usually more cost-effective to choose a subscription-based package unless you're only selling a small number of items each month.
The eBay website has a fee illustrator tool and a fee calculator that will help you compare the fees for different selling methods and get a good idea of how much your actual per-item selling fees are likely to be.
The Amazon website gives detailed fee guidance, including some examples of pricing for their subscription and non-subscription packages.
Managing your listings
Uploading your inventory to eBay or Amazon and managing your listings can be a time consuming task, particularly if you're planning to sell a large number of items.
Both eBay and Amazon offer useful listing tools, some of which are free and others that you'll have to pay for.
Promoting your items
Because there's such a huge number of items for sale on eBay and Amazon at any one time, it's very important that you do everything you can to stand out from the crowd.
Always make sure that your listings include accurate, spell-checked descriptions and that your photos and other images show the items that you're selling in the best possible light.
You might want to take it a step further and use the various marketing tools provided by eBay and Amazon such as search optimisation, cross-promotions and paid-for advertisements.
Your reputation
As an eBay or Amazon seller your online reputation is extremely important. All sellers have a feedback score based on actual customer feedback and this is the main measure that future customers will use to check that you are trustworthy and reliable.
So you'll want to keep your rating as high as possible by providing an excellent level of customer service and fast delivery at reasonable prices. Make sure you always respond promptly to customer queries, deal with returns efficiently and keep an eye on your stock levels to avoid your listings showing an item as being in stock when it has sold out.
Be aware that packing up orders and sending them out can be time consuming, but it's important to stay on top of the job to make sure that the right items get delivered in good time to the right people. Very many parcel delivery services now offer bulk shipping tools that integrate with your eBay or Amazon account and these can greatly simplify the process of arranging and tracking your deliveries.
If you're selling on Amazon you might also consider using the Fulfilment by Amazon service, where you send Amazon your inventory and they do all of the picking, packing and shipping as well as providing customer service.
More information
The eBay and Amazon websites have a great deal of useful guidance to help you get started as a business seller and to expand your business as demand for your products grows. Both also have lively seller community forums where experienced sellers are often happy to answer questions.
Decide what to sell
Getting the product mix right is very important and can be the difference between success and failure. You will have already identified who your customers are likely to be, now you have to decide what they are likely to buy. If you feel that it is important that your shop has credibility within your local surfing community, you will have to stock, among other products, a good range of surfboards, wetsuits and surfing accessories from the recognised brands. Alternatively, you may have identified that a large proportion of your customers will not care about the quality of your surfing equipment (for example, they may be holiday makers) and so you are planning to stock mostly clothing and even beach accessories (buckets and spades, not surfboards!).
You are likely to sell some or all of the following:
surfboards, both new and used. You may buy surfboards from local manufacturers, importers or international suppliers
stand-up paddleboards and related accessories
bodyboards and fins
wetsuits and wetsuit accessories, such as gloves and boots
clothing. Choosing the right brands is important as people who buy surfwear tend to know which brands are 'cool'. You will also aim to stock clothing appropriate to the season (such as shorts and t-shirts in the summer, coats in the winter)
miscellaneous surfing accessories, such as deck grip, wax, board bags and so on
shoes
watches
sunglasses
snowboarding equipment and clothing
skateboarding equipment
kite surfing equipment
Seasonality
You are likely to find that there are fluctuations in your sales income and the type of products you sell, depending on the time of year. However, if you plan your stock buying well and start to discount old stock in good time, you should be able to maintain a regular turnover throughout the year. For example, in the summer, you are likely to have many customers buying summer clothing as well as surfers buying summer wetsuits. However, because there tends to be less swell (fewer waves) during UK summers, you may find that sales of wax and other surfing accessories decline. During the winter, when there is more surf, you may get more custom from surfers and less from general customers so you may aim, for example, to stock snowboarding equipment to cash in on the interest in that fast-growing sport.
Establish your customer profiles
Your market
The range of products that you stock and the location of your shop will, to a certain extent, dictate who your customers are. So, if you stock mostly surfing equipment and only a small range of clothes then the majority of your customers are likely to be surfers who come to your shop with a specific purchase in mind. On the other hand, you may decide to stock mostly clothing to maximise the level of general, off the street custom (although this will largely be dependent on your location). If your shop is close to a beach that is popular with holidaymakers as well as surfers, you may stock beach goods, such as windbreaks, specifically to attract a broader customer base.
You may also have some trade customers, such as surf schools, that you supply with surfing equipment.
Special offers and discounts
Discounts are commonplace in the surf shop sector. Most shop owners or managers will give discounts to people that they know or who are regular customers and it is fairly usual for a shop to give sponsorship, in the form of free equipment, to a few of the best local surfers.
Unless you are very lucky, you are likely to find that when a season ends, you still have some of that season's stock left to sell, so you will have to discount it in order to get rid of it. Many shops will offer significant discounts of up to 50% on these sale items.
Decide which services to offer
As well as stocking a wide range of surfing equipment and clothing you may offer various services, for example:
a surfline (recorded telephone surf information service). This could include a report on the current local surfing conditions plus a forecast for the next couple of days
surfboard repairs. If you've got room, you may offer this yourself or you may take a commission and pass repairs on to local surfboard repairers
hire of surfboards and wetsuits
surfing lessons
internet access. There are several excellent forecasting tools available on the internet, as well as webcams at many beaches and you could either offer this service for free or charge a small fee
Advertising your shop
Whatever the nature of your shop, you must make sure that your potential customers know about you and the products and services you offer.
There are a number of things you can do to promote your business:
advertise in your local newspaper and any local directories
sponsor a local surfing competition or local surfers
launch your own website, which could include an online ordering facility and possibly include surf forecasts (to ensure people come back to your site)
forge links with local surf schools
Price your products
Getting the price right is very important. You must make sure that the difference between the cost price and the selling price is enough to cover all of your operating costs, including your own drawings. Surfers will tend to shop around to get the best deal, particularly for large purchases, so unless you are the sole stockist of a particularly desirable brand of equipment, you may find that you have to price in line with your competitors and be flexible when people ask for money off.
Knowledgeable and likeable staff will be an asset in attracting and retaining customers, as will stocking an excellent range of products and may even allow you to charge slightly higher prices than your competitors. Similarly, your location may also allow you to do this.
Suppliers to the sector may include suggested retail prices in their catalogues and price lists and you may decide to stick to these. However, if you decide to price your goods below suggested retail prices you should keep details of your tariff - this will be helpful should HM Revenue and Customs ever investigate your business.
Equipment hire
Your market research may have told you that there would be a demand for surfboard and wetsuit hire.
Most hire businesses structure their charges in a way that results in it being better value the longer the hire period is. For example, surfboard hire may be offered at £5.00 per hour or £20.00 for the whole day. If you are going to provide an equipment hire service, you will have to give consideration to your pricing policy to ensure that all of your charges are attractive and that one does not make another look unreasonable.
Remember - customers do not treat hire equipment with a great deal of respect and it is likely that equipment will need frequent repairs. If you do not have the expertise to carry out the repairs then you will have to incur the cost of having them done by a specialist.
You can avoid frequent repairs by offering softboards, which are broadly the same shape and size as fibreglass surfboards but made of soft foam. This makes them ideal for beginners, as they don't hurt so much if you get hit by one and also ideal for hire businesses as they are almost indestructible.
Repairs
You may consider offering your customers a surfboard repair service. The benefits of offering such a service are:
it encourages customer loyalty
it brings people into the shop who may not otherwise have come in. Once inside the shop they may make impulse purchases as well as having the repair done
it may encourage customers to purchase new items of equipment from you after their old ones get beyond repair
it can provide useful extra income
You could carry out the repairs yourself or subcontract them to a specialist repairer. If you are planning on doing the repairs in-house, bear in mind that you will have to spend a certain amount of money fitting out a workshop. Also, you have to consider the time that the repairs will take. It may be practical for you to do them in quiet periods during the day or you may have to do them outside of normal opening hours. Alternatively, you could employ someone to cope with the repairs or to mind the shop while you do them but this will obviously eat into your profit.
Buy an existing business
You might decide to buy an existing surf shop rather than start your own venture from scratch. Buying a going concern can mean that:
the premises, business equipment and shop fittings are already in place
there are established customers
the business can generate income immediately
suppliers have been identified and relationships established with them
the business has a track record, which can help if you are looking for finance
staff are already in place
However, look critically at any business that you are interested in to make sure that the price you negotiate with the seller is a fair one. Try to establish why the business is for sale - for example, is the owner keen to retire or is there another personal reason for selling up.
Your market research into the sector as a whole and the locality in particular will help you to establish whether or not the owner is selling because he or she can no longer generate enough income from the business. This may not necessarily deter you - many business people are confident that they can turn a failing business around. The important thing is to have established the current position so that the price you pay for the business is not too high.
Other matters to consider include:
the state of the premises, fittings, equipment and so on. Will you have to spend money refurbishing or replacing assets
the condition and value of any stock you are buying. Check this over carefully before agreeing a price
is the existing owner prepared to give you some training after you take over (if you feel you would benefit from this)
existing staff rights
how to retain key personnel once you've taken over
does the business owe money that you will be responsible for
if you are paying for goodwill, to what extent does this depend on the skills and personality of the seller
Ask your accountant to look critically at the business accounts for the past three years and discuss with him or her the selling price in the light of what the accounts reveal. Make sure you budget for other professional fees such as legal fees and valuation and survey costs.