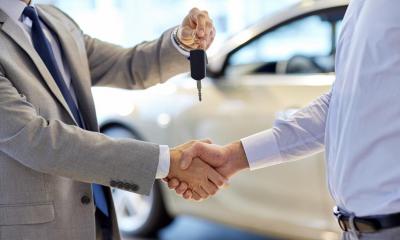 A good reputation for quality vehicles is essential if you're thinking of selling used cars. Check out our practical guide for help with starting and running your used car dealership.
• Research your target market
• Decide what services to offer
• Selling cars on finance
• Pricing policy
• Buy an existing business
Research your target market
You will want to be sure that your business attracts plenty of customers. Your stock should include both the types of vehicle that are in demand and the prices that local people can afford. Will your dealership be located in an affluent area. Local housing is often a good indicator of this. Look at the types of cars parked on people's driveways and on the roads. What types of cars are advertised in local classified ads and offered for sale by other dealers?
Of course, you may intend to sell to a wider market. You might, for example, advertise cars in the regional or even national press. Advertising cars online, including on eBay, your own website or other online car sales directories such as AutoTrader is another way of reaching a large number of potential customers.
Remember that your market research should be ongoing. After you start trading, talk to your customers to find out more about their needs and wants. Take note of the makes, models and colours that are popular, and those that are not good sellers. Find out which features (for example parking sensors) are popular with your customers.
Finding out about your competitors
How well are your potential customers already served by existing businesses? Make a note of other used car businesses in your area, including franchised motor dealers. Look out for small-time 'dabblers' who often trade from home. A quick online search and a look through any local newspapers that carry free advertising will give you a good idea of how many dealers are already operating in your area. Your competitors' advertisements can often tell you something about what type of business they are. Be aware that many used cars are sold online by both private sellers and dealers.
Dealers who sell similar vehicles to your own and offer a similar range of services and facilities are your most important competitors.
Find out as much as you can about them, including:
• the number and range of vehicles on offer
• the age of their stock, and the prices (are prices close to the 'book' price or significantly lower/higher)
• the range of facilities that they offer (for example indoor showroom, insurance-backed warranties, finance and so on)
If possible, find out what sort of reputation your competitors have. Online reviews such as Google reviews can be very revealing. How do they treat their customers and potential customers? A visit to their premises might give you an idea of the approach taken by their sales staff.
Bear in mind that some local dealers might actually be your customers rather than just your competitors. For example, you might regularly receive low-value vehicles in part exchange and sell them on to another dealer. You may find that it is beneficial to co-operate with several local dealers in this way.
Research current trends, plus legal and tax issues
• Sector trends for used car dealers
• Legal issues for used car dealers
• VAT rules for used car dealers
Decide what services to offer
It may be the case that your business already offers certain services, for example repairs or petrol retailing. Or you might decide that your new business will offer a range of different services alongside used car sales. Depending on the facilities that you have, examples of additional business activities that might generate income for your business alongside car sales include:
• vehicle servicing and repairs
• car valeting
• MOT testing
• bodywork and accident repairs
• other vehicle services, for example alarm fitting 
• motor part and accessory sales
• petrol retailing and perhaps convenience retailing
• general forecourt services, for example car cleaning facilities
• car hire (daily rental)
Your customers may expect you to offer certain 'added-value' services and facilities as part of your used car sales operation. These might include:
• finance arrangement, possibly including finance availability for customers with a poor credit history
• availability of extended warranty schemes and other insurance packages
• vehicle inspection facilities (for example a floodlit area, a canopy or an indoor showroom)
• part exchange of old vehicles
• pre-inspection of vehicles by a recognised motoring organisation
• independent checking of vehicles' backgrounds (HPI check), to ensure that they have not been stolen, badly accident damaged or 'clocked' and do not have any outstanding hire purchase payments due on them
Note that some of the above, for example finance and extended warranty sales, will earn extra income for your business in the form of commission.
Decide what your quality policy will be - will you sell vehicles on as they are without doing much to them, or will you spend time and money bringing them up to retail standard? For example, you might offer a new MOT and a full multi-point check and service on all cars sold to retail customers. Perhaps you will offer a free extended warranty or a 'no quibble' exchange policy.
Think about other services that your business might offer. For example, you might operate a car locator service for customers who require a particular type of vehicle. You could set up a parallel import operation for customers who want to buy a new car from the continent. Maybe you will decide to stock some parallel imported new cars alongside your used selection.
Be sure to mention any attractive services and facilities that you offer in your advertising material.
Selling cars on finance
A vehicle is a large, expensive purchase. Some customers may be unwilling or unable to pay for it all in one go and would prefer to pay a deposit (sometimes a part-exchange vehicle) and spread the balancing payment over several months or years.
Personal contract purchase (PCP) has become much more popular with consumers. With this type of arrangement, the customer pays an initial deposit and then fixed monthly payments that pay off just the depreciation on the vehicle. At the end of the contract period, the customer can buy the car for an agreed final payment. 
You may want to offer credit to customers through a specialist finance company. There are a number of finance companies that specialise in motor trade finance, and between them they offer a range of different finance packages. Some of the finance packages available which you might use to attract customers include:
• standard interest-bearing credit
• subsidised interest rate credit
• interest-free credit
• deferred payment (buy now pay later) credit
• high-risk credit (for customers who might normally be turned down by a finance company)
When you sell a vehicle on finance you will have to fill in a credit application with the customer to introduce them to the finance provider. Your finance company will then give a decision on whether to accept the application. All being well, the transaction will be completed in minutes and you will receive payment for the vehicle from the finance company within a few days. You will usually also be paid commission. This is normally based on a percentage of the value of the sale and paid to you separately at the end of the month.
Most finance companies will expect you to meet certain requirements and standards before agreeing to do business with you. Some will only deal with businesses that have been trading for a minimum length of time, often two years.
Shop around when it comes to choosing which finance company you will deal with. Their terms and working practices vary. When choosing which one is best suited to your business, bear in mind the following:
• what type of finance packages are most likely to appeal to your customers
• how promptly will you receive payment from the finance company
• how much commission are you offered
• how quickly your customers' credit applications be processed
• what level of back-up and support is available to you
You will need consumer credit authorisation if you want to offer finance to your customers. Limited permission authorisation may well be sufficient to cover your credit activities, but your authorisation may need to cover debt adjusting and debt counselling (taking over outstanding finance on part-exchange vehicles, and advising customers on this matter). Authorisation is granted by the FCA. For more information, visit the consumer credit section of the FCA website.
Pricing policy
At an early stage in your planning you should decide what price bracket you will focus on. This should reflect what your customers want and can afford. You might possibly stock cars from a range of different price brackets to cater for different types of people.
Pricing individual vehicles
When it comes to pricing individual vehicles, consider the following:
• how much did you pay for the vehicle
• how was the vehicle acquired (was it a part exchange or did you purchase it for stock)
• how long have you had the vehicle in stock
• are you prepared to haggle on price
• what is the 'book' price, taking into account the vehicle's age, condition, mileage and so on
• how much will local customers expect to pay for that type of car
'Book' prices are published by specialist research firms in their trade price guides. They are regularly updated and referred to by most car dealers. Several different price guides are available, most of which give information about part exchange prices and forecourt prices. Car price information is also available online. Be aware that motorists themselves have access to up-to-date price information too. Note that forecourt prices are usually higher than private sale prices, reflecting the fact that dealers give a warranty, offer a selection of stock and generally prepare vehicles to a higher standard prior to sale than private vendors.
Setting the right price right is essential. Too high, and you'll struggle to make the sale. Too low and you're throwing away potential profit.
Make sure the price is right with our free product pricing calculator. Answer a few quick questions to work out what you should be charging.
Pricing part exchange vehicles
An important aspect of pricing is deciding how much you will offer customers who want to part exchange their old vehicle. While trade price guides do give useful information, also consider the following:
• what will be the overall 'price to change' for the customer, taking into account both the part exchange allowance and the retail price of the new car
• how much money will you be able to sell the part exchange vehicle for
• will the part exchange vehicle need much work before it can be sold on
• do you anticipate that the vehicle will be quick and easy to sell
• can you sell the vehicle on your own forecourt, or will you sell it on to another trader or through an auction
Bear in mind that, while some potential customers will be prepared to haggle over the part exchange price, others may simply walk away if the offer is too low.
Remember that if, say, you sell a car for £5,000 of which £2,000 is the part exchange allowance, you should only enter £3,000 in the cash flow as 'Cash sales' (prices included for illustrative purposes only). You will receive the balance when you have sold the part exchange vehicle; if you sell it to a trader this might become 'Cash from debtors' if you give them some time to pay. Note though that, for VAT record keeping purposes, you must enter the total selling price of £5,000 in your stock book straight away.
Pricing at auctions
When you visit an auction to buy you will be bidding against other traders for vehicles that you want to add to your stock. The auctioneer will open the bidding at a starting price and aim to get as high a price as possible for each vehicle. Many vehicles will have a reserve (minimum price), while some, usually cheaper, vehicles, will be auctioned with no reserve.
You will have to decide on the maximum price you are prepared to pay for a vehicle. This should be low enough to enable you to make a reasonable profit margin when you sell it on. It should also reflect the fact that you may have to spend money on the vehicle to remedy any faults that show up after you purchase it.
You might also use auctions for disposing of stock from time to time - perhaps very old part exchanges and cars that just won't sell on the forecourt. It's up to you whether or not to set a reserve, and if so how much this should be. This goes for online auctions like eBay too.
Your pricing policy
Decide on a general pricing policy that you will try to stick to as closely as possible. This will enable you to plan the financial side of your business.
Decide what your target markup will be. For example, you might aim to make a certain sum per car, or you might work on a percentage basis - perhaps you will always aim to add 20% to the cost price of a vehicle when you sell it. You may decide to stick to book prices, or you could aim to undercut these. Perhaps the quality of service that you provide or even the location of your sales site justifies offering cars at higher than book prices. Decide too what your policy will be on trade sales of part exchanged vehicles to other dealers. Perhaps you will add a small sum or percentage, or maybe you will agree to pass them on at cost. In some cases you might sell on a job lot of trade cars for an agreed total price.
You may decide to aim for a different profit margin on different types of vehicle. For example, you might add a higher percentage to older 'bangers' than to nearly new, high value vehicles. Bear in mind that you may sometimes have to make up for a low-profit margin on one vehicle by aiming for a larger profit on another.
Pricing other services
If your business offers any other services, such as repairs or valet, then you will need to work out how much you will charge for them. Once again, consider the cost to your business of providing that service, and the amount of profit you need to earn to make it worthwhile.
Buy an existing business
You might decide to buy an existing used car dealership rather than start your own venture from scratch. Buying a going concern can mean that the cars, customers, regular sales, staff, premises and equipment are already in place.
Be aware that reputation is very important in the motor industry. It may take a lot of time and effort to turn around a business that's earned a bad reputation.
Carefully check the age, condition and value of any stock you are buying before agreeing a price. Remember that used car values can fall quite rapidly - so make sure that the stock valuation is up to date. Bear in mind that demand for diesel models has weakened - this is likely to affect the selling price of any diesel vehicles you take over.
But buying a business can be a hazardous, expensive process unless you have the right skills and experience on your team, including legal and financial know-how. Establish a genuine trading and financial position, so that the price you pay for the business is not too high.