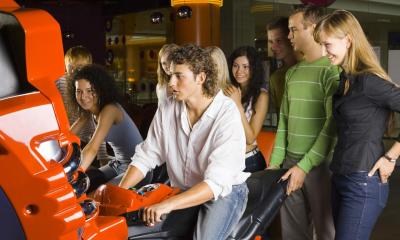 Amusement arcades may be for all the family or for adults-only and are quite heavily regulated to control problem gambling. Get the essentials for starting up and running your own amusement arcade in our practical guide.
Research your target market
Estimating demand
If you're planning to set up your arcade from scratch - rather than buying an established arcade that already has a good level of income from its existing customers - it's very important to find out whether there is enough demand in your area. People only have a certain amount of money to spend on leisure activities such as playing machines so it's essential to think about why people will come to your arcade. It might be that you think there is a demand that is currently not being met. For example, a newly developed tourist facility might be attracting lots of holidaymakers but there are as yet few other leisure businesses operating in the area.
It's important to give some thought to who your customers are likely to be. In a seaside type of location it's likely there will be lots of families so you may choose to offer a range of low prize gaming machines, redemption machines, kiddie rides and video games that can be enjoyed by all age groups. On the other hand, if you were planning to set up an adult gaming centre you would need to install high prize-paying machines that would appeal to adults who are regular machine players. If your arcade will offer gaming machines mostly or exclusively, it's also very important to check out the overall level of demand for arcade machine gambling. In recent years the higher stake, higher prizes machines that betting shops and other gambling premises can offer (but not arcades) have become very popular, as has online gambling.
Have a good look at any existing arcades in your area to establish:
their opening hours
how busy they are at different times of the day
the types of customer they are targeting
the range and number of machines they have
the appearance of the premises - is it modern and bright?
any other services and attractions they offer
Check out future developments
The location of the arcade is very important and ideally there will be lots of passing trade (unless you're planning to add an arcade to an existing business such as a caravan site, in which case the majority of your customers will be on site already). If you are planning to locate in a seaside area, try to find out the local council's plans for the future - sadly many British seaside resorts have become less popular than they were previously and the viability of your business will be affected by how successful your council is in attracting holidaymakers. Think about the local wet weather attractions that might bring visitors to your area even during poor weather conditions. Your council or local tourist information office may be able to give you visitor statistics for your area and there are regional tourist statistics for the whole of Great Britain available to download from the Visit Britain website.
Planning permission
One of the first things to do is to approach your local authority planning department to find out as much as possible about successfully obtaining consent to open and operate your arcade. The British Amusement Catering Trade Association (BACTA) may be able to give you advice on setting up a family entertainment centre or an adult gaming centre.
Research current trends, plus legal and tax issues
Establish your customer profile
Your market
Your typical customer will depend to a considerable extent on the type of arcade you propose to operate and where it will be located.
If you are planning to open a family entertainment centre, depending on its location many of your customers will be holidaymakers and a large proportion of these will be families with children, as well as coach parties of day visitors to the area. You may find that your business is so seasonal that it is not even worthwhile remaining open during the winter months, especially on week days. On the other hand you may have lots of regulars as well as holidaymakers so your business won't be as affected by seasonal factors. Family entertainment centres often provide a meeting place for young people and your arcade might prove popular with local teenagers, students and so on.
An adult gaming centre caters for adults only and offers a wide range of Category C and Category D machines as well as a limited number of Category B3/4 gaming machines and, generally, some video machines, although these have become much less popular because of the widespread availability of computer games.
Inland arcades may have different types of customers - for example, during the daytime many players are likely to be female while in the evenings players may consist mainly of young males. Many customers are regulars and demand is generally consistent all year round.
Give some thought to how you will keep your customers coming back, particularly in an adult gaming centre. Regular players soon become familiar with a machine and want something new so you may have to replace games frequently. You will probably find that machines will typically take most money in the first 8 to 12 weeks after they have been introduced. After that, takings start to dwindle. Some games never become very popular, while others remain popular for three or four years. Many arcades plan their machine buying around the government's review of stakes and prizes that takes place every three years. If the majority of your customers are tourists who will visit your arcade only once or twice during their holiday, you may need to replace your machines less frequently.
It is important that you identify what your customers like and then monitor individual machines closely so that you replace them with something new when interest begins to fall off. In many cases machines are replaced after three or six months. Coinslot journal features a machine chart which shows the top ten machines in order of popularity.
Be aware that very many machine players try to obtain free plays, or to gain access to the machine's cash box, by various illicit means. Think carefully about how you will supervise players - when the arcade is crowded it may be difficult for you or your staff to see what players are up to.
Decide what services to offer
Gaming machines
The type and range of machines you install will depend on who your customers will be and any restrictions attached to your licence or permit - for example, an adult gaming centre may focus on Category C and a limited number of Category B3/4 machines while a family entertainment centre might offer a wide range of traditional low prize Category D machines together with amusement-only machines. You may also decide to offer some skill with prizes (SWP) machines like quiz machines.
Other attractions
As well as gaming machines and machines such as pool tables, air hockey, kiddie rides and so on you might plan to offer your customers a range of refreshments. These might be simple snacks, ice cream, drinks and so on or full meals. Many family arcades offer special packages for children's birthday parties which include refreshments and a gift in the price.
The right image
It is important that your arcade projects the right image. Some centres have become rather run-down and shabby and as a result do not attract as many customers as they might. A bright modern facade will help to bring people through your doors. You might consider providing your staff with uniforms so that they can easily be identified. This can also enhance the image of your business.
Your machines
Current machine categories
Under current gambling laws in Great Britain, gaming machines fall into one of four categories, A, B, C and D and arcades are able to install machines as follows:
adult gaming centres - an unspecified number of Category B3/B4 machines but which must not exceed 20% of the total number of gaming machines on the premises and as many category C and D machines as they want. (Arcades that were in existence before 13 July 2011 can choose to offer a maximum of four Category B3/B4 machines - the previous limit - or 20% of the total gaming machines, whichever is the higher. They are entitled to this choice indefinitely. Arcades that gained their licence on or after 13 July 2011 but before 1 April 2014 could also make this choice, although since 1 April 2014 they're only entitled to 20% of the total number of gaming machines)
licensed family entertainment centres - as many category C and D machines as they want, but the category C machines must be in an over-18 area
unlicensed family entertainment centres - as many category D machines as they want
The maximum stakes and prizes for category B3, B4, C and D machines are:
B3 - £2 stake, £500 prize
B4 - £1 stake, £250 prize
C - £1 stake, £100 prize
D non-money prize (other than crane grab) - 30 pence stake, £8 prize
D non-money prize (crane grab) - £1 stake, £50 prize
D mixed prize of money and non-money (other than coin pusher) - 10 pence stake, £8 prize of which a maximum of £5 can be in cash
D mixed prize of money and non-money (coin pusher/penny falls) - 20 pence stake, £20 prize of which a maximum of £10 can be in cash
The most recent regular review of stakes and prizes, published in 2018, recommended reducing the stake for Category B2 machines (casinos and betting shops only) from £100 to £2. This change took effect in April 2019. All other stakes and prizes remained the same after the review.
Old machine categories
Until 1 September 2007 when the Gambling Act 2005 came fully into effect, gaming machines were covered by the Gaming Act 1968. Three types of machine were allowed:
jackpot machines - only allowed in casinos, bingo halls and clubs
all cash Amusement-with-Prizes (AWP) machines - allowed in adult environments like arcades and pubs. Children and young people under 18 not allowed to play these machines
coin or token AWPs - allowed in family arcades, played by any age group
Arcades didn't necessarily have to replace these old legacy machines when the new legislation came into force. If a legacy machine meets certain technical standards then it can remain in operation.
Gaming machines in Northern Ireland
In Northern Ireland, the machine gaming regulatory regime is significantly different to the rest of the UK. Arcades can offer amusement with prizes (AWP) machines with a maximum stake of 30 pence and a maximum prize value of £8, or with a maximum stake of 30 pence and a maximum prize of £25. There are two types of amusement permits available - one that allows an arcade to offer both types of machine and one that allows an arcade to offer only the machines with the lower payout value. There is no restriction on the number of machines. Under 18s must be prevented from using higher value prize machines.
Amusement machines
Amusement-only machines like pin-ball machines are not regulated by the Act. Skill with prizes (SWP) machines that have no gaming element and redemption machines where the prize given out is in relation to the skill of the player are also not covered by the Act.
Other machines
You will probably also want to install a variety of other machines, particularly if you hope to attract families and children. These might include machines like juke boxes, air hockey or kiddie rides. These are not covered by gaming legislation although some - like kiddie rides - will need to be inspected annually under a health and safety scheme like the ADIPS (Amusement Device Inspection Procedures Scheme).
BACTA requires members to abide by a Code of Practice - this gives clear guidance on where the different types of machine should be sited, who can access them and how the area should be supervised. They can also give you advice on the ADIPS which they administer. There's further guidance about the scheme on the BACTA website
Estimating machine takings
You will already have given some thought to how many machines you will install in your arcade. Arcades are restricted to three types of gaming machine - Category D, Category C and Category B3/4. Unlicensed family entertainment centres are allowed unlimited numbers of Category D machines, licensed family entertainment centres are allowed unlimited numbers of Category D and Category C machines and licensed adult gaming centres are allowed unlimited numbers of Category D and Category C machines and a limited number of Category B3/4 machines. (A set maximum of four, or 20% of the total number of machines on the premises, depending on when the licence was granted.) Although the licensing authorities do not limit the number of machines you can operate (apart from Category B3/4 machines), you may find that the terms of your planning permission specify the number of machines you can have in your arcade. Of course, you will also be restricted by the size of your premises.
To work out your annual sales figure, the first step is to make an estimate of how much money each of your machines will take. This will be affected by:
how busy you are, not only at different times of the year, but also at different times of the day
how popular the machine is. A newly introduced machine will attract lots of players but takings will fall after 10 weeks or so once the initial appeal has worn off. Some of your machines may only appeal to a certain proportion of your customers
the value of the stake
the rate of play. A game that is over quickly allows more games to be played during any given period
the rate of return set. A typical amount of money (or the payout) returned to players over time is 70% although the rate may be set higher (for example 90%) in order to attract more players. (Remember that if you operate any legacy machines, their minimum payout must be 70%)
the number of machines which are out of action at any one time. Machines can be handled very roughly by players and it would not be unusual for 10% of your machines to be out of action
It can be difficult to estimate how many players you will have and how much they will spend per session. It may be worthwhile visiting one or two existing arcades to get a feel for how busy they are throughout the day and how long individual customers spend playing machines.
If you are buying an existing arcade the annual accounts will give you an indication of each machine's level of takings. New machine suppliers may also be able to give you some guidance and may be able to advise you on the most profitable machines for your particular business type.
You might consider spending some time in arcades which you consider are similar to the business you propose to run. Note when are the busy times, how long players remain at each machine and whether some machines are much more popular than others.
It may be that, to reduce your initial capital investment, you are intending to get some or all of your machines on a share basis. A 50% / 50% split of the net takings is usual, in which case you'll need to halve your estimates of machine takings. (Your net takings are the amount charged to play minus the amount paid out in winnings). Although the share basis is more common in businesses like pubs that have just one or two gaming machines on their premises, you may find that it could work for your arcade business - at least in the early days.
Don't forget that you'll have to pay Machine Games Duty (MGD) on your net machine takings. There are two rates of MGD that apply to machines that can be sited in arcades, the standard rate of 20% and the lower rate of 5%. The lower rate applies to all Category D machines only and the standard rate applies to all other machines. (The higher rate of 25% from March 2015 only applies to Category B2 machines which arcades are not able to offer.)
Buy an existing business
You might decide to buy an existing amusement arcade rather than start your own venture from scratch. Buying a going concern can mean that the products, customers, regular sales, staff, premises and equipment are already in place.
You might decide to buy an existing business rather than start your own amusement arcade from scratch. Buying a going concern can mean that:
you shouldn't have to apply for planning permission for the arcade and it may make it easier to obtain the necessary premises licence or permit
mandatory gambling risk assessments have already been carried out
Other matters to consider include:
will you have to spend money refurbishing or replacing assets. Bear in mind that if the arcade has regular customers they are likely to want to see new machines periodically so try to check how long the existing machines have been in place - many arcades plan their machine buying around the review of stakes and prizes that takes place every three years
transferring/obtaining the necessary licences and permits (as required by gaming legislation)
But buying a business can be a hazardous, expensive process unless you have the right skills and experience on your team, including legal and financial know-how. Establish the genuine trading and financial position, so that the price you pay for the business is not too high.