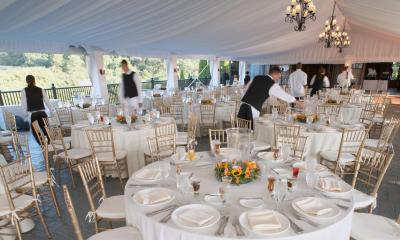 Outside caterers provide food and drink for events like dinner parties, weddings and conferences at a range of different venues. Check out our practical guide for starting and running your own outside catering business.
Research your target market
When you plan your catering business it's very important to give some thought to who your customers will be and how well they are already served. Doing some market research will help you to establish the facts.
Your market
It is likely that your customers will be members of the public and local businesses and organisations.
Members of the public might include those booking:
weddings, anniversaries, christenings and so on
funerals and wakes
other religious events and celebrations - for example Bar Mitzvahs
parties
Your corporate customers might include:
local businesses
local clubs and associations
These might book you for boardroom meetings, team-building events, Christmas parties, publicity launches and so on.
Think about the people and businesses in your local area and consider who might use your services. This will help you to focus your marketing efforts.
Estimating demand
Try to establish whether there is room in your area for your outside catering business. A well run business should have a good chance of establishing itself. The outside catering sector consists mainly of small independent catering businesses which will be your main competitors. Other competition may come from restaurants, cafés and sandwich bars that offer catering as a side venture. This type of business may be able to undercut you on price as they are able to use their existing premises, staff and facilities.
Check out the competition in your area to identify how many other outlets are already offering outside catering. There are a number of ways to do this, such as:
looking in the Yellow Pages and other similar directories
searching online
Once you have identified the level of competition, you may find it beneficial to establish what the quality of your competition is like. Assessing existing businesses will give you an idea of:
what their menus are like and the prices they charge
which type of events they cater for
whether they do private and corporate functions
how helpful their staff are
whether the premises are modern and smart
whether they have any outstanding features that you feel would be difficult to compete against
Why will customers choose you
You need to make sure that enough customers will choose your business. Your market research might indicate that there is a gap in the market that you can fill. For example, you may have noticed that none of the businesses in your area offer summer BBQ party services, hog roasts or gourmet dinner party services. Alternatively, you or one of your employees may be a noted or well qualified chef, you may decide to offer a complete event organising service rather than just catering or you may be the cheapest or most exclusive.
You may decide to target the corporate sector by sending out menus and prices to local businesses to try to gauge the level of interest. Pitching your prices lower than your competitors may generate interest and enable you to start to build up a corporate client list. Corporate functions may be boardroom meetings, Christmas parties, publicity events and so on and will often require buffet style food rather than a sit down meal. You may decide to offer a different range of menus for corporate clients.
Give people what they want
It is likely that some of your dishes and menus will be more popular with customers than others, although this will generally become apparent over a period of time. It's a good idea to try to be flexible and cater for specific requests from customers, even if they are not on your menu. Keep up to date with changing trends by reading trade journals, attending trade shows or looking round your local supermarket. Supermarkets spend a lot on researching what consumers like, so if, for example, a range of Thai food suddenly appears on their shelves you can assume that they are not just guessing that people will buy it.
Research current trends, plus legal and tax issues
Decide what services to offer
You are likely to cater for a number of different events, such as:
weddings and christenings
funerals and wakes
big dinner parties
birthdays
anniversaries
BBQ parties and hog roasts
corporate events, such as Christmas parties, boardroom meetings, publicity events and so on
hospitality catering at sports events
You should be able to advise your customers as to what menu best fits their requirements as well as the size and type of venue they will need for the number of guests they will invite. The services you provide will depend on the nature of the event, although you should expect to provide:
the food and drink
crockery
cutlery
linen
glassware
waiting staff
mobile bar and bar staff
You may also find that, if you are cooking for people in their own homes, you have to provide tables and chairs and even kitchen equipment. You may also decide to offer clearing up as part of your service. In some circumstances, you may decide to let customers supply their own drink, although you may charge a corkage fee.
You might decide to offer a chef hire service for customers who simply want an expert to come into their kitchen and cook gourmet food for a party or small function.
Beyond catering
You may feel that customers would be interested in commissioning you to oversee a whole event for them rather than just the catering. For example, you could provide a comprehensive wedding service, including car hire, flowers, wedding cake, photographer and so on. You would then arrange these services through the appropriate business.
Some catering specialists enable keen amateur cooks to benefit from their skills and expertise by running cookery classes, courses, demonstrations and 'cook and eat' events from time to time. If you decide to offer these you could schedule them for quieter times of the year to keep you busy when demand for catering services is slack.
Advertising your business
Whatever the nature of your business, you must make sure that your potential customers know about you and the products and services you offer.
There are a number of things you can do to promote your business:
launch your own website, showing all the features that will attract customers to your business
advertise on Yell.com and other similar online directories
advertise in your local newspaper and local print directories
advertise through publications and websites specifically targeted at the wedding market
work with related businesses, such as wedding planners and marquee hire specialists, to encourage referrals
use online networking and social media such as Facebook, LinkedIn and Twitter
have menus printed and distribute them to prospective corporate clients
do a mailshot to local houses
provide a good service at all times. Word of mouth recommendation will ensure that you get repeat business
Your menus
Getting your menus right is very important as you are likely to have a broad cross-section of customers with differing requirements, likes, dislikes and budgets. You'll probably find that customers will want to choose from hot and cold options as well as a vegetarian selection. You may decide to offer some vegan and 'free-from' (generally free from gluten, wheat and dairy) options as well as meal solutions for people with food allergies and intolerances. And you might decide to cater for particular religious dietary requirements - for example kosher or halal.
Buffet menus
Buffet menus will be popular with corporate clients, as well as private parties. You should offer a range of different buffet options to suit different tastes and budgets. A basic buffet may comprise sandwiches, crisps, sausage rolls and so on, while a mid-range buffet might include sandwiches, quiches, savouries, cheeses and chicken drumsticks. An expensive high-end buffet may comprise sandwiches, tarts, seafood, exotic savouries (Indian, Thai and so on) and other delicacies.
You may also offer knife and fork buffets in a range of prices. Knife and fork buffets will consist of prepared dishes rather than finger food, such as chicken portions, salads and so on.
Wedding menus
Again, you should offer a number of different menus in your wedding selection. You should provide at least a basic, mid range and expensive menu, though you should be prepared to mix and match from your menus so that the customer is satisfied.
Dinner party menus
You may decide to offer completely separate menus for private dinner parties. These will tend to be fairly small affairs in terms of numbers, but customers may want a gourmet menu so they may well be profitable for you.
Seasonality
If you focus predominantly on the weddings market, you will find that you are busiest during the spring and summer as more people get married at those times of the year. However, you should try to target a broad range of customers to aim to have a consistent level of income throughout the year.
You may have to take on extra staff during the busy times.
Pricing policy
Getting the price right is very important. You must make sure that the amount you charge covers all of your operating costs, including your own drawings. You may have to price broadly in line with your competitors to make sure you get enough business, although if there is something that distinguishes your business from the others, you may be able to charge higher prices than your competitors.
Food
Many of your customers will expect you to quote and charge them on a 'per-head' basis, meaning that the amount they pay is based on the number of people catered for. You'll probably be expected to offer different options at different prices, and you may sometimes be asked to design a completely bespoke menu at an agreed price. You might decide to charge a lower per-head amount for bookings over a certain number of people, and you may well have a minimum booking size or value.
You should be able to work out how much the ingredients for each of your dishes will cost you. Once you have established what you will have to pay for each dish, you will have to decide what you will charge the customer for it. To do this you should try to estimate the 'hidden costs' involved with creating the dish, such as:
premises costs and heat and light
the wages of food preparation staff
Then think of the other costs involved in actually serving the dish to the customer. These will include:
the transport costs of moving the food from your premises to the customer's venue
the wages of serving staff, if these are not paid for separately by the customer
table decorations, if these are not paid for separately by the customer
Finally, you should add in any other costs, such as administrative staff wages plus a profit element for you and you will arrive at your selling price. So, for example, a dish or combination of dishes with ingredients costing £3.00 per head might be sold for around £8.50 per head (all prices are included for illustrative purposes only).
Drink
Your standard per-head catering prices might include a certain amount of drink for each guest, after which drinks are charged for separately. Or you might decide to charge for all drinks separately at an agreed price. You may need to work out prices for drinks like bottles of wine served at the table, and other alcoholic and soft drinks served from a bar.
When setting your drinks charges, you should also take into account that your operating costs need to be covered, although there is obviously less input needed (you only have to buy it, take it to the venue, open it and pour it). You could look at the drinks lists of your competitors to see how much they charge or you could simply double the purchase price (this is quite common practice in the catering industry). You may choose to allow customers to provide their own drink and charge them a corkage fee. Generally, you would not charge for any bottles of wine, beer and so on returned to you unopened and with their labels intact.
Staff
You may decide to charge the customer separately for the staff they have at their event. For example, your charge for providing waiters and bar staff might be around £20.00 per worker per hour.
Discounts
You may well offer corporate customers a discount as a matter of course as they are likely to shop around for the best price. You may offer discounts to members of the public based on quantity. For example, the greater the number of people to cater for, the lower the per head charge is. You may also offer discounts to regular customers. How much discount you offer might depend on how much local competition there is.
Estimating income
When you estimate the income from your business, you may find it easiest to calculate it on a month by month basis rather than trying to predict it for the whole year. You should first decide the maximum number of bookings you feel your business can cater for. Once you have arrived at that figure, you should adjust it for:
seasonality. If you particularly target the weddings market, for example, you are likely to find that your busiest months are spring and summer
the period after setting up when your business is becoming known to customers and has not yet reached its full potential
the fact that you may not be fully booked all year round
This will give you your estimated number of bookings.
You will then have to estimate what the nature of the bookings will be, taking into account:
the number of guests at each booking
the average 'per head' spend on food and drink for each guest
You could use a similar method as shown in the example below (the figures used here are included for illustrative purposes only).
Week 1
Booking: Dinner party
Numbers - 15
Average food spend per head - £20
Average drink spend per head - £7
Amount spent on staff at £15 per hour - £45
Total spent - £450
Week 2
Booking: Wedding
Numbers - 100
Average food spend per head - £12
Average drink spend per head - £9
Amount spent on staff at £15 per hour - £135
Total spent - £2,235
Week 3
Booking: Corporate event
Numbers - 10
Average food spend per head - £15
Average drink spend per head - £6
Amount spent on staff at £15 per hour - £30
Total spent - £240
Booking: Dinner party
Numbers - 25
Average food spend per head - £20
Average drink spend per head - £10
Amount spent on staff at £15 per hour - £45
Total spent - £795
Week 4
Booking: Wedding
Numbers - 125
Average food spend per head - £15
Average drink spend per head - £10
Amount spent on staff at £15 per hour - £180
Total spent - £3,305
Booking: Anniversary party
Numbers - 40
Average food spend per head - £12
Average drink spend per head - £7
Amount spent on staff at £15 per hour - £30
Total spent - £790
Total Monthly Income - £7,815
Buy an existing business
You might decide to buy an existing outside catering business rather than start your own venture from scratch. Buying a going concern can mean that the customers, regular sales, staff, premises and equipment are already in place.
Be sure that what you're actually getting justifies the cost premium of buying a catering business as a going concern - if you're not getting much in the way of substantial business assets and there is little in the way of reliable repeat business then all you're really buying is a name and reputation, which may or may not have much real value. It may be worth stopping to consider whether you would be better off simply starting up your own business from scratch.
Other matters to consider include:
does the success of the business depend on the skills of the current owner (for example, their cooking skills may be well thought of locally) which you are not able to match
are there any guarantees that the seller will not simply start up in business again in direct competition with you? Consider this possibility, and if necessary discuss your concerns with the seller.
But buying a business can be a hazardous, expensive process unless you have the right skills and experience on your team, including legal and financial know-how. Establish the genuine trading and financial position, so that the price you pay for the business is not too high.
Franchises
Franchising can be a good 'halfway house' between starting out from scratch and buying an existing business. If you purchase a franchise you'll still be setting up your own business, but you could benefit from the experience, resources and brand name of a business that is already successful.
There are various different franchises available in the outside catering industry. Although different schemes vary in detail, most feature the following key points:
as a franchise holder, you will remain self-employed but will use the identity (corporate colours, logos, trade name and so on) of the franchisor
in return, you will pay the franchisor a fee - this might be a one-off investment, a monthly charge, or a combination of both
both you and your franchisor will have to fulfil certain obligations and maintain certain minimum standards
Many franchisors will provide you with any specialist training you require, help with advertising and marketing, and advice and support on a range of business and technical matters.
Details of the above points are set out in the franchise agreement or contract, which both you and your franchisor will sign. The agreement will also deal with other matters, for example any territorial exclusivity due to you and the minimum period for which the franchise will run.
Before entering into a franchise agreement, it is advisable to compare the terms of different franchisors to be sure that you are getting a good deal. Go through the contract with your solicitor before signing anything. More information about franchising is available on the Franchise Info website. Information is also available from the British Franchise Association (BFA).