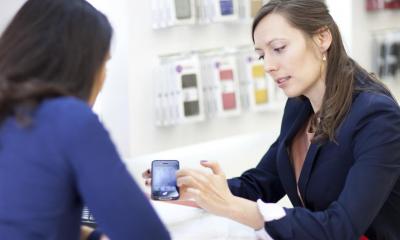 Independent mobile phone shops fill the gap that the networks and multiples don't cover, offering services like repairs and unlocking. Get the essentials for starting up and running your own mobile phone business in our practical guide.
Research your target market
Estimating demand
You will need to find out whether there is enough local demand for your mobile phone shop. The sector is competitive with many different types of specialist and non-specialist outlet selling mobile phones. In recent years the networks have focussed increasingly strongly on selling direct to the end user through their own retail outlets, ecommerce websites and telesales, marginalising independent dealers in the process. Retailers that stock a full range of phones on different tariffs and accessories include:
the Carphone Warehouse, which has many stores around the country as well as a strong online presence. The Carphone Warehouse is the last of the major chains after the disappearance from the High Street of The Link in the mid-2000s and Phones 4U in 2014
the network operators' own High Street stores which have greatly increased in number in recent years
mobile virtual network operators like Virgin and giffgaff
distributors, who buy wholesale airtime and then resell it through their own outlets and/or ecommerce websites. (Distributors also act as suppliers to the independent retail sector in some cases)
other independent phone dealers that operate in a similar way to you, including those that operate exclusively online
supermarkets, some of which are also mobile virtual network operators. (For example, Tesco Mobile which runs on the O2 network)
As well as these, many outlets sell a limited range of pay-as-you-go phones and some accessories. These include:
petrol station forecourt shops
general High Street retailers
Phones are also often offered as incentives to sign up for other products, such as credit cards.
Check out the competition in your area to identify how many other outlets are already selling mobile phones and accessories locally.
The advantage that you will have over non-specialist retailers is that you have expert knowledge of the sector so you can offer informed, impartial advice to your customers You will also have a much wider range of products to offer. Remember that your expert knowledge and the impartial advice you can give customers can also be exploited to give you an edge over online retailers.
Have a good look at existing retailers of mobile phones to establish:
what they sell and the prices they charge
which services they offer
how knowledgeable and helpful their staff are
whether the premises and fittings are modern and smart
Why will customers choose your shop
You'll want to make sure that enough customers will choose your shop rather than existing outlets. Your market research might indicate that there is a gap in the market that your shop can fill. For example, you may be planning to sell mostly to business customers or you may specialise in providing international communications solutions, such as global SIM cards.
As mentioned above, the strength that a specialist independent phone retailer has compared to non-specialist general retailers is knowledge of the sector. However, one of the characteristics of the major retailers in the specialist sector, such as the Carphone Warehouse and the network operators' stores, is the fact that they too are able to offer knowledgeable advice to the customer as well as having access to the latest handsets and access to a wider range of contract options. So these will probably be your keenest competitors and you may decide to attempt to differentiate your outlet from theirs by, for example offering a comprehensive and competitively priced repair service, selling second-hand handsets or by offering a handset 'unlocking' service.
Check out future developments
The location of your outlet is very important and ideally there will be ample and easy parking nearby and also lots of passing trade. Check that there are no plans to build new road systems, which would mean that traffic would bypass your shop, nor proposals to impose parking restrictions. It's also a good idea to try to find out if a competitor is planning to open near to your proposed location.
Find out what people want
It is important that you stock what consumers want to buy and offer the services that are in demand, especially in such a competitive market. The consumer is already very well served by the networks' retail outlets and the Carphone Warehouse, who offer all of the latest handsets and a range of airtime contracts at competitive prices. So you may need to focus on a niche market and become an expert in meeting their mobile communication needs. For example, you might focus on local SMEs in your area by attending networking and other events to get a good idea how their businesses operate so you can offer them targeted communication solutions.
As a starting point, you could send prospective trade customers a questionnaire (together with some information about your business) to find out if they would be interested in what you are offering. Bear in mind though that established independents who serve their local business communities often come up with very imaginative ways of connecting with prospective clients, so you're likely to have to work hard to successfully break into this market.
Research current trends, plus legal and tax issues
Selling on eBay and Amazon
Selling online can be an excellent way of reaching new customers and boosting your sales. But setting up your own ecommerce website can be expensive and you may not be sure at the beginning whether the value of the sales you'll make online will justify the set-up costs.
As an alternative, trading on eBay or Amazon lets you get a feel for selling online but with much lower start up costs. And you may decide to keep on selling through eBay and Amazon even when you have your own online shop.
eBay and Amazon could be excellent sales channels for things like new SIM-free phones, second hand phones and accessories.
Getting started
You might already have your own personal eBay account that you use to buy items for yourself and to sell things that you don't need any more. But if you're trading as a business on eBay you're legally obliged to make it clear in your listings that you're a business seller. This means that you'll either need to register a new business account or upgrade your personal account to a business one. There's guidance in the eBay Seller Centre on the definition of 'trading' if you're not sure whether you need to register as a business seller.
Similarly, with Amazon you can use an existing account or create a new one when you register as a business seller.
If you're not already running a business and you intend to start selling things on eBay or Amazon - perhaps just in a small way to begin with - then you'll need to notify HM Revenue & Customs (HMRC) that you're trading. There's guidance on the Gov.uk website that gives an overview of what counts as trading and what counts as self employment. It also gives details of your tax and record keeping obligations.
Decide whether to have your own virtual 'shop'
Having your own virtual storefront will give your business a valuable online presence and will allow you to display all your products together in one place.
When you sign up to sell on eBay, you have the option of setting up an eBay Shop. This allows you to create your shop using an existing template or to customise it to your own design. You don't have to choose the eBay Shop option straight away - you may decide it's best to wait until your monthly sales build up to a certain level and then upgrade.
With Amazon, you'll automatically create your own storefront regardless of the package you choose. You won't be able to customise it very much but you will be able to add your name and logo and provide some information about your business.
How much does selling on Amazon and eBay cost?
Before you start selling on Amazon and eBay it's a good idea to find out how much you'll have to pay in fees. Depending on the items you sell and the method you choose for selling them, your total fees can be quite substantial. And while some of the fees you pay will be linked to the number of items you sell each month, others are likely to be fixed costs which you incur even if you don't sell anything.
Both eBay and Amazon give you the option of selling as a business seller without paying any fixed monthly fees, although it's usually more cost-effective to choose a subscription-based package unless you're only selling a small number of items each month.
The eBay website has a fee illustrator tool and a fee calculator that will help you compare the fees for different selling methods and get a good idea of how much your actual per-item selling fees are likely to be.
The Amazon website gives detailed fee guidance, including some examples of pricing for their subscription and non-subscription packages.
Managing your listings
Uploading your inventory to eBay or Amazon and managing your listings can be a time consuming task, particularly if you're planning to sell a large number of items.
Both eBay and Amazon offer useful listing tools, some of which are free and others that you'll have to pay for.
Promoting your items
Because there's such a huge number of items for sale on eBay and Amazon at any one time, it's very important that you do everything you can to stand out from the crowd.
Always make sure that your listings include accurate, spell-checked descriptions and that your photos and other images show the items that you're selling in the best possible light.
You might want to take it a step further and use the various marketing tools provided by eBay and Amazon such as search optimisation, cross-promotions and paid-for advertisements.
Your reputation
As an eBay or Amazon seller your online reputation is extremely important. All sellers have a feedback score based on actual customer feedback and this is the main measure that future customers will use to check that you are trustworthy and reliable.
So you'll want to keep your rating as high as possible by providing an excellent level of customer service and fast delivery at reasonable prices. Make sure you always respond promptly to customer queries, deal with returns efficiently and keep an eye on your stock levels to avoid your listings showing an item as being in stock when it has sold out.
Be aware that packing up orders and sending them out can be time consuming, but it's important to stay on top of the job to make sure that the right items get delivered in good time to the right people. Very many parcel delivery services now offer bulk shipping tools that integrate with your eBay or Amazon account and these can greatly simplify the process of arranging and tracking your deliveries.
If you're selling on Amazon you might also consider using the Fulfilment by Amazon service, where you send Amazon your inventory and they do all of the picking, packing and shipping as well as providing customer service.
More information
The eBay and Amazon websites have a great deal of useful guidance to help you get started as a business seller and to expand your business as demand for your products grows. Both also have lively seller community forums where experienced sellers are often happy to answer questions.
Establish your customer profiles
Your market
Your customer mix is likely to depend on the focus of your business. For a high street shop offering repairs, accessories and handset sales, the vast majority of customers are likely to be members of the public. The Ofcom publication 'The Communications Market' includes detailed demographic information about mobile phone users by age, gender and social grade, which you might find useful in identifying who your customers are and what they'll buy. The report is published every year and is available to download from the Ofcom website.
Because the retail market is so competitive, with the networks' outlets and the Carphone Warehouse being the dominant forces on the High Street, you may instead decide to focus mainly on serving the needs of the local business community, in which case most of your customers are likely to be SMEs in your area. You're likely to have to work harder to win business customers, for example by attending networking events on a regular basis. While there are some types of business that may be obvious users of mobile phones on a day to day basis (pizza delivery businesses, for example) don't forget that smartphones and tablets are increasingly used for general business purposes by employees in many different types of organisation. And although there has been a growing trend where some companies allow their employees to use their own personal devices for work, many others still provide them.
Special offers and discounts
The mobile phone retailing industry is incredibly competitive and small independent dealers often find themselves at a disadvantage compared with the networks' own retail outlets and the Carphone Warehouse. To be able to compete effectively you may find that you have to sacrifice some of your profit margin and lower your prices to match or even beat theirs on handset and accessory sales.
You are also likely to have various special offers and discounts throughout the year, possibly in response to what your competitors are doing and possibly to try to shift old stock. A popular approach is to bundle a new phone with accessories, such as a hands free kit or to offer 'cashback' deals.
Price your products
Getting the price right is very important. You need to make sure that the difference between the cost price and the selling price is enough to cover all of your operating costs, including your own drawings. However, the mobile phone sector is very competitive and many of your customers are likely to be aware of the different prices and airtime contracts offered by your competitors, particularly those of handsets that are in high demand. It is important that, if your prices are higher than some of your competitors, you justify this by offering excellent service and friendly, impartial advice.
You and your staff will need to be able to explain to customers the pros and cons of the various available airtime tariffs based on the customer's expected usage. Although most people are now familiar with the differences between pay monthly and pay as you go deals, some customers may still be confused as to why the same handset appears to be free with one deal but costs several hundred pounds with another.
Phone packages
There are two broad types of phone package available to the customer; pre-pay and contract.
Pre-pay phones
Pre-pay phones are also known as pay-as-you-go phones and that is their essence. The customer simply buys the phone package and 'charges' their phone with a call-time voucher, top-up card, online purchase or a credit card - or purchases a 'bundle' of air time, texts and data - to give them the required number of call minutes, texts and data. Some customers like this type of arrangement because it is simple - there are no hidden charges and there are no bills to pay at the end of the month. However, the call charges are often higher than the ones available with a contract package.
Contract phones
With a contract phone the cost of the package is considerably underwritten by the network operator which means that the handsets are either free or offered at a reduced price. The customer signs a contract with the network operator or service provider for a fixed period, typcially 12, 18 or 24 months and pays a monthly line rental charge, starting at around £10.00. Many contracts offer free texts, free data allowance for accessing the internet and a free call allowance - such as 100 minutes per month - after which all usage is paid for. The tariffs offered under contracts vary widely and are subject to quite frequent change. Most contracts allow the user to upgrade their phone at annual intervals, either for free or for a small charge.
The difference between the two
For many mobile phone users, there is little to choose between pre-pay and contract - the overall costs would be similar. However, there are also many others whose phone usage would very definitely be more suited to one or the other. It is therefore important that you are knowledgeable about the different options and the different tariffs available so that you can advise your customers on the deal that will suit them.
SIM-free phones
As well as the packages, most independents also sell SIM-free phones which are unlocked so can be used with a SIM card from any network. The cost of a SIM-free handset is not subsidised and runs to several hundreds of pounds for the latest model smartphones. (The cost of a SIM-free handset is broadly in line with that of the same phone offered in a pay-as-you-go package.)
Product mix
Unless you intend to specialise in one particular area of the market, it's likely that you'll aim to stock products that will appeal to a wide range of customers and budgets. Remember that as well as stocking handsets, a good range of accessories will also be popular with customers and may encourage some to spend more than they had intended to when they came into your shop.
You are likely to stock some or all of the following:
new phone handsets. Phone handsets are often sold with a network connection but may also be sold just as the handset to which the customer would fit their own SIM card
complete pay-as-you-go phone packages. These usually come boxed with everything the customer needs to get connected
SIM cards on their own. The SIM card holds information such as the network and tariff the user is connected to as well as phone numbers, email addresses and so on. You're also likely to stock data-only SIM cards for use in tablets
mobile phone accessories, such as holders, hands-free kits, replaceable covers and so on
top-up cards for pay-as-you-go-phones
broadband 'dongles' and 'mi-fi' that provide mobile internet access for a variety of devices
pagers
short range radios
second-hand phones and accessories
repair kits for popular phones, such as replacement screens or batteries (plus model-specific tool kits and instructions)
Depending on the location of your shop, you may decide to stock products that, while not being mobile-phone related, may appeal to your intended customer base. These could include electronic gadgets (for example tablet computers like the iPad and e-book readers), video games and so on.
The right image
It is really important that your shop projects the right image to would-be customers. Your competitors - such as the Carphone Warehouse and the networks - make sure that their outlets are bright, uncluttered and inviting to customers and refurbish them on a regular basis. Try to make sure that your outlet doesn't suffer by comparison.
Advertising your shop
Whatever the nature of your shop, you must make sure that your potential customers know about you and the products and services you offer.
There are a number of things you can do to promote your business:
launch your own website, showing all the features that will attract customers to your outlet. You could also sell your products online
advertise in your local newspaper and any local directories
offer discounts and free goods, such as free accessories with certain phones and advertise this in your window
attend business networking and other events, if you're planning on targeting the local SME market
Premises
The layout of your shop
The interior of your shop is likely to reflect the types of customer that you're hoping to attract. So if you're aiming to target local SMEs then your shop is likely to project a much more business-like image than a high street outlet serving mostly members of the public. Be aware though that the networks and the Carphone Warehouse put a lot of thought into the design of their interiors and regularly refurbish them to keep them looking fresh. This may not particularly affect you - for example if you're hoping to generate most of your sales through services that they don't offer - but if you are planning to compete with them head on, you may need to copy some of their interiors ideas so your shop doesn't suffer by comparison.
The size of your shop
The size of your shop will depend to a certain extent on which premises are available to you in your proposed location. As the Carphone Warehouse has demonstrated, mobile phones can be successfully sold from relatively small outlets as well as from larger ones.
Buy an existing business
You might decide to buy an existing mobile phone shop rather than start your own venture from scratch. Buying a going concern can mean that:
the premises, business equipment and shop fittings are already in place
the business website has already been set up and registered, possibly with an ecommerce facility
there are established customers
the business can generate income immediately
relationships have been established with airtime distributors and/or networks, handset manufacturers and their distributors and other suppliers
the business has a track record, which can help if you are looking for finance
staff are already in place
However, look critically at any business that you are interested in to make sure that the price you negotiate with the seller is a fair one. Try to establish why the business is for sale - for example, is the owner keen to retire or is there another personal reason for selling up.
Your market research into the sector as a whole and the locality in particular will help you to establish whether or not the owner is selling because he or she can no longer generate enough income from the business. This may not necessarily deter you - many business people are confident that they can turn a failing business around. The important thing is to have established the current position so that the price you pay for the business is not too high.
Other matters to consider include:
the state of the premises, fittings, equipment and so on. Will you have to spend money refurbishing or replacing assets
the condition and value of any stock you are buying. Check this over carefully before agreeing a price - many phones very quickly lose their 'must-have' status as newer models are released and this inevitably affects their desirability and value. So make sure you're not paying over the odds for stock that will have to be significantly discounted
is the existing owner prepared to give you some training after you take over. In a complex market sector such as this one, this could be the difference between success and failure
existing staff rights
how to retain key personnel once you've taken over
does the business owe money that you will be responsible for
if you are paying for goodwill, to what extent does this depend on the skills and personality of the seller
Ask your accountant to look critically at the business accounts for the past three years and discuss with him or her the selling price in the light of what the accounts reveal. Make sure you budget for other professional fees such as legal fees and valuation and survey costs.