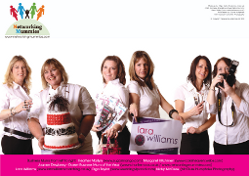 These days it's the norm for women - especially mums - to aspire to "have it all". This means you'll probably be hard pressed to find a mum who isn't playing numerous roles as a matter of course in her everyday life. From taxi driver to cleaner, cook to child-minder, PA to life coach. If you had to employ others to do the work of one mum within her family, you would probably need a small army. Add to that paid employment, be it full time, part time or self-employment and a small dollop of "me time" at the gym, socialising or whatever to preserve your sanity, and it's little wonder we're all feeling the pressure.
Mumpreneurs face similar challenges to other mums in juggling the demands of home and work but, in the early stages of their business's lives especially, the line between work and the rest of your life becomes so blurred it's almost imperceptible. There is no official start to your working day and no end of shift clock-off time. Consequently, it's easy to let your exciting new business idea take over every aspect of your life.
Despite this, being an entrepreneur is in some ways an obvious career choice for mums. Self-employment allows flexibility - the "Holy Grail" for those seeking to balance work and earning potential with being there for their children. And yes, this sometimes means staggering bleary-eyed to the computer in the early hours to get an hour in before the kids wake up; making calls and sending messages while you wait for swimming lessons to end; burning the midnight oil, and neglecting the ironing. But for most of us - that is a small price to pay.
Working for yourself can be lonely, with no workplace banter or colleagues to bounce ideas off - but there's no reason it has to be. I started Networking Mummies to go some way towards creating the support network evident within a "normal" working environment. So next time you see a group of mums chatting animatedly in Costa Coffee think twice - they might be discussing marketing strategies and the issues around patents as well as X Factor and the latest anecdotes about their children.
After being an employee, having your own business is an immensely liberating experience. You are in control; your decisions determine the direction your business takes; and every minute of work and inspirational idea you have benefits you directly. In simple terms, you get out what you put in - which isn't always the case when you're an employee. You can build up your business and your profits while still being around for nativity plays, illness and school pick-ups. For us it's an exciting balance of work and home that feels like an adventure our whole family is going on together.
So what is the surprising truth about mumpreneurs? It's the idea that any mum can be one. It may seem too risky, too daunting and too difficult but if you have a dream or great idea about which you're passionate and have the support of those around you, the possibilities are endless. You will need to be determined, work hard and think creatively to get your business to work, but these are things we can all do if we are motivated by the desire to succeed.
Don't let fear of the unknown hold you back. If you are a woman with children and want to work for yourself or have a great idea that you want to turn into a business - make 2011 the year you become a mumpreneur.
Joanne Dewberry and Jessica Boston, Networking Mummies