Business insurance provider SimplyBusiness has created an infographic based on recently published Office for National Statistics data that shows just how important SMEs (small and medium-sized businesses) are to the UK economy.
Some key facts include:
SMEs make up 99.9% of the total number of businesses in the UK.
SMEs provide 59.1% of all private sector jobs.
SMEs generate 48.7% of total public sector turnover in the UK.
London provides the most private sector jobs (15.8%) and makes the biggest contribution to turnover (30.5%).
The South East has the largest number of enterprises (16.3% as compared to London's 15.8%).
Construction accounts for 20% of all UK enterprises, while the wholesale and retail trade sector employ the largest percentage of people (21%) and make the biggest contribution to turnover across all industries (37% - estimated at £1,186bn).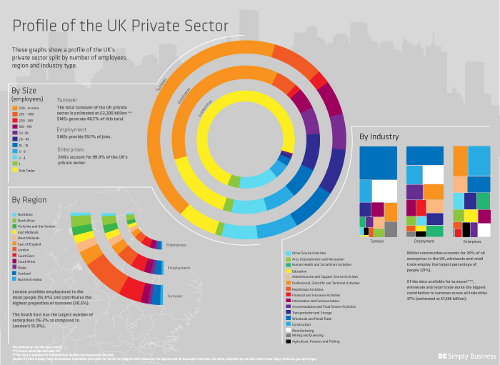 (See it full size in a new window.)