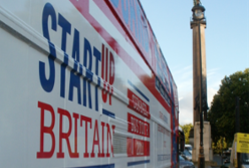 It's quite a sight – a double-decker bus brashly urging us to "Start a business" parked in the midst of one of London's secretive centres of power and wealth. The Start Up Britain bus is flanked by shiny red, white and blue minis – getting this breezy convoy into the heart of St James may be an inspired piece of guerrilla marketing. I imagine diners in the anonymous clubs surrounding Waterloo Place coughing into their lobster bisque.
It's all smiles in the melee beneath the bus's rain canopy. It's quite a vehicle. There are sofas inside, a bar (not serving booze, sadly), tables and chairs where you can sit with an expert to discuss how to get your business up and running. There are advisors, corporate sponsors and plenty of prospective, new and established business-owners.
Everyone is chatting away. There's a feeling of 'we're all in this together'. We probably are – state-funded business support is being transformed and there's concern in some quarters that start-ups are being overlooked in favour of the high-growth businesses the Government believes will drive the UK economy in the future.
You may not think this the best time to be starting a business in the UK. But plenty of people are – the annual number of start-ups went up by 10 per cent between March 2010 and March 2011 and is gradually clawing its way back to pre-recession levels. Their owners have many different reasons for launching their venture – though the economy seems to be a common theme.
There's Fiona Dallimore, for example, who is launching Up Urs Betty to sell her 'thought shirts' and other creations. Fiona tells me that her full-time job is coming to an end. But she's wanted to do something of her own for ages. So why not now? She's enthusiastic and hungry for knowledge.
Robert Welch, co-founder of Small Car Big City, the London tour company that provided the minis for the day, tells me that his business wouldn't have been started at all had he not graduated in the middle of a recession. Robert wanted to work in finance, but found employment impossible to find.
"I always thought I was going to run my own business one day, but I didn't plan to do it immediately," he reveals. "It's been a colossal challenge. We didn't know what the hell we were doing. I had no idea how to write a business plan."
Marcus Simpson started Direct Sitters because, by his own admission, "I'm not a good employee." The idea for a service for householders who can't wait in for tradespeople came to him from an episode of The Wright Stuff. "They said a good thing to do if you have time on your hands is house-sitting. A couple of days later my mum asked me to stay in for the plumber. I just put the two ideas together," he says modestly. "If I spot a problem I want to provide a solution."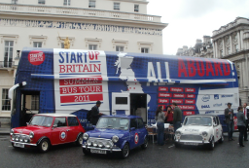 There are many different reasons for starting a business and business-owners themselves come in all shapes and sizes. What they all need in the early stages, though, is practical knowledge and support – preferably delivered face-to-face. With the closure of regional Business Links, there's a definite gap in the market that will take time to fill.
The idea of taking support to the people on board a bus is energising and fun – and the Start Up Britain bus tour is also drawing attention to quite an enormous need. New business-owners can't wait for things to bed in. They need support now.
Rebecca Granshaw has travelled all the way from Albury in Surrey to sound out an expert about her business idea, which is so hush-hush she won't tell me what it is. Has today been worthwhile? I ask her. "Life-changing," she beams.
The Start Up Britain summer bus tour begins again on 19 September and finishes on 23 September in York.
Simon Wicks is a freelance writer and editor of Enterprise Nation.