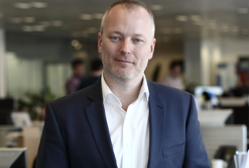 Britain's High Streets are undergoing a major change – and many independent retailers are struggling to keep up.
According to a recent survey from business insurance broker Simply Business, a third of the UK High Street is now made up of cafes, pubs, restaurants and takeaways. Hospitality businesses are thriving but independent retailers appear to be lagging.
Newsagents, for example, now account for just 5 per cent of High Street premises, and they appear to be in a state of decline.
The increasingly difficult situation in which independent retailers find themselves is due, in part, to the continued and aggressive expansion of the chain supermarkets. The so-called 'big four' are spreading further into town centres across the country and many independent shops now find themselves faced with the prospect of a pile-'em-high-sell-'em-cheap megastore across the road.
But independent retailers are not powerless in the fight against the supermarkets. If you find yourself in competition with one of the big four, there are a range of ways that you can fight back.
Use your independence



You can make your independence work for you. You might not be able to compete on price, but many people are reticent about shopping in supermarkets, and are willing to spend a bit more in order to support independent retailers. Make sure that your customers know you remain under independent ownership, for example by putting an A-board outside your premises advertising this fact.

Tighten up service



Service is notoriously bad in supermarkets – and this provides your business with a chance to shine. Make sure that all your customer-facing staff receive a 'refresher' in service standards, and consider drawing up a set of guidelines to ensure that all your employees understand how best to treat customers. Think about ways that you can put customer service at the heart of your business – because it is these personal touches that will encourage customers to return.

Encourage loyalty



Great customer service is an important way to encourage loyalty. But you might also want to consider other, more adventurous tactics. For example, why not launch a loyalty scheme? These are increasingly common in hospitality businesses like coffee shops, but there is no reason why they shouldn't work for a retailer. You might, for example, produce cards, which can be stamped with a discount offered on the tenth transaction. Schemes like this can be particularly useful if you find yourself in direct competition with another shop, as they can encourage customers to choose you over your competitor.

Be flexible



Finally, you should remember that flexibility and convenience are amongst the most common reasons that customers choose to shop in supermarkets. You should consider ways that you can make the shopping experience as easy as possible for them. For example, do you offer a comprehensive range of payment options? You should ensure that you accept the types of payment that your customers wish to make, in order to avoid losing them to your competitors.
Jason Stockwood, Simply Business