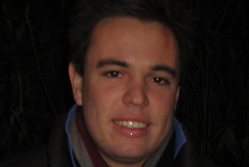 It's easy to be daunted by your accounts when you start-up. Many new businesses opt to bring in an accountant, rather than do it themselves. But can those with limited financial knowledge manage their own books?
James Chalk, co-founder of Bristol-based student events organiser Clix Entertainment, says that with the right software anyone can manage their own accounts.
Winner of a recent Start Up Donut giveaway of Sage's new Instant Payroll software, Chalk says that neither he nor his co-founders had any experience of accounting when they started the business in 2009.
"We were four students at UWE and the University of Bristol organising student events and that developed into a business called Clix Entertainment. We now provide marketing and PR for local businesses and organise weekly student events.
"None of us had any real experience of doing accounts. One of my partners did business and strategy at university, but the rest of us didn't do anything that was linked to what we are doing now.
"My dad has run a few businesses and he gave me some basic accountancy knowledge of cashflow, profit and loss, balance sheets — nothing too in-depth. When we started, we would get paid and then figure out how to account for it afterwards. But once you start growing that's not possible, you need to have proper bookkeeping systems.
"We brought in an accountant from the start to do our quarterly and annual accounts. However, at the end of last year we bought Sage Instant Accounts and I've been learning it for the last eight months — how it works and how to do your own books.
"I'm quite good with computers anyway and I thought I must be able to learn Sage — and I have. You don't have to have a great financial knowledge to get to grips with it.
"We're still using an accountant at the moment, but our intention is that from this September ― the end of our current financial year ― we will take all our books in-house. So our accountant will just do the end-of-year accounts. We will do our own VAT returns and payroll.
"The Sage software gives you the ability to go 'I want a profit-and-loss account for a management meeting this morning' — you click a button and you've got one. You can see how much you've made from a customer in an instant.
"Our accountant is still doing our payroll at the moment, but we plan on using the Sage software from next month. Our payroll fee per month is about £70 so if we can save that by using Sage, it's a good saving. It's also the flexibility of not having to rely on the accountant to do stuff all the time. It's cheaper and quicker to do it ourselves."