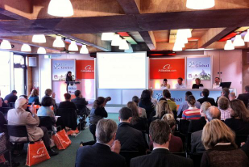 You may not think that exporting worldwide is for you but with David Cameron pledging to get 100,000 more small UK businesses selling overseas and a whole raft of exporting initiatives announced last week, it may well be time to think again. Certainly, this year's Global Entrepreneurship Week has an extra bite and urgency given the worldwide economic situation.
As business journalist and TV presenter Declan Curry pointed out at Enterprise Nation's Go Global conference on Tuesday, we have to "rebalance the UK economy away from Europe and towards growing markets such as China, Brazil and India". Our biggest export market, the Eurozone, is teetering; our second biggest, the United States, is in a flat state of gloom; the statistics say we export more to the Republic of Ireland than to China, India and Brazil combined (though this isn't the most trustworthy of stats when you take a proper look).
As a broad national policy, it makes sense to close our trade gap and to generate growth with increased exports. But in order for that to happen, we need many, many more of the UK's smallest businesses to start exploring international markets in a purposeful way (rather than selling to the odd overseas customer via eBay or their website). Those 100,000 alone could, according to Linda Kozlowski, head of customer acquisition for the international B2B marketplace Alibaba.com, generate some £30 billion for the UK economy.
But it's not easy for a small business, right? Well, yes –and no. Go Global was all about the practical aspects of selling overseas for small firms. With a broad selection of guest speakers and panellists – many of them from small businesses themselves – we got a rare insight into how household names and many small businesses you may never have heard of have actually done it and succeeded.
The good news is that it's totally possible. Ecommerce, in particular, is one area where UK businesses excel – as Wendy Tan-White of Moonfruit pointed out, our fiercely competitive ecommerce sector is streets ahead of virtually anyone else worldwide. And this gives us a big advantage over potential competitors in international markets. Getting to the top of the search engine listings in Brazil is a breeze compared to the UK.
Kate Castle of Boginabag and Tony Curtis of Alago both talked about how Alibaba.com has taken much of the pain out of finding international suppliers and customers. Christian Arno of Lingo 24 noted that professional translation companies such as his have embraced the needs of online retailers to provide cost-effective website translation and keywording for that all-important search engine optimisation.
Richard Moross of Moo.com explained how creating overseas partnerships an give you the kind of market penetration and brand promotion you would struggle to achieve on your own. In his case, it was hooking up with the photo-sharing website Flickr that really launched his customised business cards. Rob Law of Trunki expanded on the theme of relationships by explaining how he supports his international distributors; friendly faces on the ground who understand the cultural nuances of your new marketplace can make an enormous difference to your chances of success.
It's perhaps more possible than ever to take a small firm into international markets and many businesses are doing it as a matter of course. Tony Curtis, for example, will be launching his heated sports glove as a global product early next year and already has his supply and distribution chains set up and ready to go. "If you have a product that you think will sell and people will buy in other countries, then it's common sense," he said, matter-of-factly.
There are obstacles, of course. Freight forwarders aren't the easiest people to deal with and IP protection can be drawn-out (tip: trademarking is quicker than patenting), several businesses explained; suppliers can let you down (there's great value in due diligence) and if you don't make an effort to understand the local culture you can make an embarrassing faux-pas. Richard Moross ran through a litany of errors he made as he tried to get Moo.com off the ground (the business was originally called 'Pleasure Cards'. Hm); Rob Law described  years of frustration with potential manufacturers who didn't understand his product and overseas distributors who didn't share his vision.
It's not all plain sailing. But what the likes of Richard and Rob amply demonstrated is that with a marketable good product or service, determination and a sense of adventure, there really are no serious barriers preventing you from turning your 'local' business into a 'global' one. Both men now run award-winning international companies with multi-million pound turnovers. Frankly, these days you may not even have to leave home to run a global business - Kate Castle admitted that she rarely steps outside her front door. Now that's a modern international small business for you.
Simon Wicks is a freelance journalist and editor of Enterprise Nation.