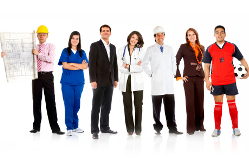 Today is National Freelancers Day and according to event organisers PCG ("the Voice of Freelancing") it's "a day to celebrate the value of independent workers to the UK economy." And what value my fellow freelances and I (about 1.4m souls and counting) contribute to UK GDP (some £82bn according to PCG).
A campaign that aims "to raise the profile of freelancing in the UK across all audiences", this is the third National Freelancers Day. Launched in 2009 with a series of UK-wide events, last year Prime Minister David Cameron's voiced his support, while a host of events are planned for this year.
Freelances (the grammatically correct form) go by many other names, of course, such as "freelancer" (frequently used but grammatically incorrect), "independent worker", "contractor", "consultant" – even "interim", "portfolio worker" and "own account worker". Crucially, they are self-employed or operate their own limited companies, so they run their own businesses, as well as helping others.
The term "freelance" ("free-lance" or "free-lancer") isn't new. In fact, it was first coined to refer to mercenary soldiers in Medieval Europe (users of modern day high fee-charging freelances can make up their own jokes).
In the past ten years the number of freelances in the UK has grown significantly. In 1998 there were some 1.25m; by 2008 this figure had increased by 14 percent to 1.4m. Of these, 62 per cent were male and 38 per cent female (Source: PCG). It is likely that there are now comfortably more than 1.5m freelances in the UK.
Apparently, freelancing is much less common in many other parts of Europe, but there's little doubt that its popularity in the UK continues to increase. Many of those who have lost their jobs in recent years have turned to freelancing as either their best or only option. Many more businesses (including small firms) now rely heavily on freelances, who are viewed as the more flexible (and often more cost-efficient) solution to staffing needs.
So why use freelances? Well, it enables you to buy in the extra help you need as and when you need it, often that involves specialist knowledge you don't possess in-house. And if the freelance's performance falls short of your expectations, you don't hire them again. You don't have to pay them holiday pay or sick pay and they usually look after their own tax affairs. So freelances can boost your productivity, efficiency and profitability. But businesses be advised: working with freelances and contract workers brings with it legal responsibilities (including compliance with health and safety and National Minimum Wage regulations).
Many experts predict that the current growth in freelance activity will continue and in the near future this is how many more people in the UK will work, either full time or part time. As well as being good for UK business, the freelance life (which can be demanding, harsh and unpredictable at the best of times, believe me) at least offers the possibility of greater flexibility and control over our lives – personal and professional.
According to PCG: "The competitive advantage afforded the UK by its highly skilled, highly mobile and highly flexible freelance workforce must be nurtured and protected." I'm sure politicians, business-owners and freelances throughout the land would agree.
Want to find out more about becoming a freelance? Download the Guide To Successful Freelancing