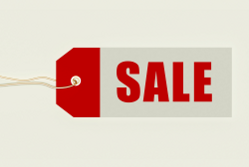 As consumers, often we see January sales as a way for retailers to clear stock. If you run a business that doesn't hold stock – be it a craft business where you make everything to order or a service based business where you sell your time – it's easy to dismiss sales as not being for you. But is it worth looking at them from a different angle?
Sales are just as much about stimulating demand as they are clearing stock.
And when you think about it like that, it sounds a whole lot more attractive. If your business is quiet in January, rather than sitting and moping about it, should you be doing something about it? A sale could be just the thing – with one caveat – it needs to be planned and executed well.
Discounting can look desperate and damage your brand. It can also affect your pricing strategy in the long term, so I would only ever do it with caution. But it really can work.
A poorly planned sale also looks weak. 10 per cent off everything isn't a sale – it just looks desperate. You need to give people a compelling reason to buy, and a blanket discount just won't cut it. If you sell product, consider slicing between 25 per cent and 70 per cent off various groups of products rather than applying a discount to everything. Again, this gives people a more compelling reason to buy from you.
Last year, one of my clients, Clare Yarwood-White, ran a sale that started on Christmas Eve. Her sales increased by 600 per cent compared to the previous year, and it didn't cannibalise her figures for the rest of the month.
Printing.com has run a January sale since 2003 and it works wonders for stimulating demand (although it certainly affects margin for the month). I've yet to see a serviced-based business pull this off, but I wonder – can it be done? Should it be done? What do you think?
Fiona Humberstone, Managing Director of Flourish studios
Read more of Fiona's advice and thoughts about running a small business on her blog site.