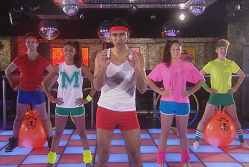 The gloves are off this week on The Apprentice. The candidates are really starting to spar with each other. So it's handy that Lord Sugar has gathered them together in the East End's famous boxing venue, York Hall. Or Your Call as the boys hear it, in a classic bit of fork handles-style comedy.
The challenge, as Lord S reveals, is to develop a "noo fitness programme". They'll be trying to sell it under licence to three British gym chains.
There are no changes to the team configuration and so they look like this:
Team Sterling: Ricky, Duane, Nick, Gabrielle, Laura and Jenna.
Team Pheonix: Jade, Katie, Adam, Azhar, Stephen and Tom.
As the candidates bid to be project manager, you have to wonder whose rash promises are going to become famous last words. Stephen, a sales manager for a chain of health clubs, says it's a "no brainer" that he should lead the task. Meanwhile on team Sterling, wrestler Ricky puts himself forward saying, "you'll always witness the fitness with Ricky Martin".
If there is one thing you can rely on in the Apprentice, it's that the candidates will come up with the most appalling slogans — for themselves. Has no-one mentioned that having your own slogan is deeply naff? Surely that's what Stuart "the brand" Baggs taught us, if nothing else?
But back to the task. The teams have two days to come up with a new fitness concept, make a promotional video and pitch it to Fitness First, Virgin Active and Pure Gym.
So how do they get on?
Team Sterling comes up with an exercise mash-up — martial arts crossed with dance. Ricky does well. He researches the market, works out the numbers and delivers three very polished pitches. His mistake, though, is to delegate the task of directing the video to Duane. Let's just say Duane isn't exactly a team player. He doesn't want to hear squat from anyone. Laura and Nick try to get their views heard but Duane's having none of it. By the end of the day, Laura and Duane aren't speaking to each other.
On Team Pheonix, there's someone else whose voice isn't being heard — Tom. Katie has come up with the idea of a retro exercise class using skipping ropes, hoops and space hoppers. It's lots of fun. But no-one has thought about the cost of the equipment — or how much space all those space hoppers will take up. Except Tom. He spots the flaw in the plan. But his words of caution, delivered too quietly, are quickly dismissed.
At the pitches, Stephen looks shocked when the gym managers question the cost of the kit. To one lot, he offers everything as part of the package — a sure-fire money loser. To another, he plucks some costs from thin air. It looks desperate. Surely, they've lost the task.
But no. In the boardroom, it is revealed that Virgin Active are keen to develop the retro idea to appeal to families as a way to get kids involved in exercise classes. It's not exactly what team Pheonix had in mind, but they're not complaining.
So team Pheonix generates £12,810 despite rejections from two other gym chains. Team Sterling makes £7,970 from two interested parties but misses out on the Virgin Active deal.
Poor Ricky. He is gutted. He brings back Laura (for reasons that no-one quite understands) and Duane (for stuffing up the video). Lord Sugar questions his decision to let off the team players that contributed the least, the three quieter ones that couldn't wait to get out of the boardroom — Nick, Gabrielle and Jenna.
With feedback from Karren Brady and Nick Hewer, Lord Sugar makes his final decision. He says, with his usual eloquence, "In summarising, I don't want any interference. I'm going to give you as I see it."
He's mainly talking to Laura, who is one of those candidates that doesn't know when to shut up in the boardroom. But she keeps schtum and he eventually points his finger of doom at Duane.
Next week: Selling gourmet street food in Edinburgh. What could go wrong?
Find out more about the candidates on the BBC Apprentice website: http://www.bbc.co.uk/apprentice