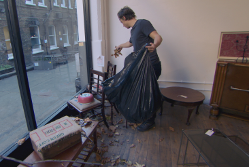 This week, the challenge for the candidates on The Apprentice is to turn trash into treasure. The teams have to source cheap second hand goods — from auctions, car boot sales, junk shops and house clearances — and sell them from their very own pop-up shop in the uber-trendy Brick Lane in east London.
Lord Sugar mixes up the teams again and this is how they look this week:
Team Sterling: Ricky, Duane, Nick, Gabrielle, Jane and Jenna, with Laura as team leader.
Team Pheonix: Jade, Katie, Adam, Azhar and Stephen, with Tom as team leader.
Like any episode of the Apprentice, a story soon starts to emerge. Laura's team seems to be firing on all cylinders. They're buying lots of stock and they're planning to upcycle them by adding value — painting and reupholstering chairs and creating cute tables from old suitcases. Gabrielle is in charge of the creative efforts, ordering materials and painting union jacks on everything.
Meanwhile, on team Phoenix, Tom is keeping a very tight hold on the purse strings. He doesn't want to buy much and he's very particular. His minimalist approach is not going down well with Nick Hewer, who calls it "foolish". Mind you, Nick describes the typical customer as "the young trendy with the gelled hair" which leaves you wondering how much he really knows about the cool urban crowd that shop on Brick Lane.
Team Sterling continues to look good as they talk about branding the shop and adding cushions and candles to the mix. But then, quite quickly, it goes pear-shaped. It starts with their odd decision to scatter dead leaves around their shop. Then it becomes clear that a bit of paint and a staple gun haven't turned their trash into treasure. They have actually turned everything into cheap tat. Cheap tat in a sea of dead leaves.
Up the road, though, Tom's less-is-more approach is reaping rewards. A half-empty shop with a few old bits and bobs is hitting the spot with the Brick Lane shoppers. Nick Hewer actually apologises at this point. "I thought their product selection was poor. What do I know?" he muses.
Back in the boardroom, the numbers are in and Tom's team Pheonix is streets ahead with a profit of £1063.40, having spent just £360.10. Team Pheonix spent £660.76 (about half of this on materials) and made just £783.49.
It's abundantly clear that Tom has been incredibly fortunate. His minimalism may have won the day but it was inspired by extreme caution not by some clever insight into the market. This was an accidental win.
Laura and Gabrielle probably had a better grasp of the retro/vintage market than Tom and certainly they put much more effort into the task. But they misunderstood the market and tried to make up for it with some hard selling — quite the wrong approach for the laid-back crowd wandering up and down Brick Lane.
So Laura brings back Gabrielle (for over-ordering materials and painting too many union jacks on the furniture) and Jane (for scaring the customers with her unappealing sales patter — half desperate, half aggressive as Karren Brady points out).
But who goes? It's never just a numbers game with Lord Sugar. He always goes with his gut instinct. Yes, Laura and Gabrielle made mistakes.
But Lord Sugar says, "I have to judge it on the person that has got the most potential, coming into business with me, yeah?" It's a bit garbled — like many of Lord Sugar's sentences — but the message is loud and clear. Jane gets her marching orders.
Next week: The candidates have to come up with a new fitness programme.
Find out more about the candidates on the BBC Apprentice website: http://www.bbc.co.uk/apprentice