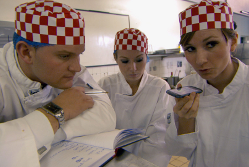 Lord Sugar drops in on the candidates at home this week on The Apprentice. They look a bit shocked but they perk up when he tells them they're taking a trip. They're off to Edinburgh to make and sell gourmet street food.
Lord Sugar picks the team leaders, clearly trying to get some of the quieter ones to step up. So Jenna is put in charge of team Sterling and Adam gets to lead team Pheonix.
The brief is clear. "No junk" says Lord S. But you can't take the market trader out of Adam — he wants to keep costs really low by using dried herbs and corned beef in his meatballs. Thankfully, sensible Tom puts a stop to that.
Adam continues to come across as a bit of a male chauvinist pig. He grins lasciviously as he wonders where the "trolley dolly" is on the train. And when Katie and Jade offer their services as marketing experts, he takes them on but puts "good manager" Stephen in charge of them.
Meanwhile on team Sterling, Jenna is confused about Scotland. She's worried that they'll struggle to sell to customers that only "speak Scottish". Scottish Laura is laughing so hard she can't say anything, in any language. Jenna's maths is a bit dodgy too. It takes her ages to add up £200 and £68.82. Mathematical genius Ricky has to help out.
This task highlights the importance of the classic marketing mix, the four Ps — product, price, promotion and place. So how do the teams do?
Team Pheonix makes meatballs and pasta. It's not exactly gourmet. Put it this way, Lord Sugar compares it to elephant droppings.
And it's way too expensive at £5.99. Especially next to the cheap burgers and chips on offer outside the Hearts football club stadium. "They don't pay that for a striker there," says Lord Sugar.
So the price is too steep and their choice of place isn't great either. What's more, their branding is bland — Utterly Delicious Meatballs. In short, they manage to get all of the four Ps wrong.
Over on team Sterling, the product is a gourmet beef casserole using Scottish beef, served with haggis mash. It's a high quality product that tastes delicious and the name is great too — Gourmet Scot Pot.
Their prices are pretty steep though and that's the main challenge for Jenna and co. Luckily, they park their mobile kitchen in Parliament Square and then Princes Street — where they get lots of passing trade. So, when it comes to the Ps, they do pretty well on all counts.
In the boardroom, the numbers are in. The meatballs are incredibly cheap to make (£90.25) and sales reach £388.29, giving Adam and his team a profit of £294.04. The casserole costs a staggering £268.82 to make but with sales of £588.60, team Sterling makes a profit of £319.78.
The right team wins. The big question is, whose head is going to roll on team Pheonix?
Adam is struggling to pick his victims. He's obviously tempted to bring back two girls, Katie and Jade. Stephen, who was supposedly in charge of them, has come out unscathed. But then Lord Sugar and co spot quiet Azhar and he comes under fire for under-delivering.
But in the end, it's a case of three strikes and you're out for Katie. She's been here twice before and it's time she left. So Katie is fired.
We're down to ten candidates and several of them have yet to make much of an impression — hopefully next week we'll find out what Jade, Azhar, Nick and Tom are made of.
Next week: Buying and selling wholesale goods in Essex — classic Lord Sugar territory.
Find out more about the candidates on the BBC Apprentice website: http://www.bbc.co.uk/apprentice