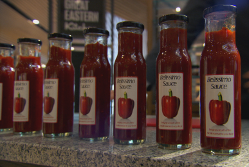 There's always a touch of the Generation Game when the candidates on The Apprentice have to cook something up. This time it's condiments — table sauces, chutneys, pickles and so on.
You can't help but think that they're trying to do a "Reggae Reggae sauce" — the most successful product to come out of the Dragons' Den.
And, last night, if you stuck around for the Apprentice after-show "You're Fired" you'd have seen Levi Roots, the entrepreneur behind Reggae Reggae, on the panel. Without wanting to give too much away, let's just say he doesn't look like a man who is worried about this new competition. The only time he stops smiling is when he tastes the two concoctions.
But back to the task. Lord Sugar jiggles the teams about a bit. Katie joins the boys on Pheonix, while Duane and Nick head for team Sterling to work with the rest of the girls.
The new arrivals clearly feel like Lord Sugar's chosen ones and so Katie and Duane both step up to be team leaders. But Adam, bless him, is worried that the task may be "too complicated" for Katie. Women, know your place.
Actually, there's some sexism on both sides to be fair. Katie has already bragged about her ability to manipulate men. Meanwhile, Ricky reckons it won't be hard "to influence all her decisions". But Adam really is the limit with his patronising offers of help that are clearly intended to undermine.
The production stage is a bit of a farce for both teams. Pheonix is making a rival to ketchup but it's too gloopy to go into the bottles. Thanks to unambitious targets and considerable wastage, they only manage to make 300 bottles.
Sterling is working on a pineapple chutney recipe. But someone has used a very heavy hand with the chilli.
But the production problems are hardly surprising — they're trying to create a successful recipe in a matter of hours. What they should have got right is the name, the branding and the positioning.
Team Sterling doesn't do too badly. InFusion is not a bad name for their tangy chutney made from pineapple and ginger. The product and branding impresses the upmarket grocers Partridges and they get an order for 300 jars.
Pheonix, meanwhile, has created "Belissimo" — a spicy table sauce with an Italian twist. Unimaginatively labelled with a picture of a red pepper on a white background, it looks more like a pasta sauce. It's supposed to have mass-market appeal, but there's no slogan to explain what it actually is. And, worst of all, the name is spelled incorrectly — a crucial detail that stops Partridges from putting in an order.
And so, team Pheonix fails to rise from the ashes. It makes just £585.56, compared to team Sterling's sterling effort —£1028.
Incredibly, Stephen — the man responsible for the branding and the spelling mistake — slips under the radar and escapes the scrutiny of the boardroom. Instead, Katie brings back Michael (poor at selling) and Ricky (poor at production).
In the end, Lord Sugar points his famous finger at the person that just doesn't look like they can hack it — Michael.
Next week: Turning trash into treasure.
Find out more about the candidates on the BBC Apprentice website: http://www.bbc.co.uk/apprentice