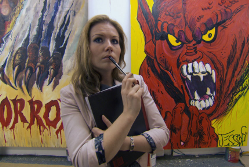 The candidates on The Apprentice are going to Waterloo Station this week to hear about the next challenge. They're obviously hoping for a nice day out somewhere but Lord Sugar, Nick Hewer and Karren Brady are waiting for them in a smelly old railway arch that's covered in graffiti.
Their mission, should they choose to accept it, is to sell urban art. Of course they accept it, even though Adam claims he had never heard of urban art until now. In sharp contrast, Tom rates himself as a bit of a graffiti guru and is soon voted project leader on team Pheonix (with Laura, Adam and Jade).
On team Sterling, Gabrielle says she has two useful strings to her bow — she has worked with artists and she has catering experience — perfect credentials for schmoozing art buyers. So she's voted project leader by Ricky, Jenna, Nick and Stephen.
There are three key elements to this task. First they've got to find two artists to represent. The teams are in competition, so it's vital that they make a good impression. Then they've got to meet two corporate clients to find out what kind of art they'd be in the market for. And finally they've got to sell pieces by their chosen artists in their own pop-up galleries in London's Brick Lane.
What the Apprentice does brilliantly is show us how not to do things and this week is no exception.
Tom tries to win over the artist Pure Evil by showing off his knowledge of the urban art market and by name-dropping left, right and centre. He hardly says a word about Pure Evil's art though. Honestly, if you were meeting Beyonce, say, would you babble on about Adele, Madonna and the Pussycat Dolls? Not surprisingly, Pure Evil doesn't choose team Pheonix to sell his art.
In contrast, Gabrielle's approach — admittedly somewhat gushing and gurning — wins over Pure Evil. And it really pays off — at the end of the day his art makes team Sterling over £10,000 in sales.
But Gabrielle is hopeless when it comes to the corporate client — Beefeater Gin. She fails to ask them what their budget is. It means team Sterling ends up proposing they buy a painting that costs a few hundred quid when their budget is actually £10,000.
But they don't get a bean from Beefeater in the end because of the shoddy way Stephen handles these important clients when they turn up at the gallery. He's all over the place and despite waving his own glass around as he talks to them, he doesn't offer them a drink for ages. It gets worse. When they say they'd like a gin and tonic, he says, "I wish". Karren Brady calls it "a masterclass in how not to treat a corporate client."
When it comes to selling, Adam is the star, yet again. He makes the majority of sales but even his efforts aren't enough to turn the tide. Team Pheonix fails to rise from the ashes and loses the task.
Tom invites Laura and Jade to face the music with him. There's lots of analysis of the mistakes Tom has made. When he fails to secure Pure Evil, Tom chooses a high-risk strategy — selecting James Jessop, an artist whose paintings are massive with a hefty price tag to match. Sales came there none.
But you can tell Lord Sugar likes Tom's gumption and the fact that he "rolled the dice". So the focus turns to sales. Laura, who has her own wedding dress shop, is totally at sea when it comes to flogging urban art. And so it's Laura that has to walk the plank this week.
Looking ahead to next week's task — marketing English wine — I can't help wondering if Tom has been saved so he can demonstrate his knowledge of fine wines — his real-life business. Then again, when he tried to play the expert with the artists this week, he came unstuck. It should be interesting.
Find out more about the candidates on the BBC Apprentice website: http://www.bbc.co.uk/apprentice